Reviews
Greektown Casino
Greektown Casino-Hotel has a little bit of everything, from alluring slot machine games and Vegas-style table games to gourmet food and luxury accommodations. There are spaces for corporate events as well as weddings and conferences. When you walk into Greektown Casino-Hotel, get ready for an unforgettable experience.
Fact Sheet
Greektown Casino
| | |
| --- | --- |
| First Opened | 2000 |
| Address | Grand Rapids, MI |
Greektown Casino-Hotel - Detroit, Michigan: Review
With 400 stunning guestrooms and suites featuring breathtaking skyline & river views, Greektown Casino Hotel is a great place to relax and recharge after a night out. Get ready for an unforgettable casino experience. Enjoy gourmet food, alluring slots, table games, and more. Take in the sights and sounds that the Greektown district has to offer.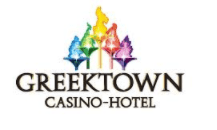 Play More, Earn More, Get Yours.
Greektown Casino-Hotel - Detroit, MI Fact Sheet
| | |
| --- | --- |
| First opened:  | November 20, 2000 |
| Phone number: | (313) 223-2999 |
| Address: | 1211 Chrysler Dr, Detroit, MI 48226 |
| Minimum gambling age?:  | 21 |
| Online Betting website: | Barstool Sportsbook And Casino, Michigan |
| Hotel available:  | Yes |
| Number of table games:  | 60 |
| Number of slots:  | 3,000 |
Greektown Casino-Hotel History 
The Greektown casino opened in 2000 in the Greektown Historic District. The federally recognized Sault Ste. Marie Tribe of Chippewa Indians held a majority interest. It was the only gaming casino in Detroit to be controlled by a Native American tribe.
In 2008, the tribe filed for bankruptcy protection for the casino. They then sold their interest in the property. As of 2019, the property is now owned by Vici Properties. Penn National Gaming handles its operation.
Transportation 
Plan a casino group trip with Greektown and arrive in luxury. From motorcoaches (shuttles) to individual tour operators, there are plenty of ways to get to the Greektown Casino Hotel.
Directions To The Greektown Casino Hotel:
If traveling in from the Livonia, MI area, take I-96 East/I-96 Express and merge onto I-75 North toward Flint. Then take exit 51C for I-75 North/I-375 South toward Flint/Downtown. Keep right at the fork and stay on exit 51C and follow the signs for I-375 South. Then exit toward Lafayette Avenue.
If traveling from the St. Claire Shore, MI area, take I-94 West to Detroit, MI. Then take exit 216A for I-75 South toward Toledo. Merge onto I-75 South and then exit toward Lafayette Avenue.
Greektown Casino-Hotel Gaming Experience
From slot machines and table games to live poker, this downtown Detroit casino offers 100,000 square feet of exciting, action-fueled choices. The Greektown Casino Hotel's selection of table games is second to none anywhere in Michigan.
Home of the hottest slots in Detroit, the Greektown Casino-Hotel offers nearly 3,000 ways to hit. From 1 cent to $100 slot and video poker machines, there are countless ways to win for any level of player. From new slots to old favorites like Blazing 7s®, or Buffalo™, there's always a perfect game for everyone.
The Baccarat Room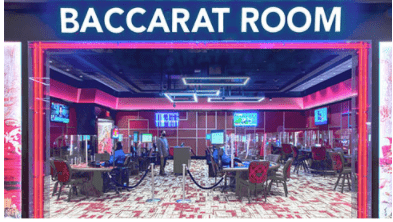 Check out the new exclusive Baccarat Room located on the casino's third floor inside of the High Limit area. It doesn't matter if you're new to Baccarat or an avid player, the Greektown Casino-Hotel Baccarat Room is the premier destination in Detroit.
The Baccarat Room provides players with various perks. Enjoy a variety of Baccarat tables, dedicated host staff, exclusive events & special promotions. There are nine Baccarat tables in the Baccarat Room. With table maximums up to $10,000 per hand, this is a destination that you won't want to miss!
Royal 9 Baccarat Progressive
Royal 9 Baccarat Progressive is exclusive to the Baccarat Room at Greektown Casino Hotel. Royal 9 features a multi-level progressive that is connected across all of the Baccarat tables.
 Players can win a progressive if the hand-printed at the spot they are playing matches the cards dealt. The top progressive for Royal 9 starts at $25,000.
The Greektown Casino-Hotel Poker Room
The Greektown Casino-Hotel poker room features games such as Limit Hold 'Em, No-Limit Hold 'Em, Limit Omaha High/Low, and Pot-Limit Omaha. This is the perfect place for serious live poker fans.
Enjoy smoke-free tables, plasma TVs, and complimentary snacks and drinks. There are free Wi-Fi and USB cell phone chargers at each table and a smoking room just outside the Poker Room.
Online Casino Experience
Michigan online casinos are legal in Michigan as of December 2019, the Greektown Casino-Hotel in Michigan is now offering MyChoice and BetBuilder.
MyChoice lets you play online casino games & slot games from anywhere in Michigan, for free. Gamble online with slot favorites to table games. MyChoice casino even lets you link your account to watch your rewards grow.
BetBuilder is a sportsbook app that shows the latest lines, lets you plan bets, and see what could be won. Use it anywhere in Michigan, just log on to Bet Builder with your phone or tablet, enter your bet online, see what they'll pay, and receive a QR code. Show the code to a Sportsbook teller and receive a live ticket. Online sports betting has never been easier.
Barstool Sports Betting 
The all-new Greektown Casino Hotel Sportsbook will deliver a sports betting experience covering almost every game around.
Barstool Sports Book at Greektown Casino Hotel is a one-way ticket to real-time odds, point spreads, and over/unders. Featuring 40 betting kiosks, 25 HDTVs, and a 30' video wall for viewing the best games. Barstool Sportsbook is the ONLY sportsbook where you can earn MyCash and MyChoice tier points every time a bet is placed.
Michigan sports betting lets gamers place wagers on football, basketball, hockey, soccer, baseball, golf, tennis, auto racing, cycling, boxing, and UFC. Professional and collegiate betting options are also available at Barstool Sportsbook.
There are different types of wagers allowed including straight bets, parlays, match-ups, futures, prop bets, and more. Barstool Sportsbook is conveniently located at the top of the Grand Staircase.
Rewards & Promotions
Guests who sign up for the MyChoice program will receive guaranteed free slot play up to $1,000.
Any active-duty military, veteran, or first responder is eligible for exclusive MyHeroes benefits. This includes a tier upgrade, up to 10% hotel rates, dining offers & more.
Greektown Casino-Hotel Restaurants
Greektown Casino-Hotel offers a wide selection of dining options as well as a variety of bars. From the curated collection of culinary experiences inside Monroe Market to the elegant Prism, you are sure to find the ideal restaurant for whatever suits your taste.
Amenities At Greektown Casino-Hotel
Corporate Events 
From corporate events & conferences to multi-day workshops, Greektown Casino can help.
With 20,000 square feet of convention and banquet space, including 11 breakout rooms, a 4,000 square-foot Grand Ballroom, and state-of-the-art audiovisual equipment, count on Greektown to provide corporate event success.
From exceptional spaces, services, and hotel accommodations, Greektown Casino Hotel is sure to meet any business needs.
Weddings & Events
At Greektown Casino Hotel, professional planners work hard to plan for the big day. The 4,000-square-foot Grand Ballroom will comfortably accommodate guests and immerse them in luxury & splendor.
Greektown also offers unique and delicious Detroit dining experiences that will make any reception memorable. Dance and celebrate into the evening knowing that luxurious hotel accommodations are just upstairs.
Conferences
The Greektown Casino Hotel is also the perfect venue for any occasion from educational conferences and military gatherings to family reunions. The ample event space lets guests convene in luxury and comfort. The provided amenities complete with picturesque windows to enjoy the view of the city is a big plus.
The Greektown Casino-Hotel Detroit, Michigan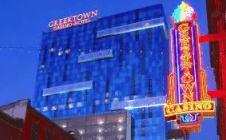 With 400 stunning guestrooms and suites devoted to comfort, this 30-story hotel is a great place for R&R after a night on the town. You can get ready for a trip to the casino, or just see what sights and destinations the dynamic Greektown district has to offer.
You won't miss the breathtaking skyline and river views directly from this downtown Detroit hotel suite or room. The Greektown Casino-Hotel features modern and contemporary décor and finishes. From world-class amenities and some of the most comfortable accommodations found anywhere in Detroit. Greektown Casino-Hotel will not disappoint.
Greektown Casino-Hotel - Detroit, MI FAQ
| | |
| --- | --- |
| Does Greektown Casino Hotel have a hotel? | Yes |
| Does Greektown Casino Hotel offer online betting? | Yes |
| What is the closest big city to Greektown Casino Hotel? | Toledo, OH |
| Does Greektown Casino Hotel allow sports betting? | Yes |
| What is the minimum age to gamble at Greektown Casino-Hotel? | 21 |
| When did Greektown Casino Hotel open? | November 20, 2000 |
Follow Greektown Casino Hotel
| | |
| --- | --- |
| Instagram | |
| Twitter | |
| Youtube | |
COVID Safety Precautions
Guest health and safety are Greektown Casino & Hotels' top priority. There are complimentary masks, hand sanitizer, and sanitizing wipes provided. Greektown has also implemented a state-of-the-art HVAC system that replaces the air in the casino with 100% fresh outdoor air multiple times per hour.
Guests that have not been fully vaccinated are asked to wear masks. Please respect others and follow social distancing practices.
Final Greektown Casino Review
The Greektown Casino-Hotel has a lot to offer its guests. From luxury accommodations and enticing casino games to fine dining, entertainment, and online gaming. This Casino and hotel has something to offer for everybody and provides an atmosphere unlike anything else in Michigan. Visit the Greektown Casino-Hotel for an unforgettable experience like none other.