Reviews
Kewadin Casino Manistique
 The Kewadin Casino in Manistique has a large assortment of casino games and virtual table games available that will please a variety of players. From sports betting and Vegas-style gambling to delicious food and loads of entertainment, this casino is a great place to visit for any casino goer.
Fact Sheet
Kewadin Casino Manistique
| | |
| --- | --- |
| First Opened | 1994 |
| Address | Grand Rapids, MI |
Kewadin Casinos - Manistique, Michigan: Review
The Kewadin Casino in Manistique is located on US-2 west of the Mackinac Bridge and is open 365 days a year. The casino offers Las Vegas-style gaming including Blackjack, Roulette, Craps, Three-Card Poker, Two-Deck Pitch, and Let It Ride.
Kewadin customers can enjoy exquisite dining and a variety of amenities such as a gift shop, free parking, and its Northern Rewards Players Club. Get ready for lots of excitement.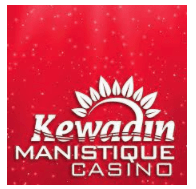 "THIS IS KEWADIN COUNTRY."
Kewadin Casinos - Manistique, MI Fact Sheet
| | |
| --- | --- |
| First opened:  | 1994 |
| Phone number: | (906) 341-5510 |
| Address: | 5630 W, US-2, Manistique, MI 49854 |
| Minimum gambling age?:  | 19 |
| Online Betting website: | WynnBet Michigan |
| Hotel available:  | No |
| Number of table games:  | 4 Virtual Tables Games |
| Number of slots:  | 200 |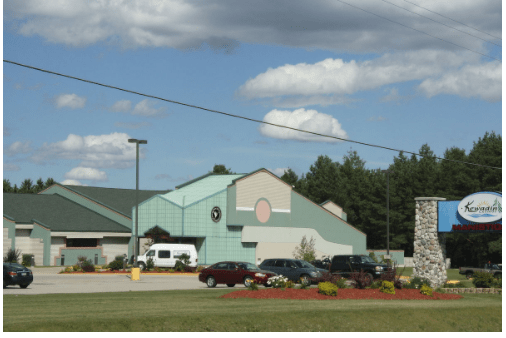 Casino History 
Native American activists in the 1980's carved out new areas of sovereignty. The tribe could now establish gaming casinos on sovereign tribal land.
The Sault Ste. Marie Tribe of Chippewa Indians Board of Directors voted to open Kewadin Casinos '84.
The Manistique casino is one of five Indian gaming casinos owned by the Sault Ste. Marie Tribe of Chippewa Indians. The Kewadin Casino in Manistique, MI is still a relatively old casino that's been around since the early 1990s.
The Tribe is working towards the goal of becoming completely self-sufficient. Revenues from the Tribe's casinos and non-gaming businesses are spent to better their communities with:
Improved health care
Housing
increased educational opportunities.
Transportation | Directions To Kewadin Casino In Manistique, MI
 Kewadin Casino, Manistique, located on US-2 west of the Mackinac Bridge.
Guests traveling from southern Michigan, take I-75 N to exit 344 B. Turn right onto US-2. Follow US-2 to Manistique for roughly 1 1/2 hours. The casino will appear on the right.
For guests traveling from northern Michigan, take I-75 S to M-28 exit 386 towards Newberry / Munising. Take M-28 to M-117 towards Engadine and turn left. Take this for roughly 16 miles to US-2 and turn right. Travel for around an hour and the casino will be on the right.
Shuttle Services
Visiting Kewadin Casino in Manistique has never been easier. Just call a shuttle bus for a hassle-free ride to and from the casino. To arrange a pick-up, please call 1-906-635-7799.
Shuttle Service Hours:
Wednesday & Thursday: 2 p.m. – 10 p.m.
Friday & Saturday: 3:30 p.m. – 11:30 p.m.
Sunday: 2 p.m. – 10 p.m.
Gaming Experience 
Kewadin Manistique is one of five branches of tribal casinos in Michigan. The Manistique casino has a large assortment of casino games available that will please a variety of players. Kewadin Casino in Manistique offers slot machines & virtual table games. The enticing virtual table games are made up of a selection of roulette, blackjack, poker, and craps variants.
Slots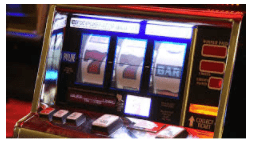 Kewadin is the place for slot lovers. Providing the hottest slots around, Kewadin Casino features roughly 200 slots for patrons to choose from. Choose from a variety of slot machines from a penny or a nickel up to $25.00.
Table Games 
Kewadin Manistique also offers a selection of four Virtual Table Games. Players can choose from popular table games such as Let it Ride Bonus, Ultimate Texas Hold'em, Blackjack, Craps, and Roulette. The casino does not have traditional table games or a poker room.
Casino Online Experience
Kewadin Casinos recently partnered With WynnBet. WynnBet is an award-winning developer and supplier of enterprise-level Internet gambling software, services & online gaming content in the USA.
Michigan passed a bill that includes provisions for the legalization of real money gambling online on December 23, 2019. With the passage of Michigan law HB 4311, Players are now allowed to perform online sports betting in Michigan and play at online casinos in Michigan.
Kewadin Casino customers can now play online casino games and place sports bets at Kewadin Casinos' new online gaming website.
Sports Betting | Kewadin Sports Gambling

For customers that love to bet on sports in addition to their traditional casino indulgence, Kewadin Casino in Manistique offers legal Sports Betting. Similar to its sister locations, guests will find a Kewadin Casino Manistique sportsbook on the casino premises.
Players will find sports betting kiosks in the Team Spirit Bar. The sports bar is a perfect place to watch a game, eat and place some bets. The sportsbook also hosts occasional events such as concerts and pub quiz nights. This sportsbook is sure to win over any sports betting enthusiast.
The WynnBET and Kewadin Casinos partnership also provides patrons with a complete sports betting experience. Now anyone can bet legally online on their favorite sports including horse racing, auto racing, college football, baseball, basketball, boxing, and more from anywhere in Michigan.
The wynn app is available on smartphones and web browsers can access one of the nicest betting sites you will see at wynn bet com. The online gambling site allows users to play casino games and place online sports betting wagers.

Rewards At Kewadin Casino in Manistique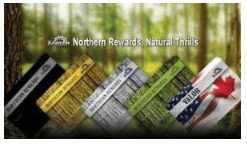 The loyalty program or players club at Kewadin Manistique is called the Northern Rewards Club. The Northern Rewards Club program offers 4 tiers. Cardholders can earn points to move to different tiers by playing a variety of games, including table games and video poker to build their points.
Kewadin Casinos Hotel offers customers the ability to use their earned comp and points with a simple swipe of their Northern Rewards card at any of their casino restaurants, delis, hotels or gift shops.
Northern Rewards Club members earn valuable points. Customers can earn free services in addition to earning points through consistent play using their Northern Rewards card.
"Consistent play" is dependent on the player and the type of gaming the player engages in, whether it's slots, table play, etc. Points can be redeemed on the following Items:
Merchandise & Entertainment Ticket Discounts 
Exclusive Invitations & Comps
VIP parties
Private Dinners and Special Events
Entertainment tickets (Top Tier Player Can Use Points For The Skybox Lounge)
Mail Offers
Casino Hotel Rooms at the other Kewadin locations
Casino Dinners
Special promotions and packages
Northern Rewards Club membership provides entry into all promotions and special events. This includes cash prizes, merchandise prizes, gas discounts, senior day breakfasts, and more. Start using the free Northern Rewards Club card to win even more.
Win-Loss Statements are available and provided to all carded players for tax purposes.
Promotions
There are a variety of monthly and recurring promotional events that happen at the Kewadin Casino in Manistique, MI as well. Some of these promotions include:
Ladies Night: On Fridays from 5:00 pm to 7:30 pm ladies will receive hot seat draws and prize draws.
Senior Day Wednesdays: Seniors receive $5.00 in Kewadin Credits.
Valor Day Tuesdays: On Valor Day Tuesdays all Valor Card members receive $5 in Kewadin Credits.
Players Day Mondays: Players Day Monday is for Black, Gold, Silver, Valor Card Members. Receiving
Black Card $30 Kewadin Credits
Gold Card $20 Kewadin Credits
Silver Card $10 Kewadin Credits
Valor Card up to $30 Kewadin Credits. 
Mariner's Cove Restaurant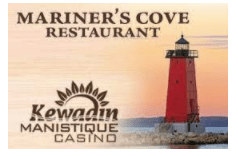 Kewadin Casinos Manistique provides the charming Mariner's Cove Restaurant. This 60-seat restaurant offers guests a full-service menu for lunch and dinner.
Enjoy some delicious comfort food in between casino gaming. The menu offers everything from wings and chicken tenders to sandwiches, burgers, and homestyle dinners. Mariner's Cove Restaurant is open every day from 12:00 pm to 8:00 pm.
Amenities 
One thing that sets this casino apart is the large selection of outdoor attractions available. The Kewadin Casino Manistique property includes hundreds of rivers, lakes, streams with charter fishing options directly on Lake Michigan.
During the winter months, Kewadin guests enjoy snowmobiling on 300 miles of trails, cross-country skiing on local trails, or ice fishing on the hundreds of lakes around the property.
Kewadin Casinos - Manistique, MI FAQ
| | |
| --- | --- |
| Does Kewadin Casinos Manistique, MI have a hotel? | No |
| Does Kewadin Casinos Manistique, MI offer online betting? | Yes |
| What is the closest big city to Kewadin Casinos Manistique, MI? | Escanaba, MI |
| Does Kewadin Casinos Manistique, MI allow sports betting? | Yes |
| What is the minimum age to gamble at Kewadin Casinos Manistique, MI  | 19 |
| When did Kewadin Casinos Manistique, MI open? | 1994 |
Follow Kewadin Casinos in Manistique, MI 
| | |
| --- | --- |
| Facebook | |
| Instagram | |
| Twitter | |
COVID Safety Precautions 
The Kewadin Casino looks after the safety and wellbeing of its guests, employees, and community. Currently, guests and team members are not required to wear a mask in public spaces. A mask will be provided to all guests and team members who request to wear one. The following areas will be sanitized consistently in both team member and guest areas:
Restrooms
Elevators
Counters
Furniture
workstationS
Doors
Kiosks
ATM's
frequently-used equipment
multi-touch areas
Housekeeping will not enter stay-over guest rooms, any refreshed items will be delivered to guest rooms in a single-use bag upon request to lower contact.
Final Review
The Kewadin Casino in Manistique, Michigan is truly remarkable and the main casino serving the eastern side of the UP whereas Northern Waters Casino covers the western UP. From a Los Vegas esc Gameroom to delicious eats all while being situated in the beautiful Michigan wilderness. With outdoor activities year-round, this is definitely a casino experience no casino enthusiast should miss out on.