Reviews
Kewadin St. Ignace Casino
The Kewadin St. Ignace Casino is open 24 hours a day, 365 days a year. They feature 800 slot machines, 7 virtual casino table games and bingo tournaments. From amazing accommodations and fine dining selections to luxurious amenities and live entertainment, this casino has it all.  
Fact Sheet
Kewadin St. Ignace Casino
| | |
| --- | --- |
| First Opened | 1994 |
| Address | Grand Rapids, MI |
Kewadin Casino St Ignace Hotel Review
The Kewadin Casino in St. Ignace, Michigan offers a one of a kind experience. This delightful casino combines exciting Vegas action with Northern Michigan's authentic regional flair.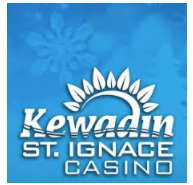 "THIS IS KEWADIN COUNTRY."
Kewadin Casinos - St. Ignace, MI Fact Sheet
| | |
| --- | --- |
| First opened:  | 1994 |
| Phone number: |  (906) 643-7071 |
| Address: | 3015 Mackinac Trail, St Ignace, MI 49781 |
| Minimum gambling age?:  | 19 |
| Online Betting website: | |
| Hotel available:  | Yes |
| Number of table games:  | 5 + 2 Virtual Blackjack Tables |
| Number of slots:  | 800+ |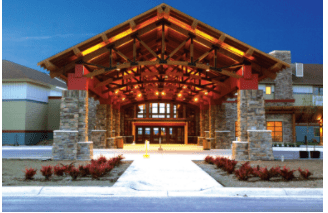 Casino History 
The Sault Ste. Marie Tribe of Chippewa Indians Board of Directors voted to open the Kewadin Casinos in 1984.

In 1987, Kewadin Casinos opened Kewadin Shores Casino–St. Ignace.

By 2005, the Sault Ste. Marie Tribe of Chippewa Indians businesses employed nearly 2,000 people. This made them the largest employer in the Upper Peninsula.

Transportation
Coming from the South: Take I-75 N to exit 348, turn left onto Mackinac Trail, drive two miles and the casino will be located on the right.

Guests coming from the North. Take I-75 S to exit 352. Turn left on M-123 and then right on Mackinac Trail. The casino will be on the left after around 4 miles.

Shuttle Services
 Visiting Kewadin Shores Casino is as simple as making one call. Shuttle service provides a simple and hassle free way to get to and from the casino. 
Shuttle Service Hours 

Monday – Tuesday: 11 a.m. – 2 a.m.
Wednesday – Sunday: 11 a.m. – 3 a.m.
Gaming Experience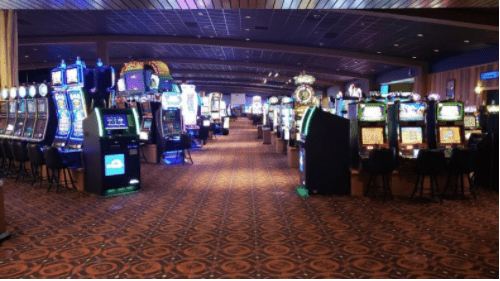 The Kewadin Shores Casino & Hotel in St. Ignace is open 24 hours a day, 7 days a week, 365 days a year. The beautiful St. Ignace casino includes a 25,000 square foot gaming floor that provides guests with entertaining slots and table games. Guests can choose from Las Vegas-style gaming including Blackjack, Poker, Let It Ride, Roulette, Craps, 3 Card Poker, Live Keno, and over 800 exciting slot machines. 

Slots

Kewadin Casino features a whopping 800 slot machines favorites ranging in denominations from a penny or a nickel to $25.00. 

Virtual Table Games

The 25,000 square-foot gaming floor at Kewadin Casinos offers table game action, but in virtual form. Guests can choose from 7 virtual table games. From virtual blackjack to virtual craps, these were designed with the table game enthusiast in mind. 
Bingo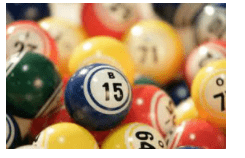 The St. Ignace Kewadin Casino location offers two annual Mega Bingo Tournaments.

Six weeks before any Mega Bingo tournament, there are weekly Bounce in Bingo events held at Kewadin Casino as well.

Guests are able to check Kewadin Casino's event calendar online for specific dates and times. For more information, contact Kewadin Shores Casino at 1-800-KEWADIN.  

Casino Online Experience 
On December 23, 2019, Michigan passed Michigan law HB 4311. This bill included provisions for the legalization of real money Internet gambling and online casinos in Michigan. This means that Michigan residents are now allowed to bet online.
Kewadin Casinos and WynnBet partnered to provide Michigan with the best online gaming and sports betting experience. WynnBet is an award-winning developer and supplier of internet gambling software, services & online gaming content in the US.
Customers can now play for fun on Kewadin Casinos' new online gaming website.
Choose from popular online casino games including Blackjack, American Roulette, Texas Hold "Em Plus, I Luv Suits, and more. There are also popular casino games like Triple Red Hot 7, Cash Eruption, Cleopatra, Hypernova Megaways & more.
WynnBET and Kewadin Casinos partnering also provides gambling enthusiasts with a complete online sports betting experience at all of the Kewadin Casino locations. Players playing online are also able to place bets on their favorite sports teams or sports events online. Simply use the Wynn app on any Android or Apple device to place your bet. Download the app from the links provided below to gamble online!
Sports Betting 
The Kewadin Shores Casino in St. Ignace provides a sports betting kiosk inside the Whitetail Sports Bar. Sports Gambling players can bet on their favorite major sports including races, baseball, basketball, boxing, MMA, football, golf, hockey, soccer & more.

The Whitetail Sports Bar is a great place to place your bets and catch your favorite games on the television. This 80 seat bar offers a great view of Lake Huron along with multiple TV screens so guests can stay up to date with a variety of sporting events.

The Wynn Bet website offers some of the best online sports betting in Michigan. Users can easily place bets on sports, horse racing and feel safe betting legally online.  

Rewards
The loyalty program at Kewadin Shores Casino in St. Ignace is called the Northern Rewards Club. The Northern Rewards Club program offers 4 tiers. Players can earn points to change tiers by playing lots of different games. This means that cardholders can play table games, slots, video poker, and more to build their parents. 
Kewadin Casinos allows club members to use their earned comp and points with a simple swipe of their Northern Rewards card at any Kewadin casino restaurant, deli, hotel, or gift shop.
Members of the Northern Rewards Club will earn valuable points accordingly: 
Customers can earn complimentary services in addition to earning points through consistent play using their Northern Rewards card. "Consistent play" is dependent on the player and the type of gaming the player engages in, whether it's slot, table play, etc. Points are redeemable on the following Items:
Merchandise & Entertainment Ticket Discounts 
Exclusive Invitations & Comps
VIP parties, Dinners, and Special events
Entertainment tickets (Top Tier Player Can Use Points For The Skybox Lounge)
Mail Offers
Casino Hotel Rooms
Casino Dinners
Special promotions
Start using the free Northern Rewards Club card to win even more. Members will be entered into all promotions and special events. This means that members are always entered in to win cash prizes, merchandise prizes, gas discounts, senior day breakfasts & more. 

Promotions | Kewadin Casino Promotions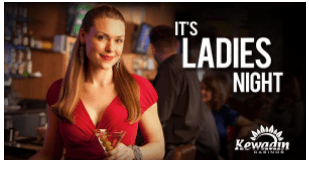 Kewadin Shores Casino offers a lot of monthly promotional events. Some of these promotions include:

Ladies Night
Senior Days
Valor Day
Players Day 
Restaurants
Horseshoe Bay Restaurant

The Horseshoe Bay Restaurant has a magnificent view of Lake Huron. Stop in for delicious Breakfast foods & homestyle dinners. From burgers to biscuits and gravy, there is something that everyone will enjoy on the menu.

Whitetail Sports Bar

Check out the Whitetail Sports Bar in Kewadin Casinos St. Ignace. This 80-seat bar is the perfect spot to watch any sporting event or activity. There is a sports betting kiosk situated in the Whitetail Sports Bar as well. Sports betting enthusiasts can place their sports bets, grab a drink and watch the game.  
Kewadin's Campfire Deli
Stop at Kewadin's Campfire Deli. The Campfire Deli offers guests a variety of delicious treats. Experience their signature Kewadin Club Sandwich along with other popular snacks including hot wings, french fries, omelets & ice cream desserts.
Amenities
Pool
Kewadin Shores Casino & Hotel offers a refreshing indoor swimming pool for hotel guests to use. Relax poolside or spend some quality time in the attached whirlpool. This is a great way to relax at the end of an exciting day.

Concerts

Guests make sure to check the Casino event calendar to see the latest concerts scheduled.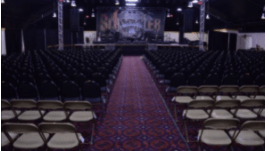 Fitness Center

The St. Ignace Hotel provides hotel guests with a modern fitness center. Stocked with cardiovascular and weight training equipment, the fitness center is great for guests who are trying to get their blood pumping. 

Hotels | Hotels Near Kewadin Casino St Ignace
Kewadin Shores Casino in St. Ignace is located on the wondrous shores of Lake Huron. This 81-room hotel offers a great selection of comfortable accommodations. From cozy hotel rooms to luxury suites with jetted bathtubs. 

All guests have access to the hotel's amenities including the indoor swimming pool & fitness room. There is even an arcade to keep kids entertained. Check with the front desk for current hotel promotion packages.

Kewadin Casinos does not allow pets in their hotels. Assistance dogs are allowed with proper paperwork. 

Kewadin Casinos - St. Ignace, MI FAQ
| | |
| --- | --- |
| Does Kewadin Casinos St. Ignace, MI have a hotel? | Yes |
| Does Kewadin Casinos St. Ignace, MI offer online betting? | Yes |
| What is the closest big city to Kewadin Casinos St. Ignace, M | Sault Sainte Marie, MI |
| Does Kewadin Casinos St. Ignace, MI allow sports betting? | Yes  |
| What is the minimum age to gamble at Kewadin Casinos St. Ignace, MI  | 19 |
| When did Kewadin Casinos St. Ignace, MI open? | 1994 |
Follow
COVID Safety Precautions 
The Kewadin Casino & Hotel at St. Ignace takes the safety of its guests, employees, and community very seriously.

Guests and team members are not required to wear a mask in public spaces. If a guest wants to wear a mask, a mask will be provided upon request. Cleaning crews will increase room cleanliness and cover all touch points within each guest room. This includes cleaning and wiping down all furniture, doors, doorknobs, phones, remotes, thermostats, curtain pulls, fixtures, blow-dryers, iron, ironing boards, luggage stands, lighting controls, hangers, microwaves, refrigerators, and amenities.

Final Review 
The Kewadin Shores Casino & Hotel in St. Ignace is a cozy getaway that every casino goer should experience. From Las Vegas style slot machines and table games to delicious meals, cozy accommodations, and elegant views of Lake Huron. The Kewadin Shores Casino & Hotel in St. Ignace is a must-see vacation or getaway destination.