2023 NBA Player Props: Best Under Bets
Image © Bill Streicher-USA TODAY Sports
The National Basketball Association is set to tip off its 77th season Tuesday night and we're so ready for some roundball.
Not that we haven't been enjoying all the sports wonders that October brings, from MLB's postseason to NHL's season start to the thrilling drama of college football (Did y'all watch last weekend?! Good, lawd!) to the always unpredictable NFL.
But today we're focusing on the NBA, which had a wild and crazy offseason of its own, with roughly 100 players changing teams this summer.
We here are OddsSeeker, have already given you golden gift picks for the 2023 NBA Award winners and the best bets to win MVP. Plus, here's a great season preview of everything you need to know about all 30 teams. 
I'm picking the three best bets on three individual players to go over or under on the regular-season stat lines courtesy of PointsBet Sportsbook, which has a great promo (per the official site): Get up to a $500 Free Bet if your first Fixed-Odds cash bet loses, and up to a $1,500 Free Bet if your first PointsBetting cash bet loses with PointsBet's Second Chance.
If you want another sweet sportsbook promotion, check out another awesome offer: DraftKings Bet $5, Win $200.
But don't forget about all the other great gambling options available in your state including BetMGM, FanDuel and more.
Also, be sure to check out our guide to online casinos, from Michigan to New Jersey. You can place all your NBA future wagers there, including these picks for total wins in the 2022-2023 season.
OK, now on to three big stat bets to make now.
Lebron James UNDER 27.9 points per game (-130)
Let's start with the biggest name in the game and the inevitable all-time NBA scoring leader. James, who will likely break Kareem Abdul-Jabbar's hallowed record sometime in January or February, is coming off a monster 2021-22 season. He averaged 30.3 points per game (although he played in just 56 of them), the second-highest average of his 19-year career.
However, in all of those seasons, he's averaged 27.9 ppg just five times. This year will mark his 20th NBA season and 'The King' will turn 38 on Dec. 30. His output has been amazing and, of course, athletically he's a freak of nature–but I expect him to slow down a tad this season.
Why? Anthony Davis seems to be healthy and motivated and should shoulder some of the scoring load. Russell Westbrook could have a bounce-back season as well for new Lakers coach Darvin Ham, so let's call it LeBron at 24-25 ppg. 
Trae Young UNDER 28.3 points per game (-115)
Look, I love Young. Not as much as Temetrius Jamel Morant – that's "Ja" to you and me, mon, don't be silly – but he, Ja, and Luka Doncic are the three most talented, exciting young guards in the NBA.
The 24-year-old Trae Young led the NBA in total points last season (2,155), averaging 28.4 ppg, and over the last three years, he's averaged 27.7 ppg.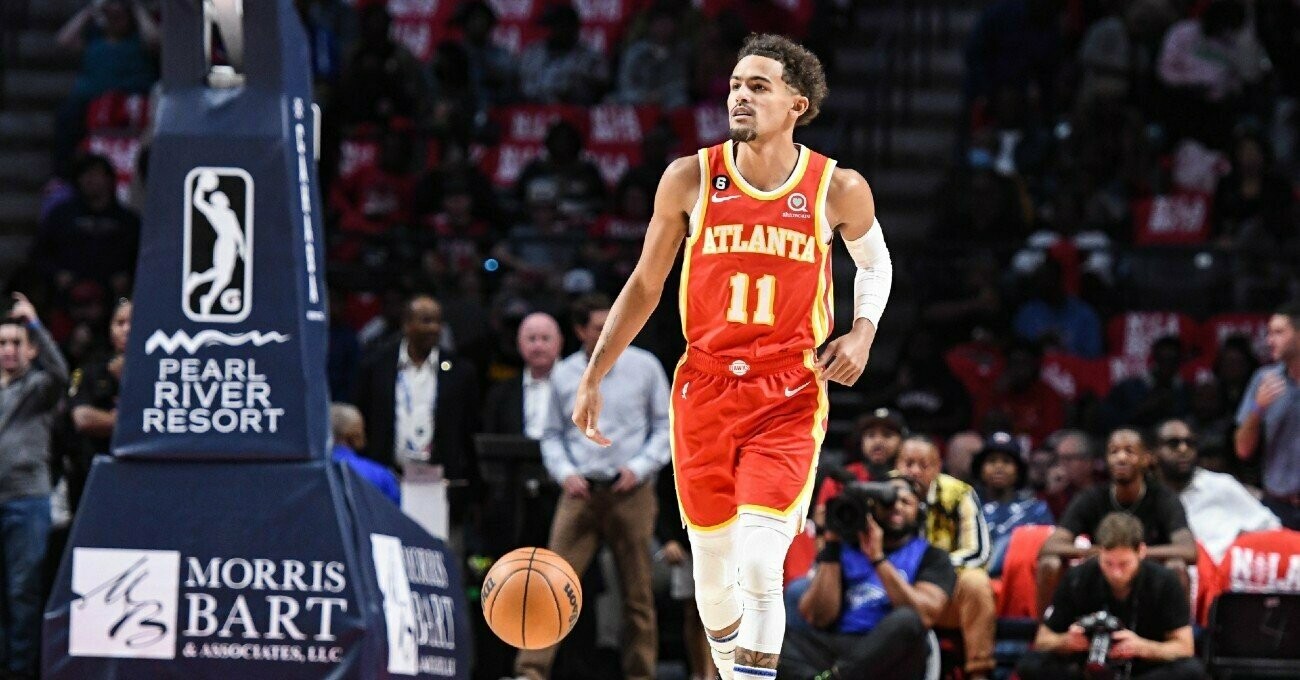 © Larry Robinson-USA TODAY Sports
But there's one thing that will keep Young just slightly under 28.3, which is the addition of former Spurs All-Star Dejounte Murray. Some believe having Murray by his side will mean more open looks for Young. Perhaps. But it's also going to mean that Murray is going to want, and get, his shots too. After all, he averaged 21.1 ppg for San Antonio last season. If the Hawks seek to improve and advance past the first round of the playoffs in the deep East, they'll need a more balanced attack – and that means fewer points for Young.
James Harden UNDER 10.2 Assists Per Game (-115)
I'm going against the hardwood grain on this one. I've seen many experts predict that Harden, who has reportedly looked to be in great shape, could return to his dominant self. And he was hardly shabby in his 21-game stint with the Sixers last season, finishing as the only player in the league to average 20-plus points and 10-plus assists per game.
So, the thinking goes: Because his scoring has significantly decreased and he's becoming more of a facilitator at this point of his career, he'll pass more and score less. Makes sense except for … are teams really going to allow Joel Embiid, who won the NBA scoring title last season (30.6 ppg), to do that to them again? I doubt it.
My theory is that Harden is going to get more open looks in his first full season in Philly and he'll take advantage of them. Plus, if he's as healthy as everyone says he is, won't he drive to the basket more, creating more shots for himself and also drawing tons of fouls – along with the ire – of opposing defenders? I think he will. 
As always, best of luck this NBA betting season. I'll have plenty more sure-fire winners in the months to come.
Free Signup Promo
Get 10 FREE Sweeps Coins
First Purchase Offer
Get 10 FREE Sweeps Coins