2023 NFL Draft: Why the Bears Will Trade First Overall Pick
Image © Daniel Bartel-USA TODAY Sports
As 14 NFL teams get ready for the NFL playoffs that start today (Saturday, Jan. 14), 18 other franchises are on the outside looking in at Super Bowl dreams and preparing for the 2023 NFL Draft. The 88th draft is scheduled to be held in the plaza outside of Union Station in Kansas City, Missouri, on April 27–29, 2023.
Here's another fun fact: All 32 NFL teams have made the playoffs and each one has won a playoff game before. So, no franchise is a lost cause – some just need new life, and that's where college football's finest come into play.
Teams can turn around quickly with the right selections. Hello, Kansas City!
By drafting quarterback Patrick Mahomes, everything changed for the Chiefs. If you think they have a chance at winning the Super Bowl, you can bet on them at DraftKings Sportsbook.
Right away.
This brings us to the Chicago Bears, which, hate to remind you Bears fans – and that includes another Patrick, who's a fan and former neighbor of mine – traded up to draft Mitchell Trubisky back in 2017. Taken eight spots ahead of Mahomes. Oh, the horror, Chicago.
So the question now is: Do da Bears believe in the Fields kid?
Bears quarterback Justin Fields has improved in each of his first two seasons in the league. He can sure as hell run, but needs to improve his passing.
He also needs more offensive weapons.
The third year for any pro player, whether NFL, NBA, MLB, name it, is Year Three.
The Bears Hail-Mary-lucked into the No. 1 overall pick in the draft, thanks to former Chi coach Lovie Smith's Texans, and now they have awesome leverage leading up to April.
They also have $100 miliion in salary cap space, so they're absolutely gonna make some moves.
What they're definitely going to do, though, is trade that prized No. 1 overall pick, because they'll get a King's ransom — or, in this case, a Colts's ransom.
I believe that Jim Harbaugh is going to become the next Indy coach and he's going to ask for the moon and the stars and all the rest, which will include providing him with a solid quarterback.
He's a QB/coach, after all.
Colts owner Jim Irsay will make that happen.
Which means they are moving up in the draft.
Unless other teams try to leapfrog them. Heh. This is going to be fun to see which teams want the top two QBs the most.
Now there are differing opinions on who should be the top pick: I prefer C.J. Stroud over Bryce Young but that's basically sixes. I believe both will be good in the NFL.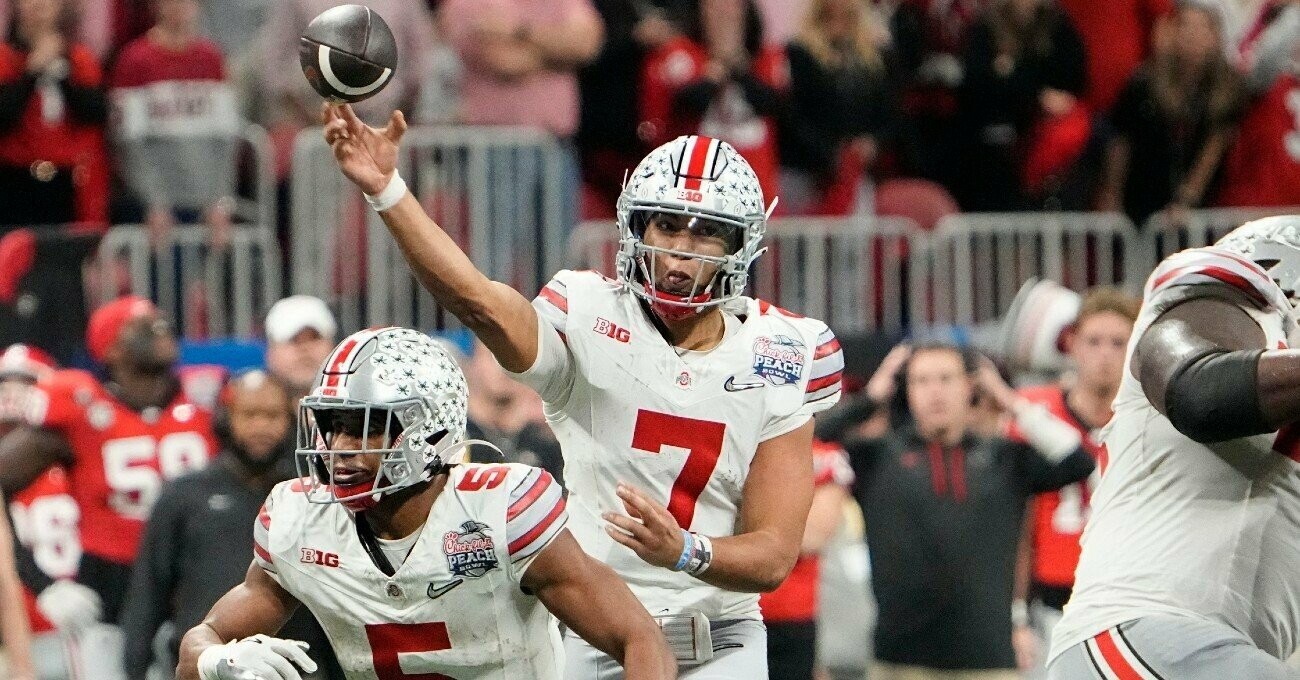 © Adam Cairns/Columbus Dispatch / USA TODAY NETWORK
So do the Bears stand pat? Doubt it.
Bears general manager Ryan Poles said this about Fields.
"We had good conversations. I'm excited about the direction he's going. As I mentioned before, he knows where he has to improve. I think he mentioned that the other day. So we're excited about his development and where he goes next.
"He showed ability to be impactful with his legs. There's flashes with his arm. Now if we can put that together, I think we have something really good."
Everyone rightfully took this quote from Poles to mean that the Bears are willing to listen to all kinds of offers:
"We'll be open to everything."
Colts general manager Chris Ballard seems like he'll convince Irsay to trade up and that collectively they'll make a splash with Harbaugh and a potential star QB as they try to get back to the Peyton place years.
The Colts beat the Bears 29-17 in Super Bowl XLI (2007). Man, how times have changed with both of these teams.
They'll both be better this year. I'm saying Fields could be the kid and you absolutely draft Alabama's Will Anderson with the No. 4 pick – if he's available.
Listen to me, Chicago. I love you as fans and a city and the food and the cool kindness and everything but .. trade that pick and get Fields some receivers and replace Khalil Mack.
Hey, all y'all. Just like the Lions, I think the Bears will be bouncing back.
Free Signup Promo
Get 5 Free Sweeps Coins + 600 Free Diamonds