2023 Super Bowl Dark Horses That Could Win the Big One
Image ©Brett Davis-USA TODAY Sports
The NFL playoffs begin Saturday and will conclude Sunday, Feb. 12 with Super Bowl LVII in State Farm Stadium in Glendale, Arizona.
The wild-card weekend, which runs from Saturday, Jan. 14 through Monday, Jan. 16 and includes six games, should be exactly that – wild.
But our focus today is on who are the darkest of horses, the most likely underdogs to make some noise and reach Super Bowl 57.
Here are the current odds, courtesy of FanDuel Sportsbook, to win it all:
Kansas City Chiefs +330
Buffalo Bills +420
Philadelphia Eagles +500
San Francisco 49ers +500
Cincinnati Bengals +750D
Dallas Cowboys +1300
Los Angeles Chargers +2100
Tampa Bay Buccaneers +2800
Minnesota Vikings +3000
Baltimore Ravens +3700
Jacksonville Jaguars +4800
New York Giants +5500
Miami Dolphins +6500
Seattle Seahawks +8500
Of these teams, I'm looking at two teams with good value (Chargers and Bucs)  who also happen to have great quarterbacks.
The Chargers, with Justin Herbert, have won four of their last five games.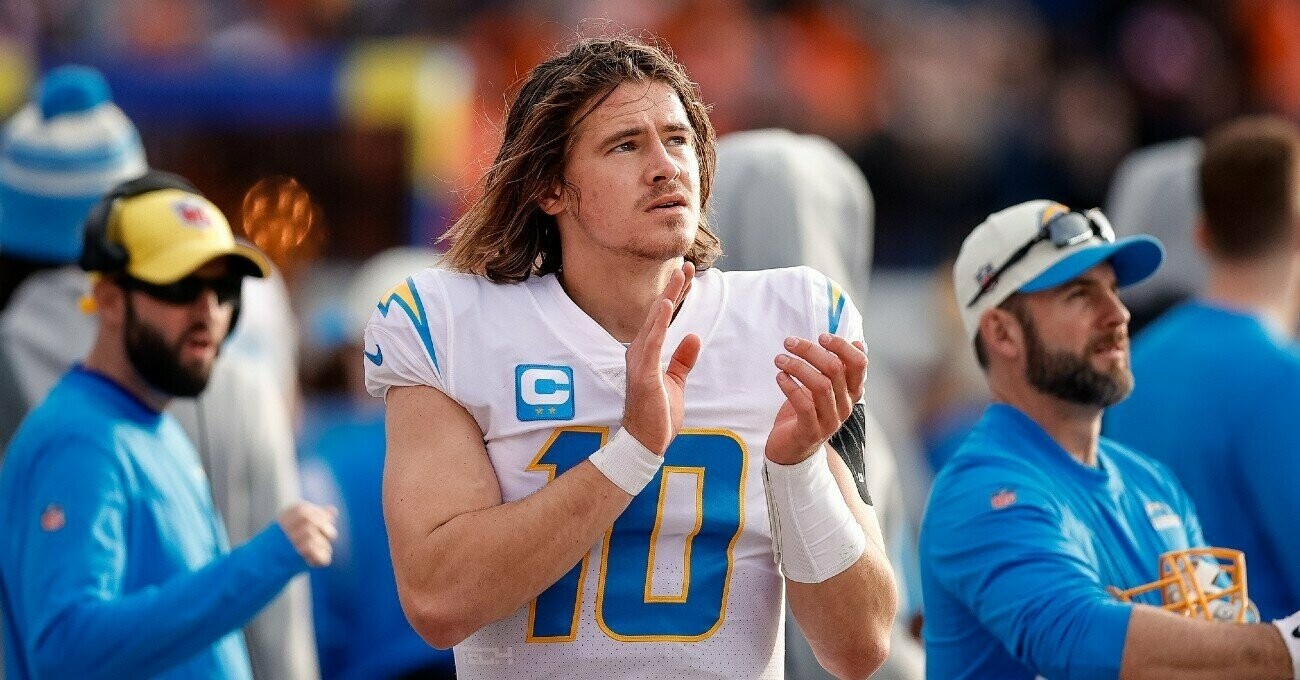 ©  Isaiah J. Downing-USA TODAY Sports
He'll give them a chance to win on the road Saturday night in Jacksonville, but the Jaguars blew them out 38-10 in Los Angeles back on Sept. 25.
But the Chargers, riddled with injuries all season, are starting to get healthy. Or at least healthier. Most of the starters didn't play the whole game in a season-ending loss to Denver, so they should be rested after a cross-country flight to Florida.
A win Saturday means a matchup with nemesis Kansas City, which beat them twice this season, just three points in each setback. So the Chargers can certainly hang with the Chiefs.
Their pass defense ranked eighth overall this season, but they're rushing defense was only 28th in the league.
I think they'll stop Trevor Lawrence and Co. on the road and then face the Chiefs for a third time as likely at least a touchdown underdog.
But stranger things have happened in the playoffs and the Chargers are a dangerous 10-7 team.
Up next: Tampa Bay.
The Bucs haven't been great down the stretch: Back-to-back blowout losses to the 49ers and Bengals in December, followed by an overtime win over the Cardinals, a squeaker victory over the Panthers, and an awful loss to the Falcons to conclude the regular season to finish with a losing record (8-9).
Yikes.
And yet they're just a 3-point underdog to Dallas at home on Monday night (Jan. 16).
Why?
Do I really need to write this sentence? Never count out a Tom Brady-led squad.
It's about that simple. The ageless wonder (he's 45) had a solid 2022 season, completing nearly 70 percent of his passes and tossing 25 touchdowns against nine interceptions.
Tampa Bay's defense will have its hands full with the Cowboys' explosive offense but if the Bucs can ball control and run clock, they can sneak out a win. And I expect them to, especially after Dallas laid an egg (26-6 loss) against Washington in its regular-season finale.
A Bucs win would mean a matchup with the Philadelphia Eagles and if you don't think that Brady wouldn't be up for getting revenge on the team that beat him and his New England Patriots in Super Bowl LII in 2018, then you don't understand the man.
Tampa Bay at +2800 is worth a sprinkle.
Free Signup Promo
Get 5 Free Sweeps Coins + 600 Free Diamonds