Bill Russell, American Sports Icon & Civil Rights Leader - Dies at 88
Image © Kirby Lee-USA TODAY Sports
"I don't have very many regrets, not because I lived a perfect life, but because life is a bunch of rolling hills, not mountains, or speed bumps instead of stop signs, and so you come to a situation and it's neither good or bad. It just is, and what it means to you is what's your take on it. But the second part of the equation is what are you going to do about it. A lot of times I'm completely wrong, but all you do is back up and start over."--Bill Russell
The NBA is once again mourning the death of a legend after news of Bill Russell's death was reported on Sunday, July 31st. Russell was 88, and according to the statement released by his team via Twitter, died "peacefully" with his wife, Jeannine, at his side.
Russell was a 12x All-Star, 11x NBA Champion, Olympic Gold Medal Winner, 5x MVP, and the first-ever Black head coach in NBA history. He will forever be remembered for his accomplishments on the court, but will also be remembered for his bravery off the court as well. 
Bill Russell Rings
"Heart in champions has to do with the depth of our motivation and how well your mind and body react to pressure — that is, being able to do what you do best under maximum pain and stress."--Bill Russell
Bill Russell leads the NBA in most rings won by a player. Russell has won the NBA Championship 11 times, and he did so in just a 13-year span. Eight of his Championships were back-to-back, and all 11 were with the Boston Celtics. 
Bill Russell never won an NBA Finals MVP Trophy, but in 2009 the award was named after him in order to demonstrate how undoubtedly linked Russell's play was with each Championship win.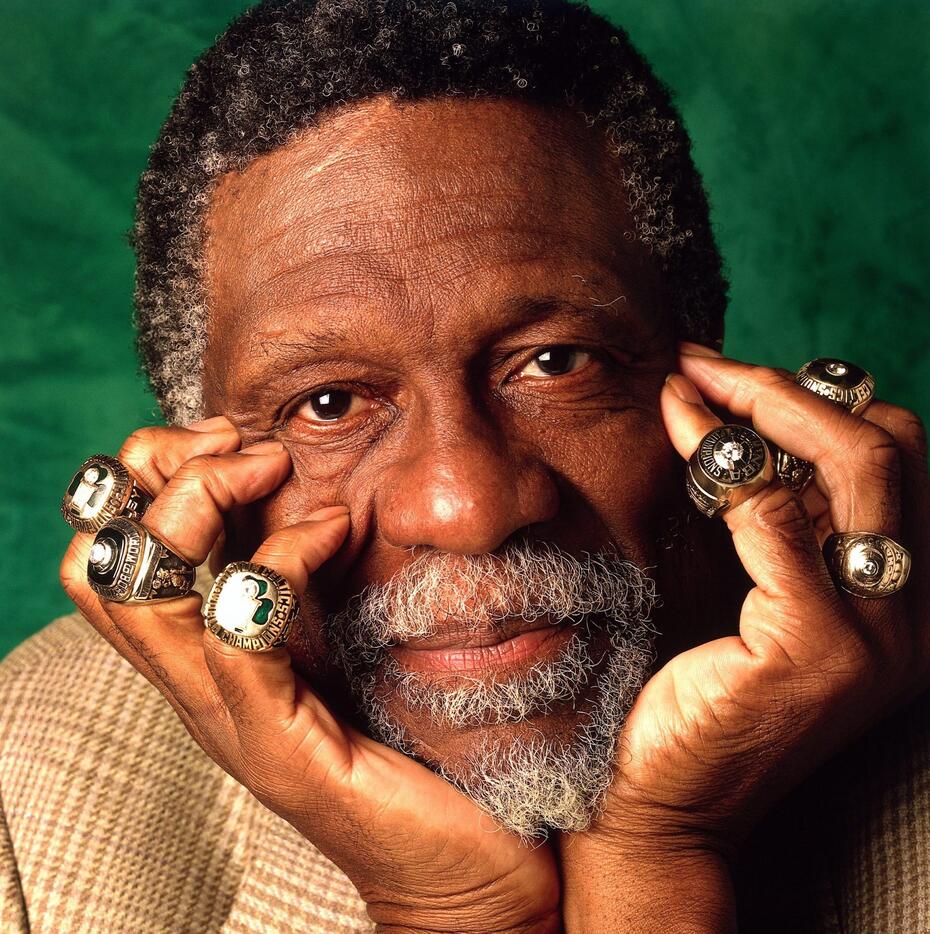 Bill Russell Stats
"The most important measure of how good a game I played was how much better I'd made my teammates play."--Bill Russell
| | |
| --- | --- |
| Bill Russell | Stats |
| Games | 963 |
| Points | 15.1 |
| Rebounds | 22.5 |
| Assists | 4.3 |
| FG % | 44% |
| FT % | 56.10% |
Bill Russell Net Worth
"If a guy pays you $5, you give him $7 worth of work."--Bill Russell
Though he had a longer and much more illustrious NBA career compared to today's All-Stars, Bill Russell played pro basketball in the decades far before huge contracts and endorsement deals. It's rumored that Russell signed his rookie contract for only $24,000 a year. In 1965, Russell's contract received a boost and he was making $100,001 a year. 
To put this in perspective, LeBron James made $41.18 million in 2022. That comes out to over $500,000 a game (for a full 82-game season).
Net Worth: $10 Million (Estimated)
How Tall Is Bill Russell?
"The idea is not to block every shot. The idea is to make your opponent believe that you might block every shot."--Bill Russell
Bill Russell was 6 ft 9 in (2.07 m).
Bill Russell Age At Death
Bill Russell died on Sunday, July 31st, 2022. Born February 12, 1934, he was 88 years old at the time of his death.
Russell had three children: Karen Russell, William Jr, and Jacob. 
Bill Russell 11 Rings Picture
Super fans are often on the hunt for an autographed original of this extremely collectible piece of sports memorabilia. On eBay, they go for as much as $900 if they are autographed by Russell himself.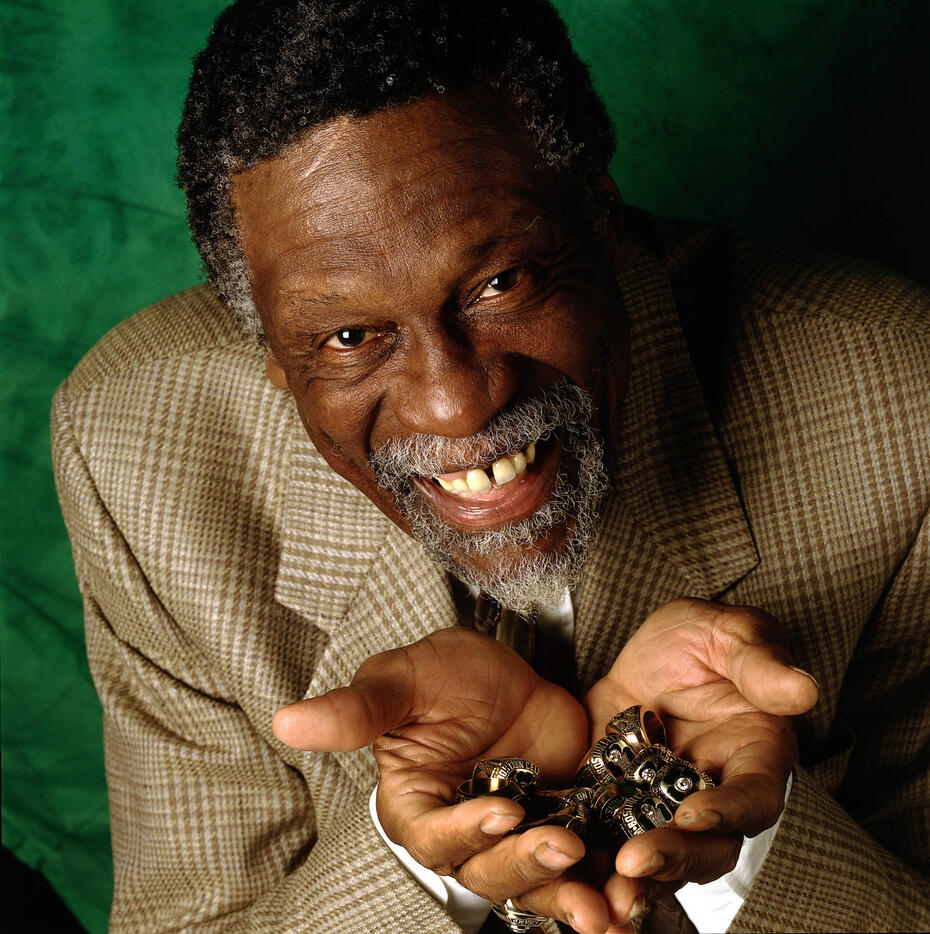 Bill Russell Spouse
"To love someone is nothing, to be loved by someone is something, to love someone who loves you is everything."--Bill Russell
Bill Russell married his wife, Jeannine, on January 8th, 2020. They seemed to want to keep matters private, but occasionally Russell would post a picture on social media of the two of them. 
Jeannine was Russell's fourth wife and was reportedly by his side the night he passed.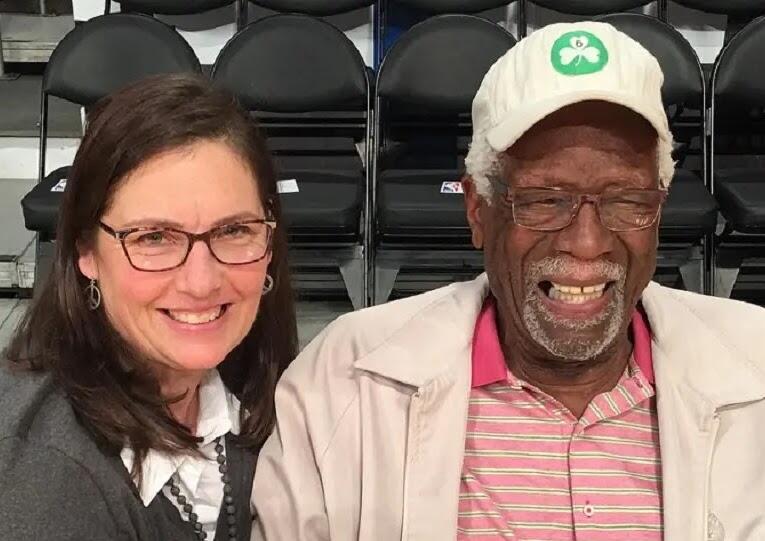 Celtics Basketball
There's no doubt that this upcoming Basketball season will be played in honor of Russell by his Boston Celtics. Russell should be happy to the team he's leaving behind is one of the best in the world, and they will stop at nothing to win a championship in his honor.
The Celtics are now a favorite to win the 2023 NBA championship! Legal betting apps in the US are showing them the clear winner based on their success from last year, mixed with the rising star power of Jayson Tatum and Jaylen Brown.
Free Signup Promo
Get 10 FREE Sweeps Coins
First Purchase Offer
Get 10 FREE Sweeps Coins
About the author
Frank Weber is a sports & gaming writer with a Bachelor's Degree in Journalism and years of experience in the gambling world. He loves baseball, football, basketball, soccer, and the UFC - he even collects sports cards and memorabilia! In his free time, you could find Frank either out at a concert with friends, or at home sweating out all his (soon to be won) bets!