College Football Best Bets for Week 12
Image ©Gary A. Vasquez-USA TODAY Sports
I was back in profitable business last Saturday with a 2-0-1 record (the push was courtesy of LSU -3; it went to 5.5, and the covers from Kansas State and Washington).
We're going to keep it up this week with three predictions from the Pac-12.
It's week 12, and I'm giving a shoutout to the frequently criticized conference. For all of the negative press this season, and years past, the Pac-12 is having collectively one of its best seasons ever. Currently, six teams are in the CFP Top 25, more than even the mighty SEC's five.
It's also a season that likely will never happen again, not with the impending departures of USC and UCLA.
And it just so happens those two SoCal programs meet at the Rose Bowl in a Saturday showdown that should be a dandy of a game.
The following odds are courtesy of FanDuel, which offers this cool Sportsbook Promo, per the site: No Sweat 1st Bet - Bet up to $1,000 & get it back if you lose!
But don't forget about all the other great gambling options and awesome offers available in your state including those from BetMGM, DraftKings, and many more.
Also, be sure to check out our guide to online casinos, from Michigan to New Jersey. You can place all your football future bets at various sites in several states across the country.
My picks are in CAPS with plus or minus points next to each school's name.
OREGON STATE (-7.5) at Arizona State
The Beavers clobbered Cal last Saturday after nearly knocking off Washington on the road, an effort that looks better and better after the Huskies upset Oregon.
Now it's on to Tempe, where the Sun Devils are a tough team to figure out, except that their record is just 3-7, although they did upset Washington in Tempe.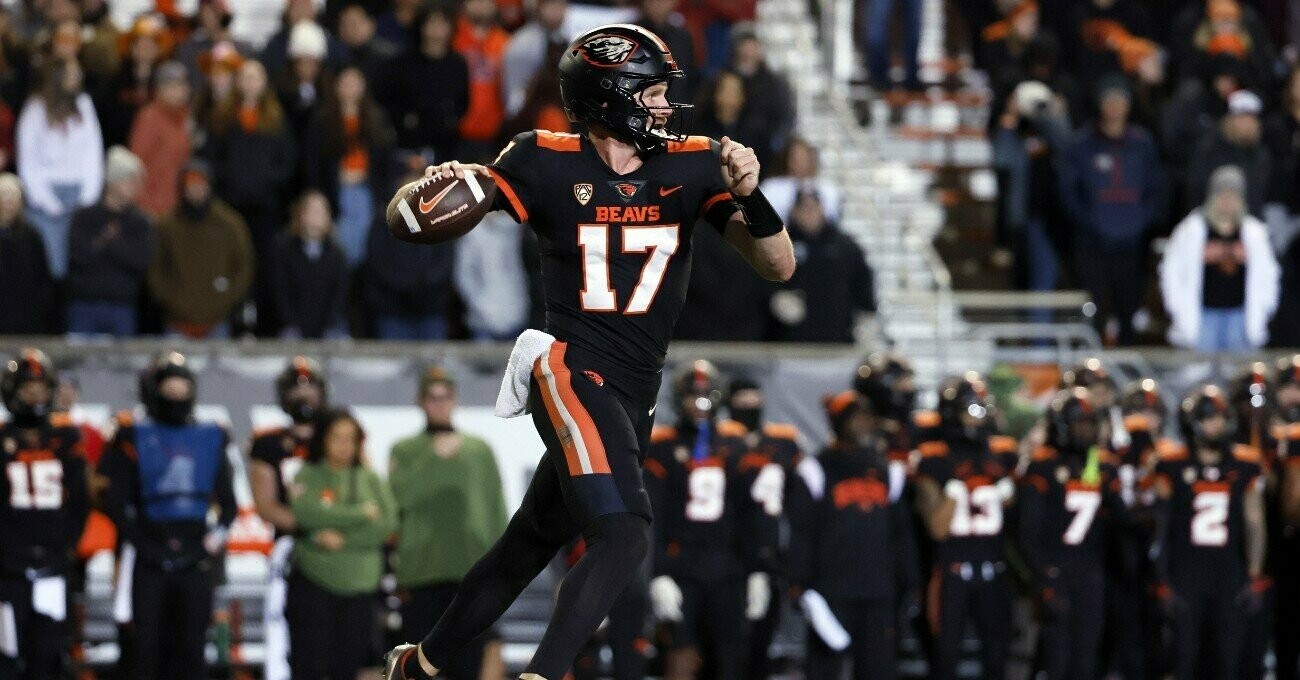 © Soobum Im-USA TODAY Sports
Oregon State is 7-3 with three-point losses to UW and USC.
The key will be the Beavers' stingy defense. Their D unit is ranked 28th in the country, impressive considering all of the high-scoring squads in the Pac-12.
The Sun Devils are out of bowl contention and interim coach Shaun Aguano may be replaced after the season ends. This may not mean much motivation for ASU against OSU, who has a shot at a 9-win season and a good bowl game.
USC (-1.5) at UCLA
This should always be a heated rivalry but it's been lukewarm over the past several seasons.
That atmospheric temperature changes Saturday in Pasadena, thanks to pockets of aired-out passes. We'll get to those dueling quarterbacks shortly.
First, as many media outlets have posted, the game is a sellout at 70,865, which includes 16,700 UCLA students, the biggest student section in the history of the school. USC, though, received just 6,500 tickets.
Yahoo Sports reports that's by design. In a story headlined: "UCLA is scared of USC fans making themselves heard at the Rose Bowl," Matt Zemek writes:
"UCLA is still going to prevent nearly 12,000 tickets from being sold? One can reach only one possible conclusion: The Bruins don't want 12,000 more USC fans in the building. … 70,865 is nearly 12,000 below the capacity (close to 83,000) for UCLA home games. The Rose Bowl's full capacity is close to 92,000, but that is for the Rose Bowl Game. 
So: UCLA had nearly 58,000 available seats for most regular-season games in 2022. The Bruins could allow 83,000 into the stadium but are choosing to limit themselves to just under 71,000 at a time when they badly need cash flow and revenue streams.
They would rather not make extra money than allow more USC fans into the building. Period."
Well, then. Wow. The Bruins badly want this game – they're even bringing out boxing announcer Michael Buffer and will have a four-helicopter flyover as well.
Pull out all the stops and trick plays you want, UCLA – Chip Kelly should be full of creative ideas on offense against a leaky Trojans D – but the problem is the Trojans are just better and are going to win. It may come down to who has the ball last. The over/under is 75.5.
UCLA and USC each possess magnum-sized offenses (UCLA is No. 5 nationally in total O, USC No. 7) so expect both to score at will. Saturday night's tilt on Fox (8 p.m.ET/5 p.m. PT) should be a thrilling shootout. The Bruins are coming off a stunning home loss to Arizona and many pundits point to the proverbial "trap game."
Not sure about that.
What I would bank on, though, is a highly entertaining game near Tinseltown that befits SoCal. I'm sure there will be a celebrity or two spotted on the sidelines.
Two future NFL stars will be on display Saturday: USC quarterback Caleb Williams and his UCLA counterpart, QB Dorian Thompson-Robinson, both of whom look like first-round draft picks
On Saturday, Williams, a junior, who might be the next Patrick Mahomes, will get the better of Thompson-Robinson, a senior who may be playing his final game in the Rose Bowl.
Utah at OREGON (-3)
The Ducks not only lost their home game to rival Washington on Saturday – its first setback at Autzen Stadium in 23 games –  but the stunning defeat also ended their College Football Playoff hopes. Oh, and dual QB threat Bo Nix got banged up and his status, along with a pair of starting offensive linemen, is uncertain for Saturday.
All around, Ouch.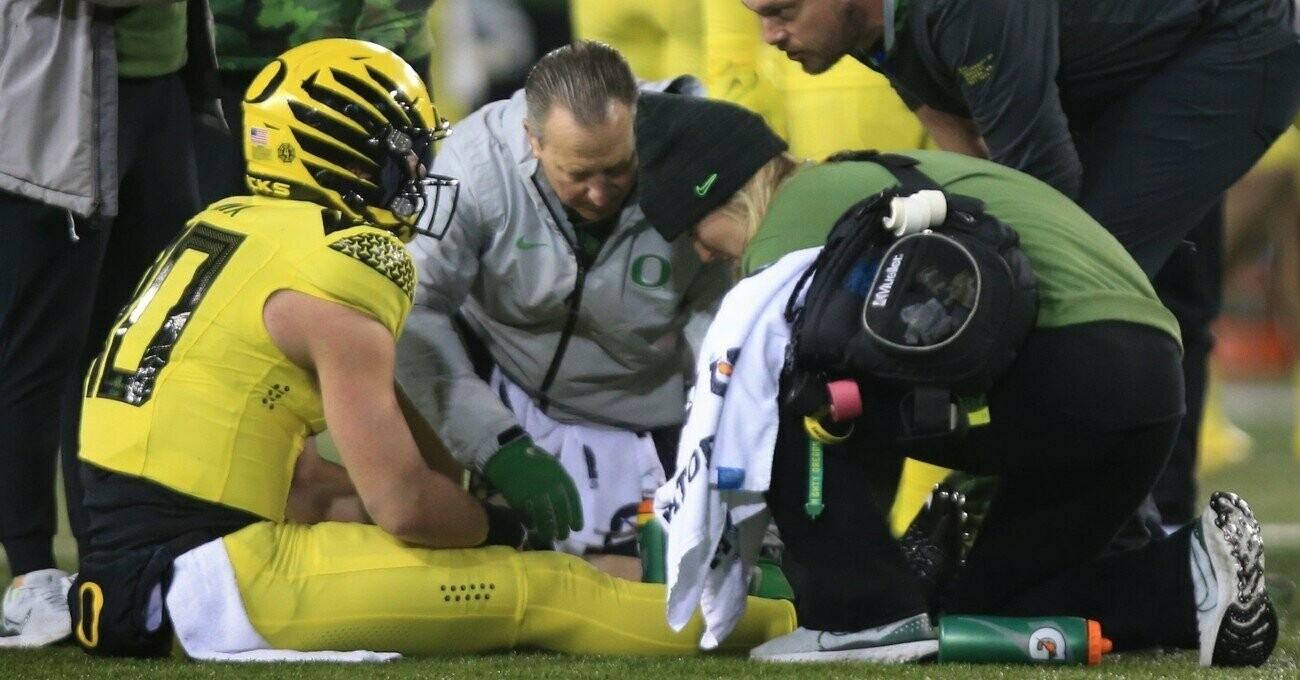 © Chris Pietsch / USA TODAY NETWORK
Ducks coach Dan Lanning admitted after the loss that Oregon's offense is banged up. Not much more was known as of Wednesday evening.
But Oregon still controls its own destiny in terms of reaching the Pac-12 championship game and an eventual Rose Bowl berth. The largest factor, though, that makes me believe the Ducks, injured or not, will all play their guts out Saturday is this: The Utes have absolutely owned them the past two games.
Like, serious, psyche-shaking beatdowns (38-7 in Salt Lake City last November and then 38-10 in the Pac-10 Championship Game in December).
I'm in the camp that thinks the Ducks underestimated the Huskies last week and had their eyes, as they've had all season, narrowed at Nov. 19 on the calendar and a chance of revenge on the Utes.
Utah quarterback Cam Rising looks fully healthy again as does running back Tavion Thomas, so the Utes will mostly be 100 percent after an easy win last week at home against Stanford.
And yet, in the end, Oregon's angry birds will be victorious late Saturday night. The spread seems about right. Call it the Ducks by four.
Free Signup Promo
Get 10 FREE Sweeps Coins
First Purchase Offer
Get 10 FREE Sweeps Coins