Michigan (#6) vs Michigan State (#8) Against The Spread 2021
Image by Marc Lebryk-USA TODAY Sports
What a year it has shaped up to be for Michigan Football Fans. Neither team was ranked in this year's preseason AP top-25 poll. Whether you root for Maize & Blue or Sparty, 2021 has been a hell of a comeback year for the programs.
The Halloween Eve matchup in East Lansing will be the first time both teams have been ranked inside the top ten since 1999.
The state is buzzing with both teams undefeated and a College Football Playoff dream in sight. In 2010 both teams were 5-0 when Sparty won in a 34-17 matchup. This is the first time in 113 meetings between UofM and MSU that both teams are undefeated with 7-0 records.
Get the best Michigan online casino no deposit bonus here.
Michigan Sports Betting experts have been winning this season as both teams are 6-1 Against The Spread. Oddly enough, the only games the teams did not cover the spread were both on September 25th.
The 6-1 ATS mark is good for the second best against the spread win percentage in the country behind only UTSA and Syracuse who have each played an additional game with 7-1 records.
The early betting sportsbook lines are out and the spread for this upcoming weekend has opened in Michigan's favor.
BetMGM has Michigan -3.5 points and over 51.
BetRivers has Michigan -4 points and over 51.
Wynnbet has Michigan -3.5 points and over 51.
Early Football Betting Prediction for Sports Bettors: 
Too many points to lay down in what is sure to be a hostile environment. If you're betting in Michigan this weekend - with more than a Field Goal on your side - Take Sparty + the Points!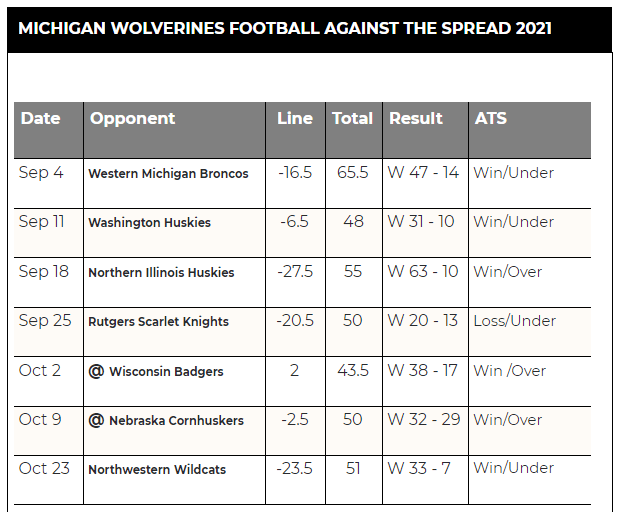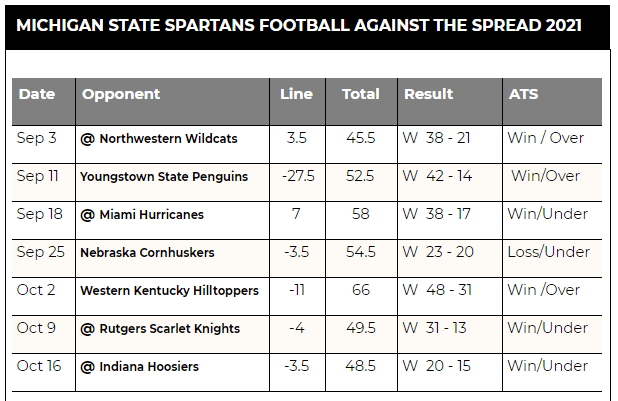 Free Signup Promo
Get 5 Free Sweeps Coins + 600 Free Diamonds