MLB Playoffs Picks: Bet On This Wild Card Team To Advance
Major League Baseball's postseason is finally here. The Wild Card round (now with four games and eight teams) begins Friday. We expect many die-hard fans will choose to work from home, call in sick, or simply take a personal day (None of your business but, yeah, I am going to watch baseball for 12 straight hours, so?) since ESPN/ABC will broadcast all four series openers starting with Rays at Guardians at 12:07 p.m. ET.
Every home team (Cleveland, St. Louis, Toronto, New York Mets) is favored to win its series and move on to the divisional round. Remember, there's no more traveling in these best-of-three series, which means the Guardians, Cardinals, Blue Jays, and Mets will be at home for all three games should they go the distance.
With that said, I'm picking one of the two biggest long shots of the 12-team postseason field to move on.
Let's get to it then. The odds are courtesy of FanDuel Sportsbook, but don't overlook all of the other great gambling options available in your state including BetMGM, DraftKings Sportsbook, and more.
If you're looking for a sportsbook promotion, check out the best offer in the USA: DraftKings Bet $5, Win $200.
On the other hand, after exceeding expectations (the M's were given just a 34.6 percent chance of making the playoffs before the start of the season, which also meant +175 odds from FanDuel Sportsbook), they'll likely be loose and confident.
SEATTLE MARINERS (+144) at Toronto Blue Jays
Toronto is a heavy favorite to end Seattle's fairytale season which continues into the postseason for the first time in 21 years. Toronto has plenty of impressive stats to justify the odds: The 92-70 Blue Jays (7-3 in their last ten games) led the MLB in batting average (.264), were fourth in runs scored, and seventh in home runs, led by the big bat of Vladimir Guerrero Jr., who was one of five Toronto players to hit 24 or more home runs this season.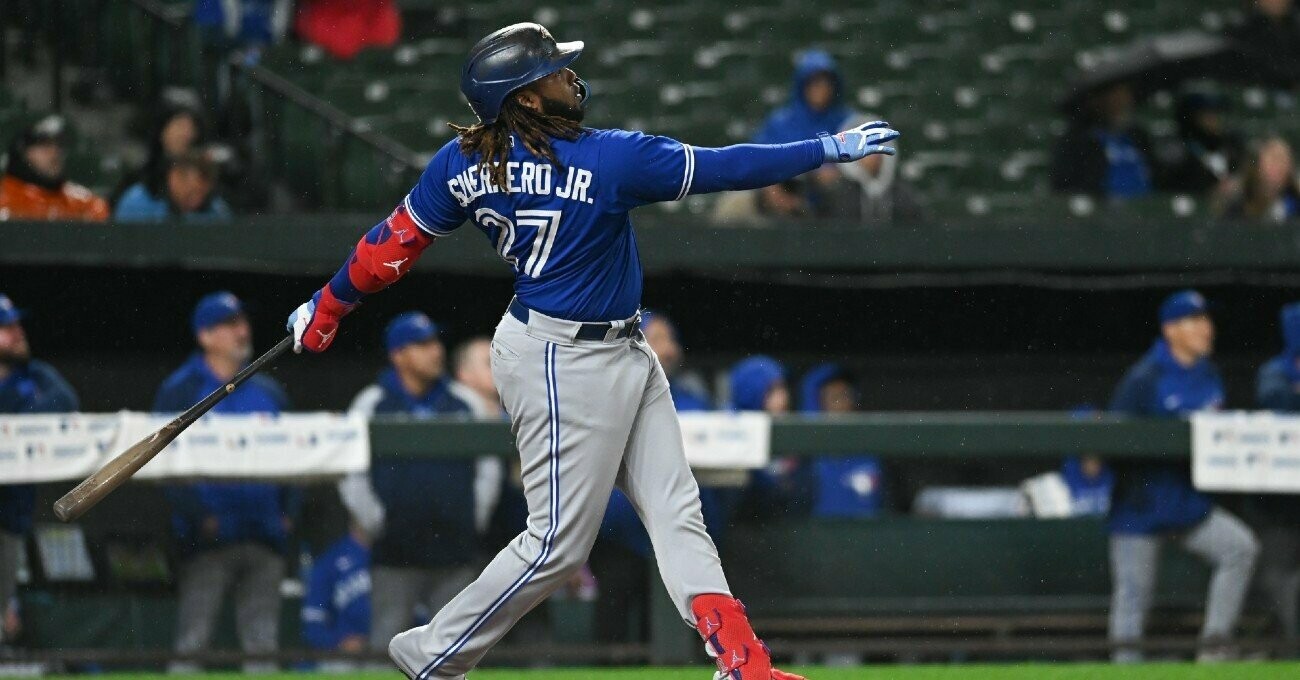 © Tommy Gilligan-USA TODAY Sports
For the 90-72 Mariners, who were also 7-3 in their last 10 games, to advance, they'll need strong victorious outings from Game 1 starter Luis Castillo (8-6, 2.99 ERA, 167 strikeouts, 1.07 WHIP) and Game 2 starter Logan Gilbert (13-6, 3.20 ERA – but 2.00 in September – 174 Ks, 1.18 WHIP). I don't think Seattle wins a Game 3 (even with the 2021 Cy Young winner with the Jays, Robbie Ray, scheduled to pitch that game) so cooling off the Jays' hot bats from pitch one is crucial. The M's might be a tad gassed after their emotional season-finale victory over the A's and a wild postgame celebration, but I doubt it because they'll be too excited.
The Mariners went 44-37 on the road this season (8th best in MLB) which is exactly what the Blue Jays were at home at the Rogers Centre. So home-field advantage likely won't be much of a factor.
American League Rookie of the Year Julio Rodriguez has recovered from his back problem and needs to provide a spark (by getting on base and then stealing 'em) and Eugenio Suarez needs to start hitting home runs again. He had 31 on the season to lead the team but has only hit six since Sept. 1st.
Injuries are also a concern for the M's. Outfielder Jesse Winker (neck strain) and utility infielder Sam Haggerty (groin strain) were both placed on the 10-game IL and are out for the series.
Still, this Mariners team feels destined to win at least one series, even though FiveThirtyEight.com gives Seattle just a 36 percent chance of taking down Toronto.
However, wild-card series often are unpredictable and frequently fueled by teams with mojo and momentum – Seattle has both of those workin' for 'em.
As my friend, colleague and lifelong M's fan David Schoenfield writes, "If you like a good underdog story, believe in the Mariners."
I do, Brother Dave, I do!
Free Signup Promo
Get 10 FREE Sweeps Coins
First Purchase Offer
Get 10 FREE Sweeps Coins