2022 NBA Championship Betting Splits By DraftKings Sportsbook
NBA 2021-22 Championship Splits
The 2021-22 NBA Season just started, but it's never too early to start thinking about betting on the future. Time flies when you're having fun, and the finals could be here before you know it. A lot can happen between Fall 2021 and Spring 2022, but several months ahead of the curve, here's what our friends at DraftKings Online Sportsbook have to say about their Top 10 NBA championship splits – as they stand right now. If you're more down for live betting, check out our NBA Live Betting Guide!
Keep in mind that a lot can change over the course of the season, from injuries to trades to whatever other freak occurrences of nature transpire over the next 7 or 8 odd months. Don't place any wagers on any risks you're not comfortable losing, and if you're going to bet on any of these teams, you should already be well acquainted with their overall record.
But with those caveats out of the way, here are DraftKings' Top 10 NBA Playoff picks.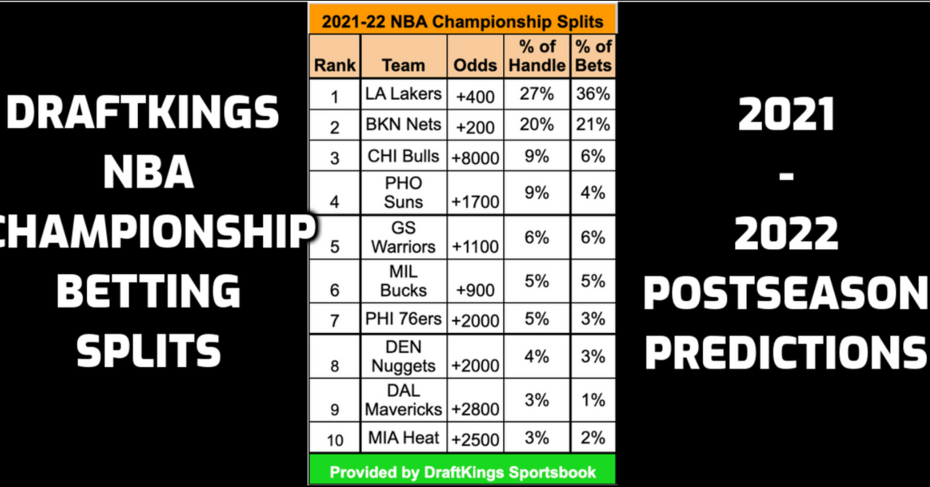 NBA Championship Futures
Our DraftKings Sportsbook friends were generous enough to send us a helpful graph breaking down their top 10 NBA 2021-22 Championship Splits, which we've taken the time to post above. If you're not interested in all that meat & potatoes though, then here are the straight odds, top to bottom, with no added frills or funny business:
LA Lakers: +400
BKLYN Nets: +200
CHI Bulls: +8000
PHO Suns: +1700
GS Warriors: +1100
MIL Bucks: +900
PHI 76ers: +2000
DEN Nuggets: +2000
DAL Mavericks: +2800
 MIA Heat: +2500
Got a good feeling about any one of those particular picks? You can pick 'em on DraftKings or across a number of the industry's best online sportsbooks.
Free Signup Promo
Get 5 Free Sweeps Coins + 600 Free Diamonds