NBA Opening Night Splits 10.19.21 via DraftKings Sportsbook
NBA Opening Night Splits (October 19, 2021)
The 2021-22 NBA season is officially here, and right out the gate, we're already looking at some pretty tight competition. Kicking off the Opening Night doubleheader, we've got a close, neck-and-neck fight between the Milwaukee Bucks and the Brooklyn Nets, tonight at 7:30 EST.
Even though the point spread on DraftKings Sportsbook ranks both teams as pick 'ems tonight, the total bet percentages seem to be skewing 60%/40% in Brooklyn's favor, and rightly so. While the Bucks has some impressive talent in the form of Giannis Antetokounmpo, he'll have to square off against some other greats, the likes of which include Kevin Durant, Blake Griffin, and James Harden amongst others.
With 60% of the spread bets and 59% of the spread handle riding on them, time will tell whether or not the Nets' efforts pay off all the people banking on them. Following that game, we've got a taut matchup between the Golden State Warriors and the Los Angeles Lakers, tonight at 10:00 P.M. EST.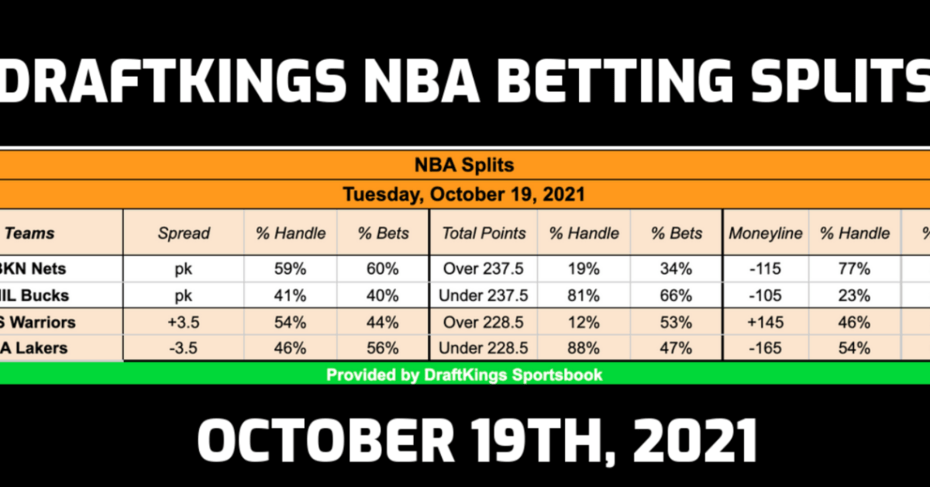 Lakers Vs. Warriors Odds
It's not quite pick 'em taut, but it's still a close match nevertheless. Both sides of the spread are evenly matched at 3.5 points on the over and under. Interestingly, even though they only account for 44% of the spread bets, Golden State accounts for 54% of the total betting handle. So even though they account for less wagers, more money is being wagered on The Dubs.
We'll see whether or not they take home a dub for San Fran fans tonight, but in the meantime, you can peep DraftKings and more of the industry's best online sportsbooks to find your best bet!
Free Signup Promo
Get 5 Free Sweeps Coins + 600 Free Diamonds