Play 8-Bit Barry Sanders Game on BetMGM
Image © Tim Fuller | 2019 Nov 28©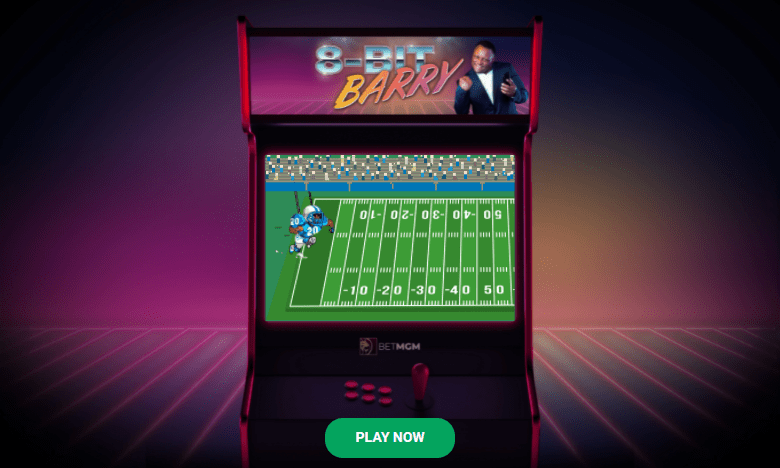 Michigan Sports fans love Barry Sanders and have been excited to see where the partnership would go with BetMGM. BetMGM is the first Official Sports Betting Partner of the Detroit Lions, with whom Sanders played from 1989 to 1998. He was named the NFL's Most Valuable Player in 1997 and was inducted into the Pro Football Hall of Fame in 2004.
While Barry Sanders was a legendary running back for the Detroit Lions, he was even more brilliant in Tecmo Bowl for Nintendo. Millenials and others will remember playing as Barry Sanders in the Nintendo classic and Madden franchise games.
BetMGM is paying homage to that Sanders '90's nostalgia with a new game: 8-Bit Barry. The weekly free-to-play contest has a Tecmo Bowl look to it and can be found on your promotions tab inside your BetMGM account.
Unlike the other attempt in Detroit at 8-bit Barry...this game is fully authorized by the Detroit Legend and is fun to play!
HOW TO PLAY 8-BIT Barry
Players can guess each week whether video game Sanders should spin, juke or stiff arm his defender for the score. Reach the end zone and you'll receive a Free Bet, A Risk Free Token, or a Parlay Boost Token.
Players in Michigan Sports Betting apps can Compete every week during football season for a chance to win some great prizes.
Free Signup Promo
Get 5 Free Sweeps Coins + 600 Free Diamonds