Super Bowl Predictions: Analysis After Week 5 2022
Image ©Kirby Lee-USA TODAY Sports
Did you guys miss me? That's right, I'm back this week with more Super Bowl analysis, telling you the teams I'd avoid, the teams I'm keeping an eye on, and the team I currently think will win it all. Last week, the Philadelphia Eagles were my Super Bowl prediction for the second week in a row–can they make it three? Let's find out.
If you want to dip your toe in the prediction game, then you should check out these New Jersey Online Casinos. You can place all your NFL future bets there. If you're looking for a sportsbook promotion, check out the best offer in the USA: DraftKings Bet $5, Win $200.
Current Super Bowl Odds
Kansas City Chiefs (+650)
Philadelphia Eagles (+650)
Tamba Bay Buccaneers (+1000)
Green Bay Packers (+1400)
San Francisco 49ers (+1400)
Los Angeles Chargers (+1800)
Minnesota Vikings (+2200)
Cincinnati Bengals (+3000)
Indianapolis Colts (+5500)
New Orleans Saints (+6000)
Las Vegas Raiders (+6000)
Jacksonville Jaguars (+6000)
New England Patriots (+7000)
Arizona Cardinals (+10000)
Pittsburgh Steelers (+30000)
Washington Commanders (+40000)
Seattle Seahawks (+50000)
Carolina Panthers (+50000)
Teams I Wouldn't Even Consider
I'm debuting a new list this week, which is comprised of the teams I wouldn't even consider placing a Super Bowl future on. A lot of these are pretty self-explanatory (just watch them play one game and you'll understand) so I won't go into depth on a majority of the teams here. The current list after week five looks like this:
Okay, now that we've got that out of the way, I'm going to unveil ANOTHER brand-new list. Welcome to: Super Bowl Consideration Purgatory (we're still workshopping the names here).
Super Bowl Consideration Purgatory
Here in Super Bowl Consideration Purgatory, I will be putting the teams that haven't played well enough to be considered an option, but also haven't played bad enough to be a definite NOT option. You can look at is as a minor league of sorts–teams can get put into and pulled out of purgatory at will, depending on their performance. Currently in purgatory is:
The New York Jets (+15000)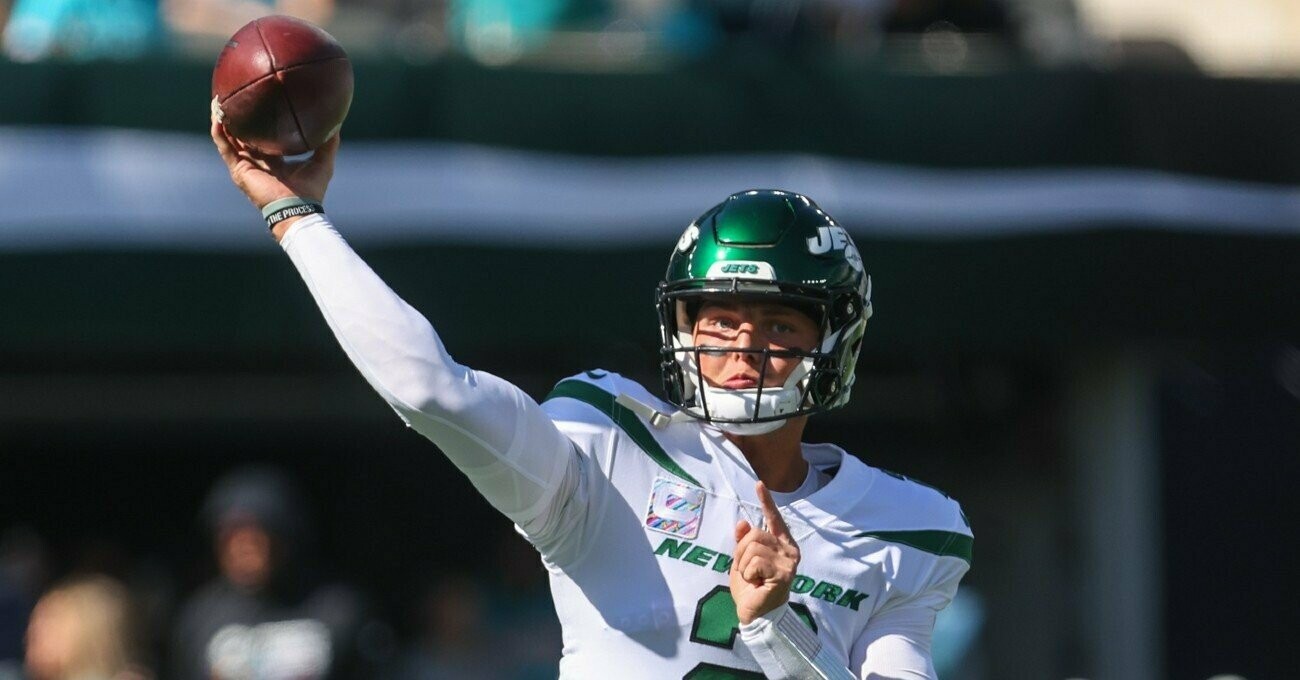 © Ed Mulholland-USA TODAY Sports
A lot of the Jets' future depends on this Sunday's game against the Packers. If the Jets (who are a jaw-dropping 3-2) can go into Lambo and defeat Aaron Rodgers and the Packers, then I have some serious thinking to do. However, if they go into Green Bay and just get stomped out like the same old Jets, then they'll get tossed in the trash like normal.
The Arizona Cardinals (+10000)
The Cardinals have been an enigma so far this season. They're 0-3 yet 2-0 on the road–so it's obvious that they have some things to figure out. Despite their ugly 2-3 record, I'm not out on the Cardinals yet this year. I'm a big fan of Kyler Murray and think the offense at his disposal is more than capable to make a run towards the Super Bowl. They just need to figure some things out before I can consider them a serious contender.
New England Patriots (+7000)
Is Mac Jones still relevant? Is Baily Zappe real? Can you ever really count out Bill Belichick? Too many questions still revolve around this Patriots team to properly categorize them, so purgatory it is.
The Tennesee Titans (+6000)
 I've been hot and cold on the Titans all year, so this feels like a great spot for them. Right when you think they're bad, they'll convince you otherwise. But right when you think they're ready to take that next step, they only put up seven points against the Bills. I need more time to figure out this Titans team.
The Cleveland Browns (+6000)
I want to put the Browns on the "wouldn't consider" list so bad, but Deshaun Watson is just looming over my shoulder. I need to see how this team plays with a real QB (sorry, Jacoby).
The Jacksonville Jaguars (+6000)
The Jaguars were America's baby when they were 2-1. But now, they're 2-3 and are coming off of a loss to the worst team in the NFL. This might be the Jags last week in purgatory–and that's not a good thing.
Teams I Would Avoid
Current Teams On The Avoid List: Dolphins, Buccaneers, Packers, Colts, Broncos
I've really dug my feet into the sand on some really good teams, haven't I? Well, I'm the first to admit when I get things wrong, so I'll say–the Buccaneers are one good win away from getting themselves off this list. However, the remaining four are staying put for the foreseeable future. The Packers lost an awful game to the Giants last week, and the Colts and Broncos played in one of the worst games of the season last Thursday night. The Dolphins are still struggling to put the pieces back together since Tua's injury and seeing as how some concussion doctors are recommending he retires, it may take a while.
I realized I have some spring cleaning to do with this list, so here are some other teams I'm adding to the avoid list for the foreseeable future:
Teams to Keep an Eye On
Current Teams On The Watch List: Niners, Ravens, Chiefs
Sorry, Bengals fans–you've been relegated. This is more of a punishment than anything else–I don't want to keep looking like a fool after I hype you all up. The Niners, Ravens, and Chiefs all remain on the list though, and they are joined by a ton of new teams as well (as I said, I had a lot of spring cleaning to do with my list). Here are the new members:
Buffalo Bills (+350)
I always thought this one was a given…I also liked the idea of leaving off the Super Bowl favorites from my articles altogether for a few weeks as a little prank. Anyway, I decided to bring them in this week because they are more relevant than ever, thanks to their week six game against the Chiefs. This is a game with massive playoff implications, seeing as how they are the top-two favorites in the league.
Los Angeles Chargers (+1800)
The Chargers started off a bit shaky, but seem to be finding their rhythm now as the season gets underway. Justin Herbert is playing his brains out so far this season, totaling 1478 yards through just five games. Their defense needs some work, but if they can figure that out, these Chargers are a scary team.
Dallas Cowboys (+2200)

© Robert Hanashiro-USA TODAY Sports
Until Cooper Rush loses, how can I bet against the Cowboys? He literally has a 100% winning percentage as a QB…what if it never ends? In all seriousness though, this Cowboys team has proved they can win even without a star QB. That says a lot in today's league, which is heavily QB dominated.
New York Giants (+8000)
The Giants just flew halfway across the country and beat the team with the fifth-best odds to win the Super Bowl…and no one cares? Something special is happening in New York behind Brian Dabbol, and I'm hoping on the bandwagon before it's too late.
Minnesota Vikings (+2200)
The Vikings have been on the winning side of their last three games and have a good chance of making that four here in week six against the Dolphins. They're having some defensive struggles, but as long as their offense continues to produce, that shouldn't be too much of an issue.
Official Super Bowl Pick After Week Five
Philadelphia Eagles (+650)
They've done it–the first team to ever threepeat as my Super Bowl champions. A good performance out of the Chiefs or Bills in week six may shake things up, but that's for another time. For now, the Eagles are my favorite to win the chip: and here's why.
Their offensive production has been incredible–Jalen Hurts is looking like the QB of the future, and he can hurt you through the air or on the ground. However, the most important factor to the Eagles' success this year has been their lack of turnovers. Through five games, the Eagles have only committed two turnovers. This is an incredible feat in and of itself but add on the act that they've forced 11 turnovers on the defensive side of the ball, and you've got yourself a winning formula.
Free Signup Promo
Get 5 Free Sweeps Coins + 600 Free Diamonds