WynnBET NY Delivers Promising Experiences and Offers
Image © Wynnbet NY
WynnBET (www.wynnbet.com)  is one of the newest, hottest, and greatest online casino and sportsbook sites in New York, if not America. Since 2005, it has been regarded as one of the most reputable companies, providing customers with fun opportunities to bet on pro football, pro basketball, hockey, horse racing, and more in New York. Plus,it frequently garners positive reviews with high star ratings. 
WynnBET NY is making a strong effort to be among the top online casinos for players of slots, table games, and sports betting. Before we jump in - you can check out all WynnBet Promo Codes on OddsSeeker.com!
WynnBET NY Offers Unique Rewards& Benefits
Interestingly, WynnBET NY is the only online gaming website that gives its players access to some of Las Vegas's most prestigious luxury properties. There are also Wynn Prizes, which blend additional advantages and rewards with the exceptional five-star experiences you've come to expect from Wynn and Encore Las Vegas as well as Encore BostonHarbor, which are open and available to WynnBET customers.
Luxury Hotel Accommodations
WynnBET offers players an opportunity to benefit from member-only discounts on accommodation in Las Vegas.
Five-star Dining Experiences
When vacationing at Wynn Las Vegas, WynnBETplayers can take advantage of award-winning dining experiences like a meal at the Japanese restaurant Mizumi from celebrity chef Min Kim or a breathtaking view of the Lake of Dreams at Lakeside.
Exclusive Access
Exclusive access to Wynn and Encore Las Vegas' venues and events.
Unparalleled Golfing Experiences
Players of WynnBET are entitled to a complimentary round of golf at Wynn Golf Club, which is the only golf course on the Las Vegas Strip. This is an amazing benefit considering that it is a championship-length course measuring 6,722 yards and featuring a par-70rating.  Plus, the 18 gorgeous holes of this Tom Fazio-designed golf course in Las Vegas, are situated on the former site of the storied Desert Inn Golf Club, featuring elevation variations and unusual water hazards on 12 of the holes.
Exclusive Offers Only in WynnBET
Players on WynnBEThave received complimentary rounds of golf at the only course on the Las VegasStrip, an all-inclusive VIP experience at an Allegiant Stadium Raiders game, and access to events that were off-limits to the general public in Las Vegas.
Below are some of the unique and exclusive experiences Wynnbet offers to its players:
A Grand VIP Experience at the Wynn Field Club (Allegiant Stadium)
WynnBET gave one customer and seven of their pals a VIP trip to Las Vegas and a two-night stay at Wynn Las Vegas as a special thank you to its gamers in Arizona. He and his pals were able to experience a top-notch Las Vegas-style nightclub, and an NFL game at one of the newest and most advanced stadiums while watching all the action take place just a few feet from the field.
A Party Experience With Shaquille O'Neal + $5,000 Free Bet and More!
This WynnBET experience went all out. A winner and three friends received a VIP experience to Shaq's Fun House in Los Angeles, the most extravagant event of Super Bowl Weekend, a $5,000 free bet at the Wynn Las Vegas Race & Sports Book for the Big Game, and a meet and greet with Shaquille O'Neal, brand ambassador for WynnBET.
The winner also received a dedicated VIPpatron host for the duration of their 2-night stay at Wynn Las Vegas.
Five runner-up winners were also chosen byWynnBET from the contest to receive a two-night stay at the Wynn Las Vegas, a 1,000 free wager at the Wynn Las Vegas Race & Sports Book for the BigGame, and tickets to the Wynn Las Vegas 'Big Game Party.
Exclusive Access To Top-Tier Sports Event Closed To The Public
Professional golfers Brooks Koepka and Bryson DeChambeau showcased their skills at the 12-hole demonstration at Wynn Golf Club in November 2021. A winner and a friend received a VIP experience from WynnBET to "The Match," providing them unrivaled access to a private event. 
The winner only needed to place a $25 sports wager on WynnBET in order to be included into the drawing; they also received two VIP tickets to the event in addition to a three-night stay at Wynn Las Vegas. 
Unrivaled Partnerships AvailableOnly on WynnBET
Several major sports organizations, including the New York Jets, Indianapolis Colts, Detroit Lions, and NASCAR, among others, have partnerships with WynnBET.
WynnBET and NASCAR agreed to a multi-year agreement in October 2020. This not only enables them to work more closely, but also helps pave the way for any conceivable promotional opportunities. 
With the help of WynnBET's partnerships, customers have the chance to interact with brand ambassadors like Julian Edelman, a three-time Super Bowl champion, Ben Affleck, and Shaquille O'Neal, a four-time NBA champion.
Fans seeking action and a little extra juice can take advantage of special incentives at venues with the WynnBET logo, including odds increases, free bets, casino bonuses, and more.
WynnBET Sports Bar (Ford Field) 
Due to their affiliation with the DetroitLions, WynnBET Sports Bar patrons at Ford Field can visit the venue, which is adjacent to section 222. 
WynnBET Green Room (MetLifeStadium) 
Because of their affiliation with the New York Jets, WynnBET players get access to the WynnBET Green Room, a private club in MetLife Stadium. Numerous activities for WynnBET customers and Jetssupporters have taken place in the 4,800 square-foot club, including a meet and greet with WynnBET brand ambassador Nick Mangold.
 WynnBET Lounges (Richmond Raceway & Martinsville Speedway)
 Two lounges are part of WynnBET'scollaboration with NASCAR, and they are situated in Martinsville and Richmond. Each area features a sports betting setting with all the luxuries of WynnResorts' opulent Las Vegas flagship property. Chris Long, a WynnBET ambassador who had previously driven the honorary pace car for the Toyota Owners 400, made an appearance at the Richmond venue in April 2022.
WynnBET Club (Lucas Oil Stadium)
With WynnBET's partnership with the Indianapolis Colts, WynnBET offers its players who are Colts fans an opportunity to visit the WynnBET Club at Lucas Oil Stadium. This stadium boasts of a luxurious sports bar that can often leave one in awe. Aside from that, this exclusive experience also offers a chance to meet the Colts' legends themselves, such as Robert Mathis who is a Super Bowl XLI champion as well as a WynnBET ambassador.
Locations WynnBET is Available
These are the states that WynnBET can be accessed:
Arizona
Louisiana
New York
Colorado
Michigan
Tennessee
Indiana
New Jersey
Virginia
The WynnBET Mobile App
It has never been simpler to bet on sports than it is now thanks to the WynnBET app. The WynnBET browser and mobile application are well-designed and simple to use. We think that viewing bets or even managing your account on a mobile device should be a simple and enjoyable experience and WynnBET delivers in this area.
With the WynnBET bet slip, wagering is simple and streamlined. WynnBET places this data at the forefront of the application and makes it readily available.
When you're ready to download the Wynn app, you may either use the links on the website or go to the Apple App store or Google Play store. This is accessible via a computer, tablet, or phone.
Live In-Game Betting With WynnBET
At WynnBET, placing a live wager on a game is quite simple. Point spreads, totals, and money lines are all well-liked types of live betting, much like conventional sports wagering. Remember that the odds and lines will continually alter depending on the outcome of a particular game. 
Types of Bets You Can Make
Straight Bet
Straight bets, the most popular type of sports wager, are bets that are based solely on one event (can be a money line bet, against the spread, total, etc. as long as it is only a single bet on the bet slip).
Combined Bet
A combined bet is a type of bet in which all bets, whether two or more, must win. Even while parlays have far higher payouts than straight bets, they are inherently more difficult to win.
Proposition Bets
Prop bets, as they are more widely known, are unique wagers that are typically based on statistics or less common options than choosing a point spread or over/under.
Total Bet
It is a type of bet on the total amount of points, runs, or goals scored in a game. In order to place a wager on a game, the abettor must select "over" (more points will be scored) or"under" (fewer total points will be scored).
Promotions in WynnBET
There are currently over 40 promotions available onWynnBET now and each state that WynnBET is accessible to has its own set of promotions, including WynnBET NY.
If you've already set up your WynnBET account, you can browse WynnBET "Welcome Offers" in your region by going to the Promotions page for your state. Apply the promotion code "WELCOME" on the last step of the registration process if you haven't already enjoyed WynnBET's current Welcome offer. When registering, don't forget to click "Apply" to activate your promotional code.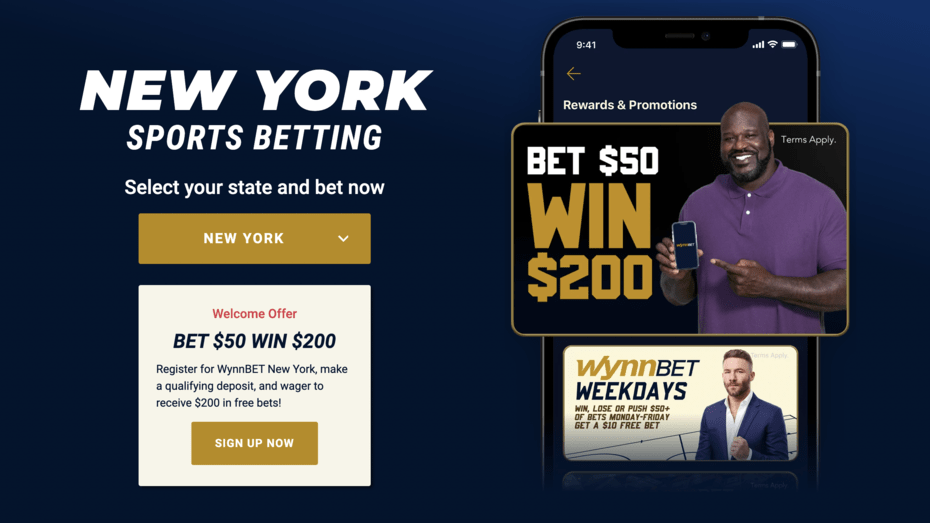 What's Next?
WynnBET is definitely an interesting and promising online casino and sports betting platform you shouldn't miss. Not only are the chances to win enticing but so are the many exclusive offers that only WynnBET delivers. If you're in New York, you must try WynnBET NY now and see for yourself!
Free Signup Promo
Get 10 FREE Sweeps Coins
First Purchase Offer
Get 10 FREE Sweeps Coins
About the author
Andrew's worked in the sports betting & online gaming industry since 2008! He has developed products to help gamers and bettors as well as created solutions used by some of the world's largest gaming companies; Gamesys, Gala Coral, 888, Bwin Party & more. With his deep experience working with online gaming companies in the UK, Europe, and USA, Andrew brings extensive value to the research studies, products, and content that we create at OddsSeeker. As a founder of The QNA Company, Andrew, along with our exective team, leads the strategic vision for how our network of sites helps people answer the questions they need to find their new favorite brands & products. Power to the consumer! You've got questions, we've got answers!