2023 Review
Riversweeps Online Casino
Why we like Riversweeps Online Casino
Play a wide variety of casino-style games, at home or on the go! Riversweeps is a grouping of casinos running all on the same platform, so you have hundreds of games to choose from!
Riversweeps Online Casino Promotions
Online casinos and gambling seem to be taking over the internet, one casino at a time. The newest online casino to join the party is Riversweeps–which offers a lot more than meets the eye.
You see, Riversweeps Online Casino is a lot more than just a social casino. It is a grouping of sweepstakes casinos all running on the same platform. Think about it as a one-stop-shop for all your casino needs–here on Riversweeps, you can enjoy an array of slot machine games manufactured by some of the biggest names in the gaming industry.
Sounds great, right? Kind of like the Disney World of online casinos, where you have all these opportunities to experience different slots and machines all in one spot. However, unlike many online casinos, Riversweeps is unlicensed, and many users are turned off by its lack of transparency and regulation.
Here, I'll break everything down for you so you can learn everything you need to know about Riversweeps Online Casino before signing up.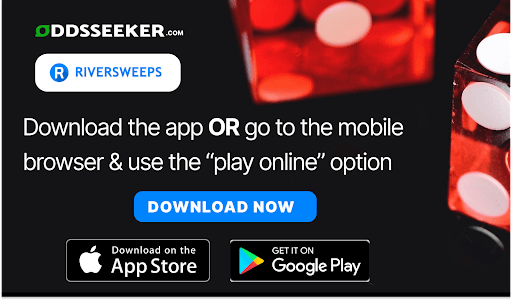 An In-Depth Look at Riversweeps Online Casino
At the heart of it all, Riversweeps Casino is a platform that allows a bevy of different businesses and people to get involved in online social casinos. The games featured on this platform come from some of the biggest names in the business (NetEnt, IGT, Microgaming, etc.) so all the games run smoothly are with a high quality.
As with most social casinos, slots are the most popular games on Riversweeps Casino–however, you can be sure to find many more games available to you!
Frank's Take
Aesthetically, Riversweeps is one of the best online casinos on the market. The interface is incredibly easy to navigate, and all the games run smoothly and payout quickly. Speaking of payout, there are a ton of different payout options to choose from, so you'll never be stuck with money in your account.
However, what Riversweeps has in aesthetic appeal and functionality, it lacks in everything else. One of my least favorite things about any Riversweeps games is their lack of transparency with the user/player. Go to any online casino and they will gladly tell you just how regulated and fair they are. On Riversweeps? You really have to dig for that information–and once you dig, you only find a little crumb. There are also many online reports of the games being unlicensed and possibly unregulated, so until all that is figured out I would keep my distance.
What Can You Play on Riversweeps?
For the most part, you'll have a lot of variety within slot machines–but that's about it. There are a select few lobbies with table games available, but as sweepstakes casinos are often adding to their platforms, I wouldn't be surprised if table games become more popular.
As of right now, there are no Live Dealer Games on Riversweep. This is a popular trend with almost all other social casinos.
Signing Up For Riversweeps Online Casino
The first step in signing up for any casino or sportsbook is registration–and Riversweeps is no different. To begin, just follow these simple steps:
Go to a Riversweeps Casino platform and press "Sign In"
Fill out the registration form with all information needed
Click Submit
Your account and information then go through a vetting process, and your account needs to be verified before any redemption requests are processed. You may also be required to upload a picture/provide proof of government ID, so be prepared to do so.
So You Signed Up–Now What?
Well, once you're all signed up and ready to go, you may find yourself a bit overwhelmed by what the website has to offer. As stated before, Riversweeps is more than just your average social casino–its a conglomerate and collection of other online social casinos that use the same service. So, the website experience may change on a site-to-site basis.
However, many Riversweeps players tend to enjoy the aesthetic and functionality of all Riversweeps games. The games have a very high-end/sophisticated feel, and the vibrant colors and soundtracks keep their players hooked for hours on end.
Deposit and Withdrawl
Since so many people play on Riversweeps, there are many different payment options to choose from when deciding to withdraw. But before we do that we have to deposit–which is a very easy process.
Depending on what you are trying to play, you'll probably be instructed to purchase gold coin packages with your funded account. These purchases are usually very straightforward.
When you want to withdraw is when things get interesting. Here are all the withdrawal methods at your disposal on Riversweeps:
Online Banking MasterCard PayPal Paynearme Visa Play Plus Card Crypto VIP Preferred Check by mail
Online Banking
MasterCard
PayPal
Paynearme
Visa
Play Plus Card
Crypto
VIP Preferred
Check by mail
Riversweeps Online Casino State Restrictions
Regulated and licensed social casinos can legally operate in all states but Washington. The two keywords in that sentence were "regulated" and "licensed"--which are two things that Riversweeps may not be.
Almost all social casinos make it CLEAR they are regulated and licensed. Riversweeps does not make it clear that they are subject to any regulation, which creates a bit of a gray area.
I would advise doing more state-specific research before registering and playing on Riversweeps casino.
Riversweeps Online Casino Customer Service
Riversweeps offers players a wide variety of contact options when they need some customer service. The traditional phone-in and email options are the most popular, and probably the most efficient.
In addition, you can also contact help agents on Riversweeps online casein's Facebook page–which is a formality when it comes to free online casinos.
For more immediate help, you can check out the live chat feature. If thats taking too long, you can try out any of the help options listed below:
Email
Contact Form
Live Chat
Facebook
Phone-in
Riversweeps Casino Safety and Security
As with any other social casino, safety and security is a top priority of all Riversweeps Online Casinos. The first line of security is your password–so make sure it's something that is not only secure, but only known by you.
Riversweeps Casinos also work very closely with organiations like GamStop, Begambleaware.org, and Gamcare–so its clear they take gambling addiction very seriously. Most of Riversweeps online casinos offer player tools to help bettors limit their time on their sites.
Pros and Cons of Riversweeps Casinos
Pros:
Nice and Easy Interface
Many Payout options
All games run smoothly
Gives off fun and high-end feel
Both android and IOS apps are available
Cons:
Unlicensed
Possibly unregulated
Not very transparent with their information
Lacks game-type diversity