Sports Betting Strategies
Live Sports Betting Guide
Best Live Sports Betting Guide 2022. Live betting, also called in-play betting, consists of all wagering done throughout the course of a live sports event, at any point during the game.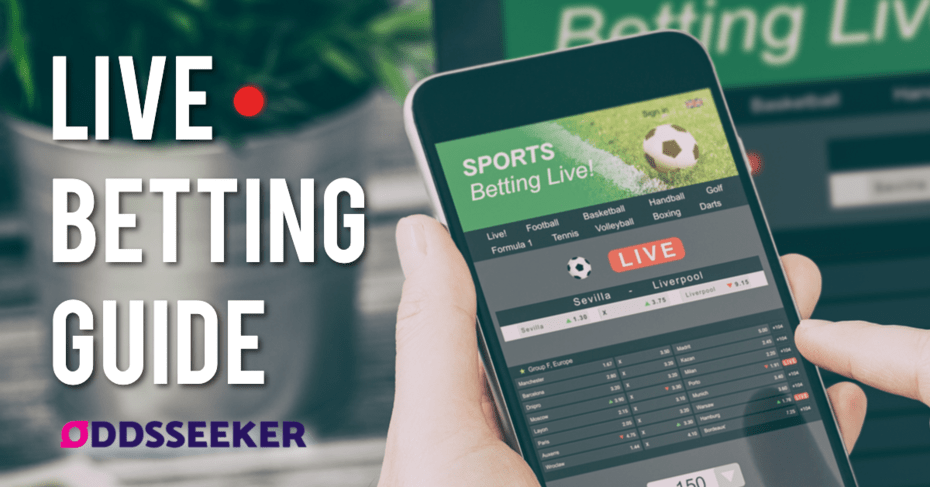 Can you remember how many times you have bet on a pre-game line and have to watch a game knowing that your bet will lose? If you are one of the many people that bet on the Atlanta Falcons to win the 2016 Super Bowl or AC Milan to win the 2005 Champions League Final, you know what I'm talking about. One of the most frustrating parts of sports betting is to witness an epic comeback against your team, realizing during the game that you are about to lose your money but have to watch with your hands tied because you have already locked your bet before the game even started.
With the increased number of online sports betting sites and several technological advancements, there are alternative services that can help you avoid this situation. Almost all major players in the online sports betting space provide you the option to wager a game in real-time or to live bet. With live betting, basically, all the lines that are available to you pre-game are also available during the game, with the caveat that the odds changes as the game progresses, based on what's happening in real-time.
Let's take a closer look at what live sports betting is and analyze all of its components thoroughly to determine optimal ways for our readers to make the best out of it.
What is Live Sports Betting?
Live betting, also called in-play betting, consists of all wagering done throughout the course of a live sports event, at any point during the game. This unique form of online sports betting will keep all markets active and update both the lines and odds as the game progresses. Thus, the most important feature of live betting is that the odds changes as the situation of the game changes.
How to Read Live Odds
For example, let's say last year you have pre-game wagered on Kansas City Chiefs to win the Super Bowl at 1.6 (-166). At these odds, the probability of Kansas City Chief's winning the game is at 62.5%. As soon as Tampa Bay Buccaneers scored the first TD the odds automatically restructure themselves to reflect the lower probability of Kansas winning and in return increasing the odds to 1.75 (-133), indicating a lower probability of 57%.
Keep in mind that, the game markets will not only change after team scores, but they will change whenever a team pursues an action that could influence the outcome of the contest. If you are watching an NFL game, touchdowns and field goals are not going to be the only influencers on the lines. Anything from a fumble to an interception, from an influential player getting injured to a bad punting attempt, and even to the coin toss at the beginning of an over time will affect the odds.
Who Calculates Live Odds?
A fair question that you might have at this point would be, considering how often these odds fluctuate within the flow of a game, who determines these changes in real-time. The majority of online sportsbooks utilize complex computer algorithms to do the heavy lifting for them. Usually, the bookmakers or the odd compilers set the pre-match odds, and then the algorithms take over once the games start. Computer algorithms are usually preferred over traders as they are able to update markets faster than humans.
Today, with no doubt, live betting has become one of the most popular forms of online sports betting entertainment. While different online sportsbooks offer different in-play lines, usually depending on the in-play technology available, all online betting entities acknowledge that live betting now has become a huge market and are trying to develop their capabilities to provide a better customer experience for their users. We fully expect that the availability and the usage of live betting to drastically increase over the next few years as the technology continues to improve.
Pre-Game Betting vs. Live Sports Betting:
Pre-game betting is probably the most convenient way of wagering. It's as simple as picking a side (money line), a spread, or any other available market and placing the bet before the game starts. Once, the game starts your bet is locked and you can't take any further actions. This used to be a very common exercise when the brick-and-mortar sportsbooks ruled the sports betting industry.
Nowadays, with the emergence and increased popularity of online sports betting sites, live betting is over-powering pre-game betting as people are more and more tilting their activities towards the former. Live betting provides bettors an option where they can actually watch a game before having to make a decision and analyze the events that transpired which could potentially change the outcome of a game.
In an ideal world, whenever you bet before the game, the team you have favored would go up. This would be the ideal situation for you because you have ultimately found the best possible value for that specific line. If the team you have favored went up immediately at the beginning of a game, the live odds will be lower than the original (pre-game) odds as the probability of your team winning increases. Thus, there would be no scenario for the entire duration of a game where you would find better value or odds than the pre-game odds.
If somehow you have seen Medvedev's huge upset against Djokovic during this year's 2021 US Open Final and bet for the Russian youngster to win his first Grand Slam of his career, you have made an impressive prediction. Despite being the underdog, the Russian was able to beat Djokovic without dropping a set. Obviously, this was a surprise to everyone, and the pre-game odds have reflected, 3.0 (+200), that he was facing potentially the best tennis player of all time. Since he dominated the entire game live odds for Medvedev was always below the 3.0 (+200) pre-game odds. Thus, only people that bet on the underdog before the game were able to capitalize on the best value.
Unfortunately, this is not always the case. There are many intangible factors in sports that make it very difficult to predict a game's outcome. You could do all the research and the statistical analyses in the world, but you have to remember that all the research leading you to choose a side is based on pre-game status. As we said earlier, there are numerous factors in sports that could influence the status quo and the outcome of a game. We have no way of knowing when one of these factors could come into play and potentially ruin your pre-match prediction.
Let's go over a simple example to better demonstrate. In 2018, Liverpool faced Real Madrid in the Champions League Final. That year Liverpool was mainly led by their Egyptian superstar Mohamed Salah who has scored a jaw-dropping 44 goals in 52 games across all competitions. Not surprisingly, any soccer fan who has favored Liverpool, was hoping that Salah would continue his incredible form and lead Liverpool to glory. In other words, people that bet on Liverpool to win the Champions League were depending on his performance. You could probably imagine the level of regret all those people favoring Liverpool felt when Salah got injured 10 minutes into the game, after a brutal foul by Real Madrid captain Sergio Ramos. Only a couple of minutes into the game, people that pre-bet on Liverpool got into a situation, that would more than likely deterred them from choosing Liverpool in the first place.
To sum up, probably the majority of the sports events you have bet in the past or will be betting in the future either did or will have some sort of factor coming into play that is beyond your control. By betting before the game, you are, in a way, handcuffing yourself to odds that are determined based on a different situation at a different time. On the other hand, live betting gives you the option to observe and feel the game while simultaneously allowing you to find a better value as the odds fluctuate.
Benefits of Live Betting
At this point, we have pretty much established that live sports betting is one of the highest forms of sports betting entertainment and the main feature of most online sportsbooks. Now, let's examine some of the advantages of live betting that will help you get an edge over the bookmaker.
Opportunity to Find the Best Value During a Game
As previously mentioned, with live betting, markets stay active throughout an entire match, and odds changes as the situation of the game changes. The dynamism of the odds during a game can be drastic, depending on the sport and the event itself. If you are live betting, you have the option to bet anytime during a game. Therefore, you can technically find the highest value for a specific line within the duration of a contest. The ultimate benefit of live betting is the opportunity of finding the best market value while odds are changing.
When you look at the English Premier League, only 7% of the games are ending 0-0. This roughly equates to 1 in every 13-14 games ending without a goal. Bookmakers take into account these statistics when determining pre-game odds. As expected, usually there is not a lot of value in pre-game betting over 0.5 goals to a Premier League game at odds 1.03 (-3333).
On the other hand, if you are live betting, you could actually find a much higher value and better odds for the over 0.5 goals line. In the 3rd week of the Premier League, this season Wolverhampton hosted Manchester United at the Molineux Stadium. As usual, the pre-game odds for the line over 0.5 goals in the game opened at 1.03 (-3333). The game remained goalless until the 80th minute. At that point, the odds for over 0.5 goals increased to 1.8 (-125)! To put it into numbers, if you have wagered $100 for any team to score a goal before the game started you would have made a profit of only $3 vs. if you live bet the same amount at the 80th minute you would have made $80. Between the kickoff and the 80th minute, where finally Devils managed to score, the value for this specific line increased by 27 times!
Capitalizing on Algorithm Mistakes in Real-Time
Setting accurate and correct odds is one of the most crucial components of an online sportsbook's success. Considering the number of customers these businesses have, an incorrect line could easily lead them to lose a lot of money within a couple of minutes. Online betting companies are allocating a substantial percentage of their resources to perfect this automated process. The most common strategy these days is hiring professional bookmakers, complimented by setting up a computer system or algorithm that helps them to execute odds setting flawlessly. This combination, plus the element of time, where sportsbooks have weeks to consult experts, analyze competitors' practices and run their algorithm, is the most accurate way of setting odds. However, what happens if we eliminate some of these elements from the equation?
When it comes to live betting, sportsbooks rely exclusively on computer algorithms as they are much faster and less prone to errors then professional bookmakers. Thus, as soon as the game starts the human involvement within the process is almost fully removed. On the other hand, since live betting happens during the game, it eliminates the time element as they are forced to set a line in the blink of an eye. When both the human and time elements are removed from the equation, it decreases the accuracy of the lines as computer algorithms alone are not entirely perfect.
Using Your Edge Over Computers by Watching Games
While these automated computer algorithms are very reliable when it comes to reading quantitative data, containing a numerical value (points scored, number of shot attempts, remaining time etc.), they are unable to read qualitative data (a sign of injury, fans creating a positive atmosphere, team and player morale etc.).
This simply implies that, whenever you watch a game and live bet against the algorithm, you will always have an edge over computers as they won't be able to catch the qualitative indicators that you will.
A real-life example occurred during this year's Roland Garros final when Novak Djokovic beat Rafael Nadal to win his 20th Grand Slam. Tennis authorities chosen Nadal to be the heavy favorite as the Spaniard have previously won 13 Roland Garros titles in his career. As a result, pre-game odds reflected Nadal's dominance on clay against his opponent. When Nadal went down 2-1 on sets against his Serbian rival, the probability of him winning the 4th set seemed pretty high based on the odds that were set before the game. What computers didn't realize at that point in time was that Nadal started limping and was showing signs of injury. Lucky sports bettors that were watching the game in real-time were able to capitalize on this incorrect line and made handsome profits.
The odd setting mechanisms are still far from perfect, and it is more than likely that you are going to find an incorrect line from time to time.
Cash Out When You Are in Profit!
One of the biggest advantages of live betting online is the option to cash out at any time during a game. Your cash out at any time of the game is set automatically based on the original value at the time of your bet versus the current value at the time of your cash out. This is a very valuable tool that can help to turn losses to wins.
During a sports contest, circumstances could change drastically between sets, quarters or periods. Sometimes teams or players struggle to carry their good performance to the latter stages of the game due to injuries, fatigue, or a change in the opponent's approach.
By using your cash-out option, you could capitalize on those circumstances where your team is in an advantageous position. For example, if the team you picked at a soccer game goes up 2-0, your cash out will be probably close to your maximum potential returns as your team is in a very valuable position to win the match. If you go ahead cashing out and settling your bet at 2-0, you won't be concerned by a potential comeback that could turn your win into a loss.
The difference between your available cash-out and your maximum potential return shouldn't bother you, as long as you are cashing out with a profit. A lower profit, at the end of the day, is still better than losing your stake.
What to Avoid When Live Sports Betting?
While live sports betting could be a very beneficial and entertaining tool for sports enthusiasts, wrong strategies could lead to drawbacks. In this section, we will discuss potential drawbacks of live betting to avoid in the future.
Don't Let Your Pros Turn into Cons
In the previous sections, we have established that the most important benefit of live betting is to be able to bet at any time during a game. As we said earlier, this gives you the opportunity to assess the best value for a line and capitalize on it. If you, on the other hand, don't be patient and place an impulse bet at the wrong time and place, you could put yourself into an unintended position. Always be patient and watch the game until you see an actual opportunity.
Don't bet just for the sake of it
Again, live sports betting provides you the opportunity to lay back and watch any game before placing a bet. The optimal strategy would be to hunt down those qualitative elements that we have explained above to get an edge over the sportsbook algorithm. Whenever you live bet on a game without watching, you are letting go off your primary advantage over the bots. Just like the computer systems, when you bet on a game without watching, you might be missing qualitative indicators that could potentially influence the outcome of the game.
Do Your Due Diligence Before Betting
It is true that live betting only happens in real-time, during a game. This doesn't mean you don't have to prepare beforehand. During the course of a game, opportunities come and go fast. If you haven't done your pre-bet due diligence you may miss out on a lot of opportunities.
It is your responsibility to make sure you know all the pre-game facts that could influence your live picks. For example, you wouldn't bet on Kansas City Chiefs to win, even with a good value, knowing Patrick Mahomes is out injured. Checking previous form, player, team head to heads, and injury lists are always beneficial for you.
Also, once the game starts, you won't be able to see what the lines were before the game. This could lead you to pick a heavy underdog without even realizing it. As you know, odds change during a live game based on the current situation. Let's say Juventus is playing Fiorentina in Serie A and Fiorentina to win the game is capped at 4.5 (+350) with an implied probability of only 22%. If the underdog gets to score the first goal of the game, you might find updated odds implying a higher probability that could mislead you.
If you see an opportunity during the crunch time of a game and try to check pre-game facts, you might actually miss it as in-game betting windows close fast. Always make sure you scout out your facts prior to the game, to make sure you don't miss out on a value or opportunity.
Don't Use Live Betting to Make-Up for Losses
Live betting is a great way to capitalize on good value during a sports contest, but it could be dangerous when you're having a bad day. Even the best of us would have days, where nothing goes our way. When you are on a bad run, the best action to take would be to stop forcing the action. There are hundreds of sports events and opportunities coming up every day so no need to get stressed to make up for your losses immediately. Forcing more action in play to make up for your bad start to the day could get you into a downward spiral that is hard to break.
Is Live Sports Betting Legal in the US?
Following Supreme Court's decision to lift the federal ban on sports betting in 2018, the number of US states where you can bet legally has increased greatly. Today, the majority of the US states allow legal sports betting at various establishments, although this hasn't fully translated to online sports betting.
Click here to see States That Offer Sports Betting in the US.
States Where Online Sports Betting is Legal
Currently, the US States that has legalized online sports betting stands as:
•Arizona
•Colorado
•Illinois
•Indiana
•Iowa
•Michigan
•Nevada
•New Hampshire
•New Jersey
•Pennsylvania
•Tennessee
•Virginia
•West Virginia
•Wyoming
Based on the trends, we fully expect that legal online sports betting will become more widespread as more states receive regulatory approval.
Online Sportsbooks that Offer Live Betting
At this age and DNA, almost all major players within the sports betting industry are offering live sports betting. With the technological advancements, sportsbooks are not only competing on the number of live games they are offering, but also trying to improve their user experience with better in-game tracking and user-friendly interfaces.
You can find an extensive list of Best Online Sportsbooks in the USA here and can open an account using our promo code "ODDSSEEKER" to redeem your bonus.
What is The Best Sportsbook for you?
There are plenty of factors to take into account when deciding which sportsbook to choose among the many options available. Usually, it is advised to go with the sportsbook that has the best offerings on promotions and bonuses.
Although frequently overlooked, the interface should be a top factor influencing your final decision. Between online sportsbooks, live betting interfaces could look very different from one another. This is mainly due to differences in the quality and efficiency of their respective live betting platforms.
Throughout the duration of a sports event, lines fluctuate quite often, and opportunities come and go in light speed. A bad in-game interface could greatly frustrate you and drive you to make mistakes and lose your money. Therefore, interface speed and design could make or break when it comes to in-game betting.
At the end of the day, you need to choose the interface that works best for you as there is no standard practice.
Which Sports are Available for Live Betting?
Online sportsbooks offer a huge variety of sports for live betting. The list varies from site to site depending on the real-time tracking technology available.
Here are some of the most common sports offered online. Click each link to see each sport's live betting guide. 
-Tennis
On top of these options, the list may be extended to hockey, golf, volleyball, motorsports even to table tennis or darts.
Check out our Live Betting Guides tailored for each sport listed above.
Conclusion
Live Betting is a very fast-paced, relatively new style of wagering that can be incredibly entertaining and profitable if you know what you're doing.
Make sure to check our experts' Live Sports Betting Guide to fully understand all aspects of live betting and how to make money from different sports and disciplines.
Sports Betting Strategies
Want to bet like the best of them? Read these detailed strategies written by expert sports bettors to help you understand the sharpest ways to bet!
5 Best Sports Betting Apps
Live Sports Betting Guide
MLB Live Betting Guide
NBA Live Betting Guide
NFL Live Betting Guide
Soccer Live Betting Guide
Stacking Promos
Tennis Live Sports Guide
Sports Betting Calculators
The best bettors only strike wagers when they know their exact risk & exact reward - use these calculators to help yourself make the best bets.
Parlay Calculator
Free Signup Promo
Get 10 FREE Sweeps Coins
First Purchase Offer
Get 10 FREE Sweeps Coins
No Deposit Bonus
Get 10,000 Gold Coins & $31 FREE Stake Cash