Sports Betting Strategies
NFL Live Betting Guide
Make the most of NFL live betting with our comprehensive guide. Get expert insights & analysis to boost your winnings.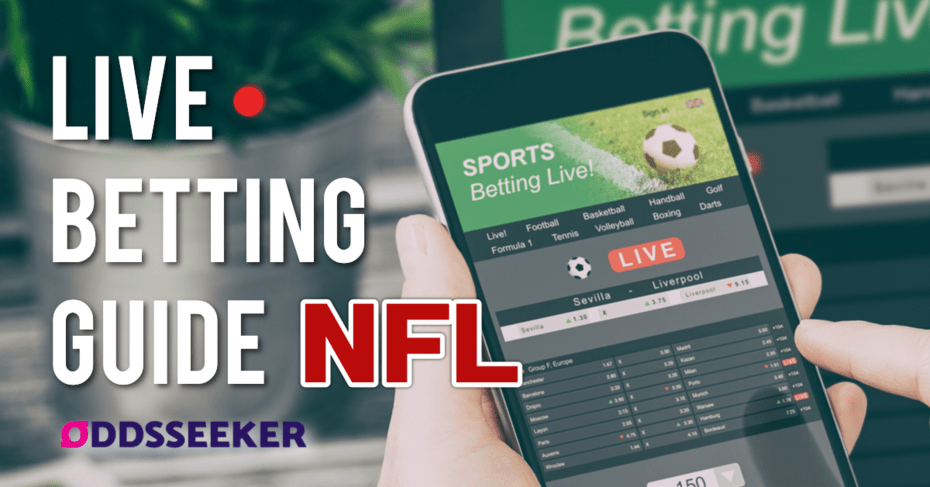 Both Football itself and the NFL are a part of the US culture and have always been the most popular sport to bet on. Thus, we can say that betting has long been a part of the NFL's DNA. With more states continue to adapt legal sports betting and operators, we expect this trend to aggressively grow within the next couple of years.
Below is a list of major in-play betting markets available for NFL:
•Moneyline – Team A or B to win the match
•Point Spread – Team A or B to win or lose by a certain margin
•Prop Bets – A player to over or under perform specific stats
•Total Score – Total points combined in the game
Pre-Match Preparation for NFL
Injuries are Very Common in NFL
Football, among all other sports, has the 2nd highest injury rate after basketball. When you consider that the NFL regular season is only 16 weeks, this fact alone displays the brutality of the sport. Every week numerous players miss their games due to injuries and this in return greatly impacts the outcomes. You should always have a good grasp on which teams are missing their major players, which in return can create an edge for you during live betting.
Obviously, quarterbacks are the most important position to check when looking at the injury lists as there is a significant difference between the starting and backup QB'S. Going after teams' missing their starting QB's is definitely a good strategy to pursue.
Missing players playing in other positions can also be vital in the NFL. We have witnessed this firsthand during last year's Super Bowl Final when Kansas City Chiefs, who were unstoppable during the regular season and the playoffs, struggled to show any offensive presence due to missing 2 important players on their offensive lines.
Team Forms and Records
Having only 16 weeks during the regular season, by the time we reach the 6th or 7th week, we have a good picture of what the post-season will look like. At least you will know who's not making the playoffs. You could use this information when picking teams during live betting.
Teams that are not making the playoffs will probably experiment for the remainder of the season, trying their rookies and less-used players. On the other hand, teams pushing for a playoff spot will give their 100% during the last couple of weeks.
You should also keep an eye on team records to find special opportunities. A team to win or lose all their regular-season games happens rarely, maybe every 10 years. Therefore, if you know, going into the last weeks, that a team is undefeated or hasn't won a game yet, you could capitalize on it.
A team still without a win at the 10th week of the NFL will be capped at very satisfactory odds even when they are at a good position to win games. If you come across such a situation during a game, where an underdog without a win has a good edge on the score, you should pick them as the likelihood of them winning a game that season is over 90%.
How to assess Momentum in NFL
The momentum factor is less reliable in the NFL as it switches sides multiple times throughout the course of a game. The task should be redefined as assessing the last momentum shift at the end of a game where there is no more time for a final move.
Momentum shits can also be related to comebacks. New England's epic comeback during the 2017 Superbowl against the Atlanta Falcons is the ultimate proof of this statement. Both fans at the stadium and in front of their TVs watching the game could sense the comeback after Tom Brady's first TD in the 4th quarter. Watching the game always helps to sense the momentum.
How to Read Live Odds in NFL
Similar to NBA, NFL in-game money lines can tell you a whole lot of information. By looking at the current money line at any time during a game you could tell which team has a better record if they are missing any important players or what the pre-game lines were like.
If a bookmaker, during a game, assigns identical Moneyline values for 2 teams while one has an advantageous position over the other, this implies either the winning team is missing an important player or the losing team has a better record overall.
Reliable Live Sports Betting Scenarios for NFL
The best way to live bet on NFL is by watching the games. Although this applies to all sports in general, with NFL it is more important since there are more intangible elements that cannot be felt without watching. Therefore, it is more difficult to generalize multiple scenarios.
With that being said, here is a good one you could rely on:
When a team is up by a large lead, they usually tend to run the ball more often to attempt to run down the clock. The team trailing, on the other hand, turns to a more aggressive throwing approach, where they take more risks in an attempt to catch up faster.
When you come across a similar type of scenario, you should bet under total points scored in the game as the strategy governed by both teams is working towards fewer points being scored. One team is already trying to run down the game clock, while the other tries hail mary passes that are unlikely to work on a consistent basis.
Sports Betting Strategies
Want to bet like the best of them? Read these detailed strategies written by expert sports bettors to help you understand the sharpest ways to bet!
MLB Live Betting Guide
NBA Live Betting Guide
NFL Live Betting Guide
Free Signup Bonus
Get 5 Free Sweeps Coins + 600 Free Diamonds
Free Signup Bonus
Get 7,500 FREE Gold Coins + 2.5 FREE Sweeps Coins
First Purchase Offer
Get 50,000 Gold Coins for $9.99 + 25 Free Sweeps Coins