Sports Betting Strategies
Soccer Live Betting Guide
Soccer: Live Betting Strategy - Get the best tips and information to make the most informed live betting decisions on soccer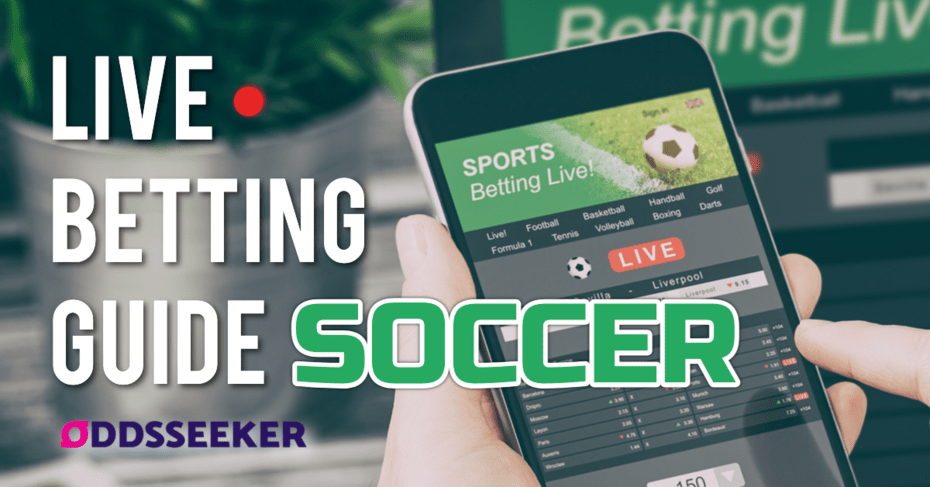 Soccer by far is the most-watched and popular sport in the world, so it is no surprise to discover that the game is the most betted sport globally as well.
Soccer matches, contrary to major sports in North America, are not always high-scoring affairs, with a possibility to end 0-0. Nevertheless, it has a vast amount of intriguing bettable elements that can be team-based or individual.
The variety of in-play betting options for soccer is absolutely tremendous:
•Money Line – Team A or B to win the match
•Over/Under Total Goals – Total goals scored combined by both teams
•Point Spread/Handicap – Team A or B to win or lose the game by a certain margin of goals
•Correct Score – Guessing the exact correct scoreline of the final result
•Halftime Result – 3-way result at the end of the half
•Both Teams to Score – Each team to score a goal in the game
•Double Chance – Team A or B to win or draw (1X or X2)
•Next Goalscorer – Team A or B to score the next goal
•Halftime/Fulltime Combo – Guessing the final score after both the halftime and the fulltime
•Total number of corner kicks
•Total number of cards
•Times of Goals – Exact time of a goal being scored
We suggest you stay away from hard to predict lines like the correct score of the game, halftime/fulltime combos or time of goals and concentrate on game lines with a higher probability to guess.
Pre-Match Preparation for Soccer
It is said that soccer game analysis is a science, providing a myriad of detail to fans before live betting, allowing them to make informed decisions during the game. Checking your pre-game facts and stats is a prominent part of the live betting process for soccer.
1) Team form is crucial
Historically, domestic dominance doesn't always come through when betting on soccer. If you are a soccer fan, you probably have some idea into who the major teams are in most of the nations. This is important knowledge to have but could be deceiving.
It is not a very rare sight to see some of the major teams, contrary to their historical performance, having bad seasons. Considering the number of teams and leagues existing globally, it definitely happens every year somewhere around the globe. Sometimes a bad start to the season could become a downward trended spiral that can't be broken and could affect the remainder of the season.
Chelsea demonstrated a good example in the 2015/2016 season in the Premier League. The Blues have been one of the most dominant teams in the Premier League since Abramovich purchasing the team in 2003. After winning the Premier League in 2015, they had a horrible start to the following season, where they ended up 10th, finishing the league on an abysmal spot. That year, thousands of sports bettors around the world lost money on each Chelsea game as they kept assuming Chelsea's name and reputation would be enough to get pass through the weaker English teams.
You should always avoid betting on a team just because they are historically dominant in their domestic leagues. Always check the teams' current form within that season and pick your in-game bets accordingly.
2) Player Injuries and Suspensions can Be Game-Changing
Important players like Lionel Messi and Cristiano Ronaldo have the ability to win matches or even trophies for their teams. Missing these types of star players due to injuries or suspensions would be a major factor influencing the outcome of the game. Always check the injury lists before the game and shape your live betting strategy accordingly.
3) Lineups and Formations
Just by looking at the lineups before a match, you could read into the intended strategies of managers. Managers sometimes rest their important players in their domestic leagues before a Champions League fixture. When you check the lineups and see that most of the starters for one of the teams are at the bench, you could take this to mean that the manager is willing to lose points in this game for the sake of getting a better result at another competition. Then you can build your in-game strategy accordingly.
Also, knowing the formations of the teams, going into games are important as you could pick up on opportunities during the game based on the change in formations.
Change in formations implies a change in strategy. If a team is changing their formations from 5 defenders to 4 defenders, this indicates that they are taking more risks in the match, increasing the chance of conceding a goal or scoring a goal. Based on this you could expect a goal to score and bet over total goals.
How to Assess Momentum in Soccer
Soccer is a less dynamic game in terms of scoring compared to many other major North American sports. It is not like basketball or tennis where a team or player scores or wins a point in almost every position. Thus, momentum is not always tied to scoring a goal. It can take many different shapes and forms.
To our point, not being able to convert an obvious chance to score is one way a team can pass the momentum to their opponents. You can't get closer to scoring a goal when you receive a penalty kick during a game. The probability of a player to score a penalty kick is always marked at 1.2 with an implied probability of 83%. When a player beats the odds and misses a penalty kick, this has an inverse effect on both the players on the field and the fans at the stands, consequently giving the edge to their opponent.
There are plenty of intangible factors that could influence the flow of momentum during a soccer game, and it doesn't have to be always tied to score-related activities. Therefore, you should always watch your games to assess the momentum flows as it is less apparent on the simulations within your sportsbook.
How to Read Live Odds in Soccer
When it comes to soccer, reading the lines written in-between the odds is relatively more straightforward compared to other sports. There are many different in-game markets available to soccer and each odd tied to those lines gives you a hint about the outcome.
Let's go over a couple of examples to make our point. Imagine that you are scrolling through your sportsbooks in-game section and come across an Australian Regional League game with a score of 5-0 at the 73rd minute. Even though there is only 17 minutes left in the game, when you check the available markets, you see that over 6.5 goals in the game are marked at 1.8 (-125). This odd simply tells you that there will definitely be at least one more goal in the game as even the probability of 2 goals to be scored is pretty high at 55%.
Think about another example where you come across a soccer game with a scoreline of 0-1 in the favor of the away team. It is the 80th minute and the odds for the away team to win is 1.95 (-105). This tells you that the home team will probably score a goal within the next 10 minutes as the sportsbook didn't assign the away team a huge probability to win even when they are up with only 10 minutes remaining in the game.
Soccer odds are very self-explanatory and become more straightforward to read once you get a good grasp of the language.
3 Reliable Live Betting Scenarios for Soccer
1) Probability of a Draw Increases When There is Extra Time Involved
In soccer, the majority of the goals are scored in the latter stages of the game, close to the full-time whistle. This is because there is a sense of urgency and extra pressure on players to either salvage a point from a losing game or to push their last chances to win the game.
When there is a possibility of extra time, the sense of urgency drops as the game is potentially extended for another, additional 30 minutes. The possibility of extra time re-defines team strategies where they play more cautious closer to the end of a game to prevent conceding a goal and exiting the competition for good. The players are already tired at the end of a game and there is no point taking extra risks and lower your guard instead of holding the game until the intermission to take a breather.
Also, computer algorithms most of the time, do not take into account the possibility of extra time and treat the game as usual. This is a good edge over sportsbooks that you should definitely capitalize on.
Therefore, when you see a scenario, where a game is tied, with only 15 to 20 minutes left on the regulation time, you should back up a line that implies extra time. For example, if two teams are tied 1-1 at the 75th minute of a game and the game needs to end as a draw to go to Extra Time bet 3-way result, X, draw or under 2.5 goals, if you are willing to take a higher risk for better returns. Make sure that the implied probability of the odd at the time of your bet is over 50% or less than 2.0 (+100).
2) Betting When There is a Red Card
Conceding a red card in soccer is probably the worst thing that can happen to your team during a game. The player who has receives the red card is automatically ejected from the game and the players' team remains shorthanded for the remainder of the match.
If you have already placed a bet earlier in the game on the team that conceded the red card sucks to be you as you will probably have to endure a lot of stress until the end of the game. If, on the other hand, you are a live betting expert waiting patiently for an opportunity to arise, you may be in luck.
You are correct if you are assuming that the red card is going to weaken the side that conceded it. But depending on the scoreline you could turn this into an opportunity. Being a man down definitely reduces the possibility of that team scoring a goal. On top of that, if the game is tied at the time of the red card or if the shorthanded team is winning, this is an opportunity for betting under match goals as the team missing a player will probably try to protect the scoreline by defending their goal with the remaining 10 players on the field. This in return, creates a situation where it is difficult for the team with an extra player to score.
If, during a game, you come across a similar scenario, where a red card creates a situation that makes it difficult for either team to score, bet under match goals below any odd that is under 2.0 (+100)
3) Using Live Betting to Capitalize on Patterns
If you go ahead and check the score lines and the post-game statistics for a specific league or division at the end of each week, you will start realizing some similar patterns occurring every week.
For example, on average, one of the 9 games played in The Turkish Super League each week ends 0-0. The chance for you to guess that single game at the beginning of the week is very unlikely. However, once the games start your chances increases.
Lower domestic leagues, especially in Europe, play all their weekly matches at the same time as they don't get televised. This creates an invaluable opportunity for you to capitalize on the patterns you have come up in the past.
Let's say you have previously determined that 1 of the 9 games in the French National League ends in a draw. Considering all teams play at the exact same time, you could wait until the final stages of the game to see how the score lines are looking. If you observe that 8 of the 9 games are already at a state where they cannot end in a draw and have only 1 game left that has that possibility, then you should bet on that game to end as a draw. By betting live, during the match, you have decreased the number of games that could potentially end in a draw from 9 to 1.
Live betting makes it much easier to observe these patterns and capitalizing on them.
Soccer: Live Betting Strategy
Feel like you're ready for some soccer live betting? Before you start, ready our quick tips;
Live betting, also known as in-play betting, is a type of wagering that allows players to place bets on a soccer game while it is in progress. This type of betting can add an extra level of excitement to watching a game and can also provide opportunities for players to make strategic bets based on how the game is progressing.
Here are some strategies for live betting on soccer games:
Follow the flow of the game: Watch the game closely and pay attention to which team is controlling the play. If one team is dominating the game, they may be more likely to score, and you can consider betting on them.

Look for momentum shifts: In a soccer game, momentum can shift quickly. If a team goes down a goal, they may start pushing forward more aggressively in search of an equalizer. If a team is leading by a goal, they may start playing more defensively to protect their lead. Pay attention to these momentum shifts and consider how they might affect the outcome of the game.

Take advantage of live betting specials: Some bookmakers offer live betting specials during the match, such as enhanced odds on certain teams or players to score. Be aware of these specials as they can offer great value.

Be aware of the time remaining: As the game approaches the end, teams that are down may start to push forward more aggressively in search of a goal. Consider betting on teams that are down to score in the last few minutes of the game.

Don't bet too much: It's easy to get caught up in the excitement of live betting and make impulsive bets. It's important to set a budget and stick to it, and not bet more than you can afford to lose.
It's important to remember that live betting is still a form of gambling and it's always important to be aware of the risks involved, and not let emotions drive your decisions. It's always recommended to do your research and use a sound betting strategy, but also to have fun while doing it.
Sports Betting Strategies
Want to bet like the best of them? Read these detailed strategies written by expert sports bettors to help you understand the sharpest ways to bet!
5 Best Sports Betting Apps
Live Sports Betting Guide
MLB Live Betting Guide
NBA Live Betting Guide
NFL Live Betting Guide
Soccer Live Betting Guide
Stacking Promos
Tennis Live Sports Guide
Sports Betting Calculators
The best bettors only strike wagers when they know their exact risk & exact reward - use these calculators to help yourself make the best bets.
Parlay Calculator
Free Signup Promo
Get 10 FREE Sweeps Coins
First Purchase Offer
Get 10 FREE Sweeps Coins
No Deposit Bonus
Get 10,000 Gold Coins & $31 FREE Stake Cash