2022 Review
Fubo Sportsbook
Why we like Fubo Sportsbook
Fubo Sportsbook is accepting players in Iowa! A beautiful marriage between FuboTV and Vigtory's betting technology, Fubo Sportsbook aims to revolutionize the way people watch and place bets on all major sports!
Fubo Sportsbook Bet & Get
Bet $20 & Get $150 Free Bets
Fubo Sportsbook Accepts Players In
| | | |
| --- | --- | --- |
| | | |
| | AZ | Sports Betting |
| | IA | Sports Betting |
| | NJ | Sports Betting |
Site
Game Type
Promotion
Value
Players
Promotion Type

Promo Type

Sports Betting

Fubo NJ Sign Up Bonus
TBD
New
Bet & Get

Bet & Get

New Players

See Offer

Sports Betting

Fubo Sportsbook Risk-Free Bet - Up to $1,000
TBD
New
Free Bet

Free Bet

New Players

See Offer
No promotions to show

FuboTV Sportsbook Overview
While the COVID-19 pandemic of 2020-2021 has brought many industries and even economies
to their knees, it has also served as a catalyst to one particular sector – online sports betting. 
Combining online sports betting and live-streaming sports has experts predicting that the industry could be worth $155 billion by 2024. 
FuboTV Inc, the United States' number one platform for live streaming sports, recently announced its intention to launch an online sportsbook before the end of the year. FuboTV has stated its intent, having acquired Vigtory Inc, an interactive gaming and sports betting company. With plans to launch in New Jersey, Indiana, Iowa, and Tennessee, it's clear that Fubo isn't playing around.
What is FuboTV?
Streaming platforms like Netflix, Hulu, Amazon Prime, and others have revolutionized home entertainment and have all but ended commercial broadcast television. We are no longer bound by entertainment schedules dictated by networks. For decades, if you wanted to watch an episode of your favorite series, you had to make sure you were in front of your TV on time. 
Streaming networks allow us to watch what we want when we want. And best of all, there's no need to wait an entire week to watch the next episode. You are free to binge-watch a whole television series in one sitting. We have become so used to being entertained instantly that we even have the SKIP INTRO option!
It has quickly become clear that the future of home entertainment lies with streaming platforms. However, there was one key area where these platforms could not compete – live sports. After all, the NY Giants are not about to slug it out with the competition at 2 AM on a Tuesday because you can't fall asleep. 
This is where FuboTV stepped up to the plate and soon established itself as the US's leading platform for live sports. When Fubo initially launched back in January 2015, it was a soccer exclusive streaming platform. It has since expanded its offering to include major professional leagues like MLB, MLS, NHL, NBA, and NFL.
It also features international soccer leagues, news, movies, and even has select network television.  
FuboTV offers its users several different channel packages, with even their most basic offering including over 100 channels.
What Sets FuboTV Apart from the Competition?
So why all the fuss about the launch of yet another sportsbook? Well, Fubo is not planning to launch just another online sportsbook; they have goals to revolutionize the industry as a whole.
Let's take a look at some of the ambitious plans they have lined up:
New forms of incentives and rewards
In a recent interview David Gandler, FuboTV co-founder and CEO, pointed out that every other sportsbook currently operating in the market offers the exact same reward. While many might disagree, David finds that cash has a limited value since it's what every sportsbook offers. 
Because Fubo is a streaming service, he feels that their users would be more interested in rewards like a free package of bonus channels, an upgrade to their current package, or an extended highlights deal (among other ideas).
Adding Value to Their Platform
David also believes that offering a sportsbook feature as an integrated service will make sports betting more attractive to those who may not usually place a wager. Fubo may try their luck during one of the major sporting events like the Super Bowl or March Madness, as both these events are watched by various people with varying sports interests. 
Placing Bets Through Your TV
A recent update to Fubo's Android and Roku apps allows viewers to call up live stats via a dashboard. On the dashboard will be a few questions like "which team will score first?" If they answer correctly, they could win 12 months of free service (a $780 value). 
This is all part of the strategy to get viewers used to the idea of placing bets on their TV screens and the many benefits it brings before they launch their actual sportsbook.
One App, Many Platforms
One area where the Fubo online sportsbook will hold a significant advantage over its more traditional rivals is the number of various things that can be accessed through the app. Most existing online sports betting apps are highly specialized and focus exclusively on sports betting. At best, apps from operators with an online casino and an online sportsbook will provide access to both platforms.
Using a single sign-in, FuboTV users have access to:
Live sports (including NBA, NFL, NHK, MLB, MLS, professional soccer leagues from around the world, and more)

Streaming series and movies

Programmable DVR 

News and sports news channels 

Online sportsbook
Fubo has a clear advantage and a real differentiator thanks to offering streaming entertainment, live sports, and sports betting all on the same platform. This will undoubtedly help them develop and grow their sportsbook far quicker than the competition. Fubo has the potential for its app to become the only entertainment app a user needs to download.
Partnership with Vigtory
Fubo let the world know it was getting ready to cut itself a big piece of that massive sports betting pie when they purchased Vigtory Inc. Despite Vigtory being a sportsbook that has not yet launched, it has already caught the attention of several highly respected investment sites, including Yahoo Finance and Market Watch. At the time of the deal, the idea of a partnership between a sports broadcaster and an online sportsbook was sheer genius. It is likely to result in a wave of partnerships between live sports streaming platforms and online sportsbooks. In fact, DraftKings and the Dish Network have already announced their partnership.
Things are already looking good for Fubo, Vigtory, and their users. Vigtory is already making use of material licensed from the four biggest professional sports leagues in the US (NBA, NFL, NHL, and MLB), and Fubo has promised to deliver highly competitive prices, integrated live streaming, and offer its customers the most advanced data and analytics tools in the market. 
In the end, the deal between Fubo and Vigtory allows FuboTV to create an excellent all-in-one combo with their live streaming and online sportsbook platforms. 
An Existing Userbase
The single biggest challenge that a new online sportsbook faces are attracting enough users to make it profitable. The Fubo sportsbook does not have this problem since it has a large existing userbase. The best thing about its userbase is that it consists almost entirely of sports-mad individuals. So, when FuboTV launches its sportsbook in the fourth quarter of 2021, all they need to do to increase its userbase is convince their existing users to take advantage of the new betting feature.
If Fubo can make eWallet funding a possibility along with streamlined wagering, even the most casual sports betting fan is likely to try their luck.
What Can We Expect from Fubo Sportsbook?
While it is virtually impossible to predict what the Fubo Sportsbook will be like, we can get a good idea of what to expect by looking at Vigtory Sportsbook. After all, Fubo must have liked what they saw over at Vigtory since they announced the purchase of the sportsbook and their intention to launch a sportsbook of their own the same day. 
Vigtory came to the market with several innovative features that would have set it apart from the competition if it went live. Fortunately for Fubo, Vigtory has yet to go live, which means that those innovative ideas can still be adopted by Fubo Sportsbook. 
Let's take a closer look at those innovative features created by Vigtory that we can expect.
Data and Analytics
We have already mentioned that Fubo Sportsbook aims to offer its users the most advanced data and analytics tools in the market. Vigtory had plans to provide complete data across all the bets that they offered, arming their users with the most relevant information to help them place educated wagers rather than just betting on team loyalty or a hunch.
Live Streaming
Before the live streaming platform bought the sportsbook, Vigtory had plans to allow players to live-watch the game they were wagered on. This allows the player to feel as though they are highly involved with the game. With FuboTV specializing in live sports streaming, it is more than likely that they will now be able to offer their players a more comprehensive range of sports and leagues than Vigtory would have been able to do on their own. 
Customer Service
Vigtory had plans to roll out a VIP experience for their new players. Don't worry; existing players wouldn't have been forgotten, thanks to a customer support team that would have several convenient ways to get in contact with them. 
The Vigtory social media seemed to understand how to engage with their users and were active on Facebook, Instagram, LinkedIn, and Twitter. Fingers crossed that the Vigtory team finds their way over to Fubo's social media department! 
Competitive Pricing
Vigtory was looking to move away from the typical style of today's sportsbooks, where the operator takes a cut from every wager placed at their sportsbook. It will be interesting to see if the Fubo Sportsbook will adapt its approach and offer players better value than they would find at most competing online sportsbooks.
Sports Available at Fubo Online Sportsbook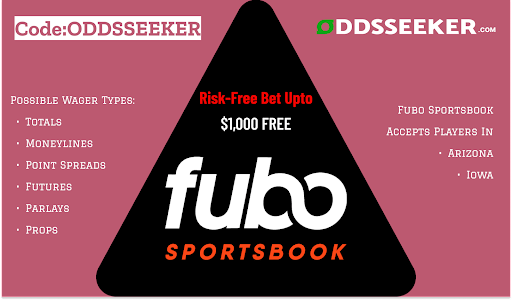 One of the easiest things to predict is which sports Fubo Sportsbook will accept wagers on. As with just about every other sportsbook currently operating in the US, it is more than likely that players can expect to bet on:
NFL   

Soccer (MLS, major leagues from around the world, and inter-league tournaments like the European ChampionsLeague)

NBA

MLB

MMA

WNBA

Golf

NHL

Tennis

NCAA (Men's and Women's) 
Possible Wager Types Available at Fubo Sportsbook
You can expect to find the following types of wagers when the sportsbook launches later this year:
Totals

Moneylines

Point spreads

Futures

Parlays

Props
Expect this list of options to develop as Fubo navigates the market as a sports betting operator.
Banking Options at Fubo Sportsbook
Players should be able to fund their Fubo account through online banking or via an eWallet. This could be an area where Fubo might have a new take on how things are done, somehow taking advantage of the way users pay for their monthly services. 
When it comes to paying out on winning bets, you can expect to receive rewards like a month or year's subscription to FuboTV or perhaps even having your current package upgraded to the next level. What we hope to see is Fubo Sportsbook also offering players the option of a cash payout. 
If they do decide to offer cash payouts, players can expect to receive payments using any of the following options:
Mastercard/Visa

PayPal

Skrill

Prepaid card
The Competition Has Already Begun
Even though the Fubo sportsbook is only said to reach the market before the year's end, they already have their competitor lining up to take them on. Sports betting giants DraftKings recently announced a partnership with Dish Network.
Stock in Fubo, which was boasting a rise of 300% over the last 12 months, took a 19% hit after news of the DraftKings/Dish Network emerged.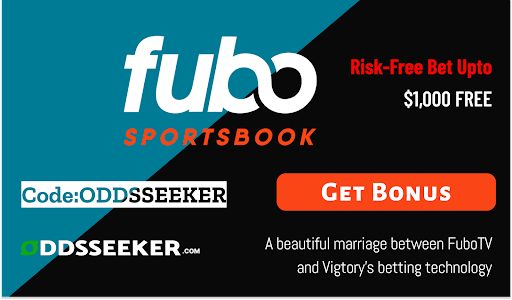 9.7
Fubo Sportsbook Bet & Get
Bet $20 & Get $150 Free Bets