Which Gamers Are the Most Toxic and Which Are the Most Intelligent?
Image © OddsSeeker.com
The Most Toxic Video Game Communities 🚨
Although you may know OddsSeeker as a sports publication, we've started covering console gaming because most of the betting apps that we follow have added esports to their rosters. As the esports industry skyrockets and even sweepstakes casinos begin offering esport-related products, we'll be conducting entertaining, funny, and way too in-depth research on the gaming industry to produce infographics aiming to blow your mind, confirm your prejudices, make you proud, or just laugh your face off.
Without further ado - our first research project looks at 366,904 Reddit posts from the last year across 25 popular video game subreddits including League of Legends, GTA, COD, and Pokemon to see which games produce the most vulgar, most toxic, and most intelligent players - and what the favorite curse words are.
So, are you as toxic & vulgar as your favorite game? Enjoy.
Key Takeaways
Among consoles, Nintendo users are the most intelligent, using 22,216 unique words in their online community.
Among games, League of Legends players are the most intelligent, using the most unique words in their online forum at 32,020.
Apex Legends users are the most toxic: 31% of posts in their online community are negative.
Hogwarts Legacy players are the most profane, with 111 profane words per 10,000 subreddit users.
Exploring Fandom Features
The world of video games is vast and dynamic, with dedicated fan followings for game franchises and consoles. Gaming enthusiasts often meet up in online forums like Reddit to discuss everything from game mechanics to cheat codes. Each franchise and console community has its own vibe and personality—complete with slang and smack talk.
To learn more about the characteristics of video game fandoms, we scraped data from 25 popular game subreddits and analyzed vocabulary, sentiment, and profanity use. Which games have the smartest fans? How about the biggest potty mouths? Let's load up and find out.
Brainpower Bonus
From stacking obby in Minecraft to ganking for a 2v1 in League of Legends, each gaming fandom has a unique vocabulary. To measure the intelligence of gaming communities, we totaled up the number of unique words used in online forums (under the assumption that a larger vocabulary indicates greater intelligence). Let's see which communities ranked high and which might want to invest in a dictionary.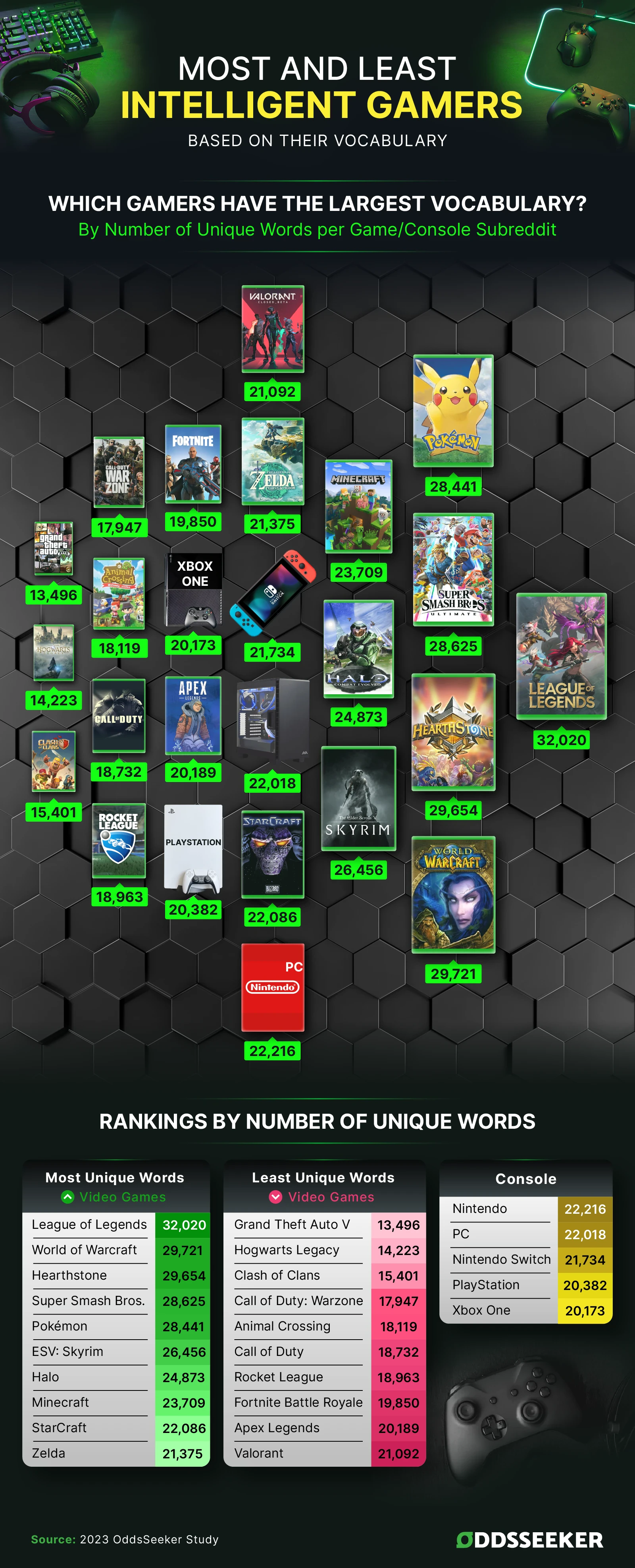 Impressively wordy in their online forum, League of Legends subreddit contributors used 32,020 unique words, the highest among all 25 online game and console communities we scraped. Blizzard Entertainment game players weren't far behind; World of Warcraft and Hearthstone each had well over 29,000 unique words in their communities. Nintendo made a good showing with Smash Bros. and Pokemon, and earned the top spot among console communities with 22,216 unique words.
Despite being one of the most popular games in the world, the Grand Theft Auto V gaming community used the fewest unique words in its online forum at just 13,496. Hogwarts Legacy (14,223) and Clash of Clans (15,401) forums also ranked low. Perhaps these players are too busy racing cars and casting spells to worry about subreddit word choice; still, Dumbledore would be disappointed.
Real-Life Griefers
Online gaming communities offer a great opportunity to meet people with similar interests, but some gamers can be rather brutal in their treatment of the competition. To find out how negative and toxic different fandom communities can be, we analyzed the sentiment of posts in popular online forums. Let's see which communities need to learn how to mind their manners.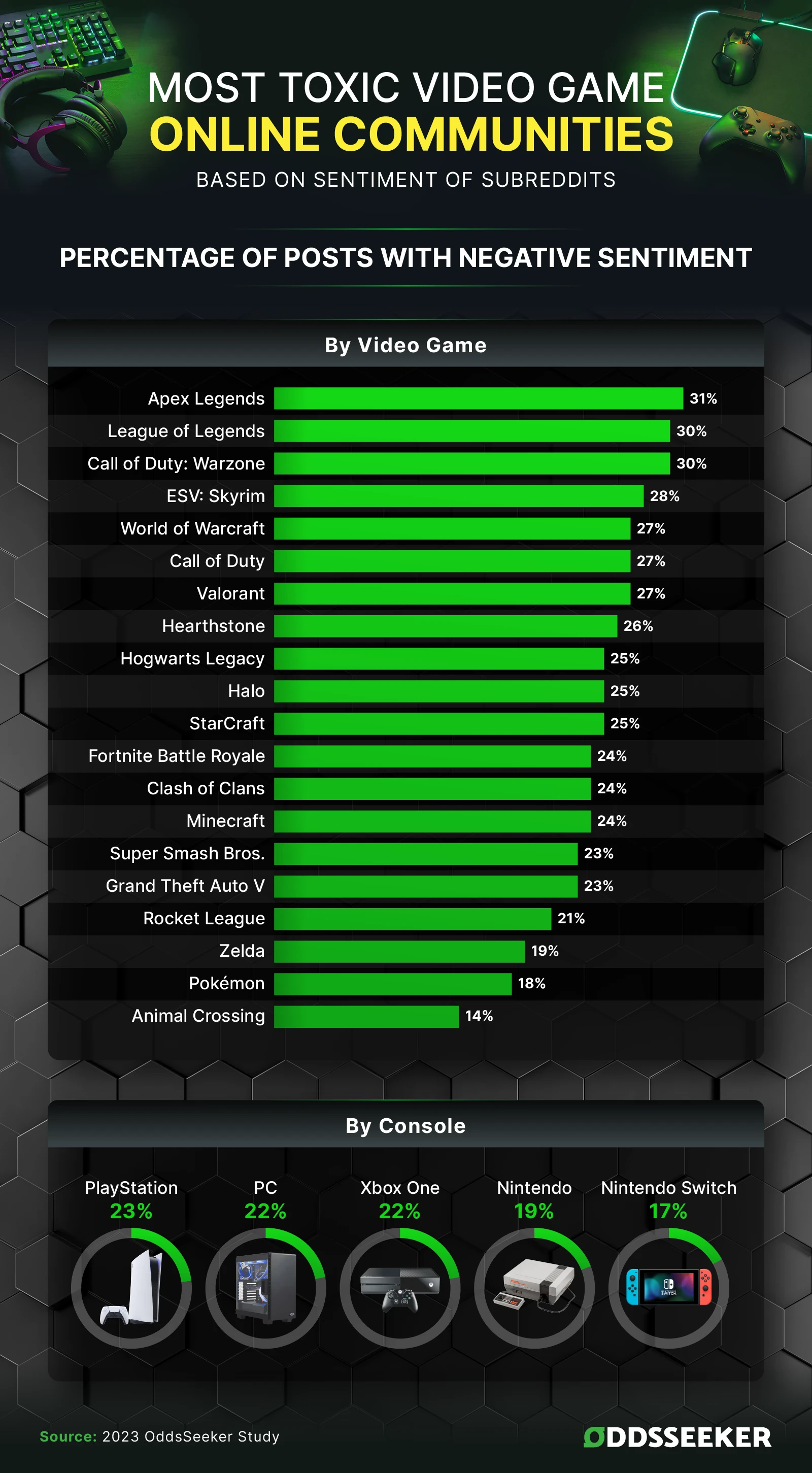 In their battle for glory, Apex Legends fans had the most toxic online community, with 31% of subreddit posts expressing negative sentiment. League of Legends players could stand to add some sweetness to their smarts, as 30% of their posts were negative, the same as Call of Duty: Warzone. As for platforms, PlayStation had 23% toxic posts, putting it just 1% ahead of PCs and Xbox One.
On the other end of the spectrum, kid-friendly Animal Crossing only had 14% negative sentiment posts, followed by Pokémon with 18% and Zelda with 19%. Other popular kid games Minecraft and Fortnite had nearly one-quarter of toxic comments, so parents would be wise to monitor their kids' online interactions.
While it's easy to get carried away when gaming, players should remember that there are real people on the other side of those characters. Even when battling in the Outlands or warring in Verdansk, gaming communities can still promote positivity and inclusion. There is no place in any world—real or fantasy— for toxicity, bullying, or harassment.
Profanity Power-Up
In the passion of the game, some players respond with negativity, while others let the four-letter words fly. We analyzed subreddit forums and totaled up the profanity used by each franchise fanbase. Which communities keep things clean, and which need some soap for their mouths?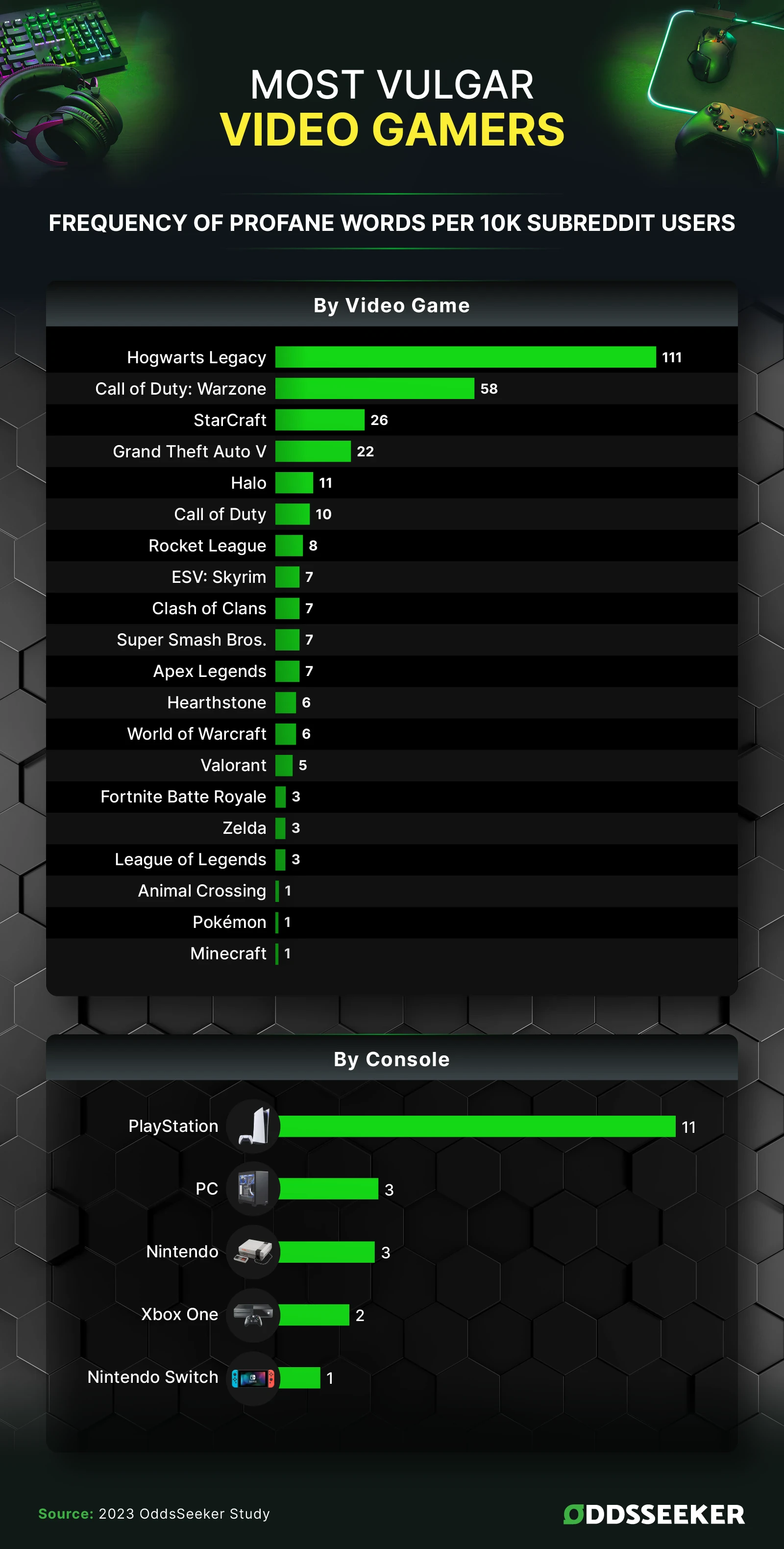 Hogwarts Legacy players could make many a Muggle blush with their frequent profanity; they used 111 profane words for every 10,000 online forum users, more than twice the next closest fanbase. That said, while League of Legends players profaned with far less frequency (just 2.5 per 10,000 users), they really swung for the fences when hitting the curse words. Perhaps their colorful cursing led them to have so many unique words—but we'll be nice and say it was intelligence.
As for consoles, PlayStation users were by far the most profane with 11 bad words per 10,000 users, almost four times the amount of profanity as any other console community. By contrast, Nintendo Switch users only cursed 1.2 times per 10,000 users.
With far more genteel language, kid-friendly Animal Crossing once again claimed its place as a wholesome community, with only 272 profane words across the entire forum. Fanbases for Pokémon and Minecraft were also clean-speaking, with just one foul word per 10,000 users.
Leveling Up the Community
Video games are a fantastic escapist pastime, and online communities like Reddit are great places to meet fellow fans. But our love for the game shouldn't overshadow our empathy for humanity, even when slicing bokoblins or smashing draugrs. That said, should you need help with said slicing and smashing, online forums connect you to a community of players with hours upon hours of experience, and they can answer all your questions and offer top tips. Just be prepared to experience some profane passion in your quest for gaming glory—despite being fantasy, things can get real.
Methodology 
We scraped 366,904 Reddit posts from the last year across 25 popular video game subreddits to gather insights and characteristics of each community. We performed sentiment analysis to see which subreddits were the most toxic and frequency analysis of profane words to see which subreddits were the most profane. We also analyzed how many unique words were used.
About OddsSeeker.com
Whether you're new to the gaming world or an experienced bettor, OddsSeeker.com has all the information you need to make smart bets and win big.
Fair Use Statement
Have some fandom friends who share your passion for gaming? Feel free to share this article with anyone you'd like for noncommercial purposes only. Please provide a link back to this page so readers can access all of our gaming community stats.