The Most Vulgar Fan Bases In The NFL, NBA, MLB, and NHL
Image © OddsSeeker
Written by:
Andrew McDermott
, Founder
🗓
Updated:
September 29th 2023
America's Most Vulgar Sports Fans
Key Takeaways
Among cities with teams in all four major sports leagues, New York has the most vulgar fans, and Washington, D.C., has the least.
The MLB team with the most vulgar fan base is the New York Mets, and the one with the least is the Colorado Rockies.
The Phoenix Suns have the most vulgar NBA fan base, while the Charlotte Hornets have the least.
Las Vegas Raiders fans are more vulgar than any other NFL team's fans, and Los Angeles Rams fans are the least.
The New York Rangers have the most vulgar NHL fan base, while the Chicago Blackhawks have the least.
Bad Language and Big Feelings
When a team is doing well, most fans feel like they are on top of the world. But how do they respond when their team goes on a losing streak or makes a silly mistake in the game's final minutes? Our curiosity about how fans handle strong feelings about their team took us on a deep dive into MLB, NBA, NFL, and NHL subreddits to find the most vulgar fan bases in professional sports. Keep reading to see how your city and favorite team's fan base stacked up.
Most Vulgar Cities
Have you ever wondered which city's sports team fans use the most vulgar language? Let's dig into our Reddit data to see which fans make the most colorful comments.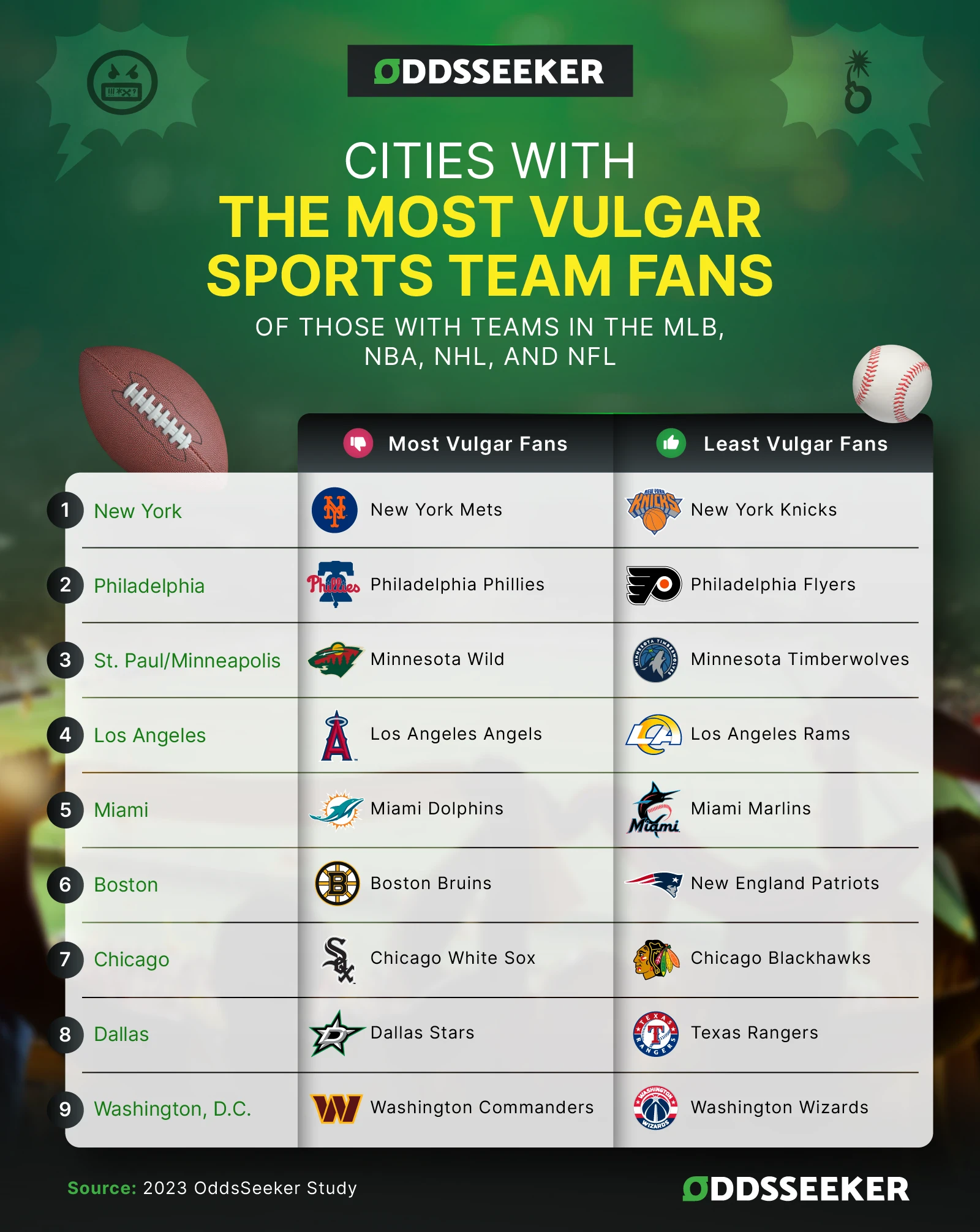 The lights shine brighter in New York. Maybe that makes it easier for fans to find themselves in their feels when their teams start to struggle. Among cities with teams in all four major sports leagues, New York had the most vulgar fans. In the same region, Philly sports fans were the second most likely to choose some nasty four-letter words when expressing their frustrations online. Meanwhile, Washington, D.C., had the least vulgar fans overall. Whenever you're done finding out where your teams stack up, you'll be happy to know that instead of swearing your mouth off online, you can now blow off some steam at a sweepstakes casino *accepting players nationwide except WA & ID.
Four of the nine metro areas with teams in each major league made the most vulgar list thanks to their MLB fans. Miami Marlins and Texas Rangers fans were the outliers, having been least likely to cuss about their team. None of the most vulgar cities ranked due to posts about their local NBA team. Instead, the three metro areas whose basketball teams landed them on the "least vulgar" list were St. Paul/Minneapolis, New York, and Washington, D.C.
Bad-Mouthed Baseball Fans
Let's get into specific leagues and their fan bases, starting with Major League Baseball. Below, we'll discuss the most and least vulgar fan bases across the MLB.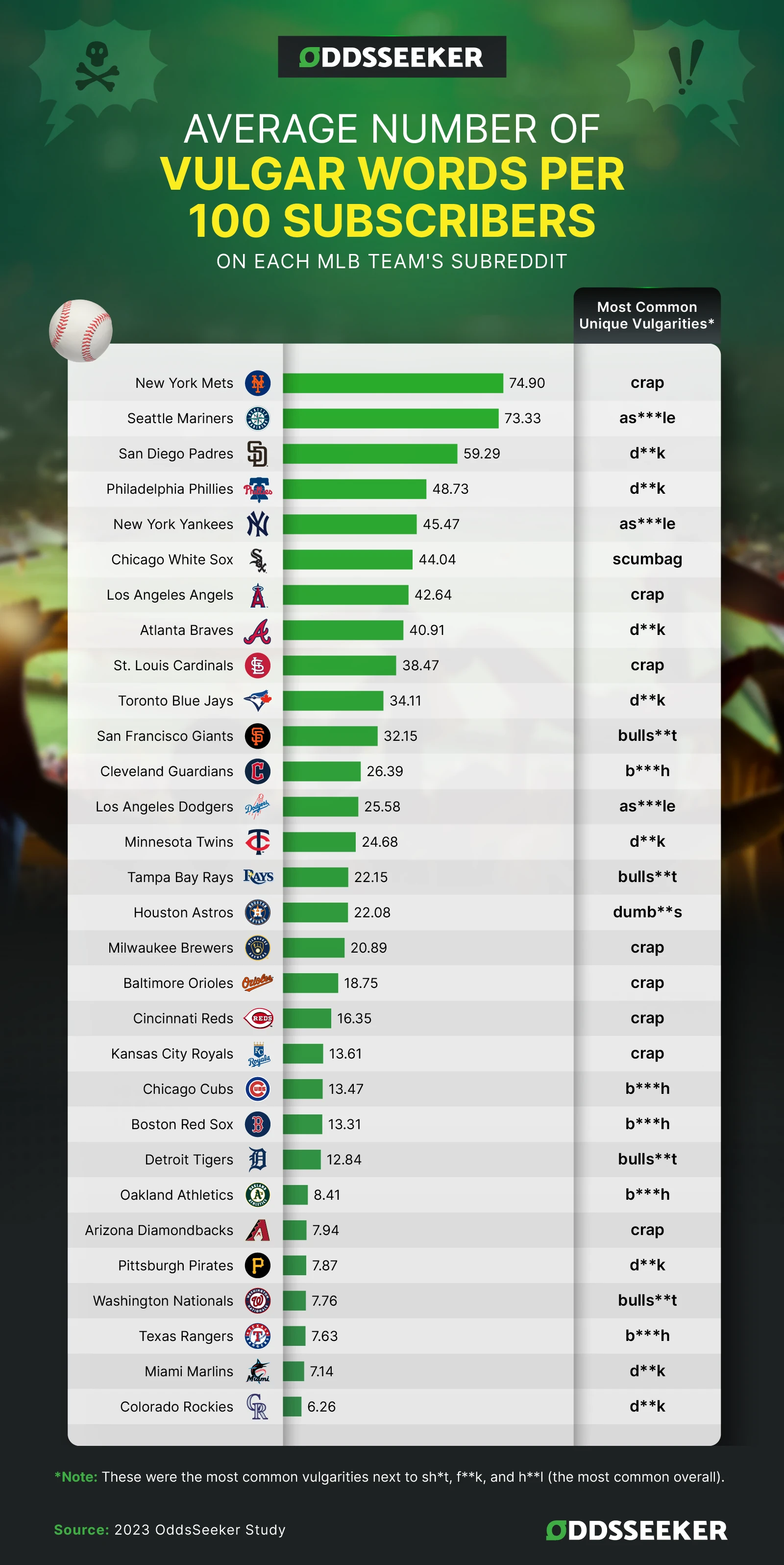 New York had two MLB team fan bases in the top five "most vulgar," with Yankees and Mets fans often logging on to Reddit to express their frustration with NSFW language. Seattle Mariners and San Diego Padres fans were also very expressive when discussing their team online. You may wonder if it's because those two teams have never won a World Series, but neither have the Texas Rangers or the Colorado Rockies, and both those teams landed in the bottom three of our vulgarity ranking.
The Mets and Mariners were neck-and-neck at the top of the list. There was a steeper drop-off from second place (Mariners) to third (Padres), and another between the Padres and the Phillies (in fourth place). After that, though, the numbers started to get a little closer, as there wasn't much separating the Phillies' fan base from the four teams that followed: Yankees, White Sox, Angels, and Braves.
When the NBA Becomes NSFW
Let's head to the hardwood and take a look at the most obscene fan bases across the Association.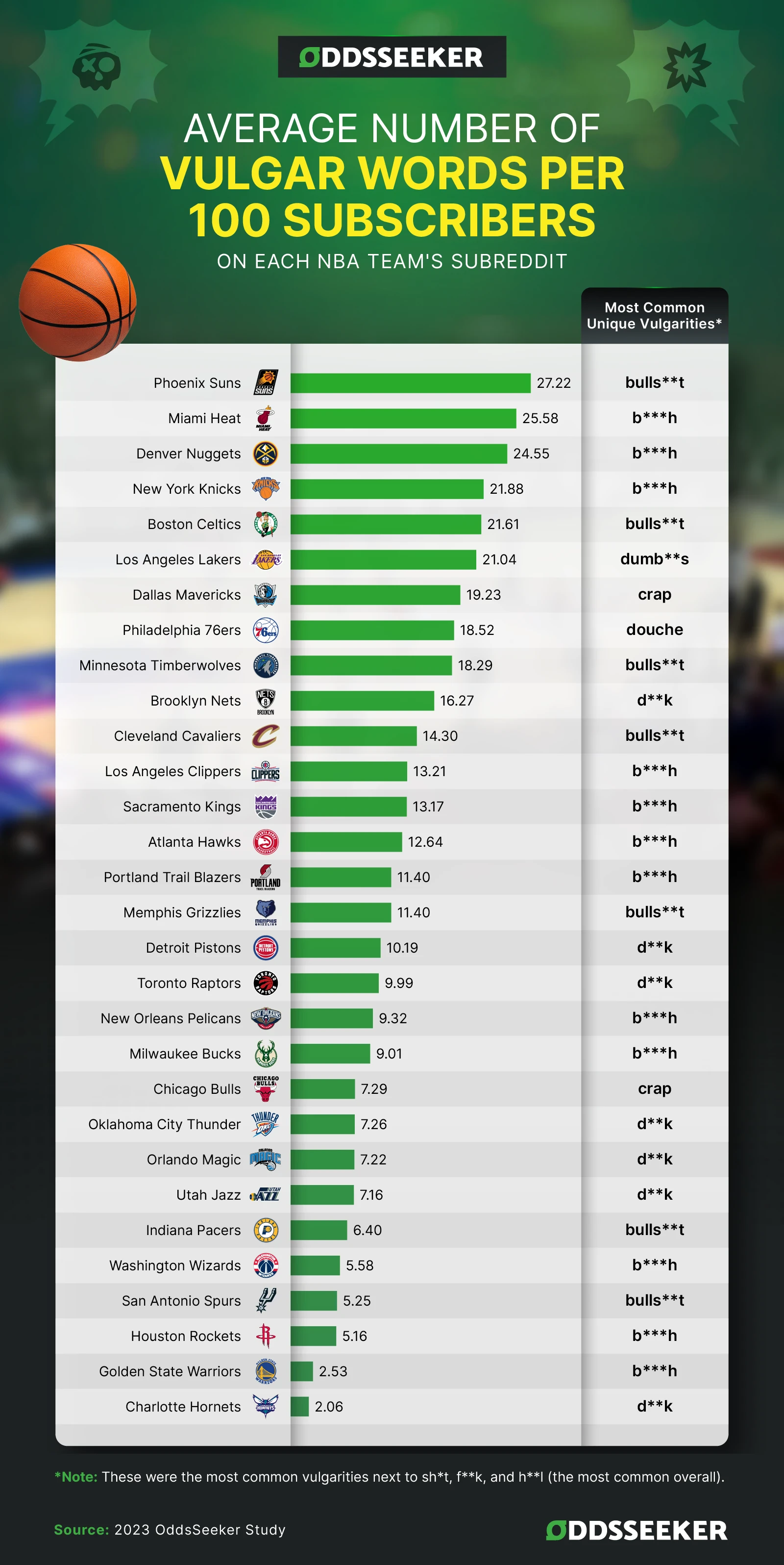 Although it had less than half the profanity on its subreddit as the New York Mets, the most vulgar NBA fan base was that of the Phoenix Suns. Fans of the Miami Heat and Denver Nuggets were slightly less likely to use foul language to talk about their team, but their numbers were close. Charlotte found itself in last place on the vulgarity ranking for its Hornets fans, and the Golden State Warriors landed only slightly higher on the list.
New York and Los Angeles have multiple NBA franchises, and all had different vulgarity levels. The New York Knicks ranked fourth, while the Nets came in tenth place. Out on the West Coast, the Los Angeles Lakers had the sixth-most vulgar fan base, and local Clippers fans also found themselves in the top half of the list at No. 12.
Football Fans and Four-Letter Words
With only 17 regular-season games per year, it's easy for die-hard football fans to react strongly after each win and loss. Let's take a look at the most vulgar NFL fan bases.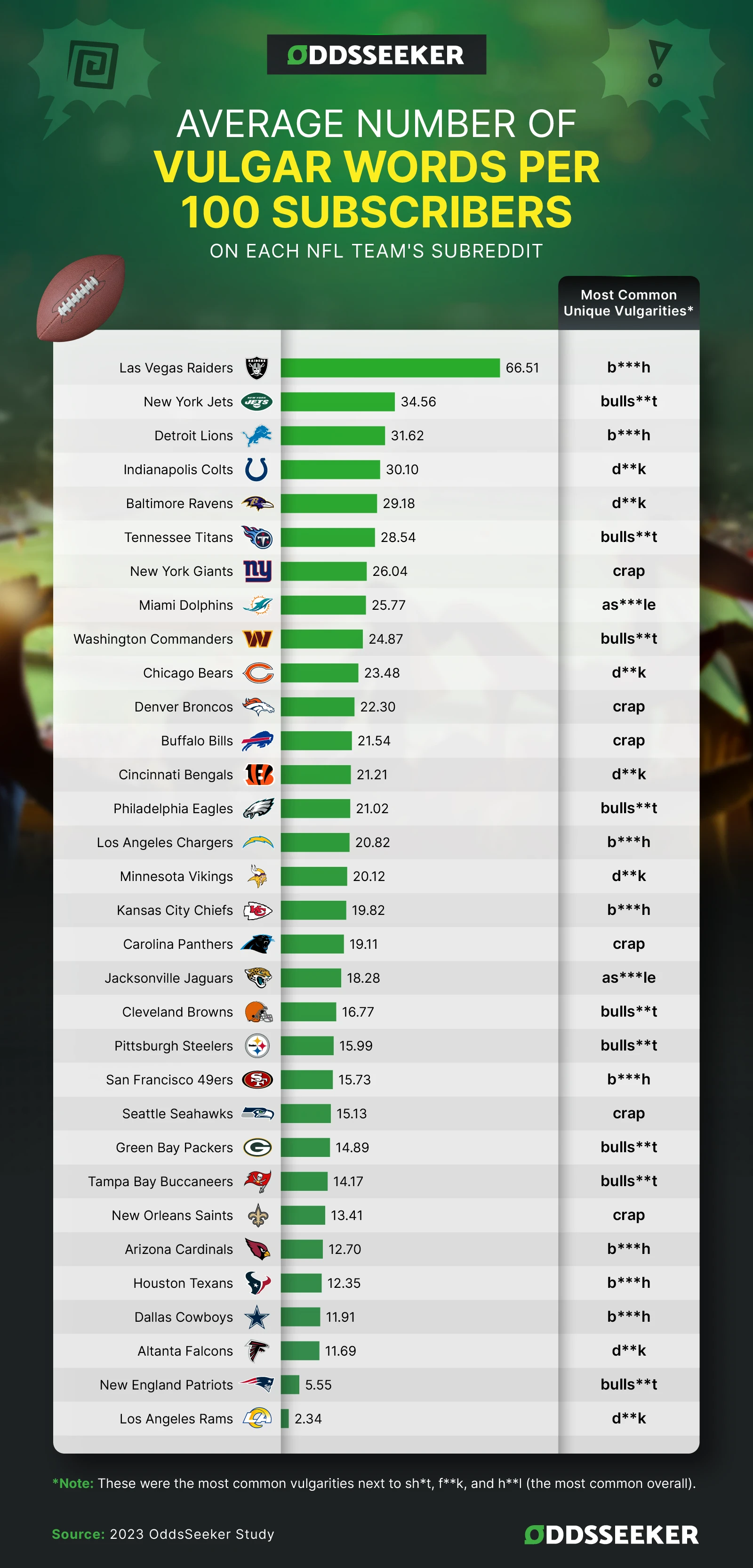 By far, the Las Vegas Raiders fan base was the most vulgar among all NFL markets. They only just relocated to Sin City in 2020. Another team new to their market, the Los Angeles Rams, landed at the bottom by a significant margin.
Around 200 million viewers tuned in on February 12th to watch the Kansas City Chiefs narrowly defeat the Philadelphia Eagles in Super Bowl LVII. Maybe Philly's loss in the big game is why their fan base found themselves ahead of the Chiefs on the vulgarity list. They may not have gotten a trophy or a ring for that athletic victory, but Eagles fans can at least be proud of this accomplishment.
Did you mean to say "puck?"
The tension doesn't cool down just because the competition is on ice. NHL fans always take their games seriously, and as you'll see below, some fans can get more heated than others.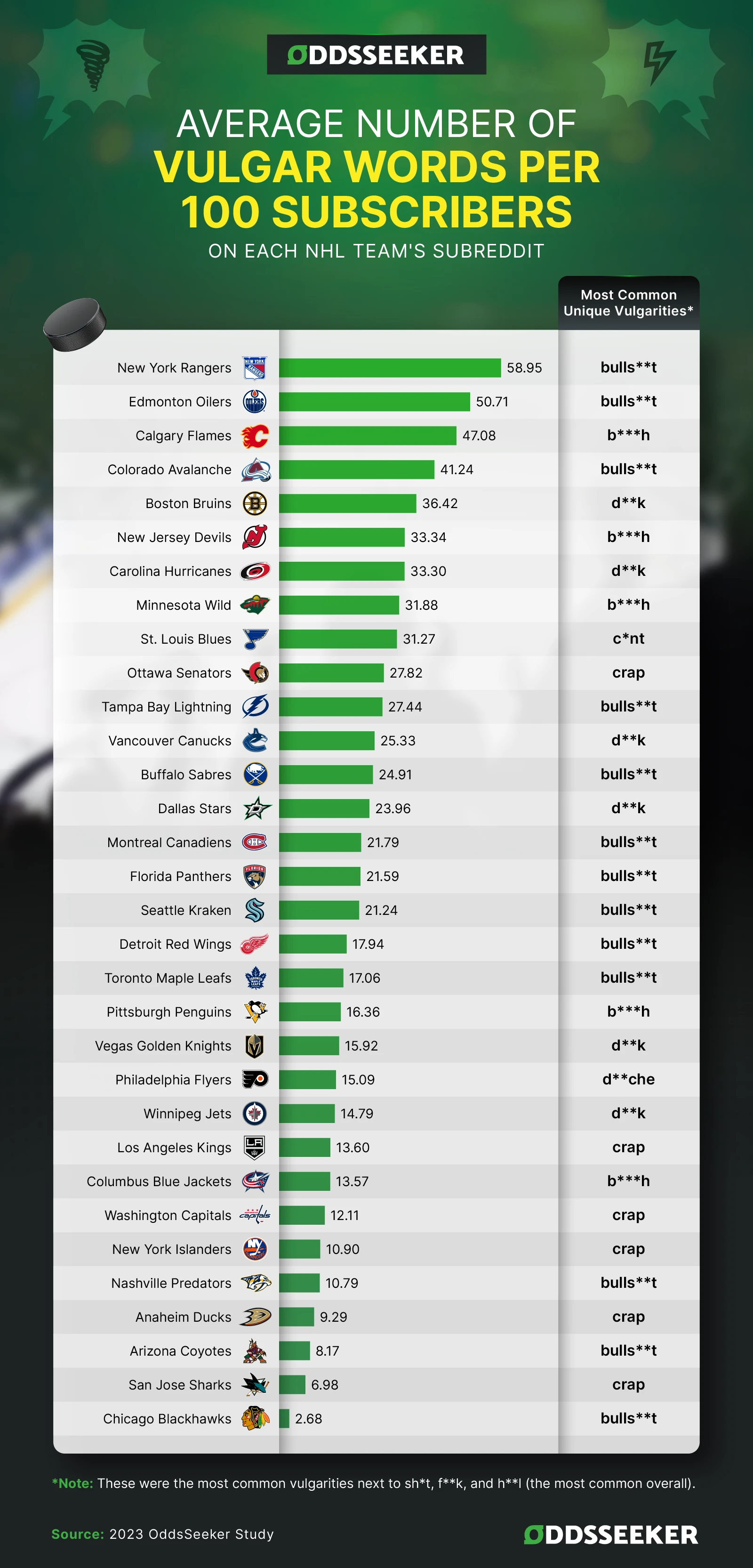 Once again, we start the conversation with the city of New York. Rangers hockey fans were the most vulgar when speaking about their NHL team online. Rounding out the top five were fans of the following teams:
Edmonton Oilers
Calgary Flames
Colorado Avalanche
Boston Bruins
The Chicago Blackhawks occupied the bottom of the profanity ranking. They were pretty far behind San Jose, as Sharks fans have used over three times the profanity of Blackhawks supporters. In the middle of the list, three teams (Montreal Canadiens, Florida Panthers, and Seattle Kraken), ranked within less than one foul word of each other.
Wrapping Up
Some fan bases tend to be far more profane than others when discussing sports on Reddit. In certain situations, they may be responding to a close loss or a questionable call by the officials. In other scenarios, they may be expressing long-term frustration about their team's mediocrity or how the league is changing the rules of the game. One thing's for sure: You can head to your team's subreddit to get in on the fan base action next time there's a big win or controversial loss.
Methodology
To explore which teams have the most vulgar fan bases, we conducted a text analysis among comments in each team's subreddit from the following leagues: MLB, NBA, NFL, and NHL. Comments were pulled from March 15, 2022, to March 15, 2023.
About OddsSeeker
OddsSeeker helps gamers win more cash when playing online games. We offer comprehensive lists of no-deposit bonus codes, first-deposit bonus codes, risk-free bets, boosted odds, and daily promotions.
Fair Use Statement
Want to call out the potty mouths in your area (or those of a rival team's fans)? If you choose to share these findings, it should be for non-commercial purposes only, and please include a link back to this page.
Topic Expert
Andrew McDermott
Andrew's worked in the sports betting & online gaming industry since 2008! He has developed products to help gamers and bettors as well as created solutions used by some of the world's largest gaming companies; Gamesys, Gala Coral, 888, Bwin Party & more. With his deep experience working with online gaming companies in the UK, Europe, and the USA, Andrew brings extensive value to the research studies, products, and content that we create at OddsSeeker. In 2016, Andrew created BonusSeeker.com in an effort to help American gamblers find the most generous promotions available that day so that people can stretch their bankroll the farthest - for more chances to win big. In 2018, Andrew sold BonusSeeker.com to Catena Media, where he stayed for 20 months while helping them grow their US business. Immediately after leaving Catena in 2020, Andrew founded TheQNA Company to create a better version of the BonusSeeker product under the brand OddsSeeker.com & to extend that consumer-first approach to build products that help people find companies and services in healthcare and personal finance. As founder of The QNA Company, Andrew, along with our executive team, leads the strategic vision for how our network of sites helps people answer the questions they need to find their new favorite brands & products. Power to the consumer! You've got questions, we've got answers!
More about Andrew McDermott