Office Fantasy League Confessions: Team Building Touchdown or Office Foul?
Image © OddsSeeker.com
Written by:
Hannah Workman
, Data Researcher
🗓
Updated:
September 15th 2023
Rivalry is often present in the workplace, like when there's competition for that raise, promotion, or fancy office. But fantasy sports leagues take that to a new level. The goal of these leagues is to increase company unity and employee morale, but what's the actual impact on the workplace? To find out, we surveyed 1,008 Americans to explore their experiences in office fantasy leagues.

Key Takeaways
75% believe that winning their office fantasy league has prevented them from receiving a raise or promotion.
88% said the first time they played fantasy sports was through an office league.
Fantasy football players spend an average of 17 minutes per week managing their teams during office hours, accounting for nearly 5 hours of missed work during the 17-week season.
84% place side bets with their co-workers, most of whom are Atlanta Falcons fans. Minnesota Vikings Fans are least likely to do so. 
90% engage in fantasy trash talk with their colleagues, and 62% have been reprimanded by HR for doing so.
Diving Into the Office Fantasy Pool
There are many options for fantasy league competitions. Which sports are most popular in the workplace, who participates, and do these leagues facilitate team building or distract from work?
Love having some skin in the game? Check out our list of the best sports betting promos!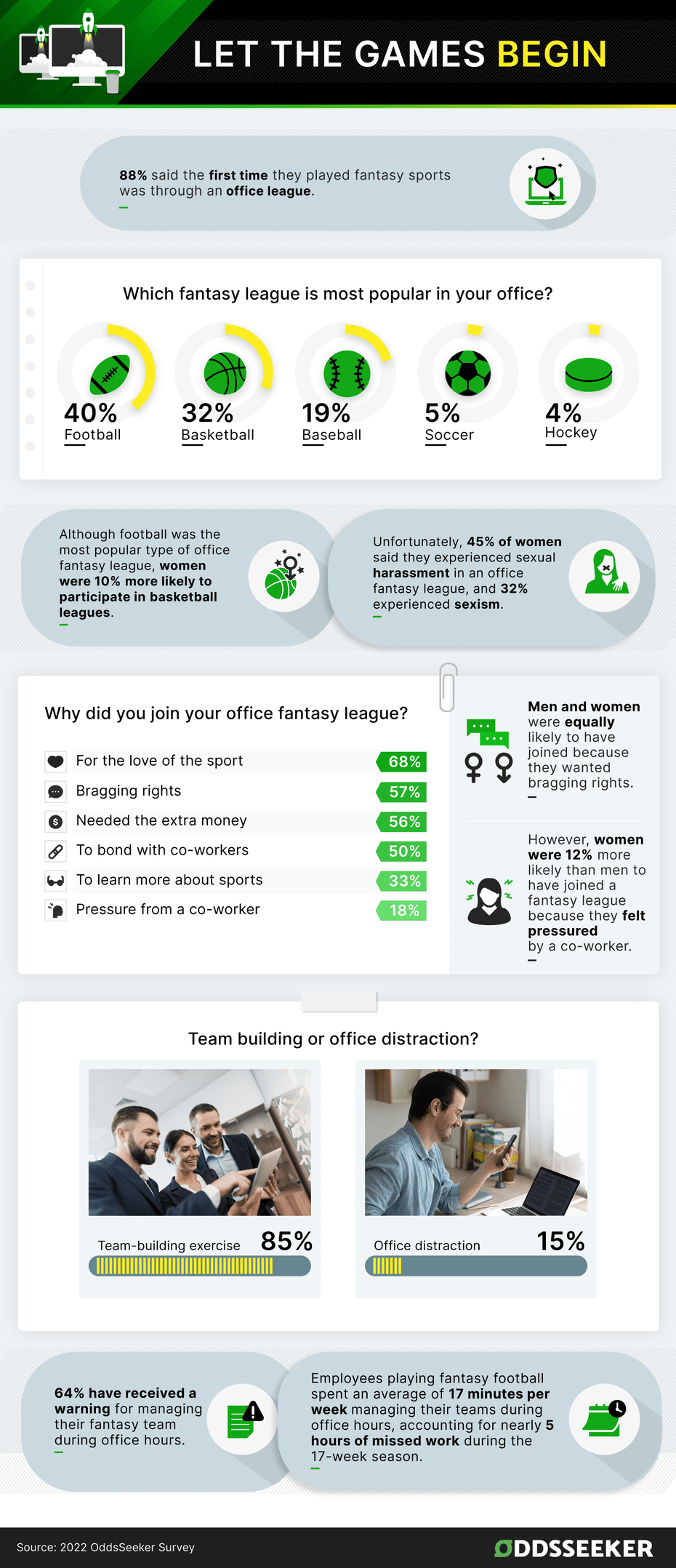 Office fantasy leagues heavily favored football and basketball, with 40% hosting football leagues and 32% participating in basketball leagues. Basketball leagues, however, wasted more work time. Fantasy basketball employees spent an average of 20 minutes per week managing their teams, accounting for over six hours of missed work per season. Fantasy football employees missed only slightly less work: an average of five hours per season.
As for who these employee players are, many are fantasy first-timers: 88% said the first fantasy sports league they played in was at the office. Managers and employees all joined in on the fun, but the time they spent on it varied. For fantasy football leagues, first-level managers spent an average of 12 minutes more per week managing their teams than entry-level employees. For basketball leagues, time spent on team management was the same between these office positions.
Despite investing the most time in football leagues, first-level managers were most likely to view office fantasy leagues as distracting. Meanwhile, senior managers and entry-level employees were equally likely to view office leagues as team building.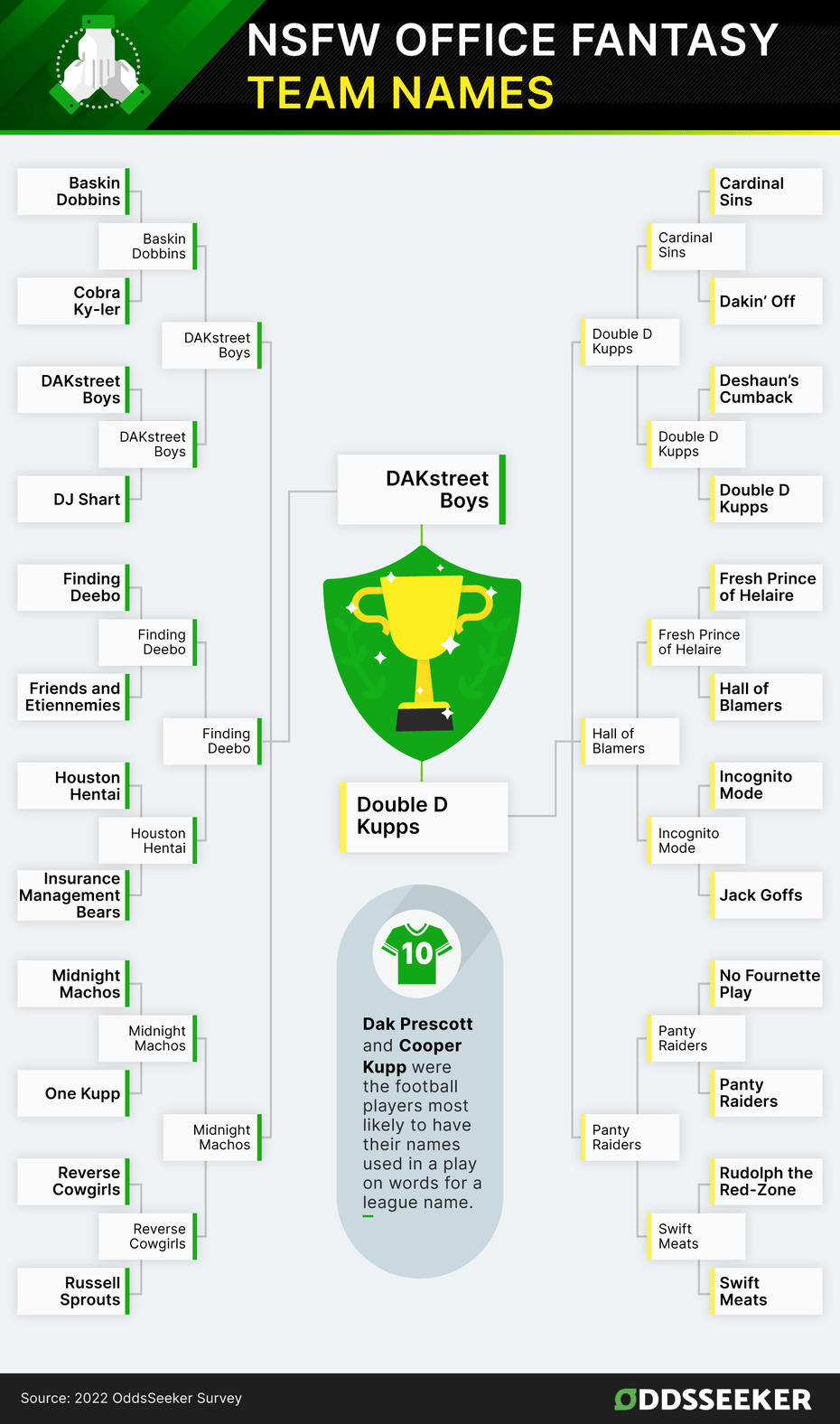 Speaking of teams, the first decision of any league team is deciding on a name. Puns on player names were the most popular among those we surveyed, with names like:
"Dakin' Off" and "Dakstreet Boys" for Dallas Cowboys quarterback, Dak Prescott
"Double D Kupps" and "One Kupp" for LA Rams wide receiver, Cooper Kupp
"Fresh Prince of Helaire" for Kansas City Chiefs running back, Clyde Edwards-Helaire
"Rudolph the Red-Zone" for Tampa Bay Buccaneers tight end, Kyle Rudolph
"Russell Sprouts" for Denver Broncos quarterback, Russell Wilson
Players often get creative with team names, and workplace teams are no exception (even when it comes to x-rated team names).
All's Fair in Work and Fantasy Football
As if fantasy competition wasn't heated enough, office leagues often start with buy-ins and end with rewards. The winner gets a cash prize; the loser gets abject humiliation. How much are employees willing to ante up, and to what lengths will they go to win?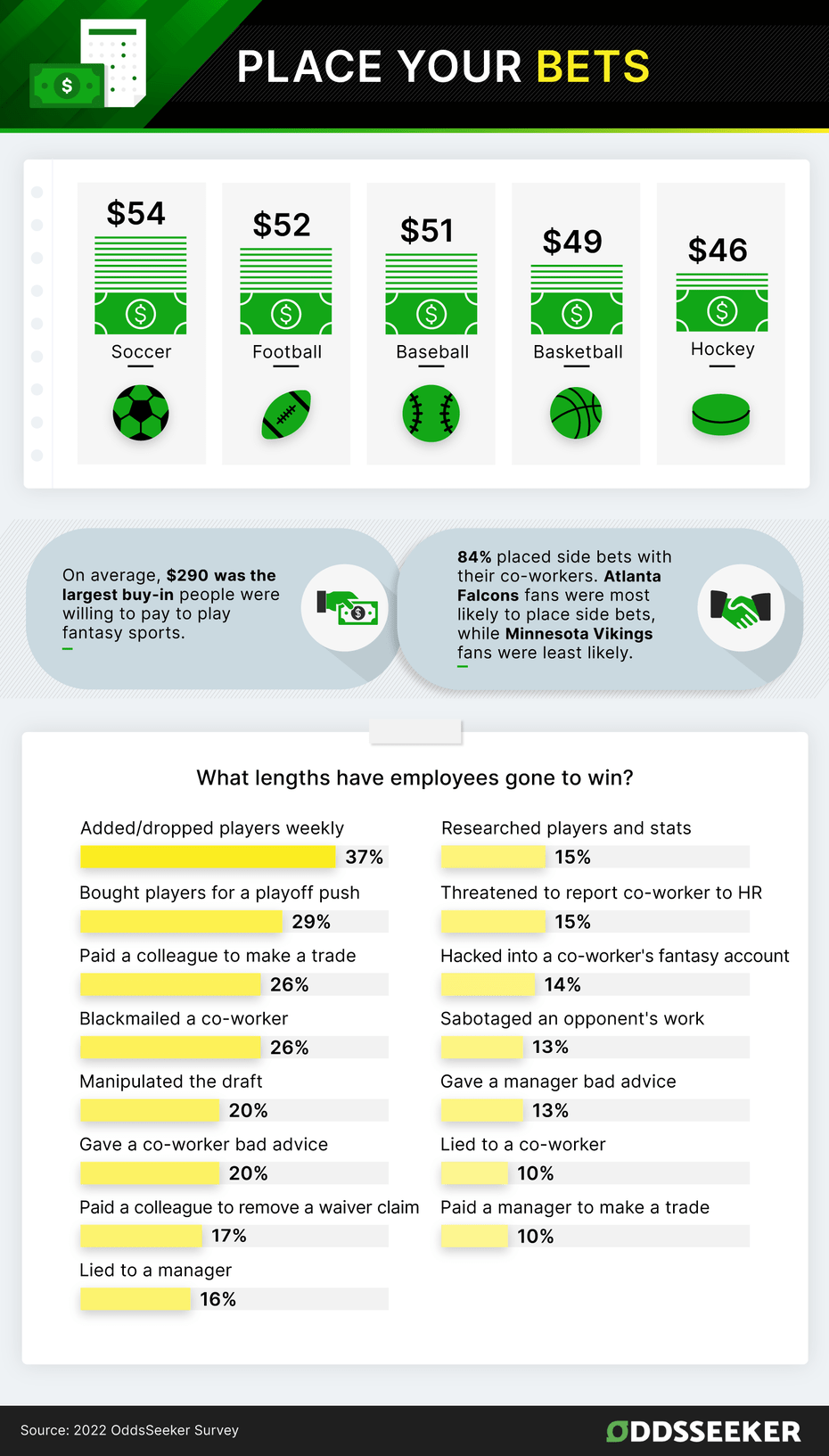 While the average buy-in limit for an office league was $290, these varied widely by position. Associates were the least willing to contribute to a fantasy buy-in (up to $125), while senior managers were willing to contribute the most (up to $372). Maybe that's no surprise, considering they're likely to make the most money!
But betting didn't stop at buy-ins; 84% of players made side bets with co-workers. Those most likely to make side bets were fans of these football teams:
Atlanta Falcons
New Orleans Saints
Carolina Panthers
Arizona Cardinals
Baltimore Ravens
Once all monetary bets were made, all ethical bets were off. Participants blackmailed co-workers, hacked co-worker's fantasy accounts, lied to co-workers and managers, and gave other players bad advice to try to win a league.
Players were 54% more likely to give a co-worker bad advice than a manager and 62% more likely to pay a colleague for a trade versus a manager. Women were especially devious; they were 56% more likely than men to sabotage a co-worker's professional assignments in an attempt to win. Cutthroat!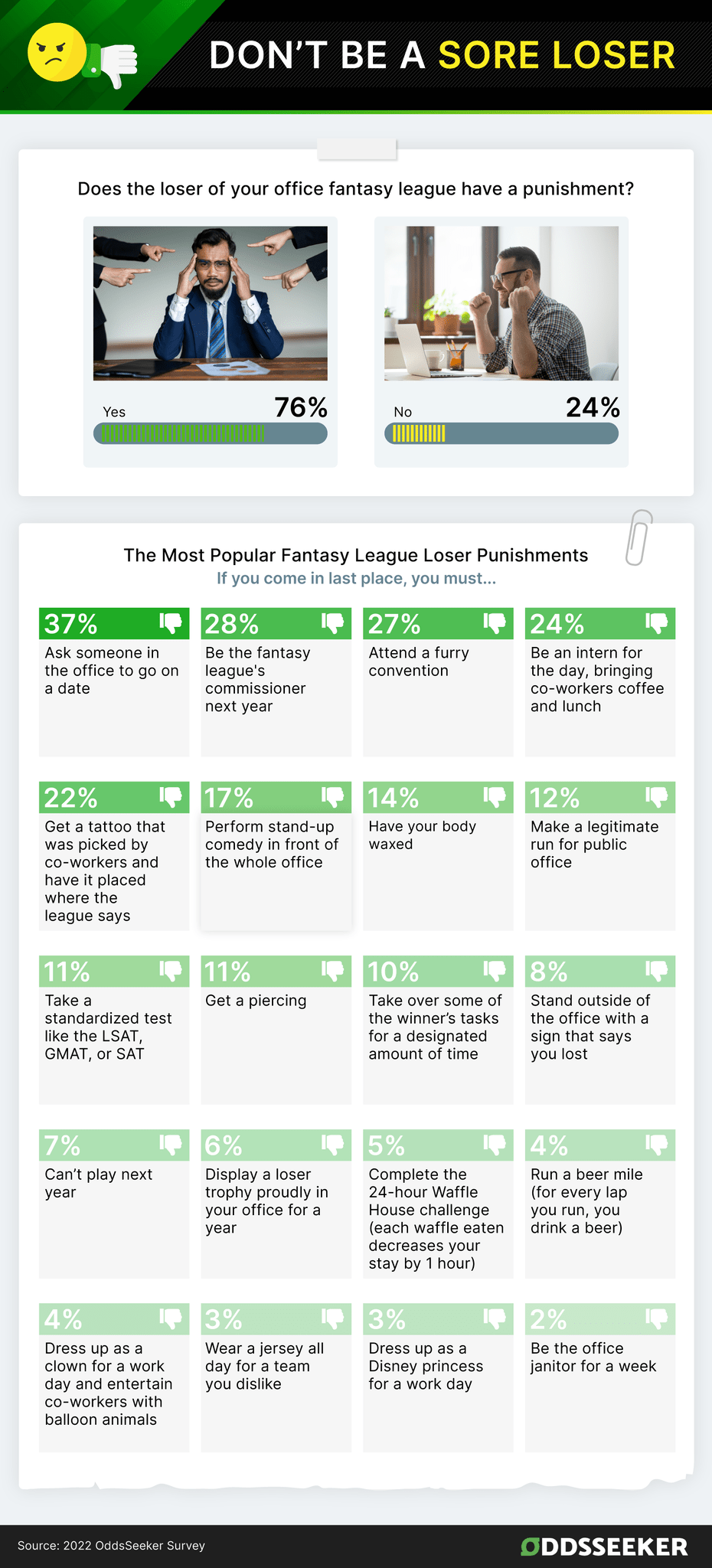 Competition being what it is, for every office fantasy league winner, there must be a loser. Most offices (76%) have a punishment for the loser, with small businesses especially likely to make an example out of the last-place player.
The most common punishment was asking another co-worker on a date, followed closely by having to be next year's commissioner. More playful punishments included body waxing, sitting in a Waffle House for 24 hours, dressing up as a clown and making balloon animals for the office, and standing outside the office holding a "loser" sign.
Unsportsmanlike Conduct
Before there are fantasy league winners and losers, there's fantasy league trash talk. Fantasy sports wouldn't be nearly as much fun without it, but trash talk in the workplace can get tricky. How much trash talk is there in office fantasy leagues, and what sort of trouble can it lead to?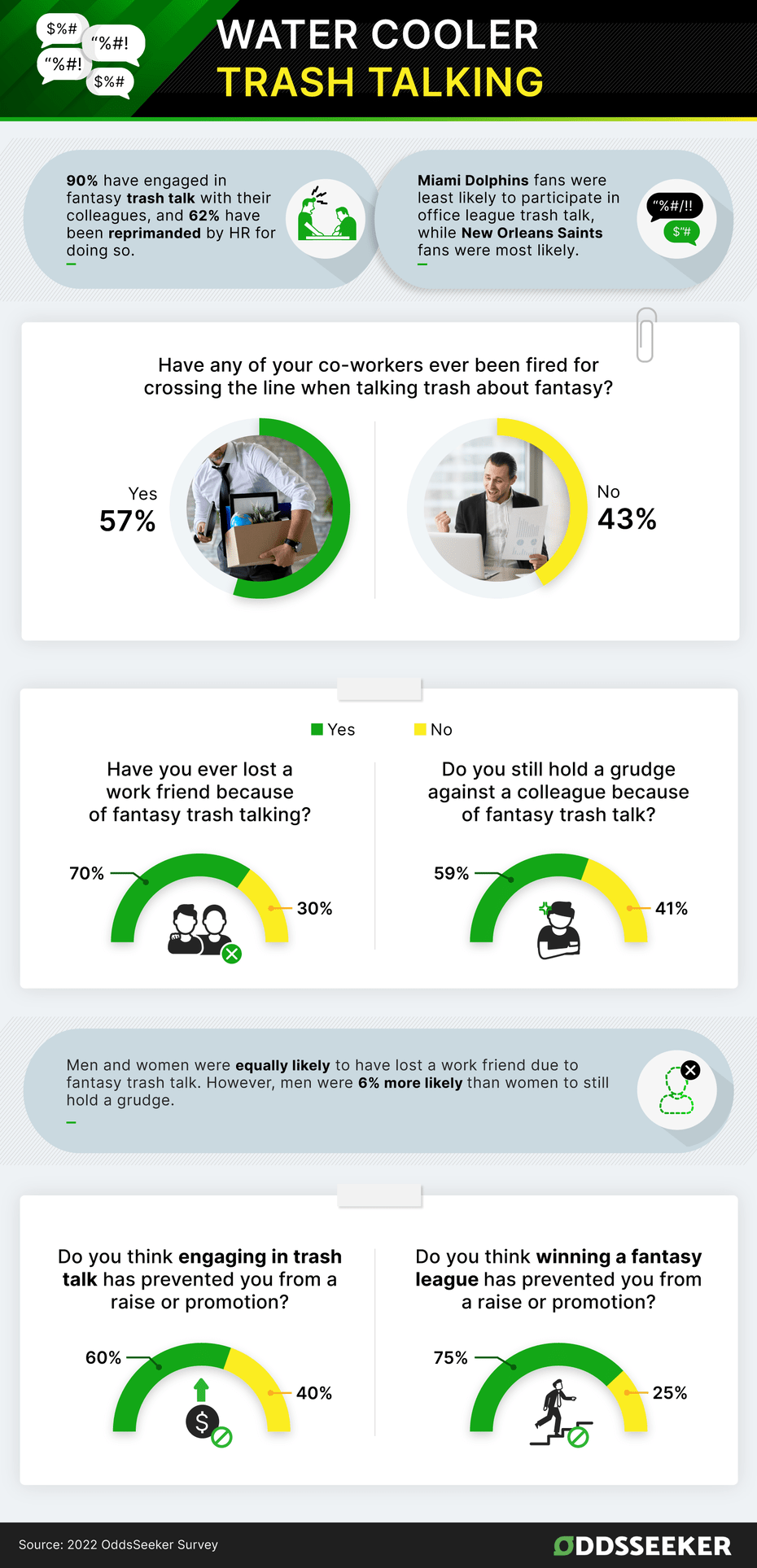 There are many types of trash talk, from a simple "Eagles suck. Just sayin'" to more vulgar and personal attacks. When it comes to the workplace, employees should tread lightly: 62% of employees were reprimanded by HR for fantasy trash talk, and 60% believed it kept them from receiving a raise or promotion. Remote workers were especially at risk, with a higher likelihood of getting fired for trash talk.
And while trash talk is prevalent across the board, there are a few teams whose fans are notorious for it:
New Orleans Saints
Atlanta Falcons
Carolina Panthers
Green Bay Packers
Tampa Bay Buccaneers
Still, you have to give some of them credit for putting their money where their mouth is. The top three trash-talking fan groups listed above also made the most side bets.
Despite all the negative banter, 83% said that office fantasy leagues improved their work relationships. However, joining a league might not improve your career prospects: 75% of employees believed winning an office fantasy league prevented them from receiving a raise or promotion. It seems there are worse things than having a trash-talking Saints fan as a co-worker — having a sore loser as a boss.
Friendly Fantasy Competition
The office can be stressful, but fantasy sports leagues can bring some fun to the nine-to-five grind. With several sports to choose from, varying levels of buy-ins, side bet possibilities, and prizes involved, office fantasy leagues can add some much-needed levity to the workplace environment. Leagues can also facilitate team building, encourage workplace unity, and improve employee morale. That is, as long as all the sabotage and trash-talking doesn't get out of control.
Methodology
We surveyed 1,008 Americans about their experiences with office fantasy leagues.
About OddsSeeker.com
OddsSeeker.com helps you find where you can win cash playing games online. We work with regulated online gambling operators to create the most comprehensive lists of no-deposit and first-deposit bonus codes, risk-free bets, boosted odds, and other daily promotions.
Fair Use Statement
Feeling the competition heat up in your office fantasy league? Feel free to share this article with anyone you'd like. We just ask that you do so only for noncommercial purposes and provide a link back to this page to give our authors their due credit.
Free Signup Bonus
Get 5 Free Sweeps Coins + 600 Free Diamonds
Topic Expert
Hannah Workman
Hannah Workman is a project manager with a bachelor's degree in advertising and public relations. After joining her employer's office fantasy league, she became deeply enthralled with football. She was a martial artist as a child, so she always enjoys a good fight night. When Hannah isn't watching a fight or football, she enjoys live music and spending time with family and friends.
More about Hannah Workman