2023 Review
Wheel Of Fortune Casino
Editor's Opinion of Wheel Of Fortune
Code: SEEKER25 - Get $25 on the house with this Wheel of Fortune Casino No Deposit Bonus - New Jersey Only! Plus use the promo code to get 100% Deposit Match up to $2,500!
No Deposit Bonus
Get $25 FREE
Deposit Bonus
Get up to $2,500 deposit bonus!
Licensing
| | | |
| --- | --- | --- |
| | | |
| | NJ | ✅ Online Casino |
Wheel Of Fortune Hands-on Review
"
One of America's favorite game shows is now a full-blown online casino! Run by the team at BetMGM, this is sure to be a crowd-pleaser
"
Alicia Butler
Wheel Of Fortune Promotions
Wheel Of Fortune Casino Promos
$2,525
Promo
Deposit/Bet
You Get

SCORE?

No Deposit Bonus - New Players Only


Wheel Of Fortune Casino No Deposit Bonus

FREE

$25 FREE

N/A

CLAIM NOW
Deposit Bonus - New Players Only


Wheel Of Fortune Casino Deposit Bonus

$2,500

$2,500 FREE

155%

CLAIM NOW
No Deposit Bonus - New Players Only
Wheel Of Fortune Casino No Deposit Bonus
CLAIM NOW
Deposit Bonus - New Players Only
Wheel Of Fortune Casino Deposit Bonus
CLAIM NOW
No promotions to show
Key Information About Wheel Of Fortune
Wheel of Fortune Casino NJ
Wheel of Fortune Casino is the newest NJ online casino brought to you by the BetMGM family of brands. WoF Casino joins BetMGM, Borgata, and Party Casino in bringing NJ gamblers world-class, state-of-the-art gaming destinations covering sports, casino, poker, and more!
BetMGM Launches Wheel of Fortune Online Casino in North America
A brand new online casino has just hit the scene! BetMGM, a leading iGaming and sports betting operator, announced the launch of Wheel of Fortune Online Casino in collaboration with IGT. This online casino is the first brand-led online casino in North America and is now live in New Jersey.
Home to America's Game®-branded slot titles, as well as additional themed games and features, players in New Jersey can now play for real money and experience the excitement of the beloved game show on their phones. Adam Greenblatt, Chief Executive Officer of BetMGM, expressed his excitement about the new launch, stating, "We have a great alliance with Wheel of Fortune and IGT and look forward to offering our players innovative and diverse selections of gaming options."
Wheel Of Fortune Is A Gaming Staple on Casino Floors
An iconic American game show, Wheel of Fortune's milestone 40th season premiered in September 2022. For over 25 years, Wheel of Fortune-themed slot games have been a prominent staple on casino floors. Now, with the launch of Wheel of Fortune Online Casino, the brand has expanded its gaming options, offering players the latest and greatest in online casino gaming.
Exciting Partnership Between Wheel Of Fortune & BetMGM
Suzanne Prete, Executive Vice President of Game Shows at Sony Pictures Television, said, "Over the last 40 years, the Wheel of Fortune brand has been brought to life in a diverse range of products, including IGT's extremely successful Wheel of Fortune slots. Now we're excited to see BetMGM build on that success and take an innovative approach to bring the game to more players by launching the brand's first online casino in the U.S."
Enrico Drago, CEO Digital & Betting, IGT, also expressed his excitement about the new partnership, stating, "IGT's Wheel of Fortune slots have been entertaining players for decades as the most successful slot theme of all time. We are incredibly excited to partner with BetMGM on the evolution of this celebrated theme and witness it break new ground to become the first U.S. brand-led online casino where players can enjoy their favorite IGT Wheel of Fortune slots games."
Where Can You Play Wheel Of Fortune Online Casino?
Wheel of Fortune Online Casino is now available for download in New Jersey on both iOS and Android devices and accessible via desktop at www.wheeloffortunecasino.com. As BetMGM continues to expand into new markets, responsible gaming education remains a key focus. BetMGM is proud to provide resources to help customers play responsibly, including an industry-leading program, developed, and licensed to MGM Resorts by the British Columbia Lottery Corporation. Through the GameSense integration within BetMGM's mobile and desktop platforms, customers can directly access responsible gaming tools.
Get ready to spin the wheel and win big at Wheel of Fortune Online Casino!
Wheel of Fortune NJ No Deposit Bonus
For a limited time, you can get $25 on the house when you sign up at WoF Casino NJ. The promo code is SEEKER25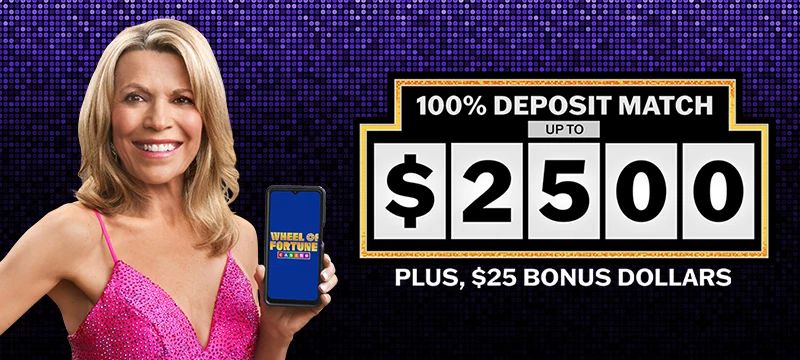 The Origins of Wheel of Fortune
The story of Wheel of Fortune begins in the early 1970s, when Merv Griffin, a renowned television producer, was on a flight from New York to Los Angeles. During the flight, he started doodling on a napkin and came up with the idea for a game show that would combine elements of Hangman and Roulette. The concept was simple yet brilliant: contestants would spin a giant wheel and then try to solve word puzzles by guessing letters one at a time.
With this basic idea in mind, Griffin and his team set to work developing a pilot episode of the show. They spent months refining the format and coming up with clever puzzles, and in 1975, they finally had a finished product. The first version of Wheel of Fortune was a hit, and it quickly caught the attention of television executives across the country.
The Early Years of Wheel of Fortune
In 1975, Wheel of Fortune made its national debut on NBC. The original host of the show was Chuck Woolery, a charismatic game show veteran who had previously hosted shows like Love Connection and Scrabble. Woolery quickly became a fan favorite, and his charming personality helped to make Wheel of Fortune an instant hit.
In those early years, the show had a somewhat different format than it does today. The wheel was smaller and simpler, and the puzzles were often quite easy. Nevertheless, audiences loved the show, and it quickly became one of the most popular game shows on television.
Over the next few years, the show went through a number of changes. Woolery left the show in 1981, and was replaced by Pat Sajak, a former weatherman who had never hosted a game show before. Sajak was an instant hit with audiences, and his witty banter with the contestants helped to make the show even more entertaining.
The Modern Era of Wheel of Fortune
As the 1980s wore on, Wheel of Fortune continued to evolve. The show's producers began experimenting with new puzzle formats, and the wheel itself became larger and more elaborate. In 1997, the show added a new feature called the "Final Spin," in which the wheel is spun one last time and contestants must guess a letter and solve the puzzle with no additional letters given.
Despite these changes, the basic format of the show remained the same. Contestants still spun the wheel, guessed letters, and tried to solve puzzles, and audiences continued to tune in week after week.
Today, Wheel of Fortune is one of the longest-running game shows in history. It has been on the air for over 45 years, and has produced over 7,000 episodes. The show has been syndicated in over 100 countries, and has become a beloved part of popular culture around the world.
The Legacy of Wheel of Fortune
So why has Wheel of Fortune been so successful? There are a number of reasons. For one thing, the show is simple and easy to understand. Unlike other game shows that rely on complicated rules and strategy, Wheel of Fortune is a game that almost anyone can play and enjoy.
Another key to the show's success has been its hosts. Over the years, Chuck Woolery, Pat Sajak, and Vanna White (who has been the show's letter-turner since 1982) have become icons of American television. Their charisma and chemistry with the contestants have helped to make the show more than just a game; it's a form of entertainment that people look forward to.
Wheel Of Fortune Biggest Winners
It's the game show that's been entertaining audiences for over four decades, and Wheel of Fortune has made many people's dreams come true with its big cash prizes. From a lucky spin on the wheel to solving a tricky puzzle, the game show has awarded millions of dollars to its contestants over the years.
But who are the biggest winners in Wheel of Fortune history? We've dug through the archives to find out, and the results are truly astounding!
First up, we have Michelle Loewenstein, who won a whopping $1,026,080 in 2008. Michelle, a former school teacher from Arizona, made history on the show by becoming the first contestant ever to hit the $1 million mark. She accomplished this feat by solving the bonus puzzle "LEADING THE PACK" with only the letters "RSTLNE" given.
Next on the list is Autumn Erhard, who won $1,030,340 in 2013. Autumn, a veterinary technician from California, made headlines for her impressive performance on the show. She solved a challenging bonus puzzle with only the letters "N-H-O" showing, correctly guessing "Tough Workout" to take home the big prize.
But the ultimate champion of Wheel of Fortune is Pat Sajak, the show's beloved host. Over the course of his career, Sajak has earned a staggering $15 million in salary, making him the highest-paid game show host in history.
And let's not forget about the other big winners over the years. In 2015, Emil De Leon won $63,099 in a nail-biting episode that had viewers on the edge of their seats. And in 2006, Todd Williams won $68,600 in a single episode, setting a new record for the show at the time.
Of course, not every contestant on Wheel of Fortune wins big. But the thrill of the game, the excitement of spinning the wheel, and the chance to solve a puzzle and win a prize keep millions of viewers tuning in every week.
So, whether you're a longtime fan of the show or a newcomer looking to catch the next big win, Wheel of Fortune is sure to keep you on the edge of your seat. Who knows? You might just be the next big winner!