PlayLive! Casino PA Review
Want to know if signing up for an account at PlayLive! Casino is worth your time and deposit? Our PlayLive! Casino PA review will give you the run-down on everything you need to know before signing up for an account at this online casino. 
Get the best Play Live Casino promo code and find out how to register for an account at playlive.com.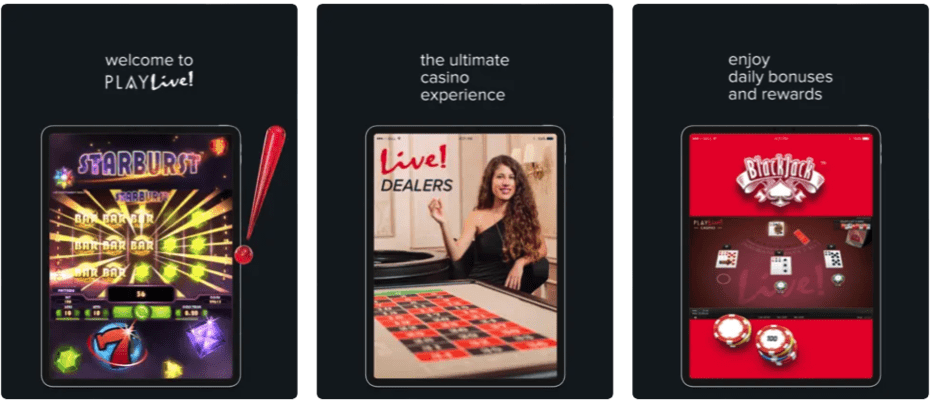 PlayLive! Casino Promotions
Looking for all the latest PlayLive casino bonus codes 2022? You've come to the right place. We here at OddsSeeker post all the latest online casino promo codes and bonuses. You'll get the scoop on all the best codes and promos here first. 
Some of the most popular online casino bonuses for PlayLive include the first deposit match bonus and the no deposit bonus. This real money online casino also offers ongoing promos to loyal customers, including leaderboard contests and a VIP/rewards club program. 


PlayLive! Casino Bonus Code 
Looking for a PlayLive! Casino promo code or PlayLive Casino free coupon code?
The good news is that you don't need a PlayLive Casino promo code — simply use the OddsSeeker link to claim your bonus! 
PlayLive! is offering up to a 125% first-deposit match bonus (worth up to $500!). This online real money casino also offers a no-deposit bonus (that's worth a little less than the deposit-match bonus but is still worth using). 
Make sure to opt into the bonus when you sign up for your account to score your deal!
PlayLive's welcome bonuses are possibly the most generous of the bonuses they offer. Online casinos need to work extra hard to woo potential bettors away from competitors' sites. 
These PlayLive Casino no deposit bonus codes 2022 are the freshest codes we've got for one of our favorite online casinos in the Keystone State. 


PlayLive! Casino Deposit Match 
Deposit bonuses are some of the most popular welcome bonuses available at online casinos. 
When you make a deposit into your account after registering, the casino will match your deposit (in this case, PlayLive! will match your first deposit up to $500!) — up to 125% of the total amount you've deposited.
You must also deposit a minimum of $30 for this deal and satisfy all the play-through requirements before cashing out your bonus winnings. You'll also need to place your wagers within a week of accepting this deal.
This deal is only good on your first deposit, so make your first deposit wisely.
To claim this deposit match bonus, just follow these steps:
1. Create an account at PlayLive Casino PA
2. Verify your ID and location by following the prompts
3. Make your first deposit (minimum $30 to claim a welcome bonus)
4. Accept the terms and conditions of the deal
5. Most online casinos make your deposits available for practically instant gameplay. Are you ready to start playing, or what?

PlayLive! Casino Deposit Bonus Code 
No need to enter a PlayLive! Casino deposit bonus code to claim your promo. Simply use the OddsSeeker link.
PlayLive! Casino No Deposit Bonus Code 
Don't want to deposit any money to get your deal? No problem! 
It sounds like the no-deposit bonus is for you! If you want to get 25 free spins, just follow the OddsSeeker link. You can use these spins at some of your favorite online slot machines at PlayLive! PA. 
Again, you'll need to satisfy playthrough requirements before cashing out any winnings made with no deposit bonuses. PlayLive! requires you to make all wagers within the first 30 days of signing up for your account. 
PlayLive! Casino Free Bets
PlayLive's no deposit bonus offer is actually a free spins offer! Get 25 free spins just by following the OddsSeeker link to sign up for a new account.
PlayLive! Casino Risk-Free Bet 
Currently, PlayLive isn't offering any risk-free bets, but you can check back here to find them as soon as they're offered.

Wagering Requirements
All online casinos post wagering requirements in their terms and conditions for bonuses and promos. While bonus money may seem like free money, you can't just cut and run with your bonus funds without using them to bet first.
Make sure to read through the terms and conditions of each bonus before accepting funds or withdrawing winnings. 
Some of the wagering requirements for PlayLive's welcome bonuses include:
Make a deposit of at least $30
Wager at least 20x wagering your own funds for the 25 free spins bonus
Wager at least 100% of your own funds on slots
Wager at least 50% of your own funds on roulette
Welcome bonus wagering requirements cannot be satisfied on other table games or video poker. 
Use your bonus funds and satisfy all wagering requirements within one week of accepting the welcome bonus. 
These wagering requirements are subject to change, so make sure you read the terms and conditions carefully when making your first deposit or accepting any bonuses or promos. 
PlayLive! Casino Ongoing Promos
Online casinos usually offer ongoing promos in the form of login bonuses and rewards programs. PlayLive! has both leaderboard contests and a rewards program to help loyal customers get the most out of their wagers. 
Leaderboard Contests
Leaderboard contests are run on Tuesdays and award the top-three slots earners for the week bonus prizes of up to $2,500. 
The site also runs replay bonuses. If you lose a game, you can get 10% back (up to $50) on select games and promo periods. You'll need to satisfy playthrough requirements to cash out winnings on this money, too.
PlayLive! Casino Rewards Club
Make sure to sign up for the PlayLive! rewards program to take advantage of free slots play and to get free gameplay when you advance tier levels. 
Simply create an account and get registered automatically in PlayLive's loyalty program. If you already have a Live! Rewards Club account (usually if you've already signed up at PlayLive's land-based casino), simply link your online account to your rewards account.
Get $25 to play on slots when you do! Just make sure you do so within 30 days or you'll lose your free gameplay. You can also use these funds at the land-based casinos in Pennsylvania and Maryland.  
The more you play at PlayLive! Casino, the higher you'll climb in the rewards club. Once you reach certain tier levels, you'll receive points that you can use to play more games or trade in for free prizes.
PlayLive's rewards club's six tiers include:
Classic: up to 24,999 points
Gold: 25,000 points
Platinum: 100,000 points
Black: 500,000 points
Jade: 1 million points
Chairman: 2 million points
Simply connect your account to a Live! Rewards club account to reach different tiers. You'll get one credit for every $3 you wager. Sadly, you can't use your bonus funds to reach tier levels, but most online casinos don't allow you to do so.
PlayLive! Casino Reviews
Is PlayLive! Casino legit?
Regulative Authority: Pennsylvania Gaming Control Board
Land-Based Casino Partner: Live! Casinos & Hotels
Last Verified: June 2022
PlayLive is a legitimate online casino.
Pennsylvania online gambling was legalized in 2017. Now, anyone who is of legal betting age and physically located within state lines may place bets on PlayLive! Casino PA's platform.
It's one of Pennsylvania's new casino sites.
Currently, the betting age in Pennsylvania is 21. You don't need to be a resident of Pennsylvania to gamble online in the state, but you must be physically located within the state to do so. How do online casinos know you are where you say you are? They require you to activate geo-tracking software before placing bets.
Leave the state? You'll need to return before you may place bets on a PA online gambling platform again.
PlayLive Casino PA is regulated by the Pennsylvania Gaming Control Board and offers real money online casino games.
You should only play at online betting sites that are licensed, registered, and verified within the states they operate. Luckily, OddsSeeker only reviews sites that are, so you can always check on our Pennsylvania online casino page if you're not sure if a gambling site is legit.
Platform Security & Trustworthiness
When online betting was legalized in Pennsylvania, the state decided to hold online casinos and sportsbooks accountable for fraudulent activity, responsible gambling, and other issues that may arise. 
All online casinos in Pennsylvania must adhere to certain standards and guidelines set by the PA Gaming Control Board. This includes creating a secure site and ensuring servers (which store personal data and payment info) are secure as well.
All online casinos and sportsbooks must use SSL digital encryption technology with either 125 or 256-bit encryption. 
They must also post terms and conditions for betting, bonuses, payments, and withdrawals clearly on the site. All gambling institutions must also create informational programs for safe and responsible betting — including allowing bettors to set wagering and deposit limits on a daily, weekly, or monthly basis (in addition to the wagering and deposit limits set forth by the gambling institution). 
"Frank's Take"
As is the case with any online casino, PlayLive! Isn't perfect, and there is room for some improvement in game selection. 
We love that PlayLive has two land-based locations in Pennsylvania and one in Maryland. This brand has been around since 2020, so it's worked out plenty of kinks you'd find in a fairly new gambling company.
Its online casino games are relatively easy to find, its platform is easy on the eyes, and it offers plenty of payment and withdrawal options. 
Plus, there's a huge selection of classic casino games in its lobby. 

PlayLive! Casino User Experience
We have to hand it to the design team at PlayLive! PA. For a local casino, PlayLive's site is streamlined easy to navigate, and fairly fast.
Know which game you want to play? Find it in the navigation menu in the header. 
If you need some help choosing, you can always head to the online casino lobby to filter games by the game maker or game type. Sort results alphabetically by name or by min lines to max lines (or vice versa).
Some of PlayLive's most popular games are right in the online casino lobby (on the homepage). You'll also find a ticker here of some of the recent big wins and an ongoing promotions page. 
PlayLive Casino in Pennsylvania
If you live in Pennsylvania and are familiar with the PlayLive brand name, we're not surprised. PlayLive's online casino opened in Pennsylvania in 2020.
Its land-based partner is The Cordish Companies. 
Both the online and land-based casinos are regulated by the Pennsylvania Gaming Control Board. 
Access the online sites via mobile and desktop browser as well as a responsive mobile site. 
To see a full list of Pennsylvania online casinos, check out our reviews. 
PlayLive! Online Casino Desktop Gaming
If you want to place bets via your computer browser, no worries. You don't need to download the PlayLive! Casino app to bet at this popular casino.
Simply head over to the PlayLive! PA website via the OddsSeeker link to claim your welcome bonus and start betting. 
The desktop site makes it easy to find your favorite games and start playing instantly. 
PlayLive! Casino App/Mobile Betting
PlayLive! Casino also has an app for even easier gameplay and wagering that's available for both iPhone and Android users.
iPhone users may download the app from the PlayLive! site or in the app store. Android users must download the app from the casino's site (gambling apps are not available in the Google Play Store). 
You can also place wagers on the casino's site (via your smartphone, tablet, laptop, or desktop browser). 
PlayLive! Casino App Android
Download the PlayLive! Casino app for Android in the Google Play Store.
PlayLive! Casino App iPhone
Download the PlayLive! Casino app for the iPhone in the Apple Store. 
PlayLive! Casino Casino Games
This online casino offers a long list of casino games, including slots, table games, live poker, video poker, and more. 
Its featured games section offers all the most popular slots and table games you'll find at most online casinos. There's a decent selection of live games, jackpots, and table games, too. 
Not every online casino is perfect. In fact, we happen to believe that no online gambling platform can offer the best of everything. 
Online gambling platforms that offer long lists of casino games and sports betting are kind of like diners. You can get anything you want here, but is it going to be the best you've ever had? Nah, probably not.
The good news is that most online casinos and sportsbooks specialize in different types of games and bets.
PlayLive! Is known for its long list of slot machine games. 
Where it falls short is in the video poker and blackjack categories. While you'll find plenty of options of both here, there's not a giant selection of either. 
If you crave an online casino that offers the biggest selection of either video poker or blackjack, check out one of the other Pennsylvania online casinos reviewed on our site.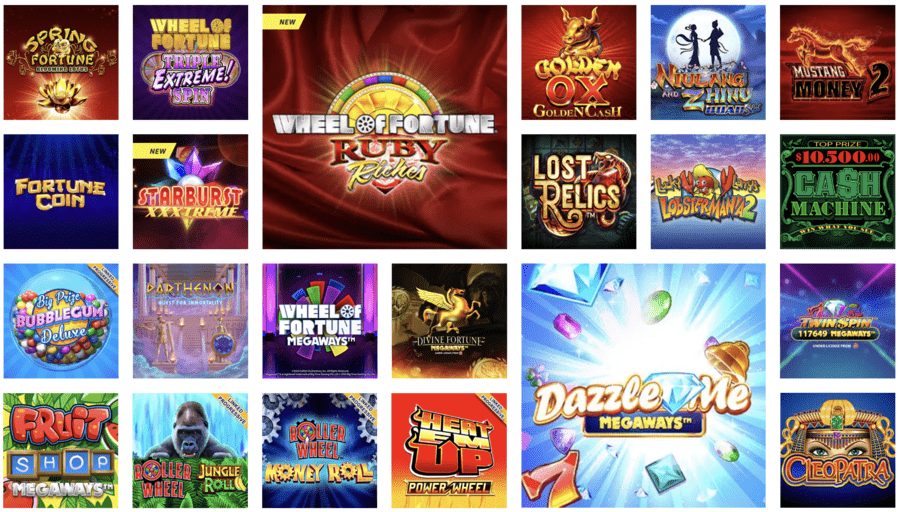 PlayLive! Casino Online Slots
The slots library at PlayLive! contains more than 100 of the best slots games — all of which are easily found on the slots tab. The site also has progressive slots games (which are separated on their own tab for easy reference). 
PlayLive! Casino Table Games
PlayLive! definitely specializes in slots, but this platform also offers a few table games as well, including blackjack, baccarat, and roulette. This platform also offers three-card stud. 
PlayLive! Casino Video Poker
Video poker is another popular game at most online casinos. And while PlayLive! certainly does offer a few video poker options, but these games don't enjoy a prime location on its site. 
Some of the popular video poker games available on PlayLive! include:
Better Double Up
Deuces Wild
Jacks 
Jacks or Better
Ten Play Draw Poker
PlayLive! Casino Blackjack
PlayLive! offers live dealer and first-person blackjack.
PlayLive! Casino Roulette
If you're into roulette, you should definitely check out PlayLive! PA, as this is where this online casino really shines. 
Gamblers can choose up to six different roulette games, including American, European, first-person, and French roulette. 
Live Dealer Games
Live dealer games have also become quite popular at online casinos, and PlayLive! hasn't shied away from offering these games. 
The most popular live dealer games on the platform include roulette, blackjack, and Texas hold 'em. 
We're excited to see what other games they'll add to the mix as the platform continues to expand. 
Online Casino Jackpots
Leaderboard contests are run on Tuesdays and award the top-three slots earners for the week bonus prizes of up to $2,500. 
The site also runs replay bonuses. If you lose a game, you can get 10% back (up to $50) on select games and promo periods. You'll need to satisfy playthrough requirements to cash out winnings on this money, too.
PlayLive! Casino Online Sports Betting
Currently, PlayLive! Casino PA doesn't offer sports betting (as its name suggests). Yet, most online casinos don't specialize in online sports betting, too.
Most platforms choose one or the other. Though you'll find that platforms such as BetMGM, Caesars, Fanduel, and DraftKings are able to offer both sports betting and casino games on their sites, smaller sites usually stick to just one type of gambling.

Does this make PlayLive! Worse than other sites? Absolutely not. This online casino offers generous welcome bonuses, plenty of online casino games, and good payouts. 

If you really need to play at a site that offers both sports betting and casino games, check out our Pennsylvania online sports betting page to find out which platforms are the best.
PlayLive! Casino New Account Promo Signup
Are you ready to register for a PlayLive! account? Simply use the OddsSeeker link to claim your promo and fill out the account registration form.
All players must be legally allowed to bet in Pennsylvania. You must be at least 21 years old to play, and you must be physically located in Pennsylvania to legally play as well. You'll need to download geo-tracking software onto your device before you're allowed to place bets. 
All new users must create an account with the following information:
Username
Password
Phone number
Email address
Birthdate
Last four digits of your social security number
PlayLive! Casino Customer Support
Got a question? Contact PlayLive's customer support team. 
All online casinos must offer a few ways to contact customer care, should the need arise. Just some of the most common ways to contact customer support at PlayLive! Include:
Phone: If you need instant answers to burning questions, this is the easiest way to get them is usually by talking with an agent over the phone by calling the online casino's toll-free number. Unfortunately, PlayLive! Doesn't have such a number yet.
Live Chat: This is currently the easiest way to contact one of PlayLive's customer support associates. If you can't get answers to your questions from the FAQ page, simply reach out to an associate by clicking the icon at the bottom right corner of your screen.
Associates are available between 9 a.m. and 11 p.m. EST, seven days a week.
Email: If you're not in a hurry to get an answer to your question, shoot the customer care team an email at PlayLive's support handle. 
Associates respond between 9 a.m. and 11 p.m. EST, seven days a week.
Don't forget to include the details of your question so it can be answered timely and reduce any back-and-forth. 
FAQ: Along with the above three options, PlayLive answers dozens of common questions on its FAQ page. 
PlayLive! Casino Withdrawal & Payments 
Online casino deposits and withdrawals may seem like a huge pain, but online platforms have got these fund transfers down. 
Most online casinos accept a long list of payment options but very few withdrawal options. This is common, as their laws restrict some types of payments and withdrawals. 
PlayLive! offers enough payment options for us to feel good recommending this online casino. Plus, this real money online casino accepts PayPal as a form of payment and withdrawal. 
PlayLive! Casino Payments
PlayLive! Accepts a few ways to make a payment online. Just some of its popular forms of payment include e-check, PayPal, credit and debit cards, and the Play+ card. 
e-Check
Deposit money into your account with an e-check. This form of payment is similar to a bank transfer. 
Visa/MasterCard
Most online casinos (PlayLive! included) allow you to deposit funds with a credit card or debit card. 
PayPal
PlayLive! Is a PayPal online casino! 
If you already have a PayPal account you can start making deposits using this digital wallet. Make payments directly with PayPal, using the accounts or cards saved in your account. Or, transfer funds into your PayPal account directly and use that money to fund your PlayLive! account.
PlayLive! Play+ Prepaid Card 
The Play+ prepaid card is one of the most popular ways to fund your online casino account. Designed just for the gambling industry, you can use this card the same way you would a prepaid credit card.
Just order a Play+ card (or use the one you already have). Add funds to the card online or at an ATM. Transfer your winnings onto the card and use it to purchase goods and services at major retailers. Or, head to an ATM to withdraw funds (fees may apply).
The minimum amount to fund your Play+ card is $10. 
PayNearMe Cash
Unfortunately, PlayLive Casino is one of the few online gambling platforms that doesn't accept PayNearMe cash. In fact, there are virtually no ways to pay with cash on the PlayLive platform. 
Since many of the online casinos that accept PayNearMe have been around since the golden age of gambling, we hope that once PlayLive is a little more established, it will start to accept this form of payment.
Cash at the Casino Cage
We were so bummed to discover that you can't deposit funds or withdraw winnings at any of the PlayLive! PA casino or MD locations. Since most online casinos will allow you to deposit and withdraw funds at their land-based affiliates, this was really disappointing to us.
Yet, we do hold out hope that Pennsylvanians may someday soon head to a land-based PlayLive! Location to do so.
Bank Wire
Right now, PlayLive! Doesn't accept bank wires or ACH transfers; though, you can make a withdrawal via e-check. 
Physical Checks
We're honestly surprised that so many online casinos accept physical checks as a form of payment and withdrawal. They take forever to receive and may get lost in the mail.
PlayLive! Is not one of the online casinos that accepts this form of payment. If you're one of the few gamblers that need to make a deposit or withdrawal by physical check, we recommend playing at a larger casino, such as BetMGM or DraftKings. 
PlayLive! Casino Withdrawals
Like many PA online casinos, PlayLive! Casino PA only offers a few withdrawal options, including e-check, Play+ card, PayPal, and e-check.
e-Check
Get your funds transferred to your bank account within a few business days. 
PlayLive! Casino Play+ Card
Funds may be withdrawn instantly when you use the PlayLive! Casino Play+ card. Simply head to a retailer (or visit one online) that accepts major credit cards and use your card as a prepaid credit card.
Or, head to an ATM to make a withdrawal with this card (fees may apply). 
Responsible Betting at PlayLive! Casino
PlayLive! Is required by the state of Pennsylvania to promote safe and responsible betting practices to minimize problem gambling.
All bettors can set betting and deposit limits in their account settings at PlayLive, and the platform also sets its own limits, too. 
You can also find PlayLive's responsible gambling help section in its website footer. Here, you'll find information about betting limits, support organizations, and closing your account.