2023 Review
b spot Casino
Deposit Bonus
Get $20 FREE When You Deposit
Editor's Opinion of b spot
b spot is a U.S. licensed online real money gambling operator. You can play popular slot & casino games for cash prizes at bspot.com and via the b spot iOS app, available in the Apple App Store. Sign-up today to get a $20 bonus on your first deposit!
Licensing
| | | |
| --- | --- | --- |
| | | |
| | US | ✅ Best US Social Casinos 2023 |
b spot Hands-on Review
"
b Spot is a fun site that allows you to play slots with win real cash, but they aren't a sweepstakes casino, all of their games are based on the results of randomly selected horse races from the past. It's a crazy cool model that let's you actually win big all over the US.
"
Kuthula Magubane
b spot Promotions
Other Promos
$20
Promo
Deposit Bonus - New Players Only


b spot $20 1st Deposit Bonus

CLAIM NOW
No promotions to show
Key Information About b spot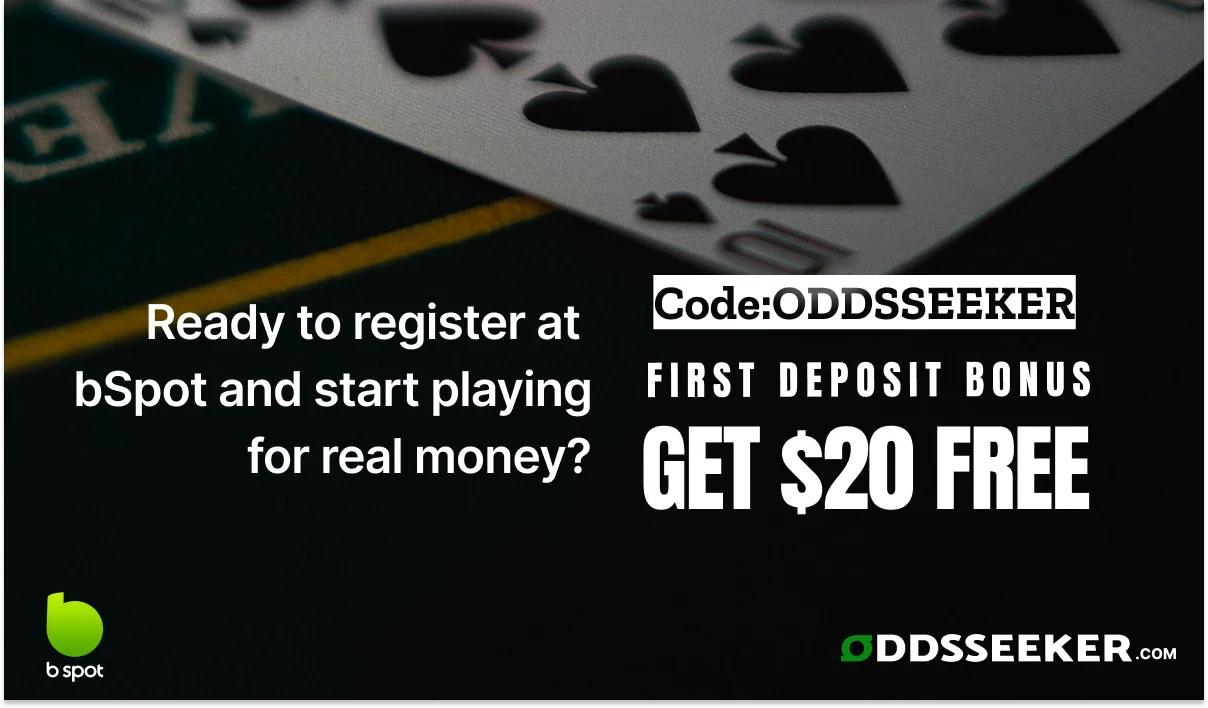 b spot is an online gaming site that lets you play slot-style games, bingo, scratchers, arcade games, and more for real money in 19 U.S. states. It's considered a free sweeps cash casino (and one of the free real-money online casinos).
How does b spot operate legally across the U.S.? Two words – horse racing. All bets are placed on live horse races. All winnings are determined by the results of those wagers. Players reveal the results – including any cash payouts – by playing their favorite games.
When you purchase a $20 wager package at b spot, you are placing several different horse race bets. You can make a quick pick to start playing fast, or you can review the racing details, the track, the horses, the morning line, and reshuffle the bets to select a group you prefer.
When you're ready to place your final bet, click the button, and your bet will be locked in. After you place your bet your wagers will show as "Pending" until they are ready to be played in any of the games on the site. If you made a $20 wager, you can now play any game you like in any denomination. Any cash winnings will be revealed in the games as you play.
b spot Casino Review

Find out why you should play at b spot Casino, where to find the best b spot welcome bonuses, and what to know about payments and withdrawals at this online social casino. At OddsSeeker, we offer honest reviews for the hottest social casinos, including Chumba Casino reviews, Funzpoints Casino reviews, and more.
Benefits of Betting at b spot
There are plenty of reasons why we love playing games at b spot.
In addition to its unique concept (outcomes of casino games based on horse racing wins?!), we also happen to love the selection of slots, arcade, and bingo games that aren't already available at every casino on the internet. b spot is considered one of the top online casinos around -- even in states where real money casinos are legal.
This online casino platform also offers stellar customer service. Associates are available to answer questions 24 hours a day, seven days a week, via chat, phone, email, and social media — a benefit practically unheard of at even the best online casinos.
Here are some of the top reasons to give b spot a try:
Unique hybrid casino/horse racing betting model
Easy deposits and payouts
Win real money at this online casino -- free!
Customer service associates are always available
Exclusive games you won't find anywhere else
$10 deposit match promo code available at OddsSeeker
Registration at b spot
Ready to register at b spot and start playing for real money? Want to take advantage of the b spot signup bonus?
The first step is to head over to bspot.com or download the b spot iOS app from the App Store. You can always play on bspot.com from any device - mobile, desktop, or laptop.
When you first sign in, you'll need to fill out a form with some basic pieces of information (that pretty much all online casinos will request):
Email address
Password
Phone number
Don't forget to use the promo code ODDSSEEKER to get a $20 bonus on your first deposit.
When you click "Sign Up", you're confirming that you're at least 21 years old).
You'll get a verification code sent via text message to the phone number you submitted. Just plug this code into the app to confirm your phone number. You'll also receive a confirmation email to verify your email address. Check the account you entered and click on the confirmation link.
How to Open a Cash Account
Now that you've registered, it's time to open a cash account so you can start playing for money. Follow the prompts to enter the information below.
Name
Address
Date of Birth
Last four digits of your social security number (or all nine digits if you reside in New York)
Submitting this information is a regulatory requirement. They have to verify your age and state of residence before you can wager and play for money.
If you are 21+ and live in a state where online horse betting is legal, all you need to do is enter that information. You'll probably have your account approved automatically, but it's possible you may need to submit additional information to verify your info.
If your state of residence doesn't allow horse race betting, the good news is that you can still play for fun! If you don't know the gambling laws in your state, all you need to do is click on your state from the dropdown list during account signup, and b spot will let you know if it's legal to play.
Located in a state where it's legal to play at b spot? Great news! You'll head over to the account signup form to pony up a little info (pun intended).
You'll also need to enable Location Services on your device so they can verify where you are playing from. Once your location is confirmed, you'll be ready to start playing!
b spot Casino Bonus Codes & Promotions

b spot offers a $20 deposit match promotion for players coming from OddsSeeker -- no matter what state you live in. We highly recommend taking advantage of this promo since you'll snag up to $20 in free gameplay!
Unlike the Chumba casino free sweeps program, b spot's program is a first-deposit bonus only -- not a no-deposit bonus.
Use the OddsSeeker affiliate link and code ODDSSEEKER to take advantage of this offer. You must enter the code when you sign up in order to claim the bonus -- though not all free online casinos require you to use a bonus code, such as Chumba, Fortune Coins, and Funzpoints login casino. No Chumba or Funzpoints promo code is needed.
Ongoing Promos
Some free online casinos also offer ongoing promos, such as login bonuses. While we're not aware of any offered by b spot right now, we've seen some great promos featured on other apps. If you're looking for b spot, Chumba, or Funzpoints free money, make sure to sign up for alerts and log onto the app regularly to snag these deals.
b spot Casino Mobile App Experience
The b spot iOS app is currently available in the Apple App Store.
If you're an Android user, you can play on bspot.com right from your phone.
You can do anything on the app that you could on the mobile or desktop site, including view your account history, deposit money, place wagers, check your balance and winnings, cash out, and more.
b spot & Horse Racing
b spot's secret sauce is the fact that it's powered by live horse racing. Confused about how this works? We were scratching our heads at first too, but it turns out the concept is pretty simple.
When you place a wager for $10, $20, $40, or $100, the b spot platform splits your money up into a selection of live horse race bets on tracks around the world. If you like, you can hit "See Wager Details" on the wager confirmations screen to see exactly what bets are being placed. Don't like the selection? No problem. Simply hit 'reshuffle' to get a new set.
Online horse race wagering is "pari-mutuel" betting. This means your wager is placed together with the wagers of other players in a pool, which means you're betting against other players instead of the house. Pari-mutuel wagering operators collect a fee for placing bettors' wagers. The house doesn't collect any more or less based on player wins or losses.
b spot Casino Games
This online betting platform's hybrid betting model is what really makes b spot stand out from its competitors — especially the big box online casinos, like Caesars, Tropicana, BetMGM, and Golden Nugget.
b spot doesn't currently have the large catalog of casino games that brand-name powerhouse casinos offer, but they have announced partnerships with major game developers like AGS, so more titles should be coming soon.
Working with some of the best names in casino game development, b spot features a long list of bingo and arcade games and more than 40 slot-style games, including Buffalo Wild, Demi Gods II, and White Hot 7s. They also have scratcher and bingo variants.
Some of their games are unique to b spot, others like Story of Hercules and Origins of Lillith can be played in some of the top online casinos around the world.
If you're new to online casino gaming, you'll love b spot's easy-to-use interface and impressive graphics; if you've been playing online for a while, you'll love the refreshing selection of slots and arcade games that you won't find anywhere else.
Types of Casino Games
Some of the most popular types of casino games at b spot include slots, bingo, quickies (a.k.a. scratchers), and even real money arcade games.
Casino Slots Spinners
b spot's catalog of slot-style games includes 40 games, such as Majestic King, Parrots Rock, Golden Bars, Lucky Wild 7s, and more.
Quickies
Quickies are games that don't take too much thought, skill, or time to play. If you're a fan of scratch-off lottery tickets or bar pull-tabs, you'll love b spot's quickie games.
All you need to do is click icons on the screen when prompted. Like with scratch-offs and pull tabs, you'll know right away if you're a winner! Although b spot currently only offers four different games in its quickie category, it's hard to get bored playing these fast-paced games.
Arcade Games
Love retro or classic arcade games? Us too! We love b spot's selection of bingo games and match-three games. These games take us back to the day when games were simpler — though, the graphics are seriously futuristic!
Bingo games include Primo Bingo and Pixie Riches Bingo. One of the most popular match-three games is In the Black, which is a fast-paced game that challenges you to match three symbols to claim New York, Connecticut, and Michigan online casino real money prizes.
b spot Casino Game Titles
Just a few of the most popular games at b spot include Demi Gods II, Parrots Rock, Golden Bars, Lucky Wild 7s, and Pixie Riches Bingo.
Want a little more information on the games you'll find at b spot before signing up? No problem. Here's a breakdown of some of the most popular games offered at this online racing casino.
Unlike other free social casinos, b spot doesn't just specialize in slots games. Instead, this platform specializes in other types of digital casino games, such as bingo. Social casinos (such as Chumba Casino), on the other hand, feature mostly slots with a few other types of games thrown into the mix. Chumba casino slots games are even exclusive to its platform!
Demi Gods II 
Demi Gods II is one of the many slots based on Ancient Greek mythology. A few of the characters that you might run into here include Zeus and Ares (alongside a couple of other gods). You'll even find that the wild symbols incorporate themes and items in Greek mythology, including Ares' sandals!
One aspect we love about b spot's games is that they transport you to another place and time. You're not just playing a game set in the theme of Greek mythology, but you're actually in ancient Greece.
You can tell that b spot works with some of the best game designers in the industry because the graphics are what make each game just a little bit better than the competitions'. Reels erupt and spin after a free spin symbol falls, and graphics fall in 3D from above. Even the background is impressively animated.
And it's not just the graphics that we'd rate five stars, either. Every aspect of the game is highly produced, from the graphics to the scenery to the soundtrack. Ambient drums offer plenty of atmosphere and entertainment without distracting from the gameplay itself.
Parrots Rock 
You'll find the Parrots Rock slots game at casinos offering Spinomenal software — one of the newest and hottest developers in online gaming these days. And what Spinomenal does best (as its name suggests) is slots casino games.
Parrots Rock is a five-reel game that's three or four symbols high. Reels one and five are three symbols high, while reels two, three, and four are four symbols high. The game uses 30 standard pay lines, playing from left to right.
Golden Bars 
The Golden Bars slots game is similar to slots you'd see in land-based casinos, so this game is ideal for anyone craving an in-person casino experience from the comfort of their homes.
Originally developed by the developer Joyplay, Golden Bars is based on classic slots games from the golden age of gambling.
The concept is simple to grasp in this casino game: spin the wheel and see if you've won when retro symbols align. Just some of these classic symbols include lucky sevens, gold bars (of course), and wilds. There are nine pay lines.
This game also features even more ways to win, including a wild wheel, 50-times multiplier bonuses, and mystery bonuses. The paytable shows off the potential winning combinations, but as always with b spot games, all payouts are determined by the results of your live horse race bets.
Lucky Wild 7s
Lucky Wild 7s is another video slots game from Joyplay that features a classic design melded with bright and colorful 3D graphics.
Slide your finger on your touch screen device to spin the wheel and win prizes across 20 pay lines.
This online slot machine is a new spin on a classic favorite. You'll notice several vintage slot machine symbols as well as a few novel symbols, too. While it's more of a video slot machine than a classic game, Lucky Wild 7s still incorporates many of the elements you'll find in a retro arcade game.
Unlike some of the other games on this list, there aren't many bonuses or multipliers, but there are several wild icons to help you win even bigger. There are five reels that feature icons such as cherries, oranges, grapes, watermelon, bells, red lucky sevens, and stars — helping to lend that vintage aesthetic to an updated game featuring stunning graphics.
Newer symbols include four-leaf clovers and golden horseshoes, two of the luckiest symbols we can think of!
Both vintage gaming enthusiasts and lovers of flashy new graphics will appreciate Lucky Wild 7s. And after all, what truly matters is how big of a payday you'll walk away with anyway, right?
Pixie Riches Bingo 
Pixie Riches Bingo is an online bingo casino game that doesn't skimp on entertainment value.
While some online casino games feature regal themes, like Greek gods or vintage aesthetics, Pixie Riches Bingo is all about whimsy and fun. The game is loaded with plenty of adorable cartoon characters, including a purple-haired pixie that waves her wand, ready to make some casino magic happen.
Pixie Riches Bingo is certainly a great option for anyone that needs a break from more 'serious' online slots, arcade, and bingo games. Gameplay is just as enjoyable on the mobile app as it is on an online browser.
While the typeface is a little hard to read, there's not much that we don't like about this game.
Any eyesore issues quickly dissipated after playing this game for a few minutes — or was it a few hours? Who knows! We were having too much fun to care!
b spot Customer Service
Should you have any questions about your account, payouts, deposits, or gameplay, contact b spot customer service.
Unlike most online casinos and betting sites, b spot offers support by email, phone, fax, chat and social media. They offer support 24 hours a day, 7 days a week, 365 days a year (phone support is rarely offered by online casinos).
Contact b spot customer service by emailing, calling, faxing, chatting or reaching out on social media with the following addresses, numbers, and handles:
Email: [email protected]
Phone: 844-462-7768
Fax: 503-350-0232
Social Media: @bspotgames on Facebook, Instagram, and Twitter, b spot on YouTube
Customer service agents are available 24 hours a day. You don't take days off from playing online casino games, so the customer support agents work seven days a week, too! Feel free to reach out with any questions or concerns, regarding your account.
b spot Payments & Security
The site uses high-tech industry security protocols. Cash deposits & winnings are held in a custodial account at an FDIC-insured member bank.
To make a deposit or withdrawal at b spot, just log on to the website or app. Once you have a cash account, you can make a deposit with one of the following methods:
FastTrack Cash (online banking transfer using ACH or electronic checks)
Mastercard
Visa
Visa or Mastercard prepaid gift card
When you're ready to cash out your winnings, you may do so via the app or customer service. Payouts are credited in the same form used to make a deposit, so make sure you deposit money using the form of payment you'd like to receive your payout.
Player Eligibility at b spot Casino Online
Not everyone is eligible to play at b spot online casino. If you want to play with real money, you must be at least 21 years of age and be a resident of one of b spot's approved states.
Right now, b spot is available for real money betting in the following states:
Alabama
California
Colorado
Delaware
Florida
Kansas
Montana
New Hampshire
New Mexico
New York
North Dakota
Oklahoma
Oregon
Rhode Island
South Dakota
Tennessee
Vermont
Wisconsin
Wyoming
If you live in any state not listed above, don't worry! While you won't be able to play for real money at b spot, you'll still be able to play for fun. And more states should be opened up for real money play soon.
Sign up for an account, confirm your phone number, and start playing slots, arcade games, and bingo - just for fun!
For additional safety and compliance, this online casino checks your device's location to confirm you are in one of their approved states when you place a bet. You must enable Location Services to wager and play for money.
b spot: The Bottom Line
We highly recommend signing up for an account at b spot. We love the site's unique horse race betting and online casino game hybrid model and its easy-to-use interface.
Online bettors of all levels love the site's list of arcade, slots, and bingo games that you can't find anywhere else. The selection of unique games coupled with high-end graphics, awesome soundtracks, and easy account management make b spot the place to be for classic and cutting-edge casino games.
And did we mention how the outcomes of casino games are based on actual horse races? How cool is that? What are you waiting for? We were ready to create an account and start playing hours ago!
Head over to b spot using the OddsSeeker link and submit promo code "ODDSSEEKER" to get a $20 bonus on your first deposit. Play games, place bets (in states where real money play is approved), and find out if today is your day to win!
9.7
Deposit Bonus
Get $20 FREE When You Deposit