Illinois Online Casinos
The Illinois Gambling Act of 2019 legalized online sports betting but not online casinos. However, you can play free slots online at these Sweepstakes Casinos.
There are no Illinois Online Casinos promotions, but you can play games online and redeem real cash & prizes at these sites instead.
🗓️ Last Updated
1 Dec 2023
✅ Trusted & Secured
See all Illinois Online Casinos
"This page contains references to products from one of our advertisers. We may receive compensation when you click on links to those products. This compensation does not impact our opinions in this review or elsewhere about these products. Terms apply to the offers listed on this page. For an explanation of our Affiliate Policy, please click here. Thank you."
Slots
Table
Bingo
Live Dealer
Free Signup Bonus
Get 5 Free Sweeps Coins + 600 Free Diamonds
Written by:
Frank Weber
, Sports Journalist & Betting Analyst
Fact checked by:
Darena Rodrigues
, COPY EDITOR
Illinois Online Casinos Overview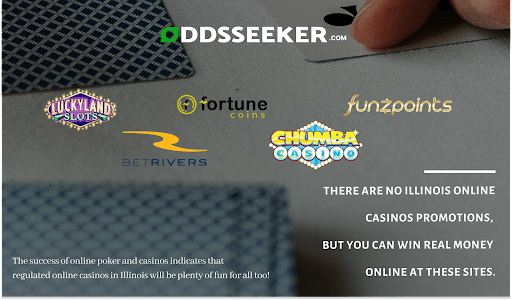 Illinois boasts a rich history in gambling, but the present scenario is certainly not a reflection of what the state was in the past. Land-based casinos, although legal to operate, are a rare sight in Illinois.
Following the trend going on in the US, Illinois also legalized online sports betting, which has become increasingly popular in the state. The online casino business is currently unregulated in Illinois, but the state should approve the online gambling laws.
The success of online poker and casinos indicates that regulated online casinos in Illinois will be plenty of fun for all too!
Are Online Casinos Legal in Illinois? 
YES. There are exciting ways you can gamble online in Illinois, and Online casinos are not an exception; legally, you can bet real money at certain Illinois online casinos.
With that being said, several offshore sites and online casinos operational in the state are offering online casino games.
It won't be an understatement to mention that people in Illinois are likely to opt for online casinos over land-based casinos, given the availability and conditions of the land-based casinos. Once legal, The Illinois Gaming Board will oversee the operations of online casinos in the state.
Since online horse betting is legal in Illinois, lawmakers make perfect sense to pave the way for legal online casinos because horse racing too comes under gambling. If they are not a supporter of gambling, they should not legalize that as well. This argument makes it a lot more justifiable for lawmakers to legalize online casinos in the state.
What's the Latest for Online Casinos in Illinois?
A New Bill, H 3142 was introduced in the house in 2021; if this bill gets a nod, it will legalize gambling in the state.
This bill requires each online casino to pay $500,000 for their license fees to operate in Illinois legally. Still, these are pretty early days, and it won't be prudent to comment on anything. Even if the bill gets approved, it would still cost a fair chunk of time for the operators to get their licenses and launch their respective online casino platforms.
Are Social Gambling Sites/Sweeps Casinos Legal in Illinois? 
Yes! Social casinos are legal in Illinois! These casinos have almost all the games you would find at real money online casinos or land-based casinos.
List of the Sweeps Casinos in Illinois
Understanding Social Casinos and 'Sweep Coins'
These sites don't ask for any monetary considerations from players. Instead, they have their virtual currency called Sweep Coins. Players are awarded Sweep Coins when they signup and players can earn the same by winning online casino games.
These Sweeps Coins can be used as entry fees to join player contests and tournaments that reward cash prizes. The concept of Sweep Coins makes it perfectly legal since it doesn't ask the players for any money to play.
Moreover, social casinos are the safest online casinos you would see. You are potentially at no risk when you haven't invested any money.
You should prefer them over offshore casinos if your objective is to enjoy your favorite casinos online because offshore sites are neither regulated, legal, or dependable.
Games Available at Social Casinos in Illinois
Social Casinos are good to go and offer almost all the games, you might ask. Playing with online players is a lot more fun when you have nothing at stake.
Table Games: Blackjack is a runaway favorite when it comes to table games. There aren't many options available either; apart from blackjack, you can enjoy Russian Roulette, keno, and Caribbean stud poker.
Slot Games: Luckyland slots are the leading social casino for playing slots. They have the most extensive collection of slot games. Slots offer progressive jackpots as land-based casinos do.
Online Poker: Currently, Global Poker is the only sweepstakes casino in Illinois that offers online poker. You can play no-limit Texas hold 'em, pot-limit Omaha, and Crazy Pineapple tournaments.
Best Land-based Casinos in Illinois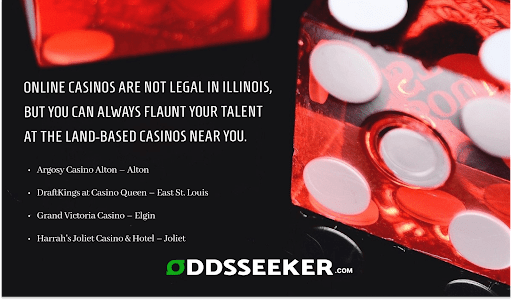 Note: Online Casinos are not legal in Illinois, but you can always flaunt your talent at the land-based casinos near you.
Now, here's an interesting fact about land-based casinos in Illinois: they are all (except Rivers Des Plaines) situated on waterways.
Argosy Casino Alton – Alton

DraftKings at Casino Queen – East St. Louis
Grand Victoria Casino – Elgin
Harrah's Joliet Casino & Hotel – Joliet

Harrah's Metropolis Casino & Hotel Metropolis
Hollywood Casino Aurora – Aurora
Hollywood Casino Joliet – Joliet
Jumer's Casino & Hotel – Rock Island
Par-A-Dice Hotel Casino – East Peoria
Rivers Casino Des Plaines – Des Plaines
Which Games Can we Expect to Launch in Illinois once Online Casinos are Legal? 
Though casinos will add most of the casino games to their closet to attract players to their online casinos, that would take some time.
Online casinos will undoubtedly announce their arrival with a bang! Most of the online casino websites will offer aggressive signup offers. Expect some premium sites to provide a matched bonus of up to $500. That means on your first deposit of up to $500, and you will receive bonus cash in your online account.
Initially, we can expect the following games to be offered for playing with real cash:
Online Slots: With slot games' success earned in social casinos, online casinos would undoubtedly have slots.
Lottery: Online lotteries are already legal in Illinois. Interestingly Illinois was the first state in 2012 to legalize online lotteries. The Lottery has a decent fan base in Illinois, making it a must-have pick for online casinos.
Roulette:" Let your James bond strategy ace the Roulette." It's a perfect game for those willing to take risks, banking on their strategies and game sense.
Live Dealers: traditionally, live dealers are a pivot for brick and mortar casinos, and it's slightly tough to bring them online, but expect online casinos to bring it on.
Responsible Gambling In Illinois
They are protecting the citizens from the dark side of gambling. The state looks to educate gamblers about the risks involved in gambling.
Back in 2002, the Illinois Gaming Board (IGB) came up with the Statewide Riverboat Voluntary Self-Exclusion Program. Later this program was extended to sports betting as well. This program is for gambling addicts, problem gamblers, and those looking to get themselves out of the vicious gambling circle.
Under the Self-Exclusion Program, gamblers can voluntarily exclude themselves from casino gambling in Illinois.
Can we Expect Online Casinos apps?
Yes, in all likelihood, a mob of casino apps would emerge once online casinos are legal in Illinois. Casino apps are the thing of the future, and the response casino apps are getting in the states of the US where online gambling is legal is phenomenal.
Casino apps would provide a diversified collection of online casino games that you can enjoy.
Illinois Sports Betting FAQs
Is playing at a real money online casino in Illinois safe? 
No, not until we have a regulated system in place. Currently, if you are playing an online casino in Illinois, it is through some offshore site, and there is legally no way you can proceed against an offshore site in case of any fraud. Though it's also true that we have heard of someone who faced prosecution for playing online casinos in Illinois.
What's the legal age for playing at online casinos in Illinois? 
For casino games, the legal age is 21, but you can bet on horse racing and play the Lottery once you are 18.
Do you have to be an Illinois resident to place bets in Illinois?
No, even tourists from other states visiting Illinois can try their luck at online casinos. However, one needs to be physically inside the Illinois territory because these online Sportsbooks use Geo-Location technology to confirm your location.
What will be the tax implications on my gambling winnings? 
Relax, the proposed gambling laws in the state do not provide any special taxation on winnings from gambling. Your winnings from gambling will be included in your income and will be taxed at 4.95%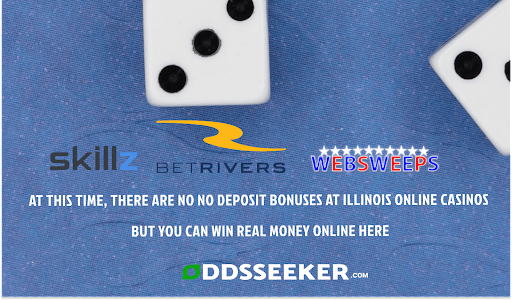 Frank Weber is a sports & gaming writer with a Bachelor's Degree in Journalism and years of experience in the gambling world. He loves baseball, football, basketball, soccer, and the UFC - he even collects sports cards and memorabilia! In his free time, you could find Frank either out at a concert with friends, or at home sweating out all his (soon to be won) bets!
More about Frank Weber
Complete Illinois Online Casinos List 2023
There are no Illinois Online Casinos promotions, but you can play games online and redeem real cash & prizes at these sites instead.
🗓️ Last Updated
1 Dec 2023
✅ Trusted & Secured