Looking for Cheesesteak Judges - Giving Away up to $500 to Rate Cheesesteaks
Image © OddsSeeker.com
Written by:
Hannah Workman
, Data Researcher
🗓
Updated:
September 15th 2023
Judging a Cheesesteak
It's almost National Cheesesteak Day! Each year on March 24th, we honor this icon of melty deliciousness by biting into a bun filled with grilled beef, onions, and cheese. In celebration of the sandwich made popular in Philadelphia, PA way back in 1930, we're offering up to $500 to a few lucky cheesesteak judges.
To apply, applicants should be based in one of the following states: PA, NJ, or NY. Applicants must also live near five restaurants that serve cheesesteaks, and of course, have a deep love for cheesesteaks. One lucky winner will be selected from each state!
Enter to win by following the instructions below.
How To Apply: 
Name: 
Email:
State of residence:
Zip code:
What qualifies you to be a cheesesteak judge?
Please enter the following information here.
What will you be judging the cheesesteaks on?
Steak Quality 
Cheese Rating
Grease Level
Bread Quality
Overall Taste
Are you a foodie or sandwich enthusiast with a discerning palate? Tell us what makes you a great cheesesteak judge and what you'll base your ruling on. You could win up to $500!
Why is OddsSeeker looking for cheesesteak testers? As you may know, OddsSeeker is a leading news publication covering NJ online casino, PA online casino, and Michigan online casino news - and with that, we know our incredible readers are red, white, and blue-blooded American sports fans who love Americana & what's more American than cheesesteaks?! We want to create the ultimate guide to cheesesteaks to add to our database of the best tailgating food options in every major city. Frozen hot dogs? Frozen burger brands? Yup - we're going after it all because we love sports & everything that makes watching sports the ultimate experience.
Competition Terms and Conditions
Eligibility: This competition is open to all participants 18 years of age or older at the time of entry living in the following states: PA, NJ, and NY. Participants associated with OddsSeeker will be excluded.
Entry: To enter the competition, participants must register online, submit their name, email, state of residence, zip code and explain what makes them qualified to be a cheesesteak judge. Participants may only enter once. Entries will be accepted until March 23, 2023 at 11:59pm EST.
Winner: The winners will be randomly selected on National Cheesesteak Day, March 24, 2023, and notified via email. The winners accept their details and images may be used for promotional activity by OddsSeeker and agree to follow the guidelines provided in subsequent communication.
Prize claim: Prizes must be claimed by the winner; no third parties will be accepted. If the winner cannot be contacted or does not claim their prize within 48 hours of the announcement, OddsSeeker reserves the right to offer the prize to another eligible entrant. The promoter does not accept any responsibility if the winner is unable to claim the prize.
By entering this competition, participants are opting-in to this promotion and agreeing to be bound by these terms and conditions.
America's Favorites: Finding the Best Cheesesteaks and Pizza
With National Cheesesteak Day fast approaching, we wanted to know where to get the best one. So, we asked over 850 Americans — mostly those living in Pennsylvania, New Jersey, and New York (the cheesesteak experts) — about their favorite toppings and what else makes a cheesesteak great. While we were at it, we also asked them to share their pizza preferences. See how they weighed in and how your favorites match up.
The Best Cheesesteak Toppings
Would you believe our survey revealed that nearly 1 in 10 Americans have never tried a cheesesteak? If you're one of them, take note of these pro tips for indulging in your first one.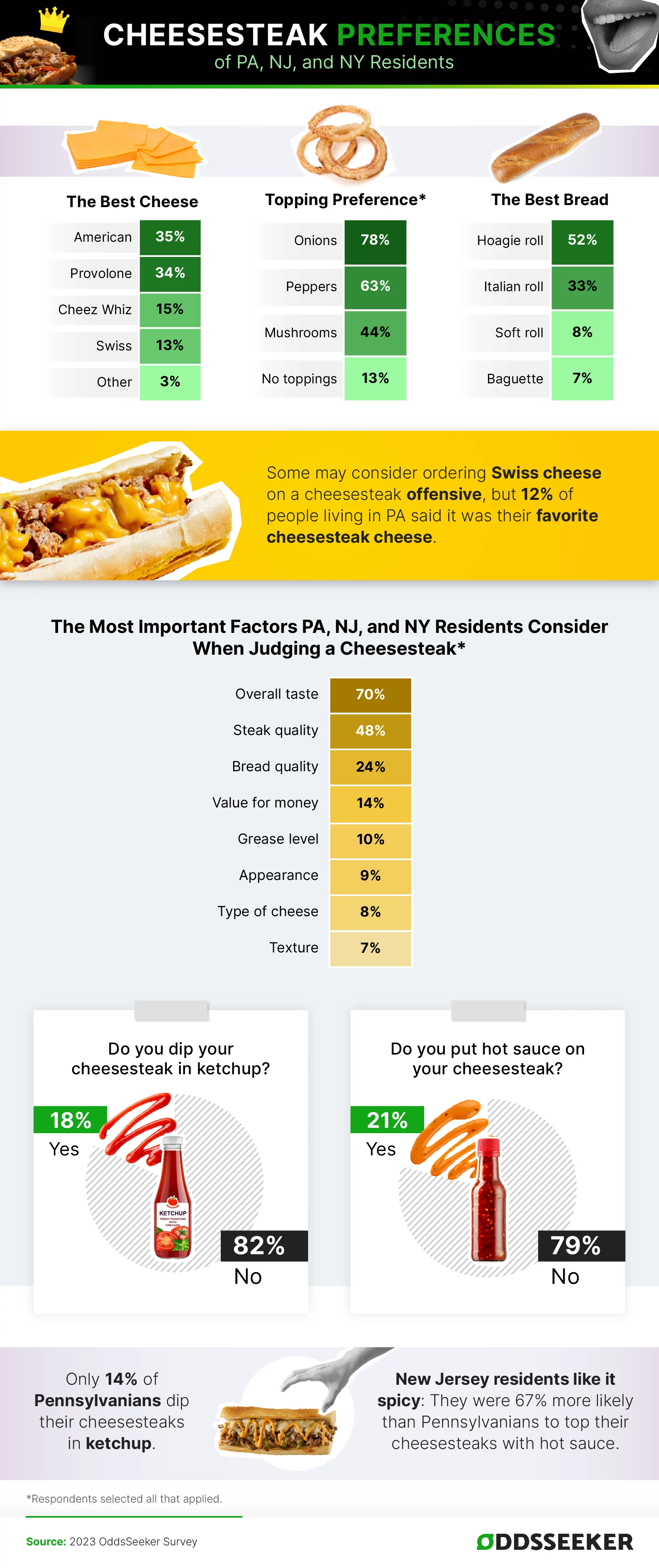 Key Takeaways
When judging a cheesesteak, PA, NJ, and NY residents said overall taste, steak quality, and bread quality matter the most.
Residents of Pennsylvania were 86% more likely than New Yorkers to be concerned about grease level when judging a cheesesteak.
The Cheese
PA, NJ, and NY residents said they prefer American (35%) and provolone cheese (34%) over Cheez Whiz (15%).
PA residents (37%) prefer provolone on their cheesesteaks, but New Jersey (44%) and New York (35%) residents said American cheese is the way to go. 
PA residents were 38% more likely than New Yorkers to prefer Cheez Whiz on their cheesesteaks.
Some may consider ordering Swiss on a cheesesteak offensive, but 12% of PA residents said it's their favorite cheesesteak cheese. 
The Bread
PA, NJ, and NY residents said their top choice is a hoagie roll (52%), and an Italian roll ranked second best (33%).
The Toppings
Most PA, NJ, and NY residents agreed onions are the best topping (78%).
13% of people said they don't want any toppings on a cheesesteak.
PA residents were 27% more likely than NJ residents not to add any toppings to a cheesesteak. Picky eaters or cheesesteak purists?
Only 14% of PA residents reported dipping cheesesteaks in ketchup. They were also 36% less likely than New Yorkers to do so.
82% of people said they don't dip their cheesesteaks in ketchup, and 21% top it with hot sauce.
New Jersey residents like it spicy: They were 67% more likely than Pennsylvanians to top their cheesesteaks with hot sauce.
Americans said they're willing to drive an average of 23 minutes and pay $12 for a high-quality cheesesteak.
Americans think these three cities have the best cheesesteaks:

Philadelphia, PA
New York City, NY
Pittsburgh, PA

Overall, Americans who had eaten a cheesesteak in Philadelphia reported these restaurants as the top 3:

Geno's Steaks (32%)
Pat's King of Steaks (17%)
Jim's Steaks (13%)

PA residents were 76% less likely than NJ residents to think Geno's Steaks has the best Philly cheesesteak.
What About Pizza?
Next, we'll answer the age-old question once and for all: Should pineapple go on a pizza? Let's see what America thinks and find out which toppings they prefer.

The top five non-meat pizza toppings among PA, NJ, and NY residents were:
Mushrooms
Onions
Bell peppers
Black olives
Pineapple
Overall, 40% of residents living in PA, NJ, and NY agree that pineapple belongs on pizza. 
NJ residents were the most likely to say that pineapple doesn't belong on pizza (70%), while those living outside this tri-state area were most likely to say it does (57%).
New Yorkers were 30% more likely than NJ residents to agree that pineapple belongs on pizza.
The top five meat pizza toppings of Americans living in PA, NJ, and NY were:
Pepperoni
Sausage
Bacon
Chicken
Meatballs
New Yorkers (48%) were more likely than NJ residents (42%) to put pepperoni on their pizza, but they were equally as likely (30% each) to enjoy mushrooms on their pizza. 
78% of residents living in PA, NJ, and NY don't dip their pizza in Ranch, but more than 1 in 5 New Yorkers said they do. 
Americans think these three cities have the best pizza:

New York City, NY
Chicago, IL
Philadelphia, PA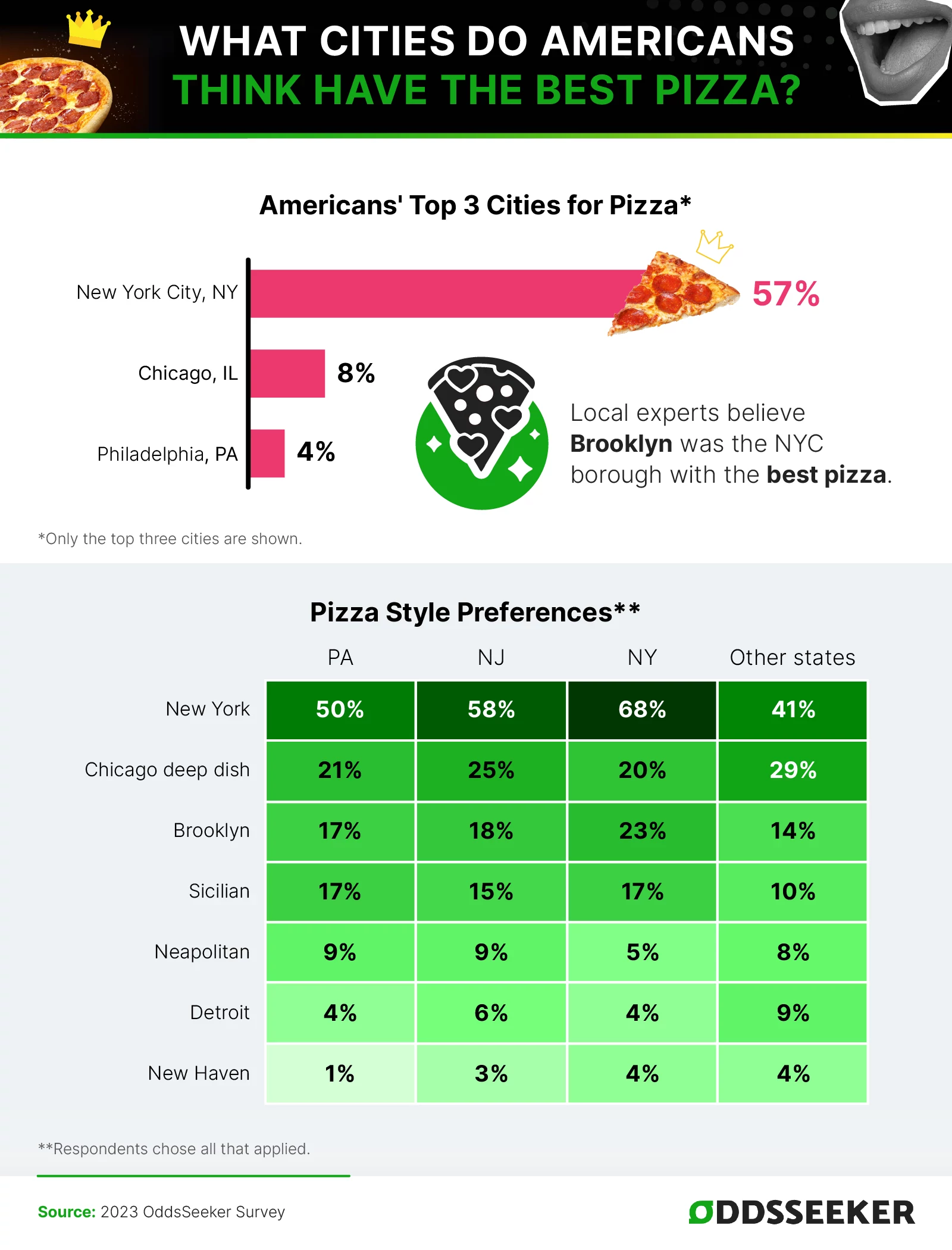 The Cheesesteak and Pizza Verdicts
If you think Swiss cheese belongs on a cheesesteak, you might be confusing it with its preferred cousin, provolone. But as long as it has fried onions and a hoagie roll, you're in business. Head to Geno's Steaks in Philly for the best version.
And while pizza comes in a wide array of shapes, sizes, and flavors, one thing's for sure: It must have mozzarella and tomato sauce. For most people in Pennsylvania, New Jersey, and New York, it also needs to be New York style. No matter your pizza preference, if you haven't tried dipping it in Ranch dressing, you're missing out.
Methodology 
To explore preferences about popular foods such as cheesesteaks and pizza, we surveyed 857 Americans. Respondents reported living in the following states: Pennsylvania (27%), New Jersey (15%), and New York (32%). The remaining 26% lived in other states.
About OddsSeeker
We want online gamers to win more cash, so we offer bonus codes and boosted odds to give you more chances to win big.
Fair Use Statement
If you just confirmed that your favorite cheesesteak is, in fact, the best, feel free to share this article. We just ask that you do so for non-commercial purposes only and include a link to this page.
Topic Expert
Hannah Workman
Hannah Workman is a project manager with a bachelor's degree in advertising and public relations. After joining her employer's office fantasy league, she became deeply enthralled with football. She was a martial artist as a child, so she always enjoys a good fight night. When Hannah isn't watching a fight or football, she enjoys live music and spending time with family and friends.
More about Hannah Workman