March Madness Upset Alert
Image © Rick Osentoski-USA TODAY Sports
Written by:
Andrew McDermott
, Founder
🗓
Updated:
September 29th 2023
2023 March Madness is coming to an end & wow, did we see a lot of upsets this year! The NCAA defines a March Madness upset as a victory by a basketball team seeded five or more levels below its defeated opponent. We did some research to see how the 2023 upsets compared to the previous 22 March Madness Tournaments since 2000 & explored what the historical statistics can tell us about potential upsets in future tournaments.
2023 March Madness Upsets So Far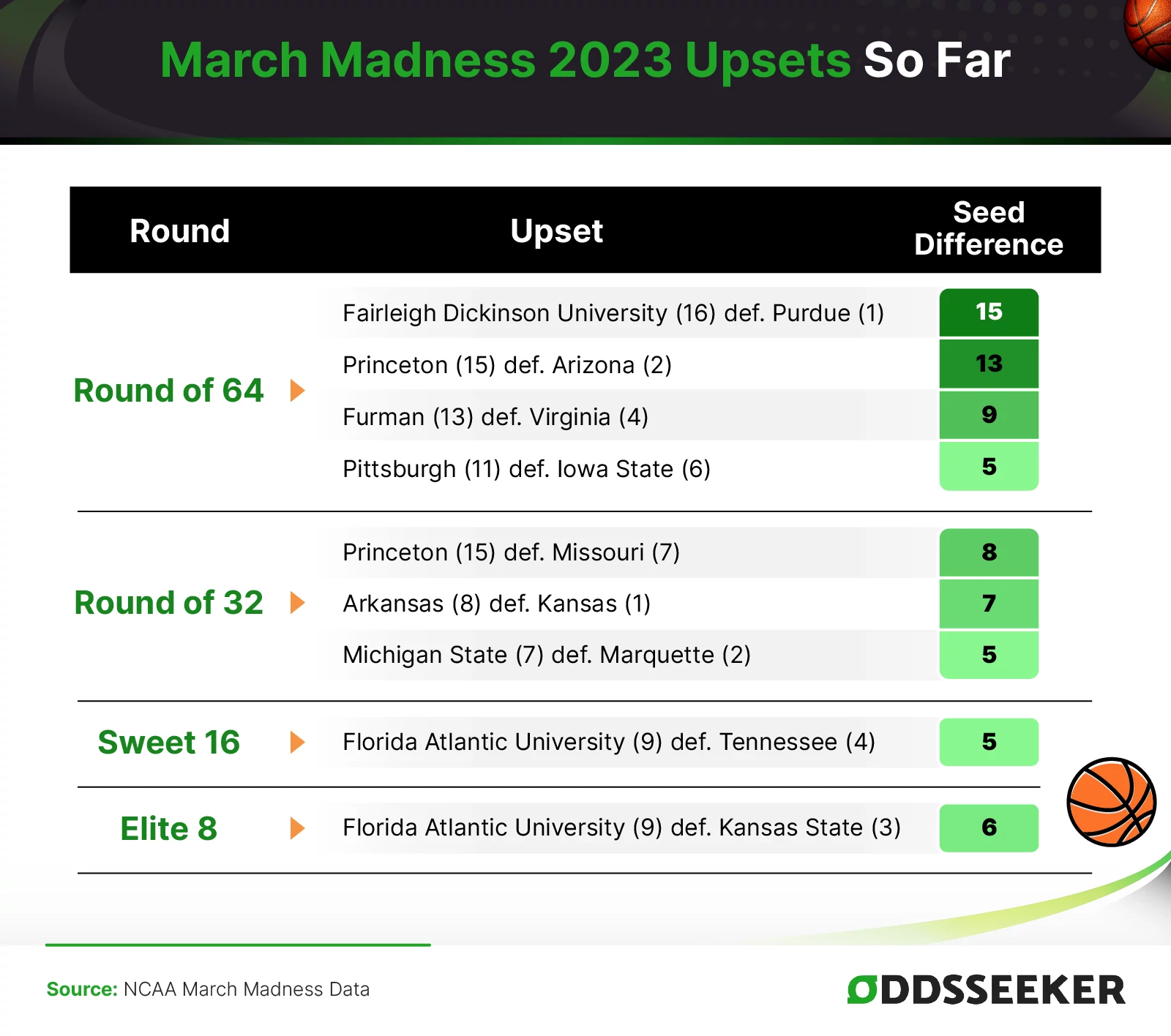 Takeaways:
No. 16 Farleigh Dickinson University defeating No. 1 Purdue is the largest upset to take place in March Madness 2023, with the teams having a 15 seed difference. A No. 16 upset has only occurred 1 time since 2000.
The Big 12 has suffered the most upsets so far (3), with Iowa State, Kansas, and Kansas State going down earlier than expected.
While No. 12 over No. 5 and No. 11 over No. 6 outcomes are the most common upsets to take place (32% and 36%, respectively), only 1 took place in March Madness this year (No. 11 Pittsburgh defeated No. 6 Iowa State).
Since 2000, Florida Atlantic University is only the 7th team to deliver an upset in the Sweet 16. They are the 8th team to deliver an upset in the Elite 8.
2023 March Madness Surprises
Since 2000, every March Madness Elite 8 has had at least 1 No. 1 seed participate. In 2023, we had none.
For the first time ever in March Madness history, the Final 4 doesn't have a top 3 seed participating.
The average seed in this year's Final 4 is 5.75. This is the second-highest seed average since 2000 (6.5 in 2011).
Final 4 Matchup Outlook
UConn (4) vs. Miami (5)
San Diego State (5) vs. Florida Atlantic University (9)
Outlook on Outcomes (Statistics Based on March Madness Final 4 Games Since 2000)
In 6 appearances in the Final 4, No. 4 seeds are 1-5. The lone No. 4 seed to advance to the championship game lost (No. 4 seed Michigan in 2013).
UConn has shaken up the Final 4 before, as the only team to win the NCAA championship without a No. 3 seed or better (No. 7 seed in 2014).
Since 2000, No. 4 seeds are 22-20 in head-to-head matchups against No. 5 seeds.
In 6 appearances in the Final 4, No. 5 seeds are 3-3. Each of the No. 5 seeds that advanced to the NCAA championship failed to win. If Miami and San Diego State advance to the NCAA championship this year, a No.5 seed will finally break through.
Only 1 No. 9 seed has advanced to the Final 4 since 2000 (Wichita State in 2013). They failed to advance to the NCAA championship.
Since 2000, No. 5 seeds are 1-1 in head-to-head matchups against No. 9 seeds.
History of March Madness Upsets
In the 22 March Madness tournaments since 2000, there have been a total of 176 upsets:
Total Upsets Per Round In March Madness
110 in the first round
50 in the second round
6 in the Sweet 16
7 in the Elite 8
3 in the Final 4
Average Upsets Per Round In March Madness
First Round: 5 Upsets
Second Round: 2.27 Upsets
Sweet 16: .27 Upsets
Elite 8: .318 Upsets
Final 4: .136 Upsets
We dug into more March Madness history, from the teams experiencing the most upsets to those delivering them over the past couple of decades. While betting apps roll out odds & brackets this week, let's see if history is any indication of what might be in store for 2023.
Most Upset Conferences and Teams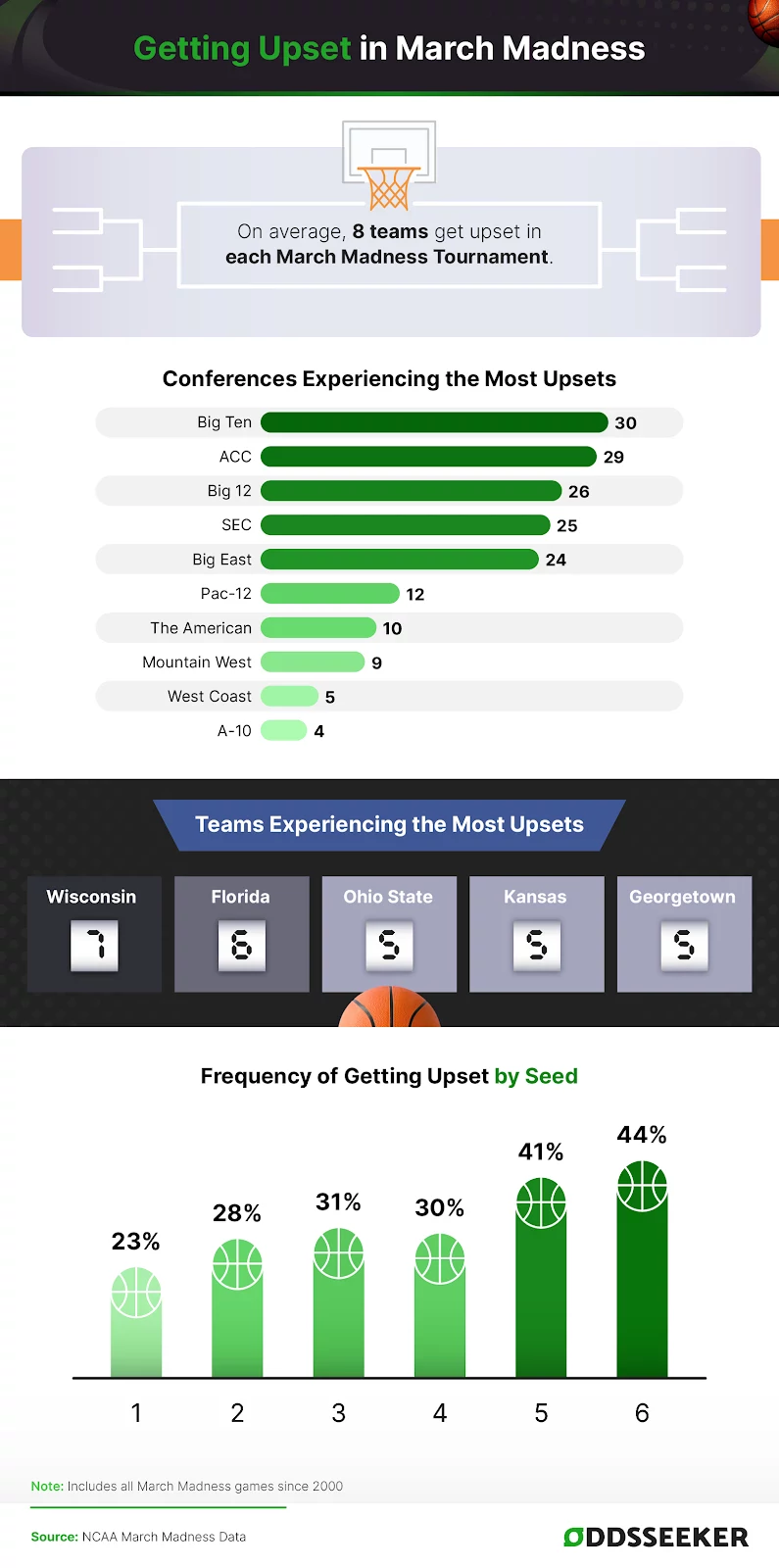 Takeaways:
Since 2000, an average of 8 teams have been upset in each March Madness tournament.
Teams from the Big Ten (30), ACC (29), and Big 12 (26) have experienced the most upsets in March Madness since 2000.
Wisconsin is the most upset team in March Madness since 2000, with 7 upsets; 33% of their March Madness appearances have ended in an upset.
No. 6 seeds (44%), No. 5 seeds (41%), and No. 3 seeds (31%) are the most likely seeds to get upset in March Madness since 2000.
Nearly 1 in 4 No. 1 seeded teams have experienced an upset since 2000 (an average of one No. 1 seed team in each March Madness tournament).
First-round upsets by seed matchups since 2000:

16 over 1 - 1 time (1%)
15 over 2 - 7 times (6%)
14 over 3 - 9 times (8%)
13 over 4 - 19 times (17%)
12 over 5 - 35 times (32%)
11 over 6 - 39 times (36%)
Conferences and Teams Delivering the Most Upsets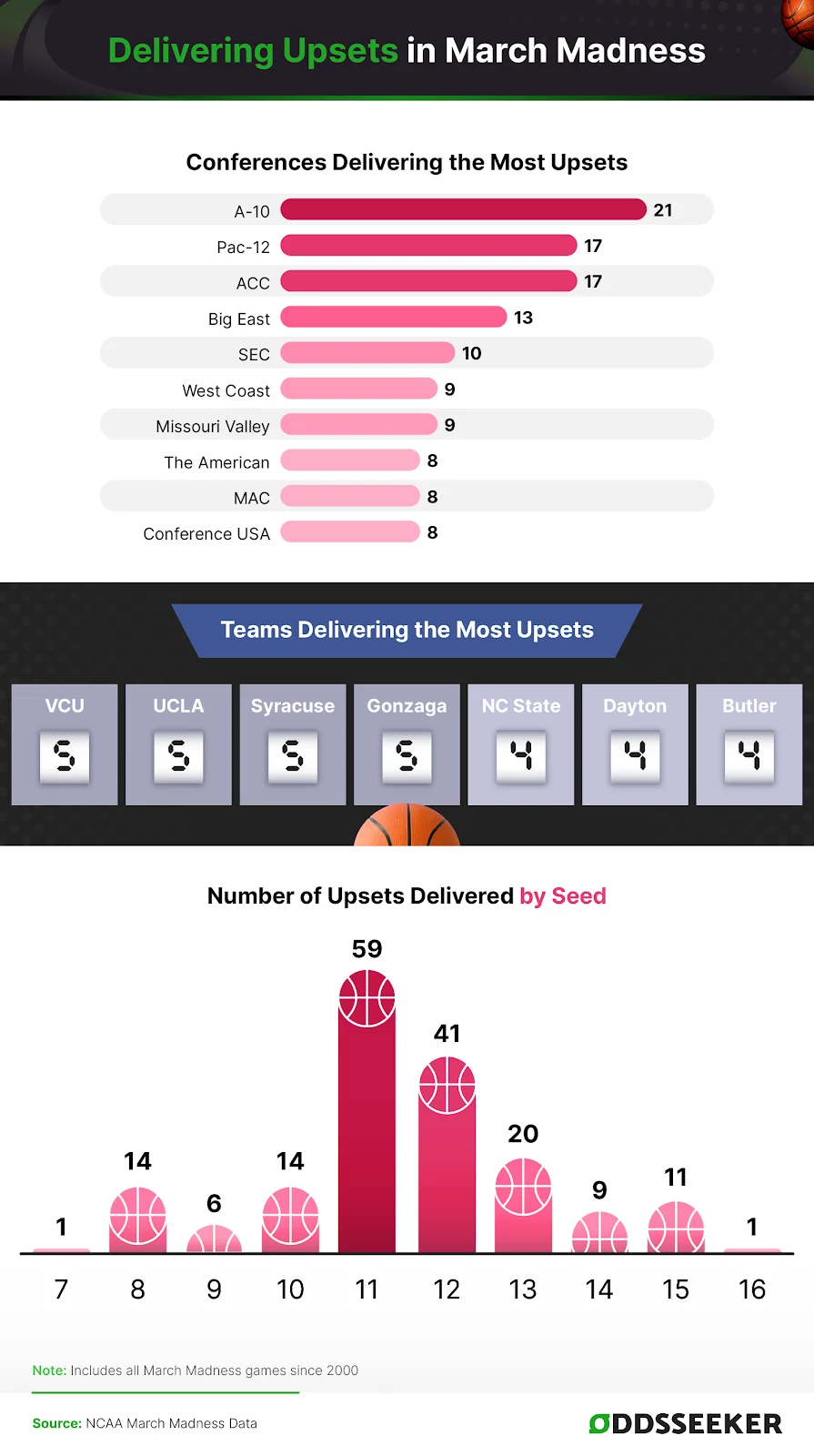 Takeaways:
Teams from the A-10 (21), Pac-12 (17), and ACC (17) have delivered the most upsets in March Madness since 2000.
VCU, UCLA, Syracuse, and Gonzaga have delivered the most upsets in March Madness since 2000 (5 per team).
No. 11 seeds were the most likely to deliver March Madness upsets since 2000 (59 total), followed by No. 12 seeds (41) and No. 13 seeds (20).
March Madness Upsets by Tournament Year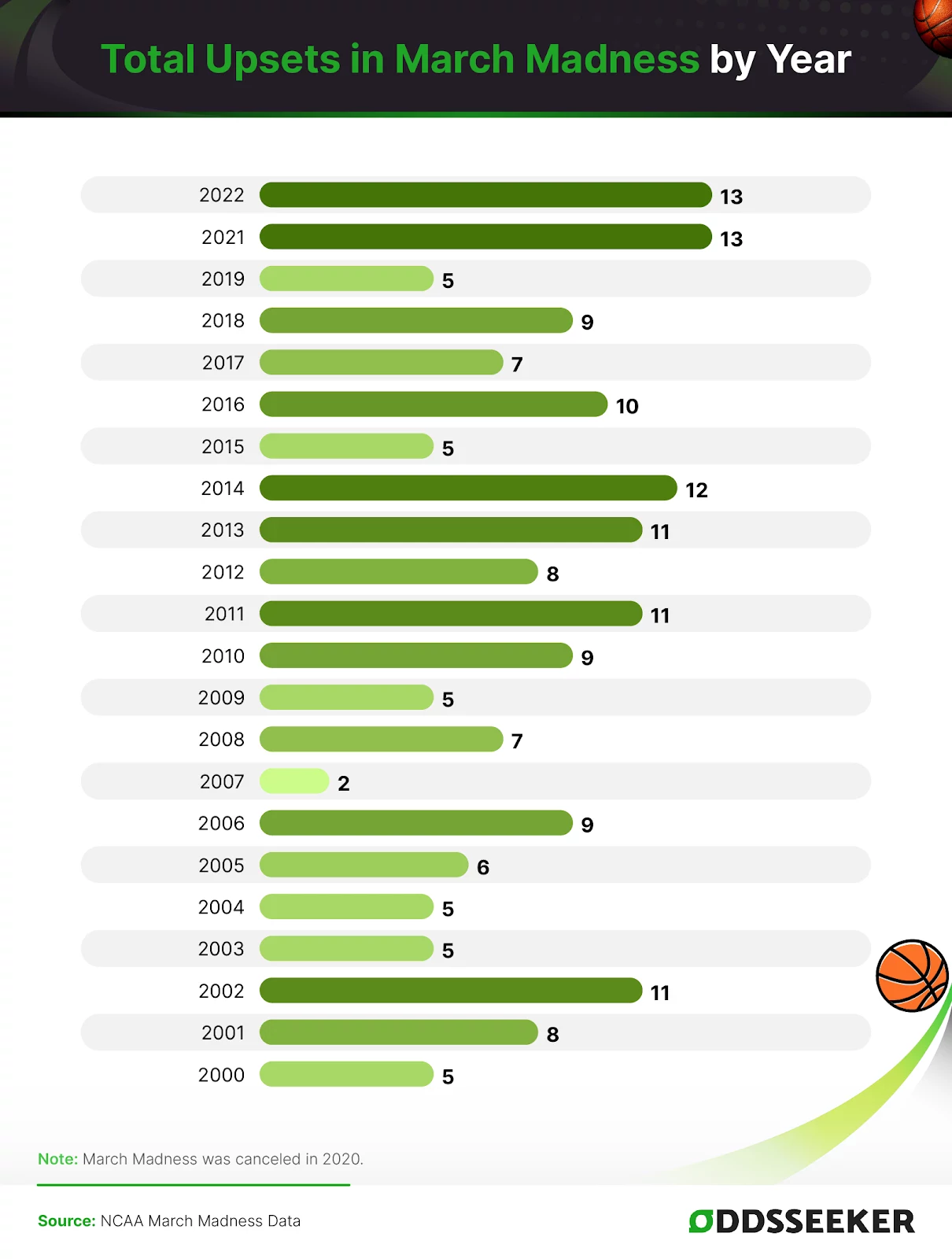 Takeaways:
Since 2000, March Madness tournaments in 2021 and 2022 saw the most upsets (13 each).
Number of top 3 seeds getting upset by year since 2010:

2022 - 7
2021 - 6
2019 - 0
2018 - 4
2017 - 3
2016 - 4
2015 - 3
2014 - 7
2013 - 4
2012 - 3
2011 - 6
2010 - 4

Since 2000, about three teams seeded No. 1, 2, or 3 have gotten upset each year during March Madness, on average.
Greatest March Madness Upsets Since 2000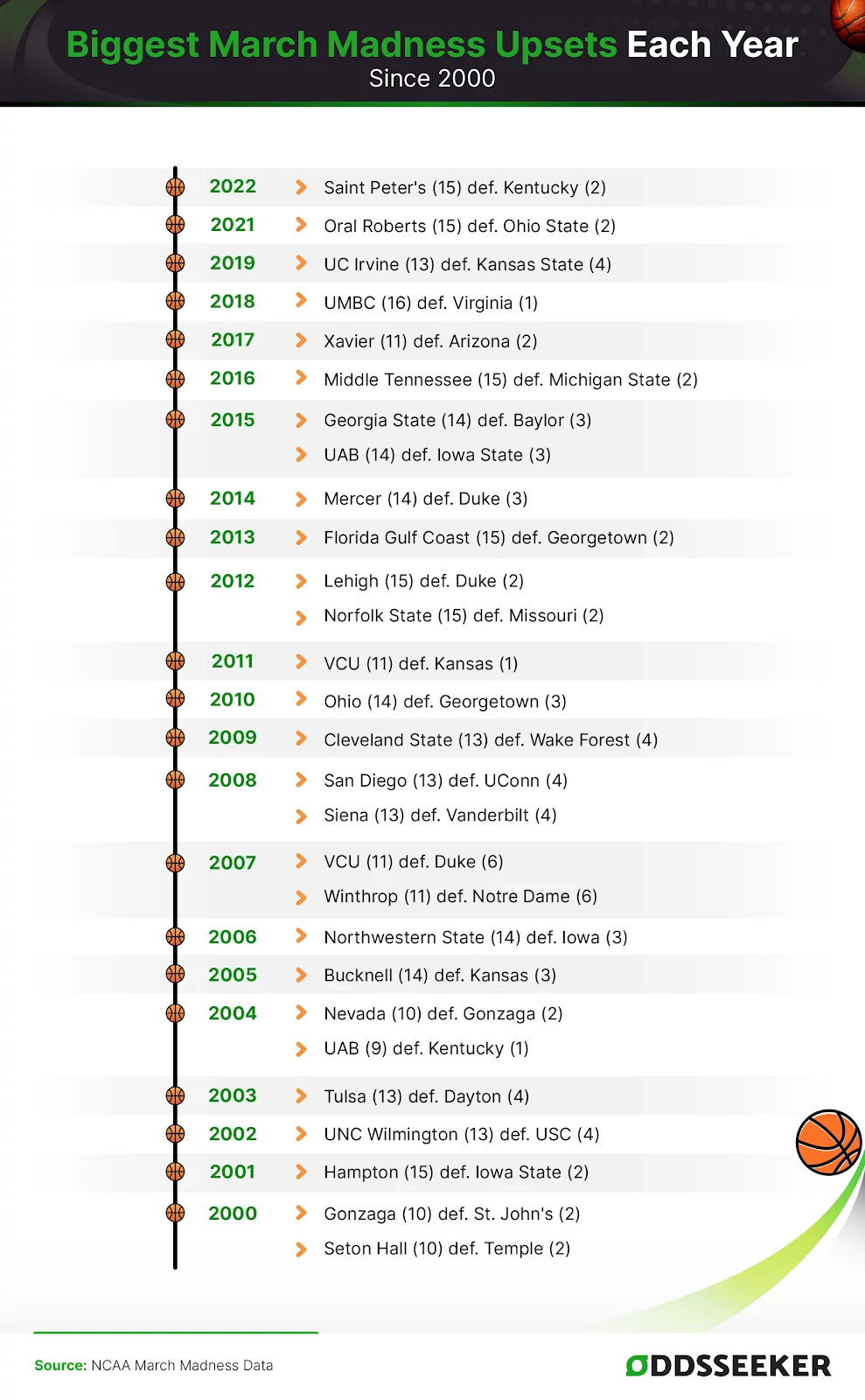 Takeaways:
The largest March Madness upset since 2000 occurred in 2018 when No. 16 seeded UMBC defeated No. 1 seeded Virginia.
In the last two March Madness tournaments, two No. 15 seeded teams (Saint Peter's and Oral Roberts) delivered first-round upsets.
Since 2000, at least one double-digit seeded team has delivered an upset each year.
Methodology
For this study, we analyzed all NCAA March Madness games ending in an upset from 2000 to 2022 (the 2020 tournament was excluded due to cancelation). An upset was defined as a victory by a team seeded five or more seeds below their opponent. Conference upset data is based on the schools that are currently in the conference.
About OddsSeeker
With over 20 years of experience with online gambling, our bonus codes and boosted odds help you win with house money.
Fair Use Statement
If you'd like to share our research for any non-commercial purpose, you're more than welcome! But please include a link to this page when you do.
Topic Expert
Andrew McDermott
Andrew's worked in the sports betting & online gaming industry since 2008! He has developed products to help gamers and bettors as well as created solutions used by some of the world's largest gaming companies; Gamesys, Gala Coral, 888, Bwin Party & more. With his deep experience working with online gaming companies in the UK, Europe, and the USA, Andrew brings extensive value to the research studies, products, and content that we create at OddsSeeker. In 2016, Andrew created BonusSeeker.com in an effort to help American gamblers find the most generous promotions available that day so that people can stretch their bankroll the farthest - for more chances to win big. In 2018, Andrew sold BonusSeeker.com to Catena Media, where he stayed for 20 months while helping them grow their US business. Immediately after leaving Catena in 2020, Andrew founded TheQNA Company to create a better version of the BonusSeeker product under the brand OddsSeeker.com & to extend that consumer-first approach to build products that help people find companies and services in healthcare and personal finance. As founder of The QNA Company, Andrew, along with our executive team, leads the strategic vision for how our network of sites helps people answer the questions they need to find their new favorite brands & products. Power to the consumer! You've got questions, we've got answers!
More about Andrew McDermott