2023 Review
Jackpocket
Why we like Jackpocket
GET $2 FREE with code ODDSSEEKER! Buy state lottery tickets online. Join public pools or start private ones. Safe and secure payouts
No Deposit Bonus
$2 FREE LOTTERY TICKETS
Licensing 📃
| | | |
| --- | --- | --- |
| | | |
| | US | ✅ Lottery Online |
Jackpocket Promotions 💰
Other Promos
$2
Promo
You Get
No Deposit Bonus - New Players Only


Jackpocket Promo Code - $2 FREE

$2 FREE

CLAIM NOW
No promotions to show
Jackpocket
Jackpocket is a lottery courier service that allows you to buy state lottery tickets through an app. This app is the preferred lottery courier service in many states and purchases lottery tickets on behalf of its users.
No need to drive to the store to purchase your lottery ticket! Simply buy one online and get a photo of your ticket emailed to you with a watermark of your name. 
Tickets are stored in a secure fireproof safe and delivered to you in the event that you win. Tickets under $600 are paid out directly through the app.
Benefits of Using Jackpocket
Authorized and legal in several U.S. states
Makes buying lottery tickets a breeze
Wins less than $600 transferred right into your account
Seamlessly join or start public or private pools
Safe, secure, and legit
Is Jackpocket Legal?
Yes! Jackpocket is currently legal in over a dozen states — but the company is currently in the process of applying for licensure in 48 states total. Hopefully, this lottery app will soon be legal in even more states, making it easier to purchase lottery tickets and cash out winnings.
While Jackpocket may seem like a novel idea, it's not the first lottery ticket courier service of its kind. Other courier services have been introduced over the years, but it seems like Jackpocket may be the one that sticks around for a while. 
The biggest difference between Jackpocket and other lottery courier services is that this company is working directly with state lotteries and registering as each state's 'official' lottery courier service. 
Founded in 2013, Jackpocket has spent nearly a decade fine-tuning its services to ensure customers get the best possible experience. 
Jackpocket is headquartered in New York and sells lottery tickets in the following states:
Arkansas
California
Colorado
Florida
Minnesota
New Hampshire
New Jersey
New York
Ohio
Oregon
Texas
Washington DC
West Virginia
Is Jackpocket Legit?
Yes, Jackpocket is also totally legit. 
It's understandable why some users may be wary of purchasing their lottery tickets from a third-party vendor. Will winning tickets be paid out or delivered within a reasonable timeframe? Are lottery tickets sold through this platform rigged? How does Jackpocket even make money?
Since Jackpocket is registered with each state and strives to become the official lottery courier service of each state, it has its name and reputation to uphold! 
Tickets are tied to their unique user's identity, so no one will accidentally receive another user's missing winning ticket. 
All tickets purchased through the app are real tickets, and players will get a scanned image of their ticket with a watermark of their name on the image emailed to the address associated with their account. All tickets are securely stored in fireproof safes under strict control policies. 
Depending on the state where you live, Jackpocket will need to follow a different set of laws. Tickets and games are tailored to players' home states. While online lottery is not available in all States, most people can play games for cash prizes at Sweepstakes casinos.
All players are encouraged to practice safe betting and follow steps recommended by each state to protect their winnings, including:
Signing the back of each ticket
Taking photos of the front and back of tickets
Sending tickets via registered mail 
Making copies of tickets and claim forms
Jackpocket Free Ticket Promo Code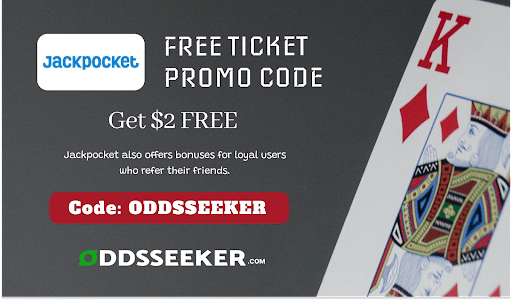 Jackpocket Promo Code: ODDSSEEKER for $2 FREE
Of course, Jackpocket wants to entice new users to try out its service! That's why the platform is sweetening the deal by offering bonuses for new users.
While these bonuses aren't as large as online casino or sportsbook bonuses, the amount is high enough to want to give Jackpocket a try.
New players who sign up for a Jackpocket account can get $3 off their first purchase. Jackpocket also offers bonuses for loyal users who refer their friends. 
For every friend you refer to Jackpocket, you get a $10 account bonus you can use toward lottery tickets purchased through the app. When you refer a friend, your referral also gets a $2 signup bonus, too!
How Jackpocket Works
Jackpocket purchases lottery tickets for your so you don't need to waste your time driving to the gas station, supermarket, drugstore, or another lottery retailer. Save the gas money and your time by purchasing your lottery tickets through the Jackpocket app instead.
Simply log into the app, pick your numbers, and enter your payment information. Jackpocket will then purchase your tickets from an approved retailer. You'll receive a scanned image of your tickets — and get a notification if you happen to win!
You can pick your own numbers or request random numbers, just as you would at a brick-and-mortar lottery ticket location.
You can even set up recurring lottery ticket orders so you don't forget to buy tickets. Jackpocket also offers a social aspect so you and your friends can all pitch in to buy tickets together!
How to Use Jackpocket
To start purchasing lottery tickets on Jackpocket, all you need is a mobile phone or another smart device. 
Follow the Link to the Jackpocket Website
Follow the OddsSeeker link and use our unique code to get the best deals on welcome bonuses. 
Download the Jackpocket App and Set Up an Account
Download the app from the Apple or Google Play stores and set up your account. Choose your payment information and save your preferences for even quicker future purchases.
Choose Your Numbers or Quick Pick
Got a few lucky numbers? You can choose your own numbers in Jackpocket's app — or simply request Quick Picks for randomized numbers, just as you would at a convenience store, gas station, or supermarket. No car ride is necessary!
Place Your Order
Place your order by choosing your payment type and paying for your lottery tickets. 
Get Your Ticket
Once your ticket has been purchased, you'll receive a confirmation email with your order details. Shortly thereafter, you'll receive an image of your ticket with a watermark of your name on it. Your ticket will be stored in a fireproof safe, so no worries about it getting lost or destroyed. 
Collect Your Winnings
No need to watch the nightly news or Google the winning numbers. If your ticket is a winner, you'll be contacted by Jackpocket! You get to keep 100% of your winnings — Jackpocket doesn't take a cut.
If you win under $600, they'll go directly into your account (in most states), and Jackpocket will redeem the ticket for you. You may withdraw your winnings directly or use your winnings to purchase more tickets!
Larger pots (per state law) need to be redeemed by the owner of the ticket. In this case, Jackpocket will securely deliver your ticket directly to you. You'll then need to follow the directions on the back of your ticket to claim your prize directly from the state lottery.
How Jackpocket Pays Prizes
Jackpocket pays out prizes of under $600 directly to you! Your prize money will be transferred into your account, and you can either transfer your winnings to your bank account or purchase more lottery tickets with them!
If your winnings are $600 or more (poor you!), you'll need to cash out your ticket manually. Jackppocket will securely deliver your ticket, which may be claimed in person — or via registered mail (as allowed by the instructions on the back of the ticket, set by your state).
Public Pools
If you and your friends purchase a ticket through a public pool, your winnings will be dispersed to each person by Jackpocket! No need to figure out who won what money or keep track of who was and wasn't paid out. Jackpocket takes care of all the admin work for you!
Private Pools
Want to split the risk and the reward with others? Join a public pool to lower costs and increase your chance of winning. Though the payout isn't as big as if you had purchased your ticket solo, you won't lose as much either if you don't win!
If you and your friends purchase a ticket (or multiple tickets!), you can go in on the winnings (or share the losses) together. Simply invite your friends and family to participate in private pools via email, social media, or text invite to get started. Jackpocket will collect money from each person who wants to participate. 
For tickets purchased through a private pool, your winnings will be dispersed to each person by Jackpocket! No need to figure out who won what money or keep track of who was and wasn't paid out. Jackpocket takes care of all the admin work for you!
Jackpocket App
The Jackpocket app is available for both Apple and Android phones. Download the app for iOS in the Apple Store or download the app for Android in the Google Play Store. Follow our link to download the app directly. 
Jackpocket Deposits 
Jackpocket deposits may be made by a variety of payment methods. These methods may vary depending on which state you live in. 
You can check out a list of payment methods accepted by Jackpocket for each state when you download the app and make your first deposit. The most popular deposit methods include the Play+ Card, PayPal, bank transfer, eCheck, credit and debit cards, and Apple Pay. 
Play+
The Play+ is the preferred way to pay at Jackpocket! In fact, the Play+ Card is the preferred way to pay at many online and land-based casinos and gambling retailers. 
It's easy to sign up for a Play+ card — it works the same as a prepaid debit or credit card. You'll receive a physical card, and you can transfer money into your account and withdraw money at most ATMs.
You can also use this card at major retailers. 
PayPal
PayPal is another popular way to deposit money at Jackpocket, though you must have a bank account linked to your PayPal account to transfer money.
Bank Transfer
Transfer money from your bank to your Jackpocket account by logging into your online banking platform directly within the app. 
eCheck
Enter your bank account and routing number into the provided fields to manually transfer money from your checking account to your Jackpocket account.
Credit and Debit Cards
Some states allow you to transfer money into your Jackpocket account using a VISA, Mastercard, or Discover card; yet, many banks do not allow you to use your credit and debit card for gambling or lottery purchases. 
Apple Pay
You may be able to use Apple Pay to transfer money from your bank account to your Jackpocket account. 
Jackpocket Payment Features
Jackpocket offers several features to make funding your account even easier! Such features include auto-funding, autoplay subscriptions, and find-a-retailer services. 
Auto Funding
If you want to keep a certain amount of money in your Jackpocket account, enable the auto-funding feature. When your account balance dips below a certain amount, Jackpocket will automatically charge your payment method and add funds to your account.
Autoplay Subscriptions
If you want to purchase tickets automatically for drawings, enable the autoplay subscription feature. This will automatically buy tickets for you for every game you want to play. 
Find a Retailer
Want to buy tickets the old-fashioned way? You can search for brick-and-mortar lottery retailers using the find-a-retailer function.
Jackpocket Fees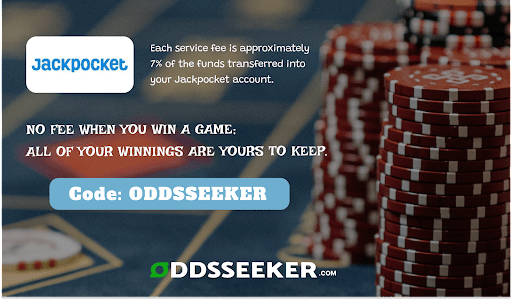 Jackpocket charges service fees whenever you fund your account (this is how Jackpocket makes money!). Each service fee is approximately 7% of the funds transferred into your Jackpocket account. 
You'll never be charged a percentage or fee when you win a game; all of your winnings are yours to keep. 
All fees are disclosed before they are charged.
Jackpocket Responsible Gambling
Like many online gambling and lottery platforms, Jackpocket takes responsible gambling very seriously. 
Each state sets forth rules and regulations each online gambling and lottery retailer must abide by when it comes to responsible gambling. 
This is why you're encouraged to set up spending and deposit limits. You can do this on a daily, weekly, or monthly basis. Per state laws, online gambling and lottery platforms must also set a daily cap for spending. Jackpocket sets its limit at $100 a day for spending and $285 per day for deposits. 
You can also set a self-exclusion period of 30, 60, or 90 days.
9.7
No Deposit Bonus
$2 FREE LOTTERY TICKETS