Best Offers
Jackpocket Promotions
No Deposit Bonus
$2 FREE LOTTERY TICKETS
Jackpocket Promotions
Other Promos
$2
Promo
You Get
No Deposit Bonus - New Players Only


Jackpocket Promo Code - $2 FREE

$2 FREE

CLAIM NOW
No promotions to show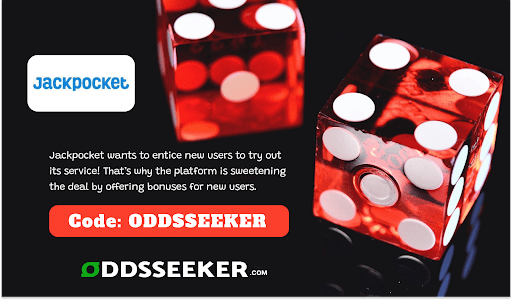 While online sports betting and online casino gaming is still a relatively new concept, the idea of state-regulated gambling has been around for decades. Before the days of online slots and roulette tables, there was the good old-fashioned state lottery, which is still being operating in 45 of the 50 US States.
The states without a lottery are:
Alabama
Alaska
Hawaii
Mississippi
Nevada
Utah
But in this era of instant gratification and online purchasing, many feared that the state lottery would start to die once other online wagering operators began to arise. Well, those concerns quickly washed away once Jackpocket came on the scene.
Jackpocket is a lottery courier service that allows you to buy state lottery tickets all through an app on your phone. No more having to drive to the local gas station or convenience store, you can enter to win millions from the comfort of your own home–no pants required!
Jackpocket is available in the following states:
Arkansas
California
Colorado
Florida
Minnesota
New Hampshire
New Jersey
New York
Ohio
Oregon
Texas
Washington DC
West Virginia
Jackpocket is 100% legit, and is registered with each state's lottery in order to ensure state-of-the-art customer service and proper payouts!
The best part about Jackpocket though is their incredible promo code and new user bonus! If you're not living in a state with legal online lottery, you can win prizes online playing Sweepstakes casino slots like Chumba Casino.
Jackpocket Promo Code–No Deposit Bonus
If you use the promo code ODDSSEEKER upon registration for Jackpocket, you will receive a FREE $2 bonus–no deposit required! So that's a free lottery ticket, just for signing up! And if you happen to hit a number right, that one free lottery ticket becomes a second free lottery ticket, just like that!
The New York Lottery Jackpot is currently up to $100 million and is showing no signs of slowing down–if you sign up for Jackpocket with promo code ODDSSEEKER, you can have a chance at claiming that jackpot for FREE.
9.7
No Deposit Bonus
$2 FREE LOTTERY TICKETS