2023 Review
Resorts World
Editor's Opinion of Resorts World
This online sportsbook app touts some pretty extensive integration features for use at physical land-based Resorts World locations, and is SURE to make a splash when it finally launches in NY!
Resorts World Promotions
There are currently no promotions available for Resorts World. Find the best gambling promo codes from other operators on OddsSeeker!
Key Information About Resorts World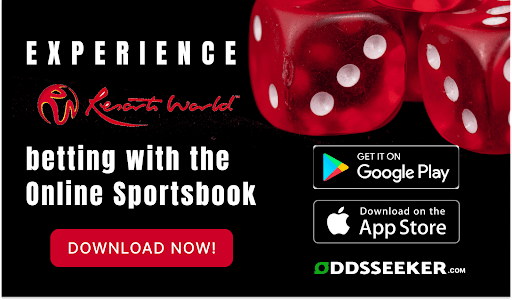 Since 1998, Resorts World has had a storied history as a trailblazer in the gaming and betting industries, serving both the Catskills in upstate New York, as well as Las Vegas and the greater Nevada area, AKA Sin City, AKA The Unofficial Gambling Capital of The World, Shotgun Wedding Capital of The World, Entertainment Capital of The World, AKA you get the point.
But even if you aren't able to come to one of the two land-based locations, you can still get a taste of the Resorts World betting experience in the form of Resorts World Online Sportsbook, accessible on most desktop and laptop web browsers, and across most Android and iOS mobile devices.
You know the saying, what happens in Vegas stays in Vegas, right? Well, as the New York State Gaming Commission recently announced that Resorts World is one of nine sportsbooks set to inaugurate online sports betting in the area, it's staying there no longer!
Whether you're looking to start online betting right now in Nevada, or want to know what you're in for when the Resorts World sportsbook finally arrives to the New York sports betting scene, you can read our full in-depth review to understand what you can expect, and how you can get started!
Resorts World Sportsbook Login
First and foremost, whether you're a square or sharp bettor, signing up for Resorts World Online Sportsbook is easy, simple, and near effortless. All you need to do is:
Be a Nevada (or soon, New York) resident aged 21 or older
Download the mobile app or click the sign up button on the Resorts World site
Provide your real name, username, age verification, and login details
Sign off on the bonus terms and conditions
Place your first deposit and get to some exciting sports betting action!
Unfortunately, you can only currently place first deposits at physical, land-based Resorts World locations, but after you've done that, you can then start placing them anywhere! Once you're able to get to betting, you can then take full advantage of the app's wondrous perks! The sportsbook app touts superb features like:
Book your room
Earn real-time rewards
Order from Resorts World's restaurants
Quick deposits and withdrawals
The capability to bet on all sports
An expedient wagering process
The freedom to bet 24/7 
We'll explain the Resorts World app's features more extensively below, as well as what exactly that vast wagering freedom entails. In the meantime, here are some of the wagers, sports, features, promos, and perks you can look forward to taking advantage of on Resorts World Online Sportsbook.
Resorts World Casino Sports Betting / Resorts World Sportsbook App Features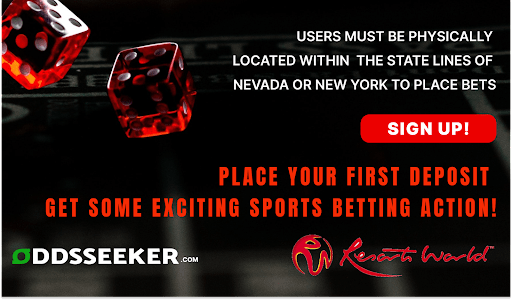 Even if you can't head down to Las Vegas or New York to enjoy the live, in-person Resorts World sports betting experience just yet, you can still get a pretty big taste of it on your phone or web browser. Users must be physically located in Nevada (or soon, New York) state lines to place bets.
Regardless of your level of sports betting experience, expertise, or knowledge overall, the Resorts World online sportsbook does a great job at making the experience accessible, fun, and not terribly hard to follow. The user interface is minimalist, simplistic, and straightforward as straightforward can be.
On most days, you can bet on at least 20 different sports, across the most popular leagues around the country and the world at large. Some of those sporting events include:
Football
Soccer
Basketball
Hockey
Boxing
Rugby
MMA
Tennis
Cycling
Baseball
Golf
Motorsports
Aussie Rules
Cricket
Tennis
All of that adds up to a myriad of different contests which you'll be able to place a myriad of different wagers on, such as:
Single bets
Spread bets
Moneyline bets
Teaser bets
Parlay bets
Future bets
Odds boost bets
Live bets
Prop bets
Middle bets
Total bets
Round robin bets
Free bets
Like what you see? The Resorts World Online Sportsbook regularly runs free bets, live bet, and boosted odds bets for the taking. Be sure to keep up with these offers regularly, and be sure to sign up for our mailing list to stay in the loop. Beyond the land-based sportsbook integration, the Nevada iteration of the app also touts integrated casino features, but only social online casinos are legal in New York.
With that in mind, expect Resorts World Online Casino to make an even slower journey to New York State, assuming it launches there at any capacity in the years to come. Even so, if you'd still like to get a taste of the legal online casino gaming experience in the Empire State, you can CLICK HERE to sign up for Chumba Casino with two free sweeps tokens, and learn more about the platform in our full in-depth review by clicking HERE.
Resorts World Sportsbook Loyalty Rewards Program
The app is powered by IGT, a renowned name in the iGaming industry, and accepts what is known as Genting Rewards. You can use these Reward Points at both the Resorts World Catskills and Nevada locations, and use them at land-based gaming locales in other countries like:
Egypt
Korea
China
United Kingdom
Singapore
Malaysia
Bahamas
Philippines
Resorts World Sportsbook Withdrawal Methods + Deposit Options
Here are some great, fast, and convenient ways to deposit and withdraw money from both Resorts World Sportsbook and Resorts World online casino:
E-check
Credit or debit cards
Online Banking
Neteller
PayPal
PayNearMe
Resorts Card
There's a lot of ways you can pay to play, and plenty of ways in which you can get paid off that play! It's easy to get started, and plenty easy to start off on the right foot playing Resorts World Online Sportsbook and Casino Apps!
If you run into trouble though, Resorts World offers plenty of support resources for users on both of it's apps. Here's what you should understand regarding both.
Resorts Sportsbook Online Support Resources
If you ever run into trouble while using the Resorts World Online Sportsbook App or Resorts World Online Casino App, you can count on Resorts' support services 24 hour a day, 7 days a week, and 365 days a year!
To reach Resorts World's customer service team, you have three easy, breezy, and seamless ways you can get ahold of them:
By phone
By email
By their social media
By real-time live chat, if you access it within the app
Furthermore, if you're struggling with maladaptive gambling habits, you can always reach 1-800-GAMBLER for support.
Resorts Sportsbook - Conclusion
All in all, we would rate Resorts World Online Sportsbook and Casino a solid 7.5 out of 10. It has some inconveniences, is a little sparse on access locations at the moment, and the deposit and withdrawal methods, while not terribly slow, also aren't the fastest on the market.
That said, Resorts World does a great job emulating its offline Las Vegas experience into a convenient online one, the Resorts World brand has a storied history as a trailblazer in the gaming industry, and it's reasonable to assume that they'll work out these kinks with time.
If you're in Nevada you can sign up for Resorts World Sportsbook and Casino today to get started, but if you're in New York, you can follow our mailing list and check back here for any updates on future Resorts World launch promotions!
Resorts World Sportsbook NY
As we've repeatedly stressed throughout this review, Resorts World first made its bones in the greater Las Vegas, Nevada area, of course, the de facto gambling capital of the world. It's long been a popular name in the local gaming industry there, and even with areas that have long had more restrictive gambling laws like New York State, Resorts World has and continues to thrive, in the face of both economic and societal adversities that the entire world has continued to grapple with in light of the COVID-19 pandemic.
For over two decades (since 1998), the gaming industry dynamo has operated a successful casino resort upstate around New York's beautiful Catskill Mountains region. Since then, the brand has grown so big that it's since gone on to expand to the New York City metropolitan area, which doesn't just encompass one of the largest in the country, but the entire world.
How large of an area does that encompass? Well, according to mapsof.net:
There are 34 countries in Europe with a population smaller than New York City
There are 20 countries in Asia with a population smaller than New York City
There are 6 countries in South America with a population smaller than New York City
There are 26 countries in Oceania with a population smaller than New York City
So, in translation, it's pretty, pretty freaking big. And on top of what's begun as an already big online sports betting launch in January 2022 (as we reported, they launched with a record-setting 17 million unique location checks), Resorts World is among the remaining five of ten online sportsbooks set to launch in New York State over the near future!
When it goes live in New York State, it will accompany all of the below nine renowned online sportsbooks:
Rush Street Interactive Online Sportsbook
If you're curious about what any of the above sportsbooks will have to offer in New York State, you can click on their respective hyperlinks for a full in-depth review! Furthermore, five other online sportsbook operators reportedly submitted bids to launch in the New York State sports betting markets, but have yet to have those bids successfully approved. Those five sportsbooks in question are:
Fanatics Online Sportsbook
It's not a given that these online sportsbooks will get the greenlight in the New York State online sports betting market, whether in the near future or at all. But if you're wondering what you can expect should any one of the above five online sportsbook operators launch in the New York State, you can click THOSE hyperlinks for THOSE online sportsbook reviews. Capisce?
As for Resorts World New York's online sportsbook app, fans and future New York sports bettors can collectively expect the same features, wagering options, odds lines, and an overall identical experience to the sort they could expect on the Nevada iteration of the online sportsbook app, as well as a heavy emphasis on integrated use at their land-based casino locations.
With the Omicron variant hopefully waning by Spring of 2022, it should be an opportune time to head out to Resorts World NYC or their Catskills Casino to place your first deposit and sign up for the online sportsbook! After you've placed a deposit at one of their physical land-based casino locations, you'll then be able to place deposits from anywhere online via Resorts World sportsbook, whether you're accessing it through most computer web browsers, or via most iOS or Android mobile devices.
Once you've finally signed up for Resorts World Sportsbook, you'll be able to wager on a multitude of different types of bets, including:
Single bet wagers
Spread bet wagers
Parlay bet wagers
Moneyline bet wagers
Future bet wagers
Round robin bet wagers
Prop bet wagers
Middle bet wagers
Over/under bet wagers
Point total bet wagers
Live bet wagers
Free bet wagers
Odds boost bet wagers
  If you want to wager it on Resorts World, you probably can! The app allows you to wager on major sporting events like:
Rugby Leagues
MMA Fights
Tennis Matches
Football Games
Soccer Games
Basketball Games
Baseball Games
Golf Games
Hockey Games
Boxing Matches
Aussie Rules
Cricket Matches
Cycling Races 
Motorsports Races
While the Resorts World app is lacking in some features found in more popular online sportsbooks, it's bound to make a big splash when it finally launches in the Big Apple. Unfortunately, you can't currently take advantage of any welcome bonus promotions or pre-launch bonuses for Resorts World Online Sportsbook quite yet, but you can follow our mailing list to stay in touch, get future Resorts World online sportsbook updates, and learn more about future New York online sportsbook launches.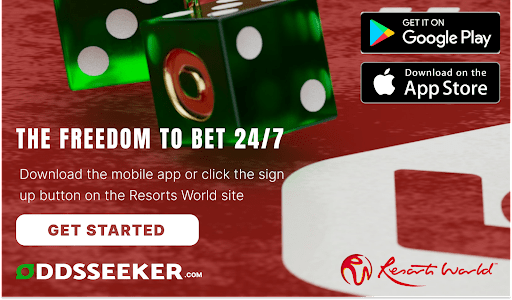 7.5