America's Favorites in the NBA and NHL (2023)
Image © OddsSeeker.com
What Google Search & ChatGPT Say About The 2023 Playoffs
The 2023 championship season is upon us—who are you rooting for this year? To see which NBA and NHL teams Americans favor, we studied Google search data from all 50 states. We also asked ChatGPT to predict this year's conference finals, championship matchups, and winners of the NBA Finals and the Stanley Cup. See if you agree with what it had to say!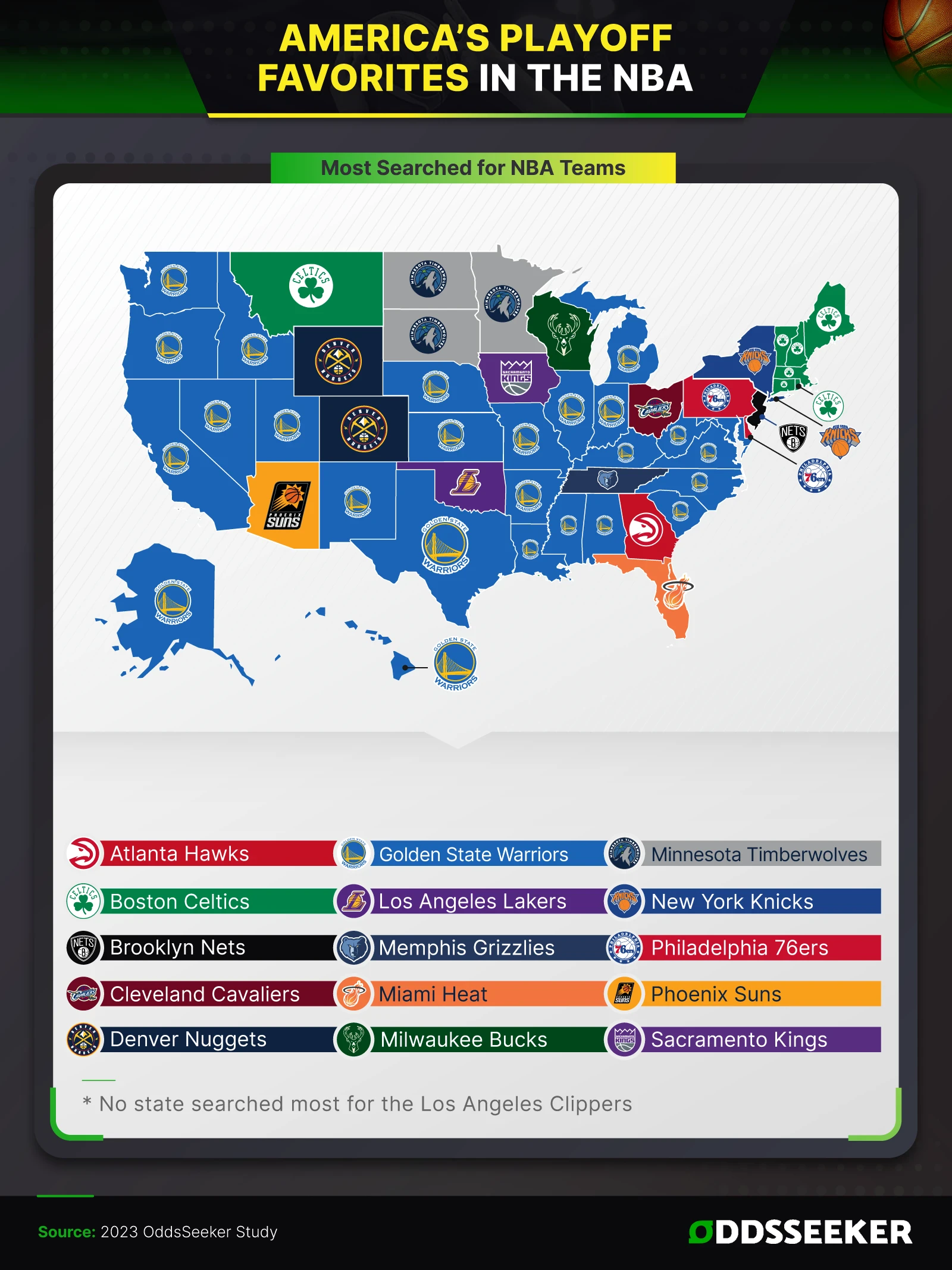 Key Takeaways
While most of the country is rooting for the Golden State Warriors of California, Oklahoma is the only state rooting for the Los Angeles Lakers.

As expected, the Boston Celtics reign supreme in the Northeast (Maine, Vermont, New Hampshire, Massachusetts, Connecticut, and Rhode Island), but the team also ranks No. 1 in Montana.
Based on current standings and previous team performances, ChatGPT predicted the following 2023 NBA results:
Conference finals:

Milwaukee Bucks vs. Philadelphia 76ers
Denver Nuggets vs. Memphis Grizzlies

Championship matchup:

Philadelphia 76ers vs. Denver Nuggets

NBA champions: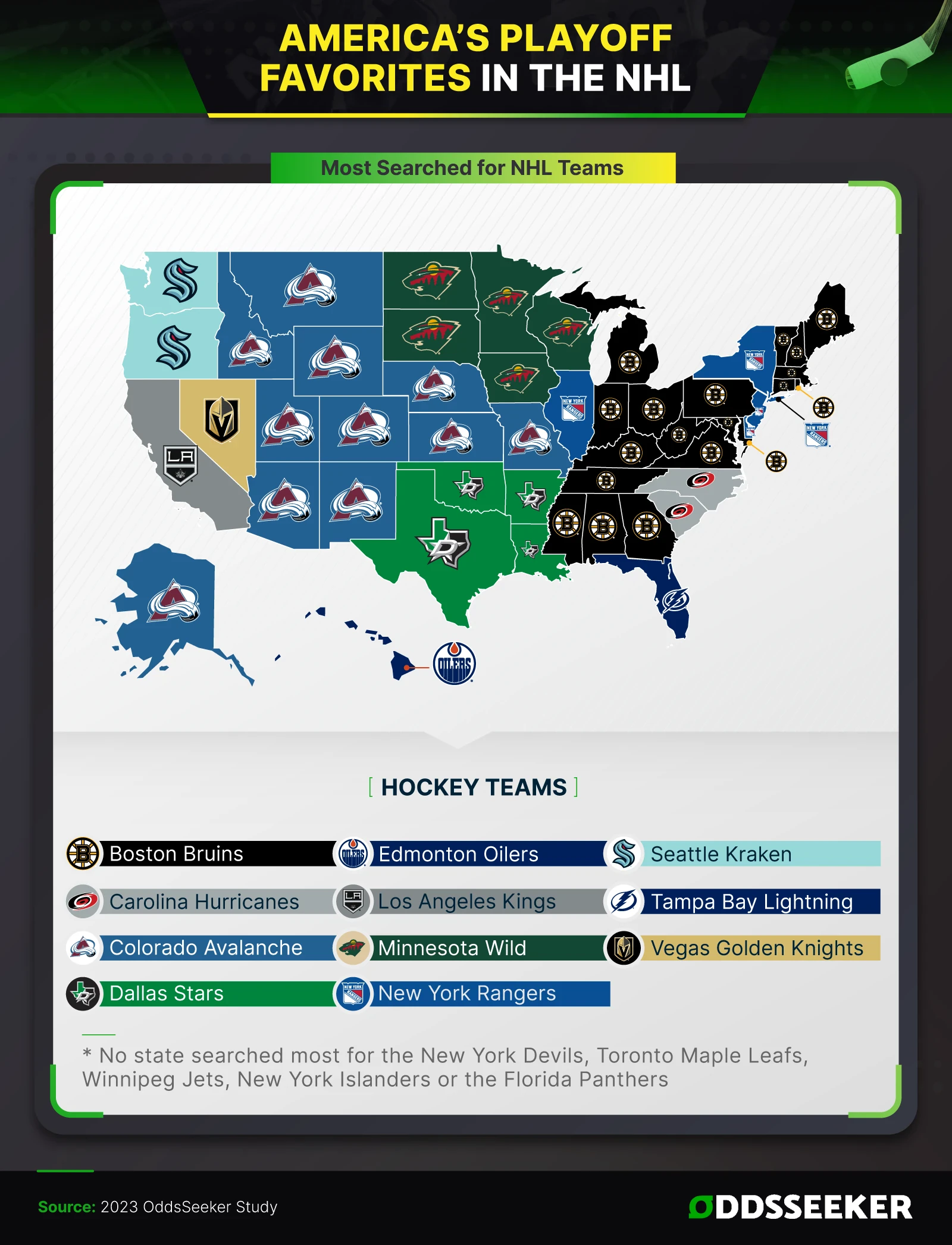 Key Takeaways
The Boston Bruins dominate fan rankings in the eastern U.S., while the Colorado Avalanche are favorites in the west.
Based on current standings and previous team performances, ChatGPT predicted the following 2023 NHL results:
Final four teams:

Boston Bruins vs. Carolina Hurricanes
Colorado Avalanche vs. Golden Knights

Championship matchup:

Boston Bruins vs. Colorado Avalanche

Stanley Cup winners:
Hoist That Trophy High
While we don't know if ChatGPT's predictions will come true, we do know that Americans agree with its pick of the Boston Bruins for Stanley Cup champions this year. We'll just have to tune into the NHL playoffs to see what happens. As for the Final Four, the Philadelphia 76ers aren't the favorites of many fans—that title goes to the Golden State Warriors—but ChatGPT predicts the Sixers will win it all.
Methodology
OddsSeeker looked at Google Trends search data from March 2023 to see which NBA and NHL team each state is rooting for. We also gave ChatGPT the 2022-23 results and current playoff results (as of April 24, 2023) to generate playoff predictions. 
About OddsSeeker
OddsSeeker helps gamers win more cash when playing online games. We offer comprehensive lists of no-deposit bonus codes, first-deposit bonus codes, risk-free bets, boosted odds, and daily promotions for sweepstakes casino sites, sports betting apps, and online casinos.
Fair Use Statement
Have your own NBA and NHL predictions for this season? Please feel free to share this article for non-commercial purposes only; you must provide a link back to this page so readers can access the full study.