ChatGPT's NBA & NFL Playoff Predictions For 2023
Image © OddsSeeker.com
Written by:
Andrew McDermott
, Founder
What Google Search & ChatGPT Say About The 2023 Playoffs
The 2023 championship season is upon us—who are you rooting for this year? To see which NBA and NHL teams Americans favor, we studied Google search data from all 50 states. We also asked ChatGPT to predict this year's conference finals, championship matchups, and winners of the NBA Finals and the Stanley Cup. See if you agree with what it had to say!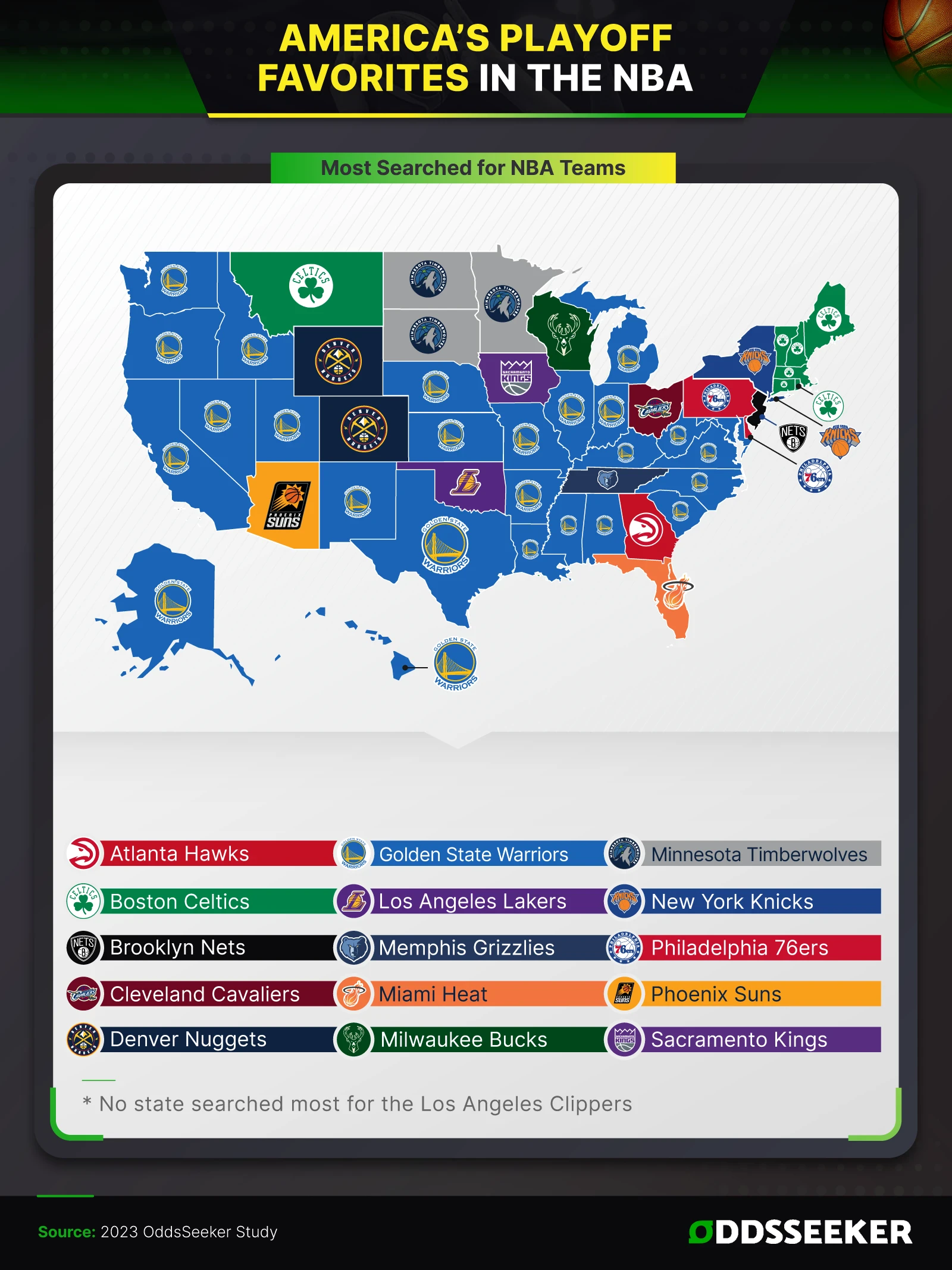 Key Takeaways
Based on the tournament performances up to May 30th, ChatGPT predicts the Denver Nuggets to win the NBA championship.
Based on current standings and previous team performances before the playoffs began, ChatGPT predicted the following 2023 NBA results:

Conference finals:

Milwaukee Bucks vs. Philadelphia 76ers
Denver Nuggets vs. Memphis Grizzlies

Championship matchup:

Philadelphia 76ers vs. Denver Nuggets

NBA champions:

While most of the country is rooting for the Golden State Warriors of California, Oklahoma is the only state rooting for the Los Angeles Lakers.
As expected, the Boston Celtics reign supreme in the Northeast (Maine, Vermont, New Hampshire, Massachusetts, Connecticut, and Rhode Island), but the team also ranks No. 1 in Montana.
If you are a Nuggets or Sixers fan and want a slice of the action, you can place future bets through a bevy of online sportsbooks. BetRivers Sportsbook, which is available in both Colorado and Pennslyvania, is a great place to make those wagers due to their generous promotions. Right now, the BetRivers no deposit bonus grants users a free spin for a chance to win $1000.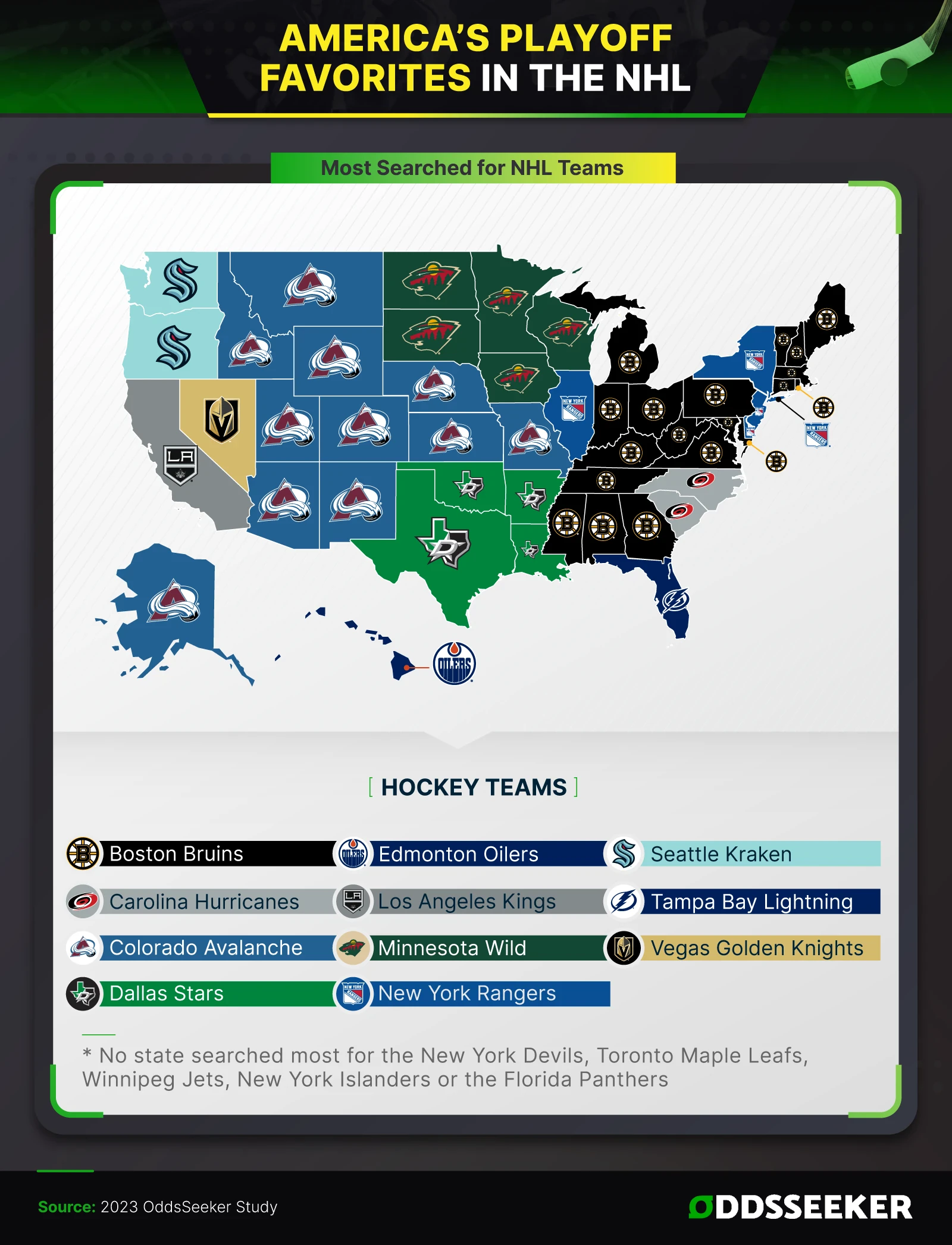 Key Takeaways
Based on the tournament performances up to May 30th, ChatGPT predicts the Vegas Golden Knights to win the Stanley Cup.
Based on current standings and previous team performances before the playoffs began, ChatGPT predicted the following 2023 NHL results:

Final four teams:

Boston Bruins vs. Carolina Hurricanes
Colorado Avalanche vs. Golden Knights

Championship matchup:

Boston Bruins vs. Colorado Avalanche

Stanley Cup winners:

The Boston Bruins dominate fan rankings in the eastern U.S., while the Colorado Avalanche are favorites in the west.
Hoist That Trophy High
While we don't know if ChatGPT's predictions will come true, we do know that Americans agree with its pick of the Boston Bruins for Stanley Cup champions this year. We'll just have to tune into the NHL playoffs to see what happens. As for the Final Four, the Philadelphia 76ers aren't the favorites of many fans—that title goes to the Golden State Warriors—but ChatGPT predicts the Sixers will win it all.
If you want to back ChatGPT's prediction, you can try your luck and place a future bet. Check out these sports betting promotions to make sure you're getting the best offer.
Methodology
OddsSeeker looked at Google Trends search data from March 2023 to see which NBA and NHL team each state is rooting for. We also gave ChatGPT the 2022-23 results and current playoff results (as of April 24, 2023) to generate playoff predictions. We then asked ChatGPT on May 30th to make a championship prediction based on the teams' performances during the playoffs.
About OddsSeeker
OddsSeeker helps gamers win more cash when playing online games. We offer comprehensive lists of no-deposit bonus codes, first-deposit bonus codes, risk-free bets, boosted odds, and daily promotions for sweepstakes casino sites, sports betting apps, and online casinos.
Fair Use Statement
Have your own NBA and NHL predictions for this season? Please feel free to share this article for non-commercial purposes only; you must provide a link back to this page so readers can access the full study.
Topic Expert
Andrew McDermott
Andrew's worked in the sports betting & online gaming industry since 2008! He has developed products to help gamers and bettors as well as created solutions used by some of the world's largest gaming companies; Gamesys, Gala Coral, 888, Bwin Party & more. With his deep experience working with online gaming companies in the UK, Europe, and the USA, Andrew brings extensive value to the research studies, products, and content that we create at OddsSeeker. In 2016, Andrew created BonusSeeker.com in an effort to help American gamblers find the most generous promotions available that day so that people can stretch their bankroll the farthest - for more chances to win big. In 2018, Andrew sold BonusSeeker.com to Catena Media, where he stayed for 20 months while helping them grow their US business. Immediately after leaving Catena in 2020, Andrew founded TheQNA Company to create a better version of the BonusSeeker product under the brand OddsSeeker.com & to extend that consumer-first approach to build products that help people find companies and services in healthcare and personal finance. As founder of The QNA Company, Andrew, along with our executive team, leads the strategic vision for how our network of sites helps people answer the questions they need to find their new favorite brands & products. Power to the consumer! You've got questions, we've got answers!
More about Andrew McDermott