Highest-Paying Jobs In Sports Betting - OddsSeeker Research
Image © John Shishmanian/ NorwichBulletin.com / USA TODAY NETWORK
If you work in the industry like us, you start to notice some trends. One of those trends is the increase of jobs in the sports world, particularly, in the world of sports betting.
Because of this trend, we decided to take a look at some of the reasons why, but more importantly, which are (now becoming) the highest paying jobs in sports betting.
Why Jobs in Sports Are Growing
The legalization of sports betting across the nation has significantly expanded employment opportunities in sports, giving thousands of Americans a new chance to turn their pastime into their paycheck. By 2028, Zion Market Research predicts that sports betting and online sports betting will nearly be a $180 billion dollar industry - which will lead to continued growth in employment opportunities.
If you love sports and happen to be eyeing a new job, now is a great time to get into the industry. OddsSeeker has produced this informative outline of the highest-demand, highest-paying sports betting jobs in the business.
Sports Betting Jobs: Which Are The Most Lucrative?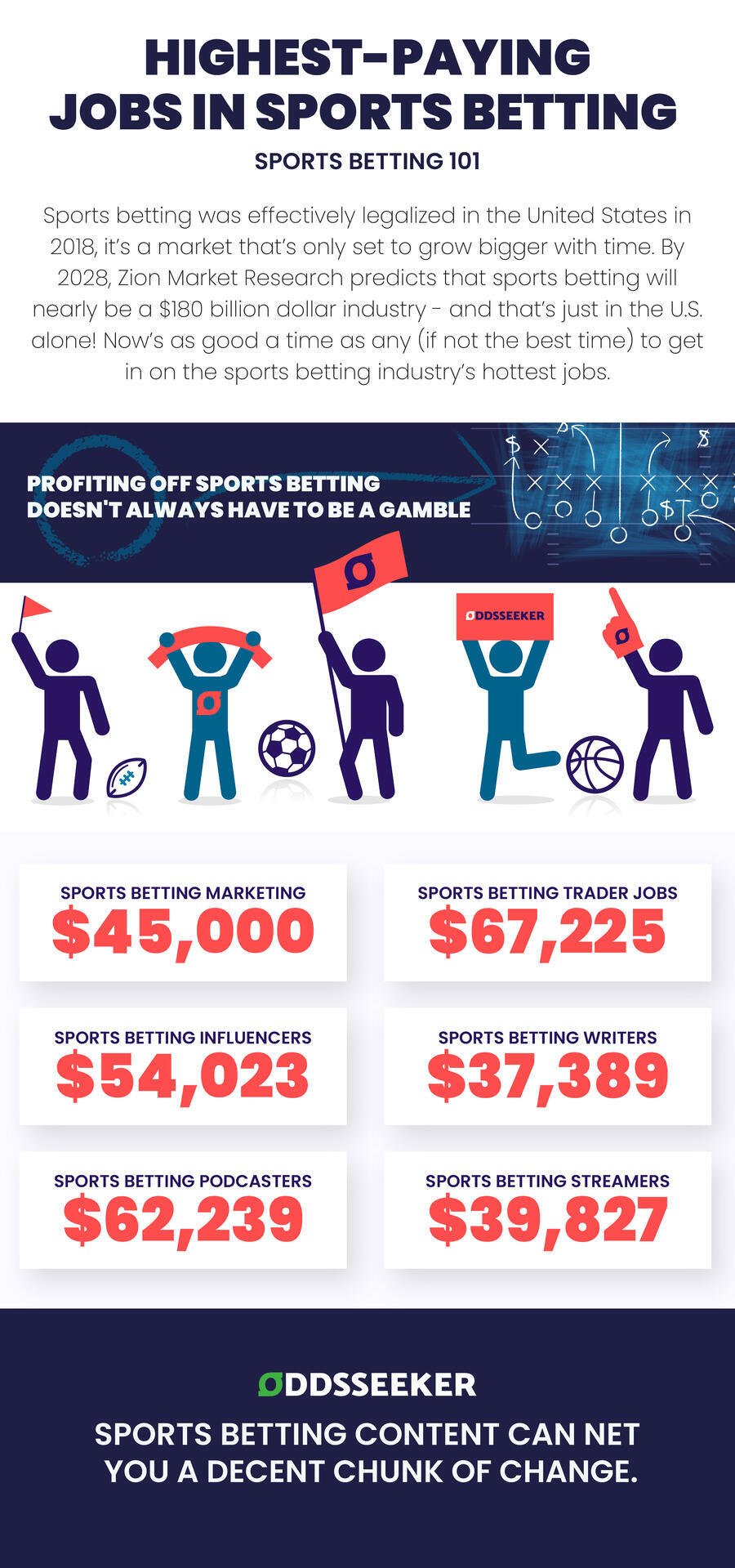 In the sports betting industry, for better or worse, content is king. The substance of what you're betting on, as well as what oddsmakers and bookmakers formulate bets around, all comes down to fixating on content.
It's the reason why you're likely to see considerably more wagers placed on the Paul Brothers than the grizzled, granite-jawed fighter duking it out at your local boxing club, even though his pinkies probably carry more power and lethal force than Jake Paul's punch hands could ever hope to carry.
So as a hugely public-facing and public-focused industry, it makes sense that most of the hottest jobs in sports betting (which happen to bleed over into iGaming, like with online casinos and sweepstakes casinos who are looking for an increased social presence) are tied to social media and marketing. If you don't already have one, you may want to consider pursuing a Bachelor's Degree (at the very least, a Bachelor's) from an accredited four-year higher education institution with a major emphasis on communications, business, and/or data analytics.
Some schools, like Ohio University and the University of New Hampshire, are actually beginning to offer courses, curriculums, and certificates geared entirely around the sports betting industry! Now's as good a time as any (if not the best time) to get in on the sports betting industry's hottest jobs, though you should keep in mind that certain degrees are better suited for certain jobs than others.
But without further ado, and in no particular order, here are seven of the sports betting industry's hottest, highest-paying, and most in-demand jobs.
1.) Sports Betting Marketing $45,000
Academic Marshall McLuhan famously said that "the medium is the message", and that's especially true in the case of marketing sports betting brands. To promote sportsbooks, you need to do so in a way that potently runs the gamut across all sorts of mediums, pushing messages that resonate with all sorts of niche:
Sports fans

Sports betting markets

Novice squares

Experienced sharps

Total newcomers
Betting lines and point spreads will look vastly different depending on which odds system you use, which sport you're betting on (some games will be higher scoring than others), and how familiar you are with the betting market.
It's a tricky balance to strike, creating messages that are universally resonant, while also staying resonant to particular niche markets and niche bettors. But if you have a professional background in marketing or communications and think you can strike that balance, you could potentially strike some decent money!
Paraphrasing an Indeed guide on the matter, here are the current average annual salaries of 15 high-level, in-vogue, in-demand marketing jobs:
Community manager: $46,402

Social media manager: $50,391

PR manager: $53,839

Media planner: $56,111

Content manager: $57,506

Account manager: $62,053

Global manager: $63,494

Digital strategist: $64,460

Data analyst: $68,326

 Brand manager: $69,835

Market analyst: $69,911

 Business analyst: $78,072

 Marketing director: $83,903

 Marketing manager: $109,289

 Data scientist: $127,764
As you can see, there are a lot of ways you can work your way up as a sports betting marketer, but even if you're just starting out, the entry-level base marketer salary is pretty shabby; $45,000, according to Indeed.
2.) Sports Betting Trader $67,225
Just as there are professional traders who buy and sell stocks for a living, there are indeed professional traders who make a living buying and selling sports bets. Professional sports traders need to have their finger placed carefully on the pulse of the markets, and need to know precisely when to make careful decisions like:
When to lay (bet on an outcome not happening)

When to "back" an outcome happening

When to complete trades

Where to find the most lucrative bang for their buck

Where to assess potential risks on a bet

How to compile (and in some cases, create) the most relevant odds
To strike gold and really have that "bang" pop off, traders need to identify bets that are underpriced compared to their actual value in reality.
The sportsbooks themselves often call upon these professional traders to help them shape and support their overall product. To offer you a better idea of what these sportsbooks are looking for, you should review these two recent job listings posted by Kambi and BetMGM.
Now, specific job requirements will vary depending on the particular company, but these needs will generally remain the same. Now that the Supreme Court has effectively paved the path for States to legalize sports betting nationwide, you should only expect more and more betting markets to open up and require having these particular needs met.
Prospective sports traders should pursue degrees focused on mathematics, statistics, and/or economics, and should already have an intimate familiarity with the game(s) they're trading over. Career sports traders can expect to accrue a decent chunk of change each year, as Glassdoor pegs their average national salary around $67,225 per year.
3.) Sports Betting Influencers $54,023
As part of a hugely public-facing industry, it makes sense that sports betting brands would want to have their brands represented by hugely public faces. That's why more and more of them are turning toward influencers to represent their brand, be they on social media or on their own website.&
Love him or hate him, Dave Portnoy's image is synonymous with Barstool Sports. Likewise, if you've seen any BetMGM Sportsbook ads as of late, then you've probably seen Jamie Foxx making the rounds as the company's new public face, or J.B. Smooth making his rounds for Caesars Sportsbook.
Now, you're likely not as famous as the guy who makes headlines for his pizza reviews and horribly bad investment or betting decisions, or the guy who played Electro in the most mediocre Spider-Man trilogy. Even so, sportsbooks are still always on the lookout for new sports betting influencers and brand ambassadors to represent them across Twitter, Instagram, and other major social media platforms.
According to Glassdoor, the national average (meaning non-J.B. Smooth) social media influencer salary in the U.S. amounts to $54,023 per year, whereas the average brand ambassador salary adds up to approximately $36,252 per year.
© David Wallace/The Republic via Imagn Content Services, LLC
4.) Sports Betting Writers $37,389
Just as sportsbooks often call upon influencers to represent the public face of their brand, they also often call upon writers to represent the public voice of their brand. There's a lot of copy to be typed, advert dialogue to be scripted, and words to be said about the world of sports betting. We would know.
Beyond promotional work, sportsbooks need sportsbook writers to jot down the most pertinent, up-to-the-minute betting information. Even if you're not employed directly by a sportsbook, you could always try to make your bones as a sports betting journalist. As more and more betting markets open up across the country, sports betting is bound to remain a news beat of interest for readers.
Courtesy of Indeed and Glassdoor, here are the national average salaries for some common writing jobs in the sports betting industry:
Copywriter: $52,347

Scriptwriter: $67,120

Journalist: $37,593

Sportsbook Writer: $37,389 (per Glassdoor)
5.) Sports Betting Podcasters $62,239
Whereas writers convey the metaphorical voice of a brand in writing, some sportsbook companies may enlist the assistance of podcasters, broadcasters, and on-air personalities to speak on their behalf, effectively giving the brand a literal voice.
Podcasting is more of a popular medium than it's ever been; from 2006 to 2021, Statista found that the percentage of Americans who listened to podcasts rose from 11% to a remarkable 57%. That's considerably more reach than terrestrial radio, or in some cases, even mainstay televised national broadcast news shows.
If you're a good orator, like sports, and like sports betting, then podcasting may certainly be a viable career avenue. Furthermore, another factor fueling the popularity of podcasting as a medium is accessibility. You don't need to sign up for any subscriptions or fork over any money to listen to most podcasts; you just need to have a decent enough internet connection!
Ergo, a sports betting podcaster wouldn't necessarily have to be affiliated with a sportsbook brand or sports news outlet, and could just try to go down the independent route. To make a podcast, they would theoretically just need decent audio recording equipment, an internet connection, at least one place to upload their episodes, and if they wished for listeners to pay them, a reliable crowdfunding platform like Patreon.
According to Glassdoor, the average national salary for a podcast producer is $62,239 per year.
6.) Sports Betting Streamers $39,827
Besides podcasting, live streaming sports is another simple, yet highly powerful medium that's grown quite popular in recent years, with the top content creators on platforms like Twitch consistently outperforming even network TV programs.
If ZipRecruiter is to be believed, the average streamer can expect to pull in just under 40 Gs (or $39,827) a year.
7.) Sports Betting Developers $68,598
You might know how to write the books, discuss the books, and promote the books, but do you know how to code the books? The nation's best online sportsbooks need the best coders, developers, programmers, and cybersecurity analysts on hand to keep their services running as smoothly, seamlessly, and optimally as possible.
If you're a web developer and sports betting aficionado, you could make upwards of $68,598 per year, according to Indeed's national average estimates.
Conclusion
That concludes our list. It's an exciting time for sports enthusiasts who have always wanted to have a career in sports. Well, now you can, more than ever.
If you are looking to enter the market for sports betting, you know where to find us.
Free Signup Promo
Get 5 Free Sweeps Coins + 600 Free Diamonds