2023 Review
ZitoBox
Why we like ZitoBox
Bonuses don't max out at 100% at ZitoBox! Make a deposit of $499.99 and you'll receive a 225% bonus boost. Get an additional 1,125,000 bonus coins — making the grand total of coins to play with 1,625,000!
ZitoBox Promotions 💰
There are currently no promotions available for ZitoBox. Find the best gambling promo codes from other operators on OddsSeeker!
ZitoBox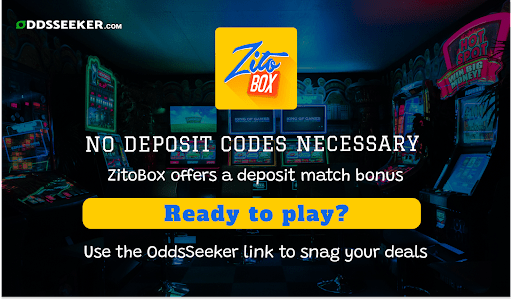 Play games and win gift cards at ZitoBox casino, one of the internet's most popular social online slots and gaming platforms! Owned and operated by Joy Media Works LLC, this social gaming platform specializes in online slot machines and casino games. 
Gain access to some of the welcome bonus packages that provide deals for up to a 225% match! Get chances to win real money at online casinos, free coins, and free online slots (no deposit necessary!) with welcome bonuses and daily log-in bonuses. 
Play classic slots, arcade, shooter, strategy, jackpot, slot games, casino games, and matching games — all with high-end graphics and authentic casino sounds. Games are available through the ZitoBox casino website, app, and Facebook page. 
Zitobox is considered one of the best Michigan online casinos and best NJ online casinos as well as one of the best free online casinos in the U.S. 
Unlike some other online ​social casinos, It's legal to play at ZitoBox in every state except Washinton! Find out how to get the biggest welcome bonuses, whether or not you need promo codes to get casino and sports betting signup bonuses, and how to win big in our ZitoBox review. 
ZitoBox Casino Welcome Bonus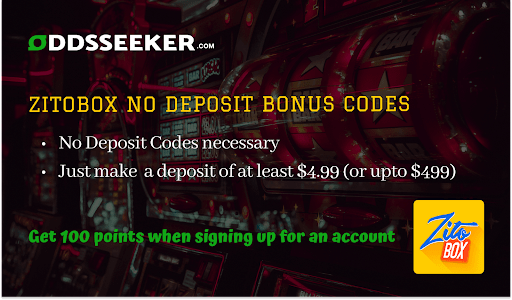 This online slots platform offers an amazing welcome bonus package, including an online casino free signup bonus (no deposit required). To redeem, simply sign up for an account and make a deposit. Just remember: all deposits aren't rewarded equally; in fact, the more money you pay, the more bonus coins you can get to play slots!
ZitoBox requires you to make a minimum deposit of $4.99 just to start playing on the platform; this minimum amount gets you 500 coins. Yet, you may want to consider a larger deposit if you're looking for a larger welcome bonus. A minimum deposit of $24.99 gets you 25,000 coins — plus a boost bonus of 100%! With only a $24.99 deposit, you'll get a total of 50,000 coins.
The maximum deposit amount for a bonus match is $499.00. With this amount, you'll get a whopping 1,125,000 bonus coins — making your match offer 225%! 
Unlike the Chumba casino free sweeps program, ZitoBox's welcome bonus program is a first-deposit bonus only -- not a no-deposit bonus. 
Do I need a promo code at ZitoBox?
Looking for Zitobox, Chumba Casino, or Funzpoints promo codes? One of the best reasons to play online slots games at ZitoBox is that you don't need any promo codes to take advantage of welcome bonuses, sweepstakes, or bonus boosts. You don't even need to use state-specific codes, like MI, CT, NY, or NJ online casino promo codes.
Simply sign up for an account, make your initial deposit minimum, and follow the instructions to get your bonus coins, bonus boosts, and deposit bonuses. The platform makes getting bonus coins super easy — and it makes winning easy, too!
No Sportsbook promo code and no free casino online promo codes required mean you can start playing (and winning) almost immediately after signing up and making your initial deposit.
ZitoBox No Deposit Bonus Codes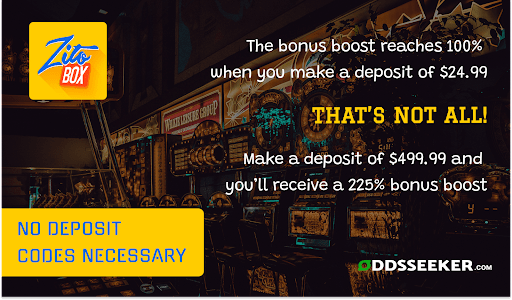 Looking for NJ online casino bonus codes or Michigan online casino bonus codes? ZitoBox no deposit bonus codes aren't necessary to get your deposit bonuses, deposit boosts, or the rest of your welcome package! Unlike real money online casinos, you won't need NJ online casino no deposit bonus codes or Michigan online casino no deposit bonus code to snag your deal here!
Again, just make at least a minimum deposit of $4.99; you will need to make a minimum deposit of $24.99 (or up to $499) to take advantage of the deposit bonus.
The more money you spend on your first deposit, the higher your welcome package will be. After your first deposit, you won't be eligible for additional bonuses, so plan wisely! 
While other casinos offer a no-deposit bonus (the Chumba casino no deposit bonus is considered one of the best online!), ZitoBox simply offers a deposit match bonus. The good news is that you don't need no-deposit bonus codes to take advantage of offers at most online social casinos. Just use the OddsSeeker links to snag your deals -- no Chumba, ZitoBox, or Funzpoints no deposit bonus codes needed!
ZitoBox Deposit Bonus
The deposit bonus offered by ZitoBox is pretty generous. All you need to do is make a minimum deposit of $4.99 to get 5,000 coins (though you won't get a bonus boost with this minimum deposit amount; you'll need to deposit at least $24.99 to get your welcome bonus plus a bonus boost of 25,000 coins). 
The bonus boost reaches 100% when you make a deposit of $24.99. Yet, bonuses don't max out at 100% at ZitoBox! Make a deposit of $499.99 and you'll receive a 225% bonus boost, meaning you'll get the 500,000 coins that you purchased plus an additional 1,125,000 bonus coins — making the grand total of coins to play with 1,625,000!
You'll also get 100 points just for signing up for an account. 
ZitoBox Ongoing Promos
Many online social casinos also offer ongoing promos to reward loyal players. Want Chumba, ZitoBox, or Funzpoints free money but missed out on the welcome bonus? Sign up for alerts to make sure you don't miss out on any more bonuses!
ZitoBox Review 
We love the idea of totally legal online slots — especially since you can play in pretty much any state!
Find out how to get the most from your ZitoBox experience (including sign-up and deposit best practices), where to find the welcome bonuses, and what to know about payments and withdrawals -- all while winning real gift cards! At OddsSeeker, we offer honest reviews for the hottest free sweeps cash casinos, best sports betting apps, best online sportsbooks, including Chumba Casino reviews, FunzPoints Casino reviews, and more.
Is ZitoBox Legit?
Yes! We're so excited to be the first to give you the heads-up: ZitoBox is totally legit! Not only are they the real deal, but this online slots gaming platform is 100% legal — in every state! 
Unlike playing at online casinos for real money, you buy coins that you use in virtual slots machines and cash out your winnings for real gift cards! So, you don't need to be located in a state where online gambling is legal. 
The platform also uses SSL encryption to ensure your credit card and personal information is always handled safely and securely. 
Can You Win Real Money Playing At ZitoBox?
Technically, you win real money in the form of real rewards gift cards at ZitoBox (though you won't be able to cash out your winnings for actual cash). If you're looking to win real money, you'll need to check out one of the New York, Pennsylvania, or Michigan online casino real money sites. 
You're free to use your gift cards however you wish, though. Make purchases at your favorite restaurants, department stores, and airlines. Or, opt for a Visa gift card (which works like a prepaid credit card) and make purchases pretty much anywhere!
Some of the most popular ​top name-brand gift cards available on ZitoBox include:
Celebrity Cruises

CVS 

eBay 

Home Depot 

TGI Fridays

Visa
How ZitoBox Works
The developers at ZitoBox made signing up for an account, getting bonus coins, playing games, and cashing out your winnings for gift cards as easy as possible! 
This social gaming platform is pretty straightforward. All you need to do is purchase slots coins (virtual currency) to play games and get Zito Points.
Cash out your Zito Points for gift cards. 
ZitoBox Promotions 
ZitoBox casino also offers daily bonuses — just for visiting the site. Check back daily to see how many points you can accumulate. 
How to Join ZitoBox
To join ZitoBox, new players can simply head to the website and click the new user button on the top right-hand side of the page. 
Whether you're an Apple or Android user, there are plenty of ways to access the browser-based HTML5 technology and a long list of games. You can even play on your phone, using the ZitoBox app or your Facebook account. 
Download the app on the iPhone app store or Google Play store for tablets and smartphones. Or, play on Windows and iOS platforms if you prefer to use your desktop or laptop computer. Or, play games with friends right on ZitoBox's Facebook page if you don't want to download the app or play through the website for any reason.
You can do everything from the Facebook page, including depositing funds, accepting welcome bonuses, and earning log-in bonuses, right from the social media page. You can even redeem your winnings for gift cards here!
Once you're ready to start playing (and earning bonuses!), simply sign up for an account, deposit funds, and start playing — it's that simple! You can even chat with friends and family if you want to play together.
Check your account info at any time by clicking on the icon at the top of your screen. All your info (including account balances, winnings, and rewards is located here). 
Zitobox reviewers love that the site is well-organized; icons are large and easy to find, and a large selection of games is readily available. The site's design and user experience were designed specifically for gamers — no need to take long breaks to rest your eyes on this site.
If you're ever worried about the site's privacy policy, terms and conditions, or rules, you can always find this information in the footer (at the bottom) of every screen. 
ZitoBox's customer support team is available should you need help depositing funds, playing games, connecting with friends, or cashing out your winnings for gift cards. 
ZitoBox Deposit Methods
Developers have made purchasing coins as easy as playing games! Once you've signed up for an account, simply head to the cashier by clicking on the red and yellow coin sale icon in the upper left-hand quadrant of your account homepage. 
Choose a coin package from the pop-up menu to make a deposit. You'll need to deposit at least $4.99 (or up to $499.99). Click the buy button to go to the payment details screen. ZitoBox casino doesn't charge any fees to play slots on the platform. 
ZitoBox casino accepts the following payment methods: 
American Express

Discover

Mastercard

Visa
Once you've made your deposit, you'll be able to start playing slots!
ZitoBox Free Sweeps Games
Another reason to play games on ZitoBox casino is the large selection of games. 
Unlike other free social casinos, ZitoBox doesn't only specialize in slots games. Instead, it features other types of digital games, such as action, arcade, slots, puzzle, shooter, strategy, and three-in-a-row slots games — plus, much, much more! Social casinos (such as Chumba Casino), on the other hand, feature mostly slots with a few other types of games thrown into the mix. Chumba casino slots games are even exclusive to its platform!
The platform works with different game developers (including SG Interactive and Wazdan) to provide a wide array of game types and ensure there are always fresh challenges. 
Both SG Interactive and Wazdan games are high-quality games that don't just provide exciting payouts and gameplay; they also offer high-end graphics, real-casino sound effects, and upbeat music. All game descriptions clearly state winning odds and features.
9.8