Top 9 Most-Watched Super Bowl Halftime Shows Since 2011
Image © Jeff Kravitz/FilmMagic // Getty Images
Most-Watched Super Bowl Halftime Shows Since 2011
With sports betting sweeping the nation this year, setting a record for people betting sports online (and getting lucky if they took the Chiefs!) - the 2023 Super Bowl won't soon be one to forget thanks to its record-setting halftime show & celebrity (royalty?) pregnancy announcement!
Some of music's biggest names have headlined Super Bowls, from Michael Jackson, whose 1993 set spurred over 133 million viewers to tune in, to Prince, whose 2007 spectacle garnered an estimated 140 million TV viewers.
Halftime show viewership has dropped in recent years, but that doesn't mean its cultural impact has lessened. Shakira and Jennifer Lopez's 2020 co-headlining act was watched by 103 million TV viewers—the third-lowest number since 2011—but it's generated 263 million YouTube views, making it the most-viewed halftime show uploaded to the NFL's YouTube channel.
We ranked the eight most-watched Super Bowl halftime shows since 2011—the earliest year when reliable data on Super Bowl halftime shows could be sourced—using Nielsen data reported by news organizations and press releases. The number of viewers is based on Nielsen data tracking the block of time when each show occurred. Nielsen data on overall viewership via Sports Media Watch for that year's Super Bowl is also included, alongside the percentage change compared to the halftime show. When available, the data set also includes the number of YouTube views each show has received on the official NFL YouTube channel.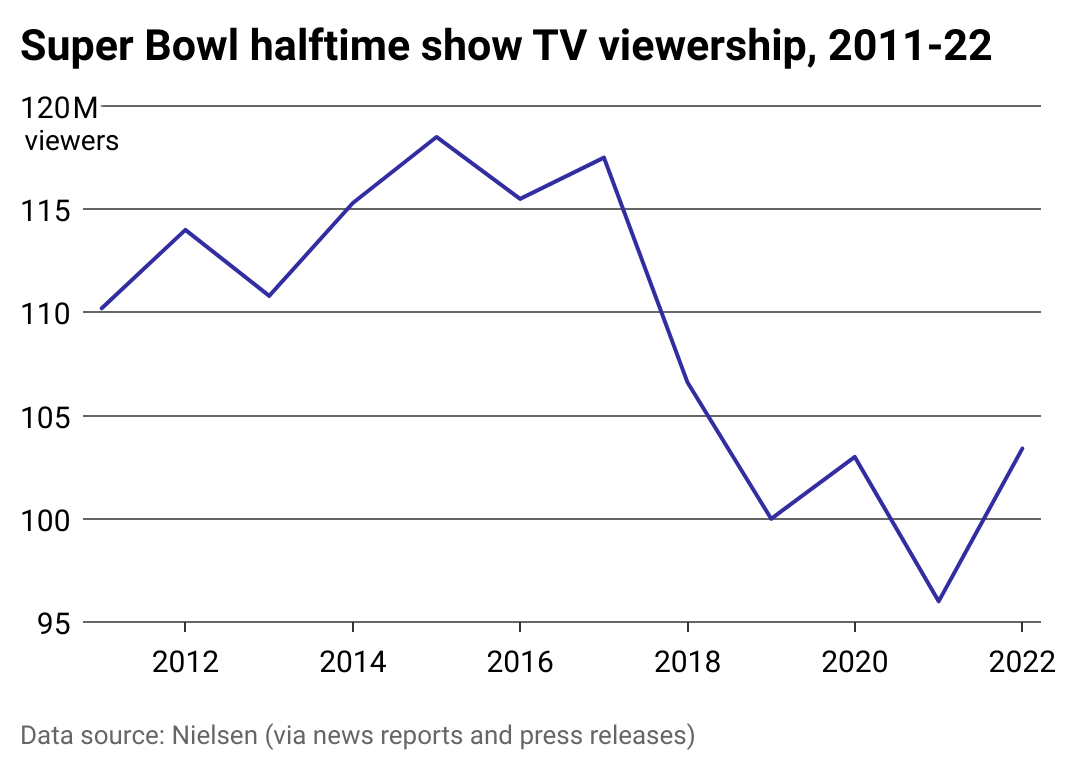 OddsSeeker.com
TV viewership of the Super Bowl halftime show has dwindled in recent years
The Super Bowl is the most-watched sporting event in the United States, and its halftime show always attracts buzz. Despite this palpable excitement around the event, TV viewership has dropped substantially—all four halftime shows since 2019 drew fewer viewers than any of the previous eight. But that could be changing.
In 2022, the number spiked when more than 103 million viewers tuned in to watch Dr. Dre, Snoop Dogg, Eminem, Mary J. Blige, and Kendrick Lamar perform. This was the highest number since 2018; can Rihanna's highly anticipated headlining performance at Super Bowl LVII continue the trend?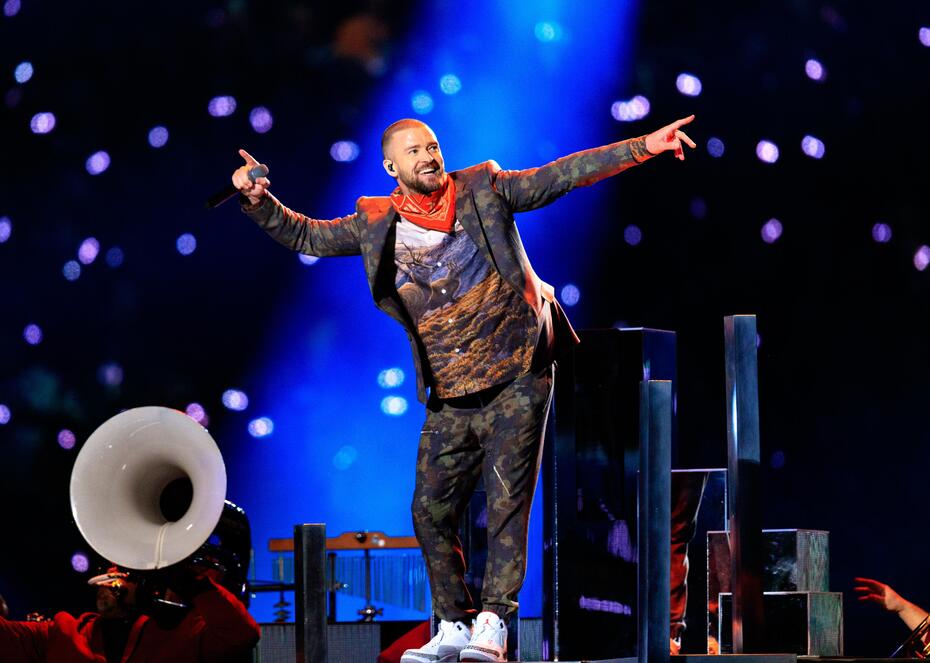 Christopher Polk // Getty Images
#9. Justin Timberlake Super Bowl LII (2018)
Viewership: 106.6 million
Overall Super Bowl viewership: 103.4 million
Percentage difference: 3.1%
YouTube views: 18 million
There's a lot of pressure for any artist who headlines the Super Bowl halftime show, but Justin Timberlake surely felt even more heat when he took the stage during Super Bowl LII. Before the Big Game even aired, people were outraged by the NFL's decision to choose the former 'N Sync star as its headlining act—in fact, there was a petition calling for the league to rescind the offer. Why? Because the last time Timberlake performed at halftime during Janet Jackson's 2004 performance, he ripped part of her costume, exposing her breast while singing his hit "Rock Your Body."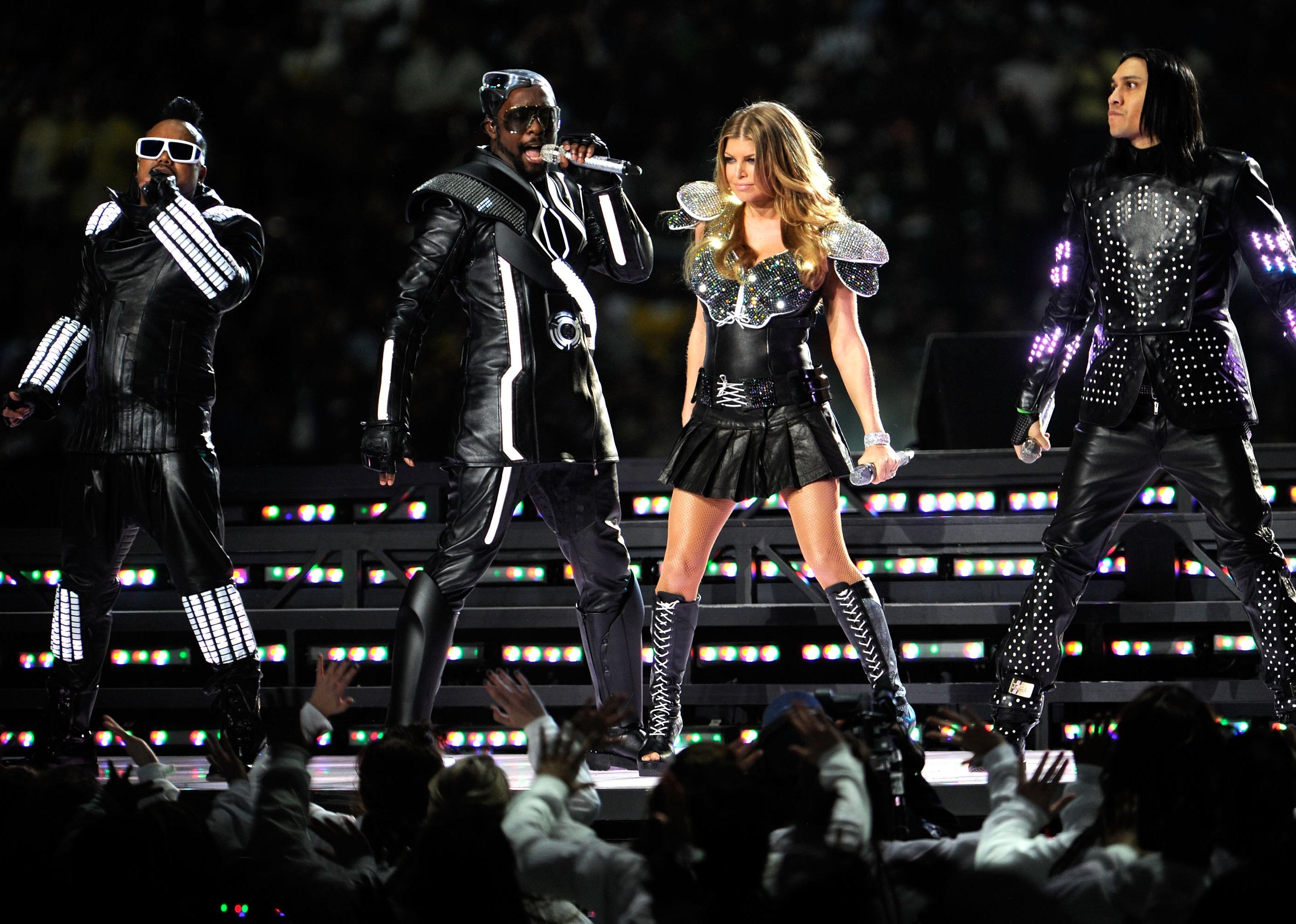 Kevin Mazur // Getty Images
#8. The Black Eyed Peas Super Bowl XLV (2011)
Viewership: 110.2 million
Overall Super Bowl viewership: 111.0 million
Percentage difference: -0.7%
YouTube views: Not available
Over 110 million people tuned in to the Black Eyed Peas' halftime show, but the performance was notoriously panned. Slash of Guns N' Roses came out to perform "Sweet Child O' Mine" with Fergie, which was considered "a waste of time" by critics. Usher also performed "OMG" but didn't do much singing. The show was memorable for all the wrong reasons, but the NFL ultimately succeeded in its goal. The league wanted to draw in young viewers, and the high viewership proves that it did.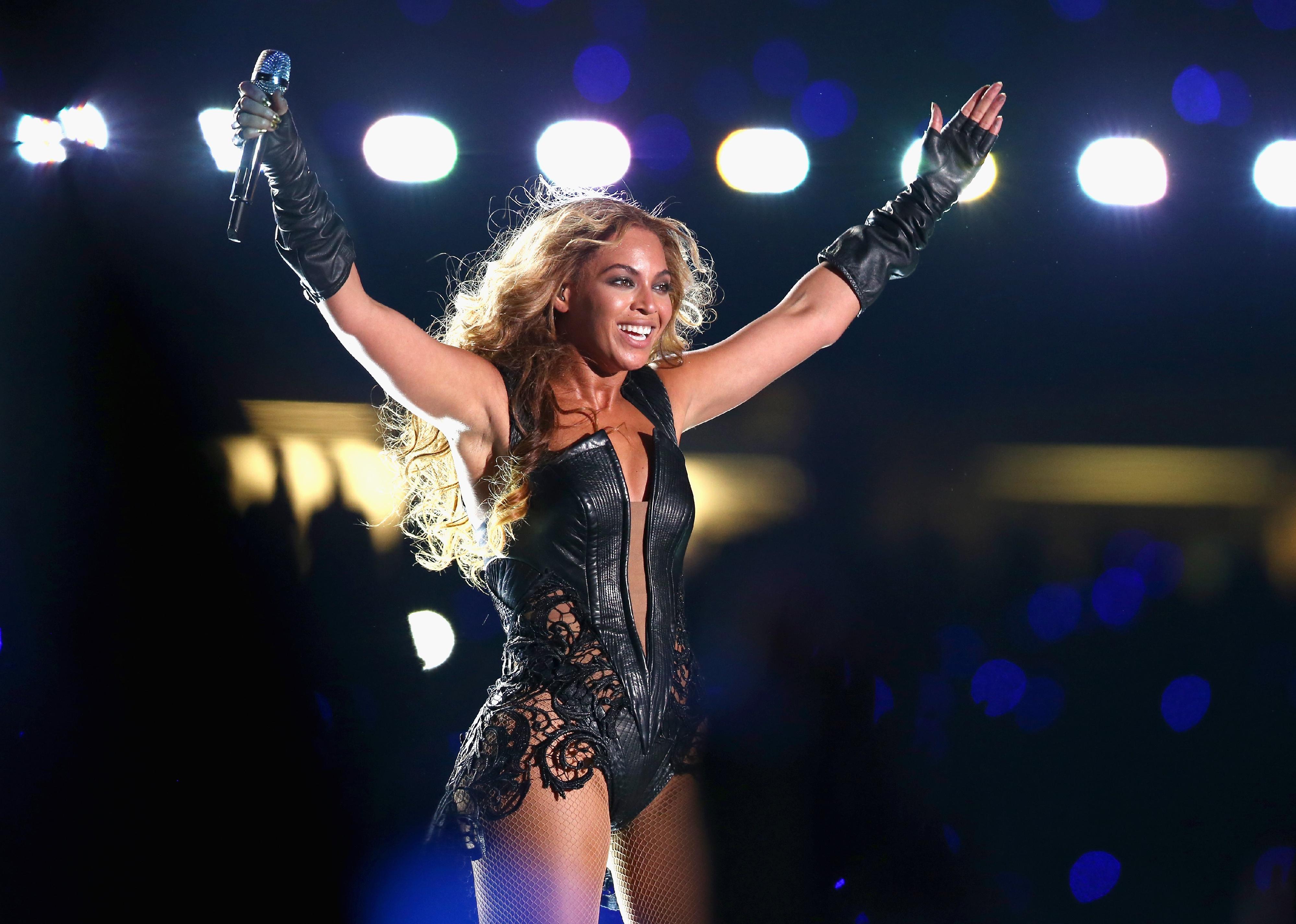 Christopher Polk // Getty Images
#7. Beyonce Super Bowl XLVII (2013)
Viewership: 110.8 million
Overall Super Bowl viewership: 108.7 million
Percentage difference: 1.9%
YouTube views: Not available
Super Bowl XLVII was memorable for multiple reasons—it was the first time two brothers, Jim and John Harbaugh, faced off as coaches in the Big Game; a partial blackout at the beginning of the second half caused a 34-minute delay; and the 49ers nearly came back from a 28-6 deficit but ended up suffering their first Super Bowl loss. Oh, and Beyoncé also stopped the show performing at halftime.
Queen Bey's 14-minute set not only included her biggest hits and boldest dance moves but also featured a reunion with her Destiny's Child bandmates Kelly Rowland and Michelle Williams. As a result, the conclusion of her set generated a whopping 268,000 tweets per minute.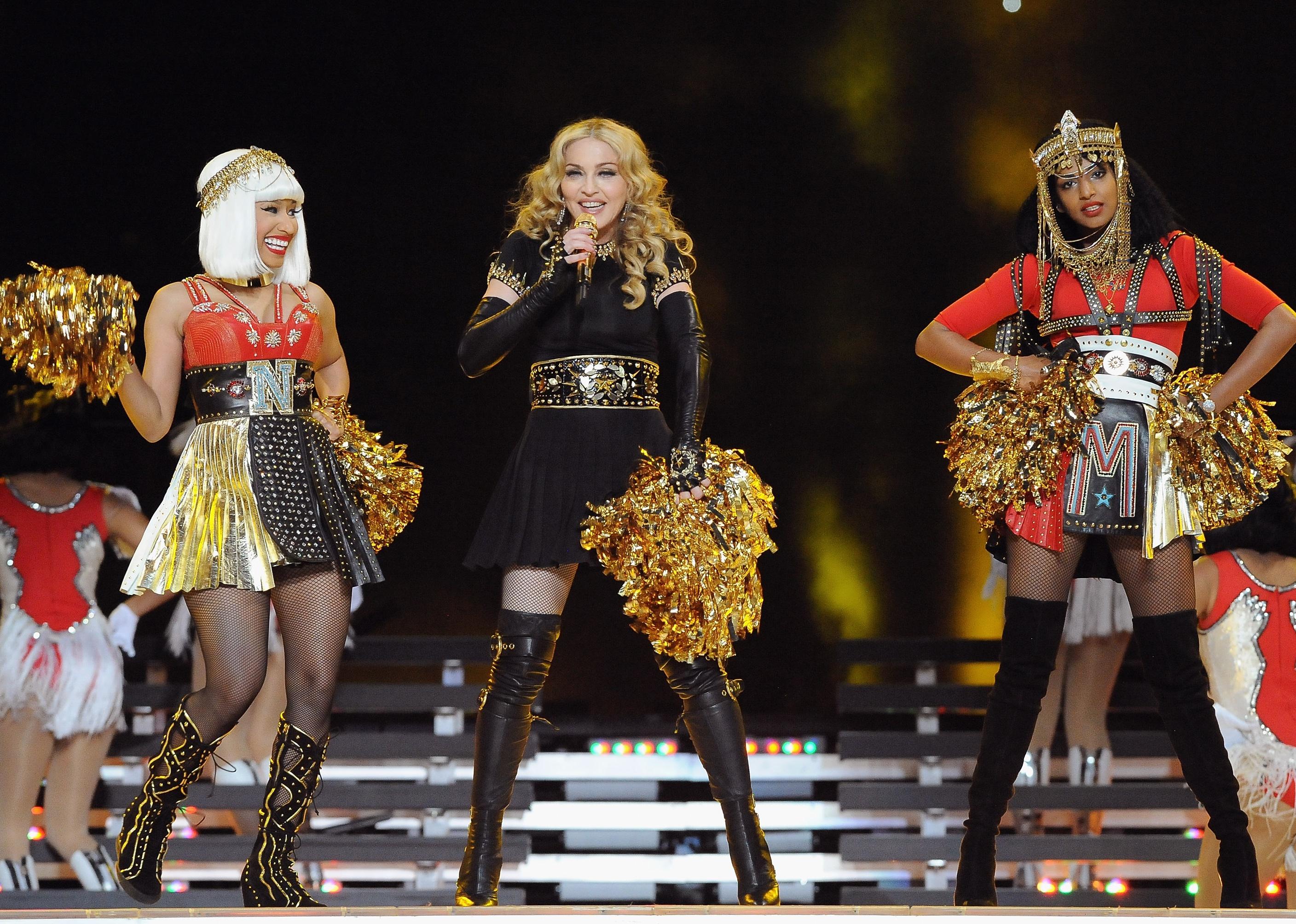 Jeff Kravitz // Getty Images
#6. Madonna Super Bowl XLVI (2012)
Viewership: 114 million
Overall Super Bowl viewership: 111.4 million
Percentage difference: 2.4%
YouTube views: Not available
Madonna was the first solo female artist to headline a Super Bowl halftime show since Diana Ross in 1996, and she made sure her performance was one to remember. Her 12-minute-long set was packed with hits and special guests like LMFAO, Nicki Minaj, and CeeLo Green. She also collaborated with Cirque du Soleil to create a visual spectacle. "Madonna" was the most-Googled term from the Super Bowl, beating out another high-profile name: Tom Brady. One special guest during the halftime performance, M.I.A., also created a Twitter storm when she flipped the middle finger to a camera.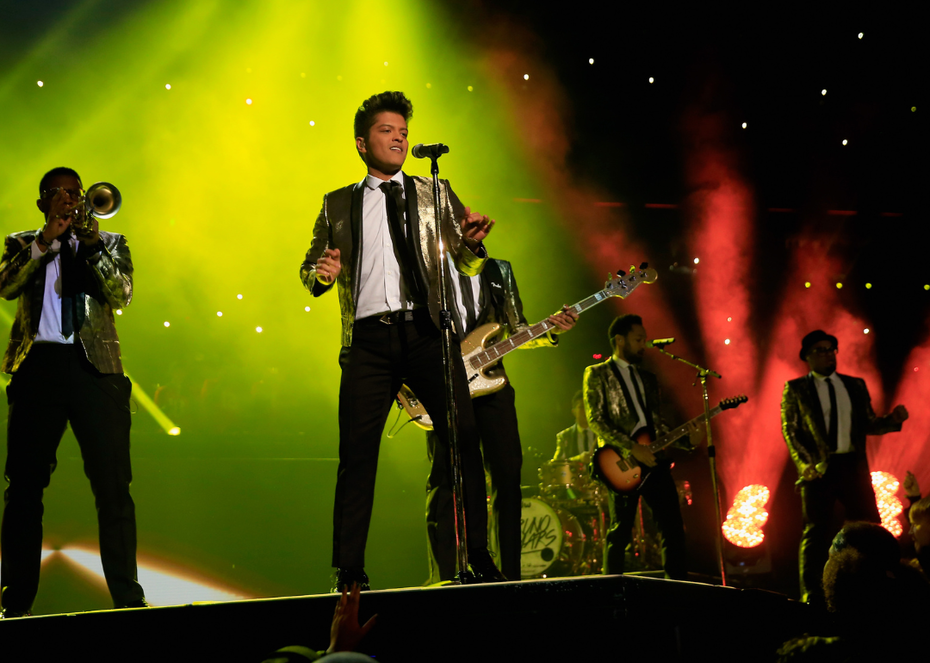 Ronald Martinez // Getty Images
#5. Bruno Mars Super Bowl XLVIII (2014)
Viewership: 115.3 million
Overall Super Bowl viewership: 112.2 million
Percentage difference: 2.8%
YouTube views: Not available
Bruno Mars' halftime show could have very well gone down in history alongside the Black Eyed Peas' set. The NFL was no doubt trying to hook younger viewers while still retaining the attention of the older crowd by recruiting the Red Hot Chili Peppers as a special guest. But Anthony Kiedis and company weren't necessary. Mars stunned the crowd from the get-go, showing off not only his singing and dancing skills but proving he's a good drummer too. The Peppers' presence wasn't completely shoehorned in, though. Mars requested the rock legends to be his special guest, revealing he's "a big fan."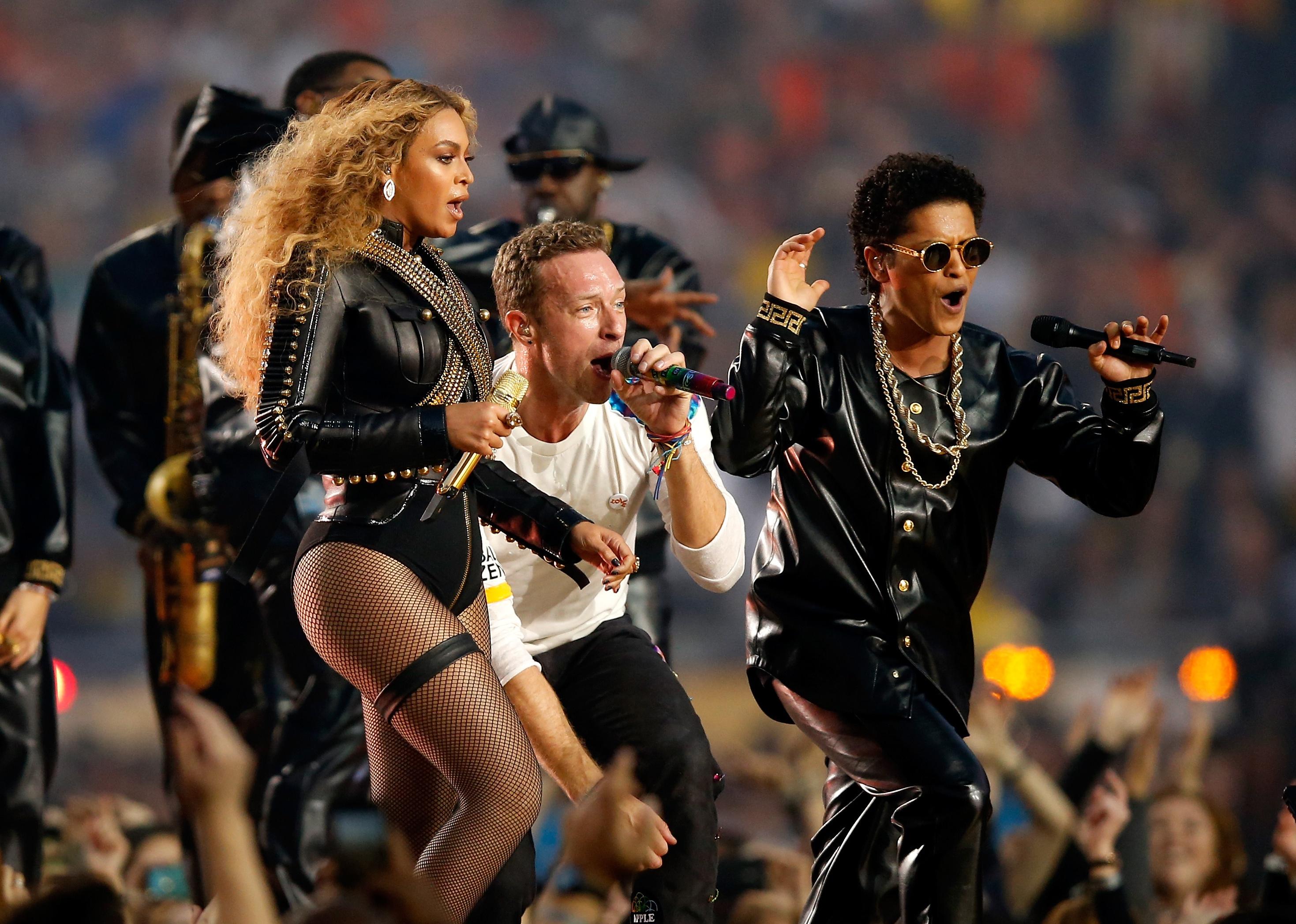 Ezra Shaw // Getty Images
#4. Coldplay, Beyonce, Bruno Mars Super Bowl 50 (2016)
Viewership: 115.5 million
Overall Super Bowl viewership: 111.9 million
Percentage difference: 3.3%
YouTube views: 113 million
Coldplay may have technically been the headliner of the Super Bowl 50 halftime show, but Beyoncé and Bruno Mars stole the show. Apparently, their appearances almost didn't happen. During an interview in 2016, Mars revealed he was initially hesitant to join Coldplay but agreed to visit Chris Martin at his Malibu studio. While there, Martin called Beyoncé and asked her to participate by serenading her with a song. She agreed, and that swayed Mars. We can thank Coldplay's frontman for the iconic "Uptown Funk"/"Formation" sing and dance-off that took place that night.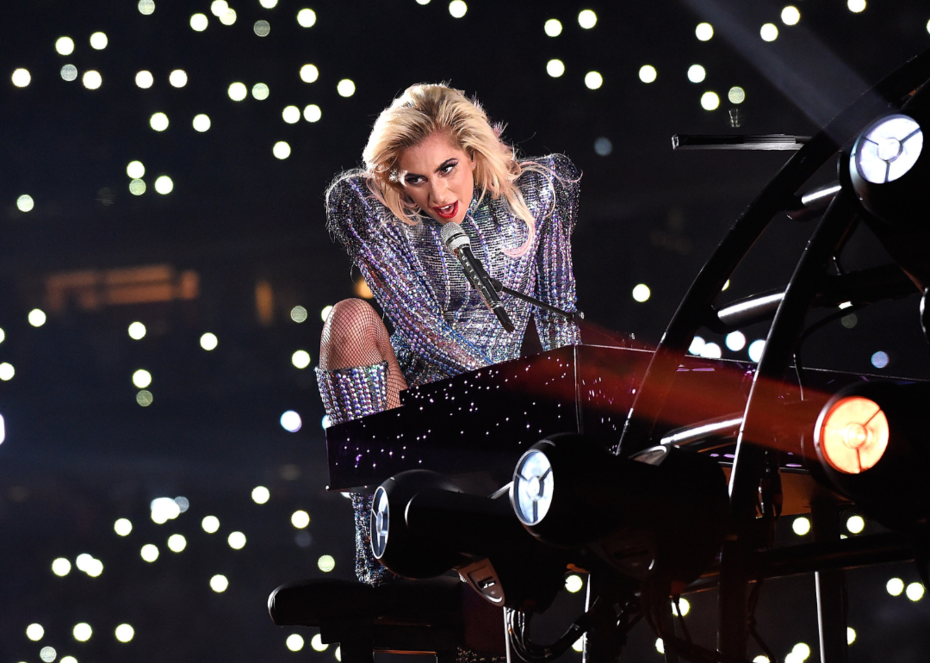 Kevin Mazur // Getty Images
#3. Lady Gaga Super Bowl LI (2017)
Viewership: 117.5 million
Overall Super Bowl viewership: 111.3 million
Percentage difference: 5.6%
YouTube views: 75 million
The New England Patriots coming back from a 28-3 deficit wasn't the only memorable event of Super Bowl LI. Lady Gaga put on a halftime show that was nominated for six Emmys (and took home one). Her performance was the first with no special guests since 2010's Super Bowl XLIV and was meme-worthy from the beginning when she created an image of her jumping from the roof of Houston's NRG Stadium to the stage below. The show just got better from there. Lady Gaga was praised for her song selection and spectacle, with many considering it one of the best shows in Super Bowl history.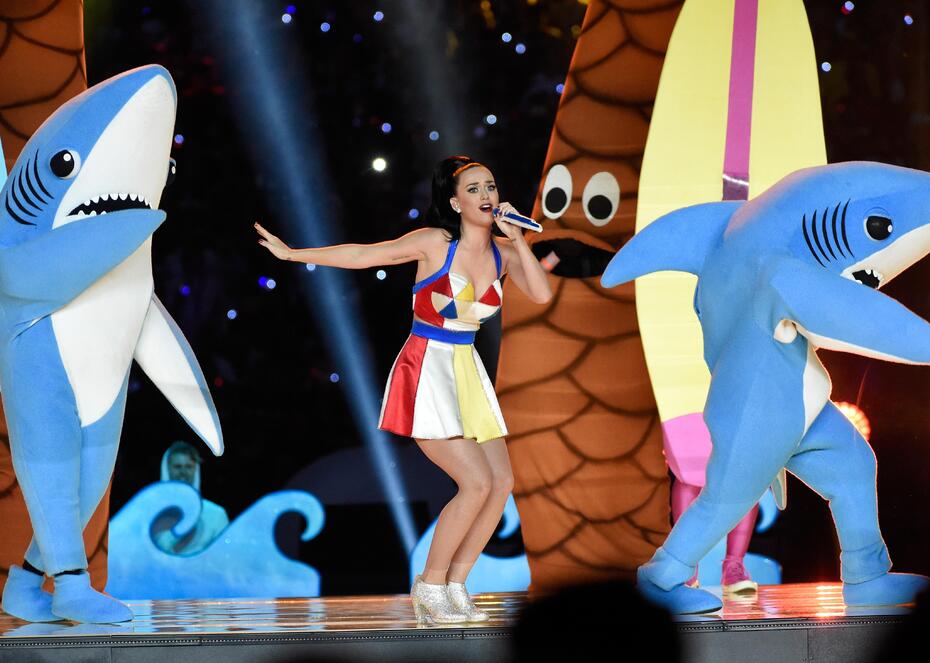 Kevin Mazur // Getty Images
#2. Katy Perry Super Bowl XLIX (2015)
Viewership: 118.5 million
Overall Super Bowl viewership: 114.4 million
Percentage difference: 3.5%
YouTube views: 75 million
Katy Perry's Super Bowl halftime show had a giant animatronic gold lion. It had Lenny Kravitz. It had Missy Elliott's first high-profile performance in years. And yet, its viral moment came from a dancer in a goofy shark costume that looked like he had no idea what he was doing. Because of his position on the left side of the singer, the internet dubbed the show's unwitting star "Left Shark." Even Perry gave him the props he deserved after the performance, calling him "the real MVP."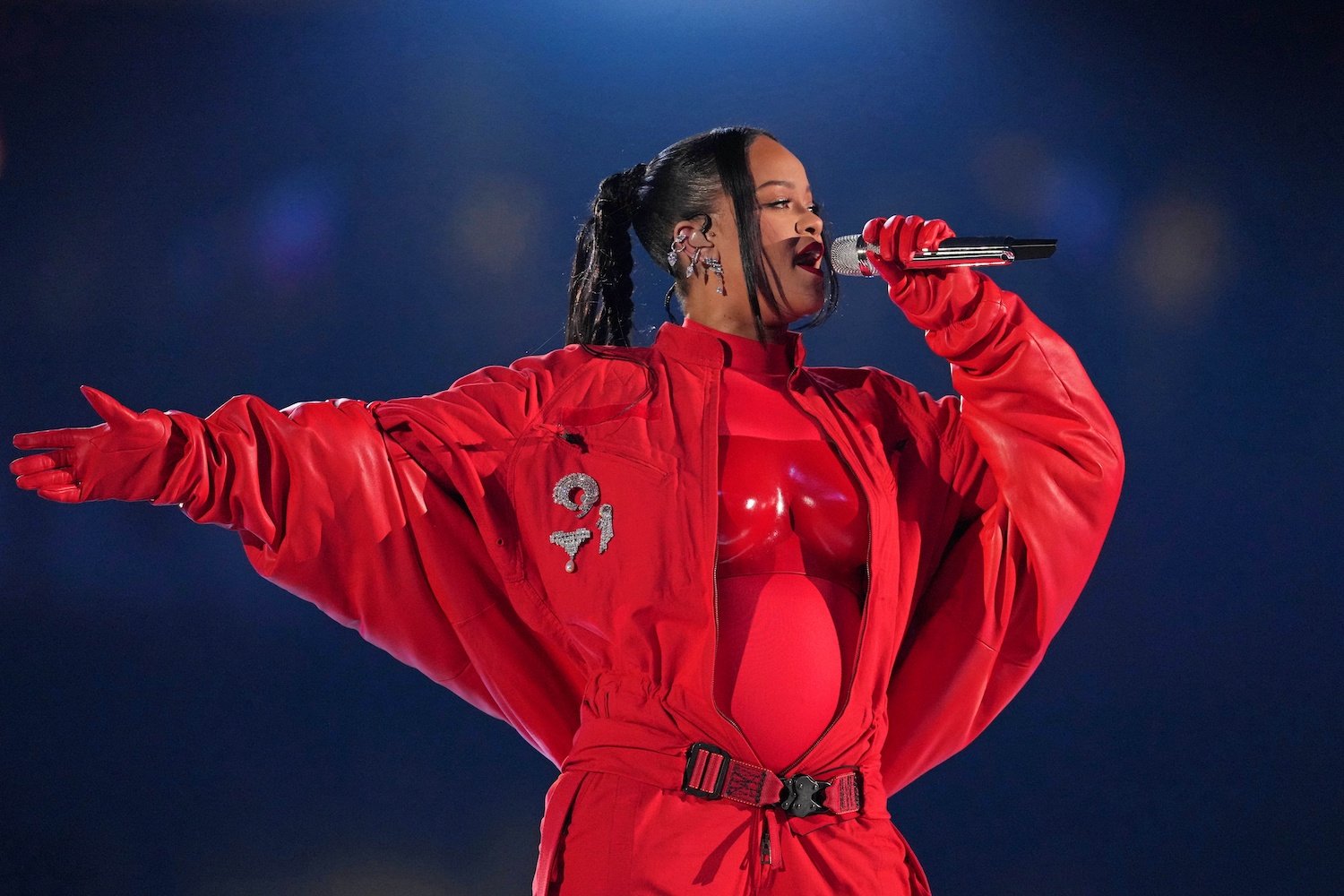 Kirby Lee // USA TODAY Sports
#1. Rihanna Super Bowl LVII (2023)
Viewership: 118.7 million
Overall Super Bowl viewership: 113 million
Percentage difference: 5.05%
YouTube views: 32 million (in first 2 days)
In 2023, Rihanna broke the record with most watched Super Bowl halftime show ever! People won't soon forget the iconic red outfit & pregnancy announcement that rocked the world before the Kansas City Chiefs fought back to win their 2nd-ever Super Bowl! After five long years, Rihanna returned to the stage for a glitzy performance during the Super Bowl LVII halftime show. While she didn't have any surprise collaborators singing alongside her (No Jay-Z? No Drake? No Kanye?), she did have a special guest: The cutest baby bump, she caressed as she sang and danced her way across the, sometimes floating, stage.
In 13 minutes, Rihanna made her way through an impressive catalog of a dozen songs & reminded the world of why she's both a legendary musician and a billionaire, thanks to her Fenty Cosmetics cameo.
Free Signup Promo
Get 7,500 FREE Gold Coins + 2.5 FREE Sweeps Coins
First Purchase Offer
Get 50,000 Gold Coins for $9.99 + 25 Free Sweeps Coins